MISSING: My Running Mojo
If found, please return promptly. $100 Reward.
While I think it's normal to experience peaks and valleys in one's running life, the valleys are never very fun. My running mojo has been on the low side more or less since I ran the marathon in November, but this week was particularly rough. After the Cherry Blossom 10-miler on Sunday, I took a few days off. I ran with Kelly on Wednesday and while it was great to have some early morning company, the spark and motivation just wasn't there. I ran for about an hour that morning, a quick 3 mile jog on Thursday night, and will (hopefully) run a few miles this evening.
The Brooklyn 1/2 marathon is in the back of my mind (only 6 weeks away!) and of course I'd like to run well that day, but I'm trying to be gentle with myself. The more I stress out about not wanting to train, the less I want to do it. So. My plan for the next couple of weeks is to run as I see fit – no rigid training schedules or crazy long runs, just some well-timed running dates for socializing and stress relief. I have a pretty good base, so if I'm feeling better in a few weeks, I may add in some workouts and set my eyes on a PR. But if not, I may just plan on running the Brooklyn half as a long run (vs. attempting to break 1:30).  I'm sorry if this post seems a little depressing (that's not my intent!) – I just want to let y'all know where the running stands. I hope my running life will be a long one and I know the only way to appreciate the highs, is to also experience the lows.
I don't have any crazy running antics to report, but I DO have a fun recipe. Although, it's so ridiculously easy, I hesitate to call it a 'recipe'. Anyway, it's delicious. I made it for the man friend and he thought I was a genius. Major lolz.
Ice Cream Sandwich Cake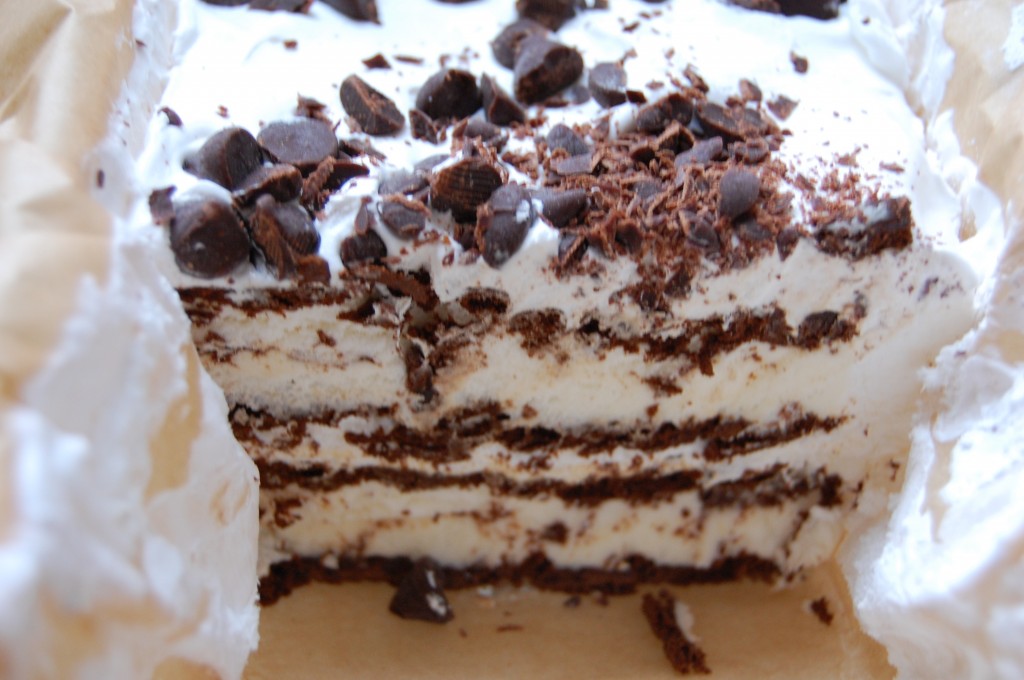 Ingredients:
6 rectangle ice cream sandwiches, unwrapped
3/4 tub of cool-whip
your favorite candy bar or chocolate chips, chopped
Directions:
Line a loaf pan with parchment paper, leaving the edges hang over the long sides of the pan
Place 3 ice cream sandwiches (cut them to fit!) in the bottom of the pan
Spread a layer of coolwhip on top, add another 3 ice cream sandwiches, and a final layer of coolwhip.
Sprinkle with crushed candy bar.
Cover with plastic wrap and freeze for at least one hour.
Use the parchment paper to lift the cake out of the pan, cut into slices, and serve.
Ta-da! You're a genius.
Thank you for all of your Jamba Juice Ambassador votes! Reminder: You can vote for me every day (once a day) until Tuesday, April 12. The winner of the give-away is:
Comment #41  Katelyn 
I voted for you!! :))
I live in Canada and we don't have a Jamba Juice (or Trader Joe's which is why I want to win so bad!!) so I'm going to tell you my favourite smoothie to make at home which is peanut butter, banana, vanilla protein powder and spinach!! Yummm!
Katelyn- email me your mailing address at runnerskitchen [at] gmail [dot] com
Okay, I'm off to go run a few miles (hopefully!), eat a burger, and buy some goodies from Trader Joe's. Happy Weekend!