Inspired by Angharad and the Pioneer Woman, I baked a coffee crumb cake over the weekend. This recipe had been on my radar for awhile, but with 3 sticks of butter and 3 1/2 cups of sugar, this is not a baked good you can jump into without some forethought. If I'm going to make something so ridiculously delicious, I better have a plan to share the results. Although…honestly…I probably could have eaten this entire cake myself. That's how good it smelled! I made a few minor adjustments for my version – but the original recipe is pretty solid.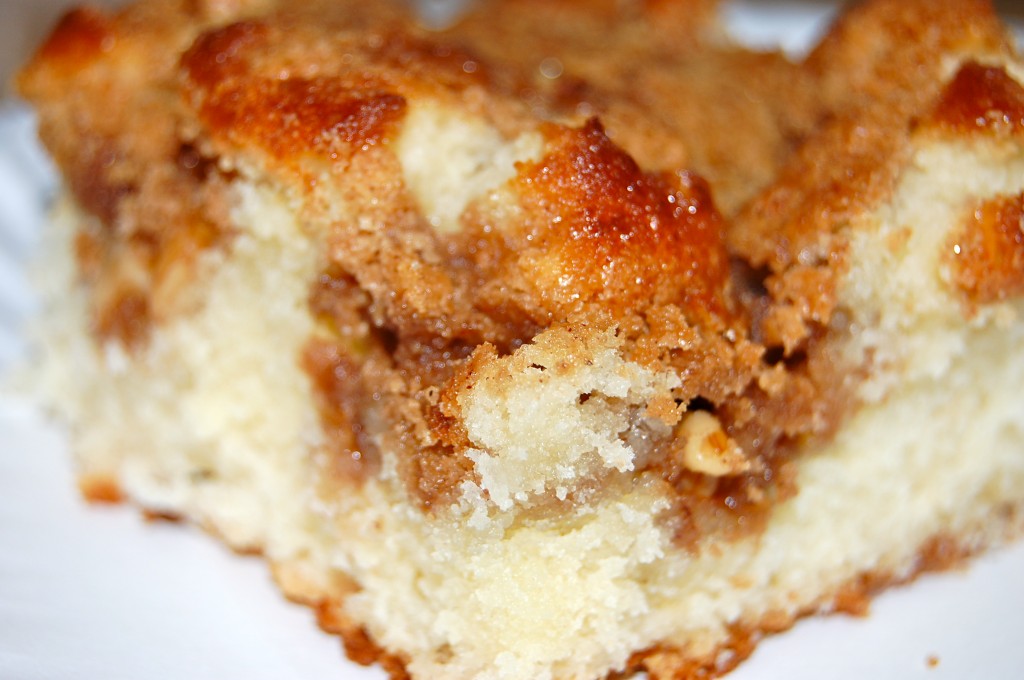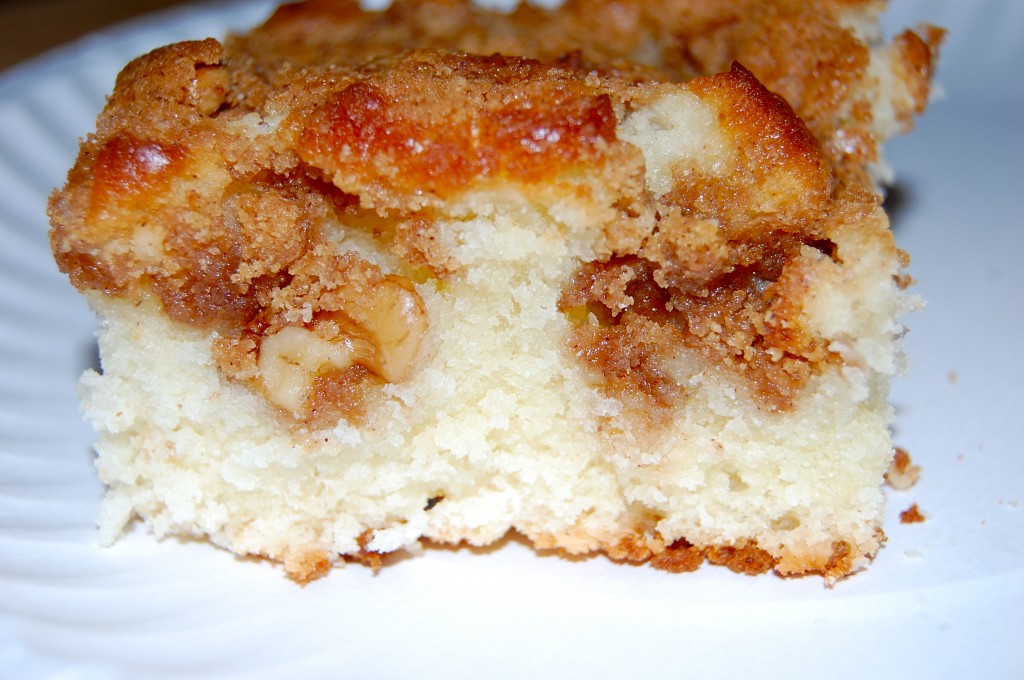 Coffee Crumb Cake
Ingredients-
FOR THE CAKE:
1 ½ stick butter, softened
2 cups granulated sugar
3 cups flour
4 teaspoons baking powder
1 teaspoon salt
1 ¼ cup skim milk
3 egg whites, beaten until stiff peaks form
FOR THE TOPPING:
1 ½ stick butter, softened
¾ cups flour
1 ½ cup brown sugar (not packed)
1 tablespoon cinnamon
1 cup walnuts, chopped


Directions –
Preheat oven to 350 degrees. Whisk together flour, baking powder, and salt in a medium bowl.
Using a mixer, beat egg whites until stiff peaks form and then set aside. 
Cream butter and sugar using a mixer and then add flour mixture and milk alternately until combined. Gently fold in the beaten egg whites (this will make the cake fluffy and moist!), but be careful NOT to overmix.
Pour cake batter into a lightly greased 9″x13″ pan.
In a separate bowl, use your fingers to mix the butter into the rest of the topping ingredients. Sprinkle  evenly over cake batter.
Bake for about 40 minutes (my oven runs hot), until the top is nicely browned and center is set.
I love cake (and ice cream and wine and beer and french fries!!), but I also really like vegetables. Especially asparagus. I know that's kind of weird, but it's one of my favorite vegetables. The same day that I baked the cake, I roasted some asparagus to have with my lunchtime salads. My method: A splash of canola oil + salt & pepper + 15 minutes @ 400 degrees F.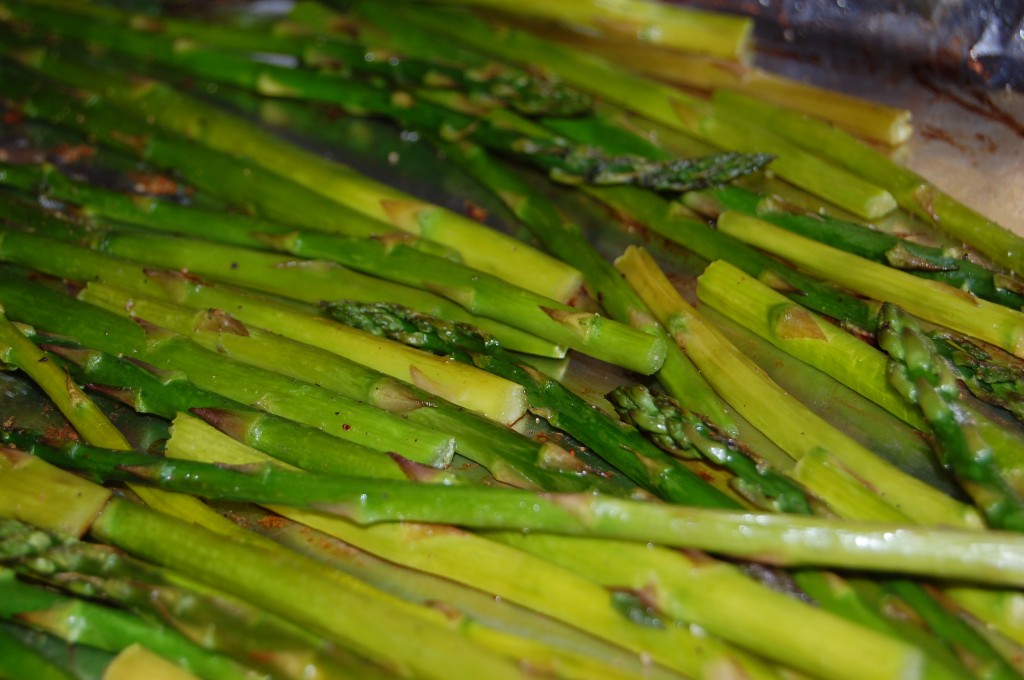 Vital Juice Daily sent an email earlier this week naming the best Spring veggies along with their health benefits – check it out (asparagus is on the list!):
Artichokes: One medium contains 20% of your fiber RDA for only 60 calories–that's more fiber than you'll find in a serving of oatmeal, bran muffin or brown rice!
Asparagus: Potassium in these spears pumps sodium out of your body to help beat bloat and puffiness.
Apricots: The juicy fruit is loaded with beta-carotene to keep skin beautiful.
New Potatoes: New research reveals that they're a "resistant starch" that keep you fuller longer and help you burn up to 30% more fat after meals.
Pineapple: Tummy troubles? This tropical fruit contains bromelain, an enzyme that helps with digestion and eases disease-causing inflammation.
Ramps: These wild leeks taste like milder, earthier onions and are a darling among chefs. Just sauté and add to any dish that calls for leeks or spring onions.
Rhubarb: This pie-filler–technically a veggie, not a fruit!–helps boosts circulation and reduce inflammation.
Strawberries: One cup has about 136% of your daily requirement of vitamin C.
Running Updates
Sooo, remember on Monday when I said I didn't like the New Balance Minimus for running? Well, I read all of your comments and I mulled it over. I tried to remember how my  legs felt during that run and I thought that maybeee they felt yucky for a reason other than the shoes. I had been sitting at my desk all day (that always makes me tight) and I had just raced the Cherry Blossom 10-miler a few days prior (hello soreness). With these things in mind, I decided to give the Minimus another try.
And you know what? They were fine! I sort of feel like an idiot for jumping to conclusions after one run, but I suppose that's why we give things a second chance, right? I initially was going to run in the Minimus for just a mile (on the treadmill) and then change into my Ghosts for the remainder of the run. However, I ended up feeling pretty good, so I kept them on for the entire 4 miles. I was running a little short on time, so I picked up the speed for the middle miles. This is a great way to 1) fit in a mini speed workout and 2) prevent death from treadmill boredom.
Mile 1- 8:30
Mile 2- 8:00
Mile 3 – 7:15
Mile 4- 8:30
The minimus definitely allow your feet to "feel the road" more, but I think this was ultimately a good thing – it helped me stay light on my feet. What exactly do I mean by "staying light on my feet?" I'm trying to avoid a heavy heelstrike (you know that loud pounding/slapping sound that some people make when they run?) and increase my stride rate to improve efficiency.
In general, I've been feeling much better about running over the last few days. I think just being able to vent on the blog helped relieve some of the pressure and burn out that I was feeling. I chose my favorite craft beer bar over a run yesterday and was totally okay with the decision – it left me feeling motivated and excited for today's miles!
Anyone else change their mind about something running related? I remember hating my first half-marathon. It seemed so long and my legs felt like bricks. I thought I'd never do another 13.1 mile race, but now it's my favorite distance!