I'm back from Washington D.C.! I spent the better part of the weekend hanging out in the nation's capitol and racing the Cherry Blossom 10-miler. The race was kind of "meh" for me, but in general I had an enjoyable trip. After picking up my race number and checking into the hotel with my running buddies, I met up with my Dad for dinner. Big thanks to him for driving 6 hours to be my official race photographer/spectator for the weekend 🙂
I felt like I was lacking in veggies, so my pre-race meal was a portobello mushroom "burger" with grilled onions, feta, lettuce, tomato, and a few fries. Anddd I had a beer (carbs!), because that's how I do.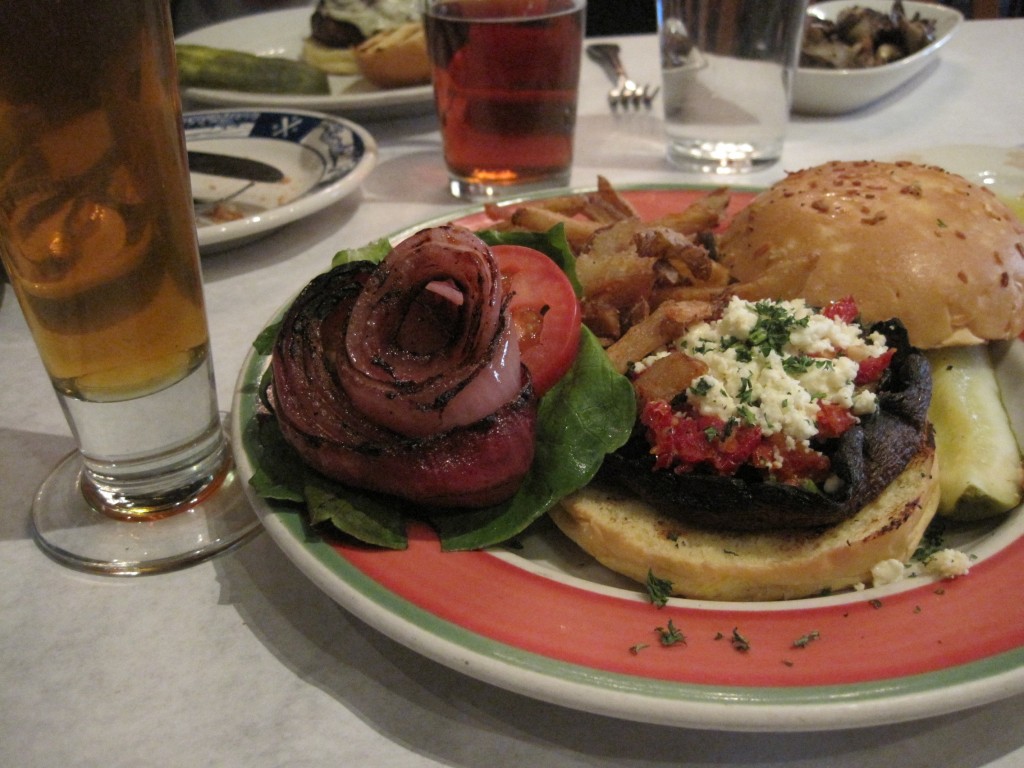 My throat was been feeling a little scratchy, so before hitting the sheets, I mixed up a cup of pink lemonade emergen-c. Big props to my running pal Megan M. for telling me 1) about this flavor and 2) suggesting I drink it hot. I never used to like emergen-c, but now it's a pre-race staple!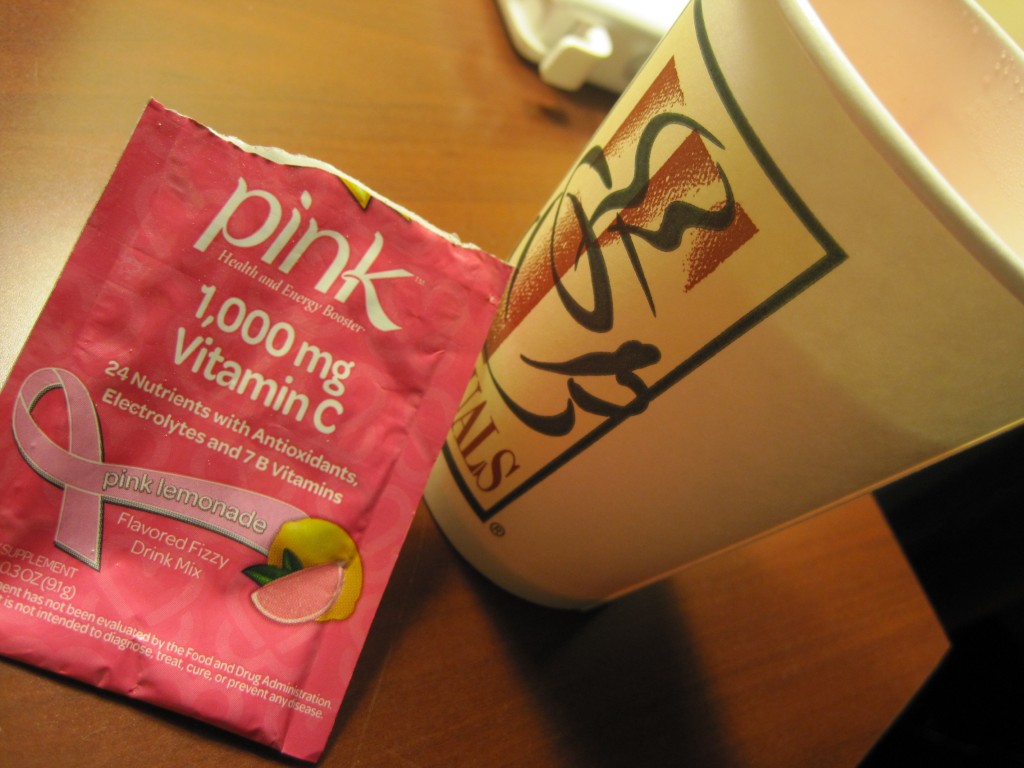 For once, I actually got a pretty solid night's sleep (10pm-6am) and felt decent when the alarm went off. However, there was a bit of a coffee emergency. I drink coffee every day, as soon as I wake up. I need the ritual to feel like I've started my day (and it helps me go to the bathroom-so key before races!!). Unfortunately the coffee machine in the hotel lobby was broken and by 6:40am, it didn't look close to being fixed. I didn't have time to go anywhere (like Starbucks) to get coffee, so I attempted to make some with the room coffee pot. I got about an ounce of coffee (seriously) into my cup before the machine conked out. It was pretty concentrated so I supplemented with hot tap water (angryrunner style!). I also gobbled down a luna bar.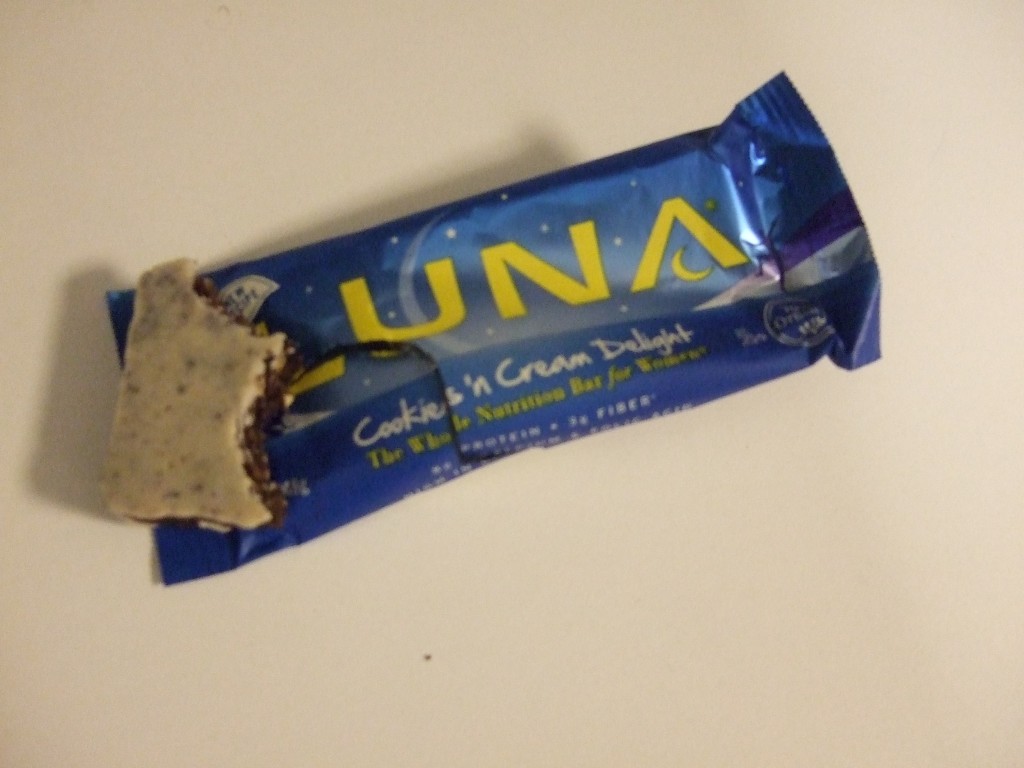 After a little bit of digestion time and a 1.5 mile warm-up to the start, I got into my corral.
The Race-
The Good:
The weather was beautiful and nearly perfect for racing (sunny, 50 degrees).
I had a seeded bib number, so I was near the front in the first wave.
The course was mostly flat and I was able to see my dad twice.
The Bad:
The course had a lot of turns, which I felt slowed things down a bit.
The mile marker for mile 4 was off by at least a minute (seriously, shouldn't someone have checked this??)
The Ugly:
I never felt like I found my rhythm during the race – my legs felt stale from the start.
I really battled with negative throughout the race – I kept thinking about how hard the pace felt, how tired I was, how much I wanted to stop, etc. NOT GOOD.
In retrospect, racing a half-marathon 2 weeks ago, taking nearly a week off, and then running very easy last week  was NOT the best race prep. I haven't done a workout (besides racing) since the end of February and it shows. Blah.
I ended up finishing the 10 mile race in 1 hour, 11 minutes, and 31 seconds (~7:09 pace) which is about a minute slower than I would have liked. However, I was checking out the race stats afterward and they made me feel a little better. I was the 129th female finisher out of 9,000 women – even if my time wasn't exactly what I would have liked, it still wasn't too shabby. My teammates Kristan and Felice are total bad-asses and placed as the 12th and 26th females OVERALL. So awesome.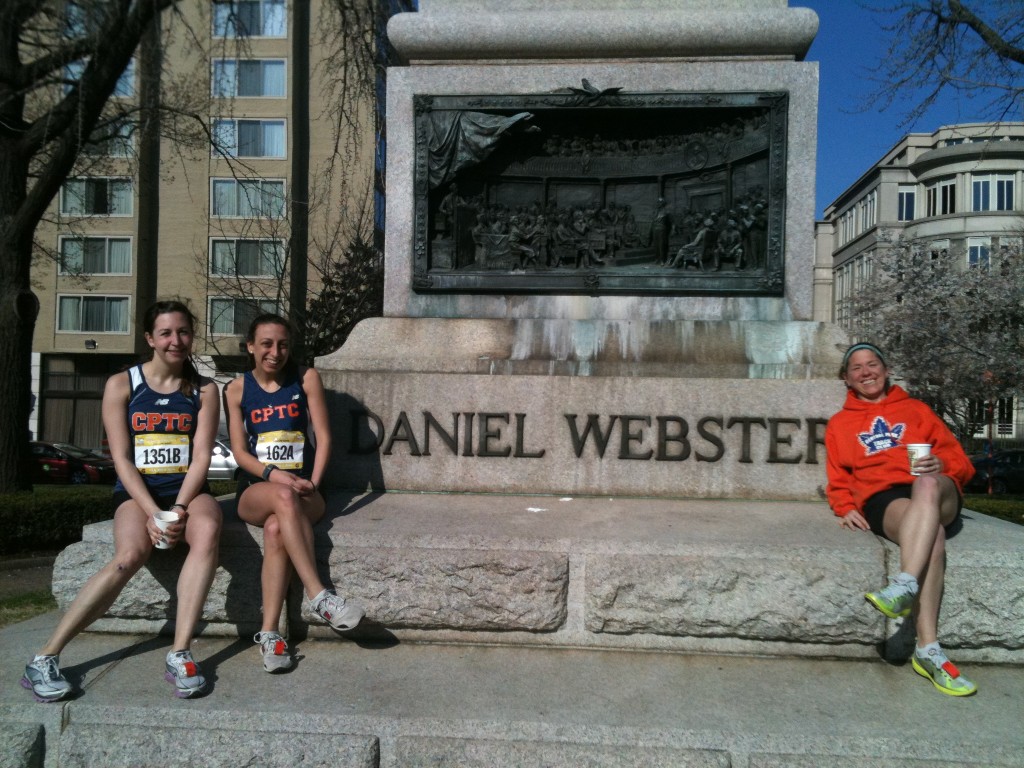 After a 1.5 mile cool-down back to the hotel, a shower, and a mini snack (coffee and an apple!), my Dad and I headed to brunch nearby. It was after noon by the time we sat down to eat and was starting to feel kind of woozy, nauseous, and out of it. Yo, low blood sugar, what up? But as soon as my Greek omelet (spinach, tomatoes, feta, oregano) arrived, I attacked the plate. I felt 100% better after eating, thankfully.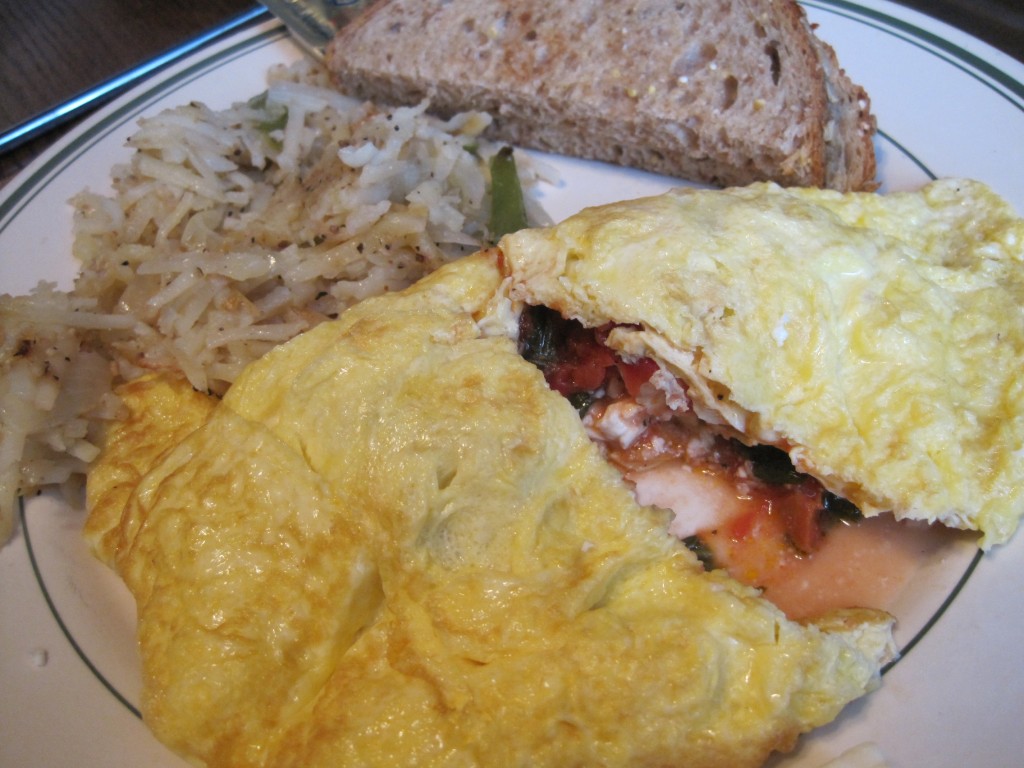 Dad's fried egg pizza deserved some blog love: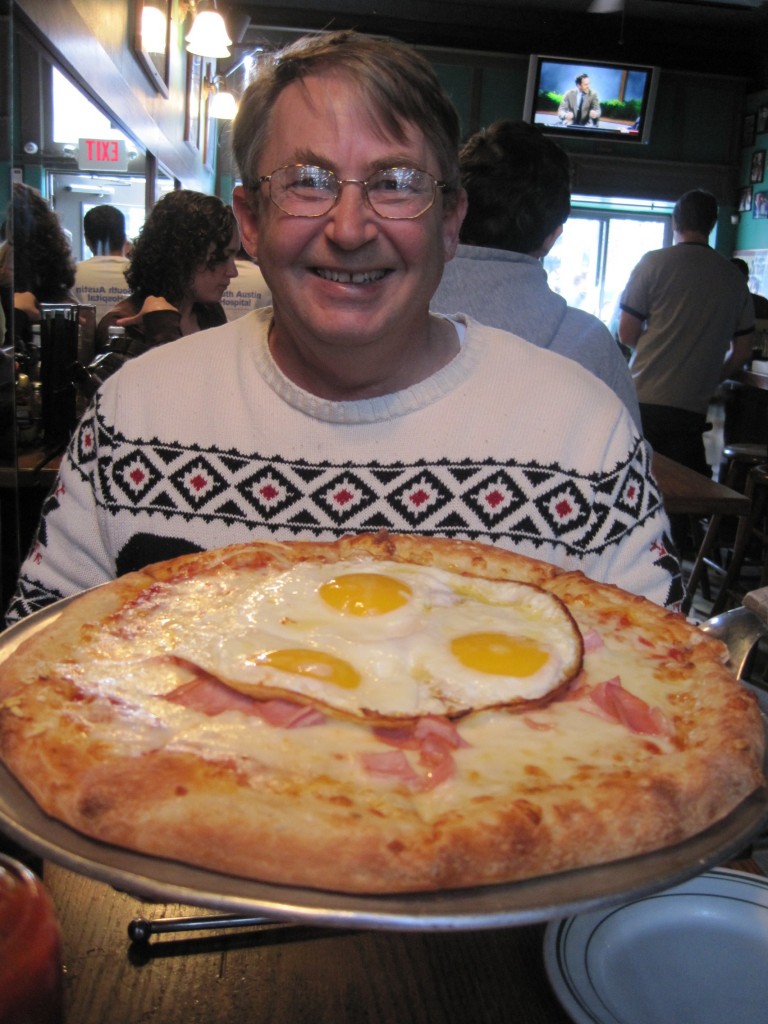 After a bus ride that seemed quite long, I'm back in NYC and figuring out my training for the upcoming week. No hard workouts till at least Thursday, but I DO need to start seriously training for the Brooklyn half. And soon. 7 weeks and counting…
Do you ever struggle with negative thoughts during races (i.e. I want to stop, this is hard)? When I find myself drifting into that territory, I try to repeat a mantra like "find your rhythm" or "maintain good form", but it was a struggle today!