About a year ago, I attended a gluten-free baking class with some friends. I was impressed with the instructor and signed up for her monthly newsletter. Flash forward a few months – I enter a contest sponsored by the instructor's gluten-free baking company (Purely Elizabeth) and end up winning the grand prize. I don't think I've ever won anything this big, so I was super pumped for the  romantical weekend for two at the Essex resort and spa in Vermont. Things that are free automatically seem about 10 x cooler, but throughout the course of the weekend I must have said at least a dozen times that I'd come back to this place as a paying guest. The buildings and grounds were beautiful! The property consisted of 120 guest rooms, a restaurant/cooking academy, and spa.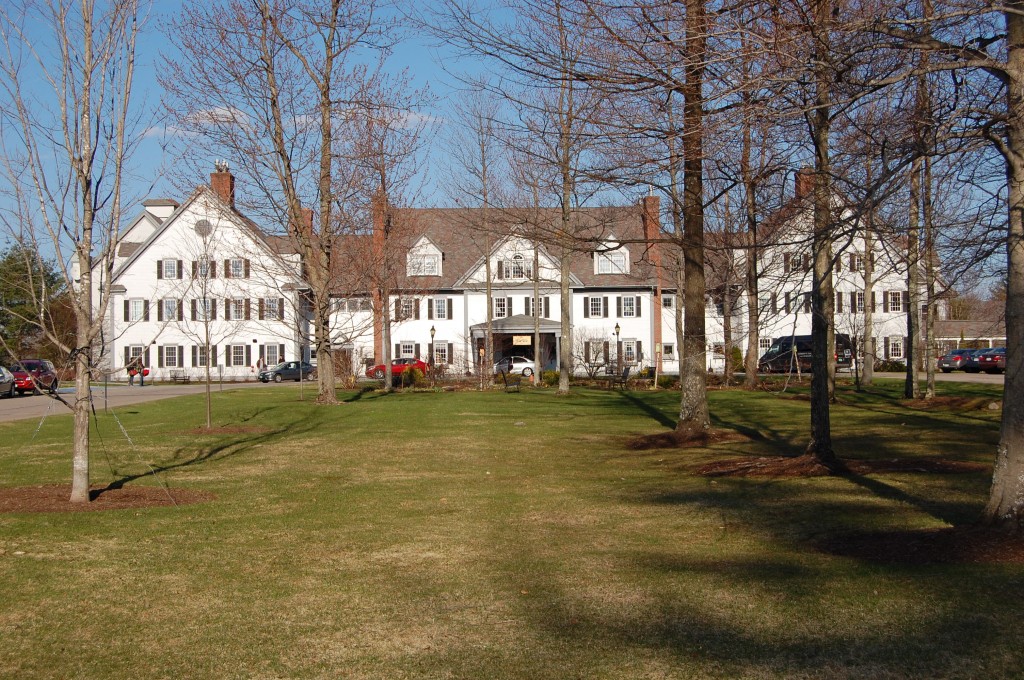 There were plenty of on-site activities for the guests. We explored the fly-fishing pond, ran on the trails, and there are free bike rentals and a Saturday evening bonfire every week.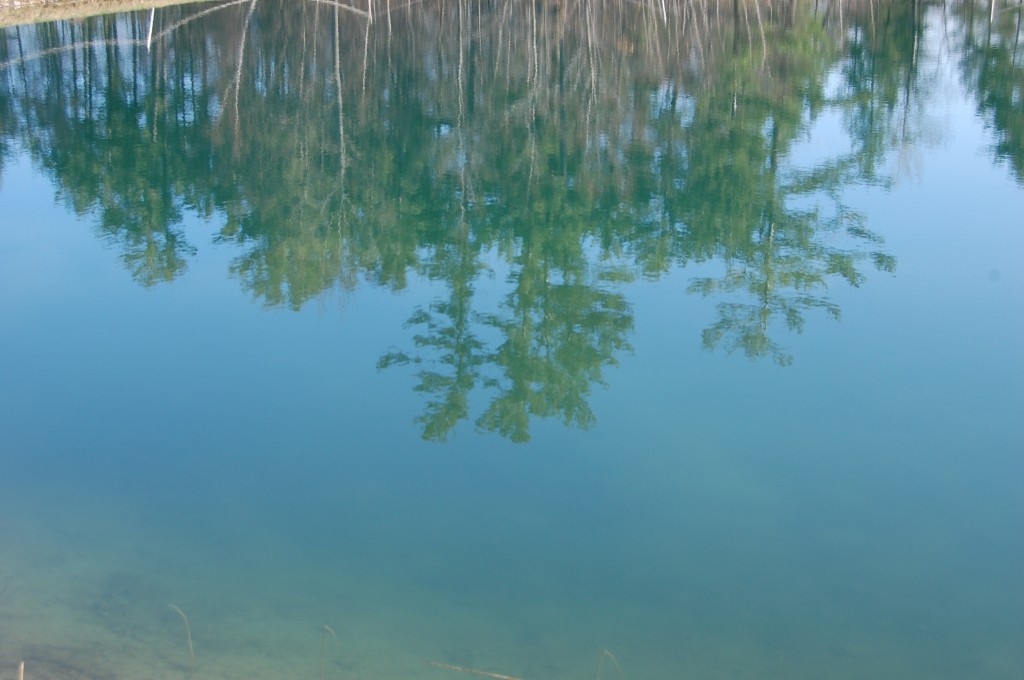 We were upgraded to a suite with a gas stove/fireplace and whirlpool. And since this was a culinary resort, there were nice little touches like an in-room copy of Bon Appetit magazine and wine glasses.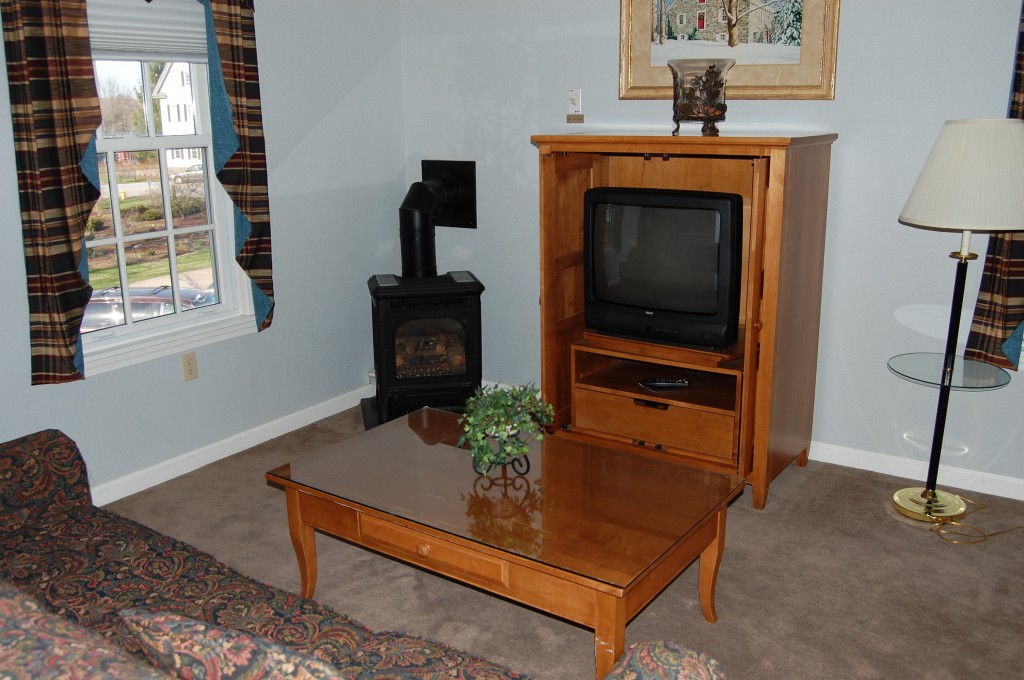 Surprise!! The man-friend finally makes his blog debut…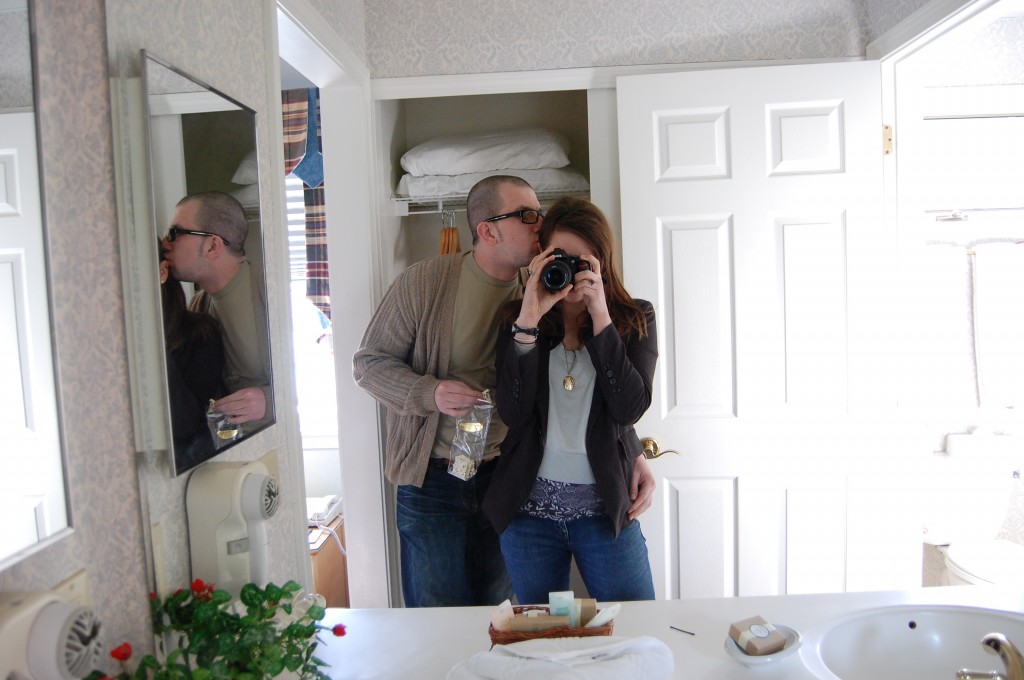 Did I run all the miles I planned this weekend? Umm, no. Did I eat and drink super healthily? Again, if this photo is any indication, I'm gonna have to say no.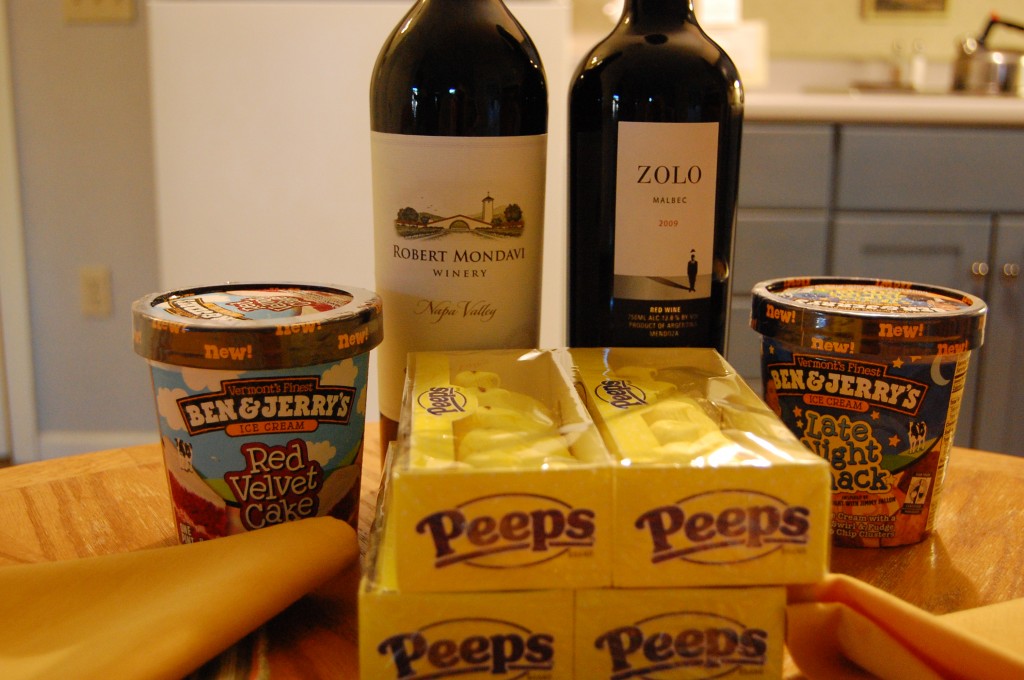 BUT, I always say that there are times in your life to focus on running and being healthy (like 2010 NYC marathon training) and times for enjoying and celebrating the good things in life (like this weekend!). I did get some runs in – 8 miles on Thursday morning before I left the city, 4 miles on Saturday afternoon in VT, and 10 miles when I returned to NYC on Monday – but I also took 2 complete rest days. I felt a tad guilty for straying from my training schedule, but then I had some mascarpone stuffed french toast with VT maple syrup and I was all like…"Running? What's running?"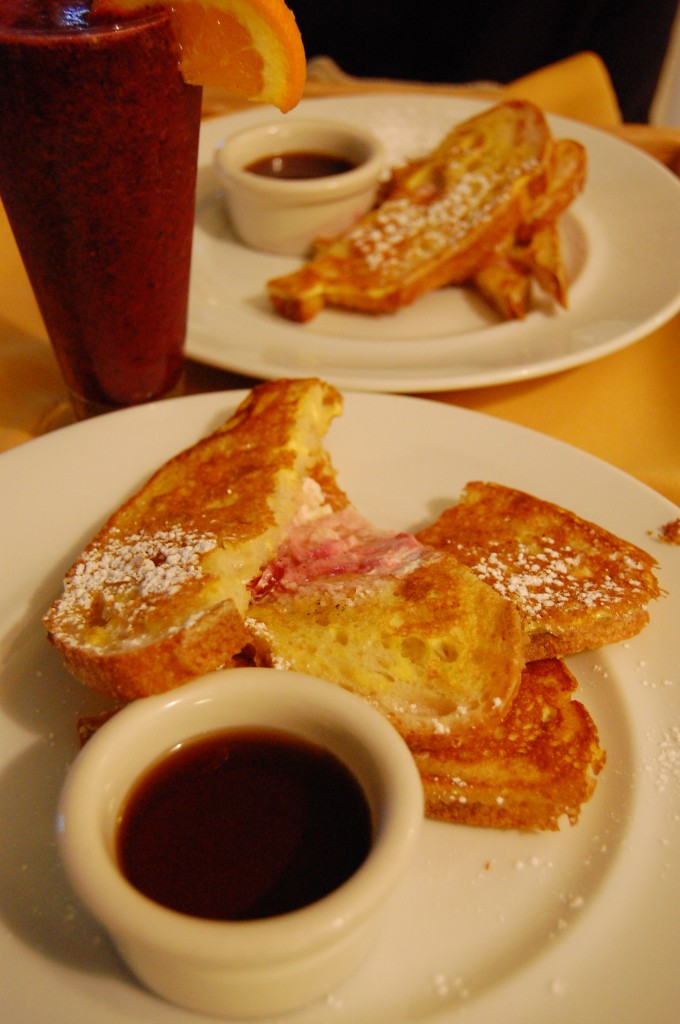 I also ate the occasional salad – but only if it came accompanied with homemade croutons and parmesan cheese 🙂
Grilled romaine salad with chicken, parmesan cheese, croutons, and lemon ceasar dressing: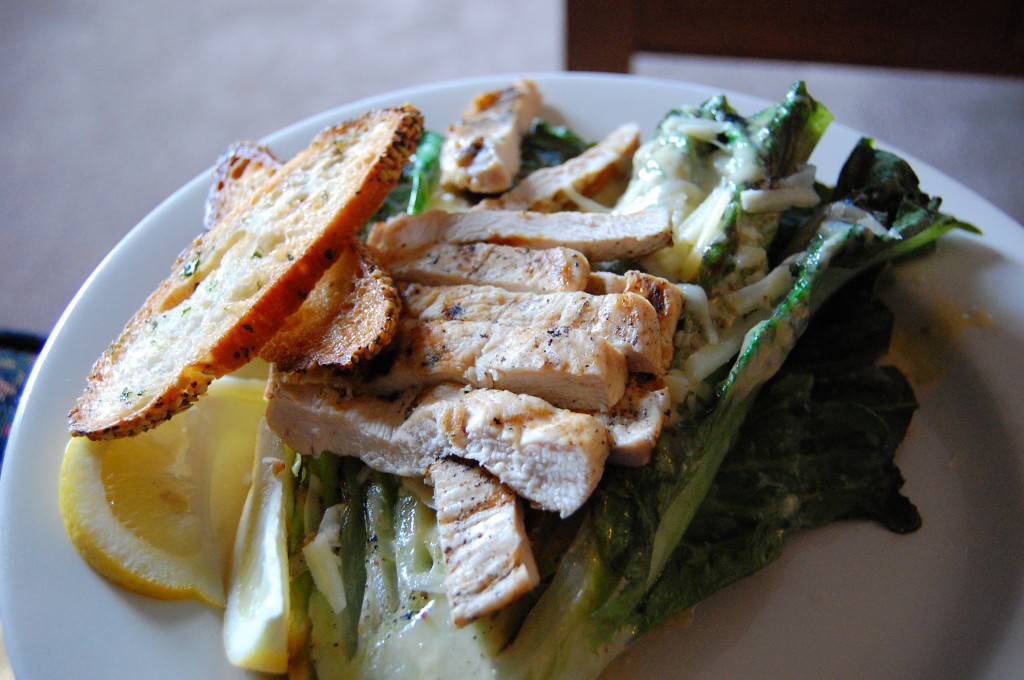 The highlight of our stay was probably the cooking class we took on Saturday evening. It was a small group, about 12 people total, and over the course of 3 hours we sipped wine and made some cozy Italian dishes. The resort has a few different types of courses – hands on sessions like the class we took and the "chef's table" series which is more like culinary theater. I've seen a few Groupon and Living Social deals for The Essex, so if I can get a good deal, I really want to come back.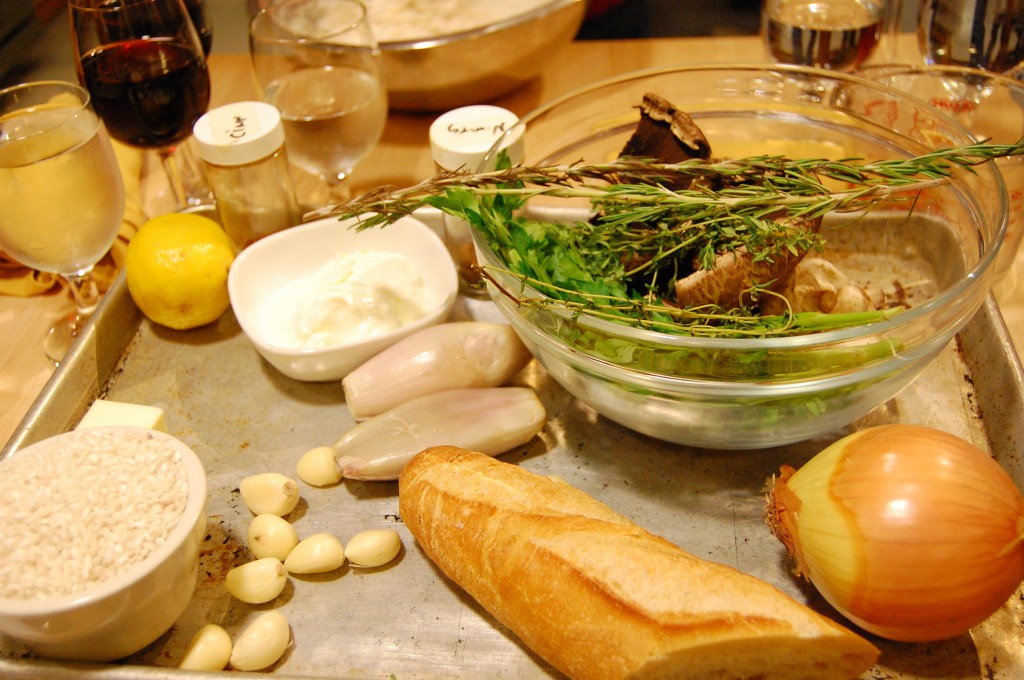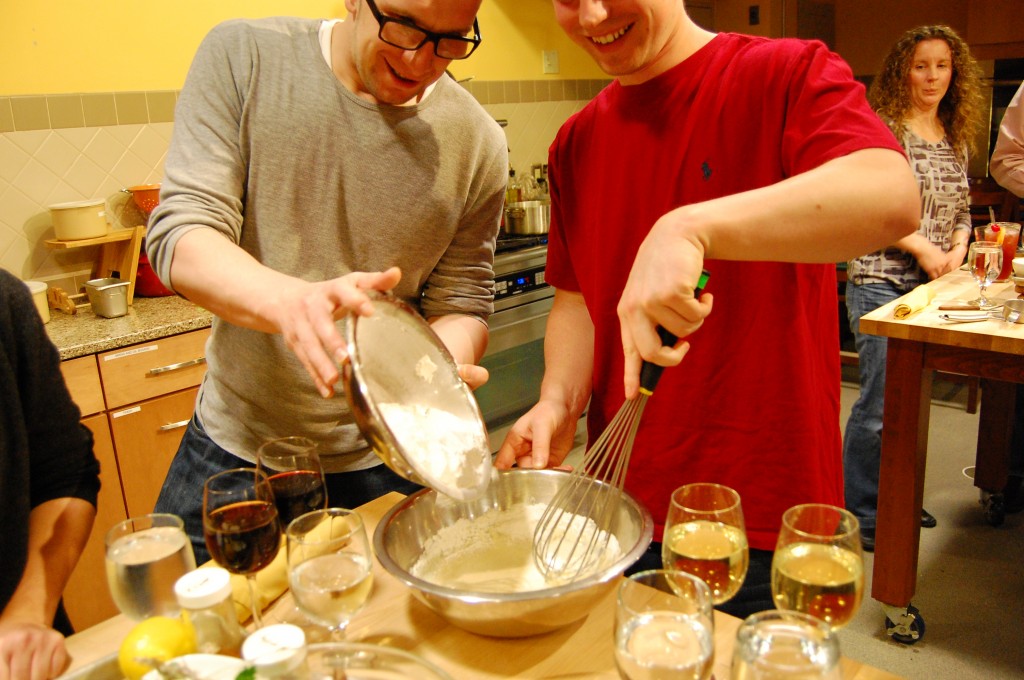 We made a mushroom crostini appetizer that looked impressive, but was actually pretty easy to put together.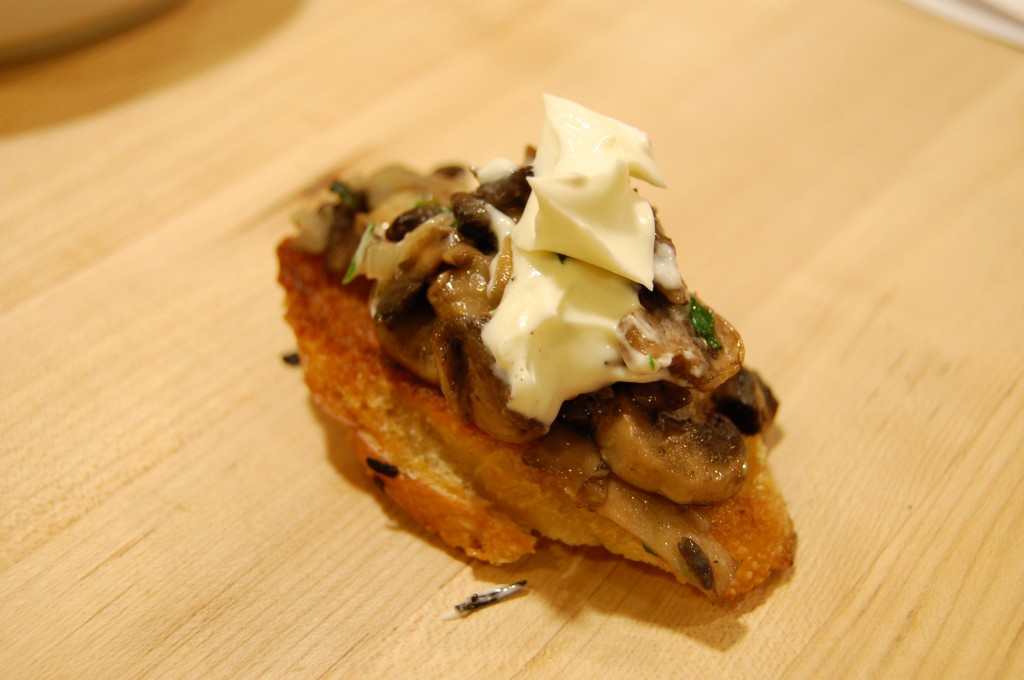 Mushroom Crostini with Truffle Cream (serves 4)
Ingredients:
1 lb mushrooms (portabella and cremini), washed and chopped

1 large shallot, chopped

1 Tbs olive oil, 1 Tbs butter for sauteeing

1 sprig rosemary, 3 sprigs thyme, 1/2 bunch parsley, chopped

1/3 cup creme fraiche

1/2 Tbs truffle salt or truffle oil

1/2 baguette, sliced thinly

additional parsley for garnish, optional
Directions:
Heat the butter and oil over medium heat and saute the shallots until translucent

Add the mushrooms and cook for about 5-7 minutes, until softened

Remove the mushroom mixture from heat and stir in the herbs, transfer to a plate

Add a bit more butter to the same pan and toast the baguette slices – once golden brown on both sides, plate the bread and top with a heaping spoonful of the mushroom mixture

Mix together the creme fraiche and truffle salt and add a small dollop to each crostini
We also made chicken milanese (probably the most flavorful chicken I've ever cooked…seriously), a butternut squash risotto, and homemade honey fritters.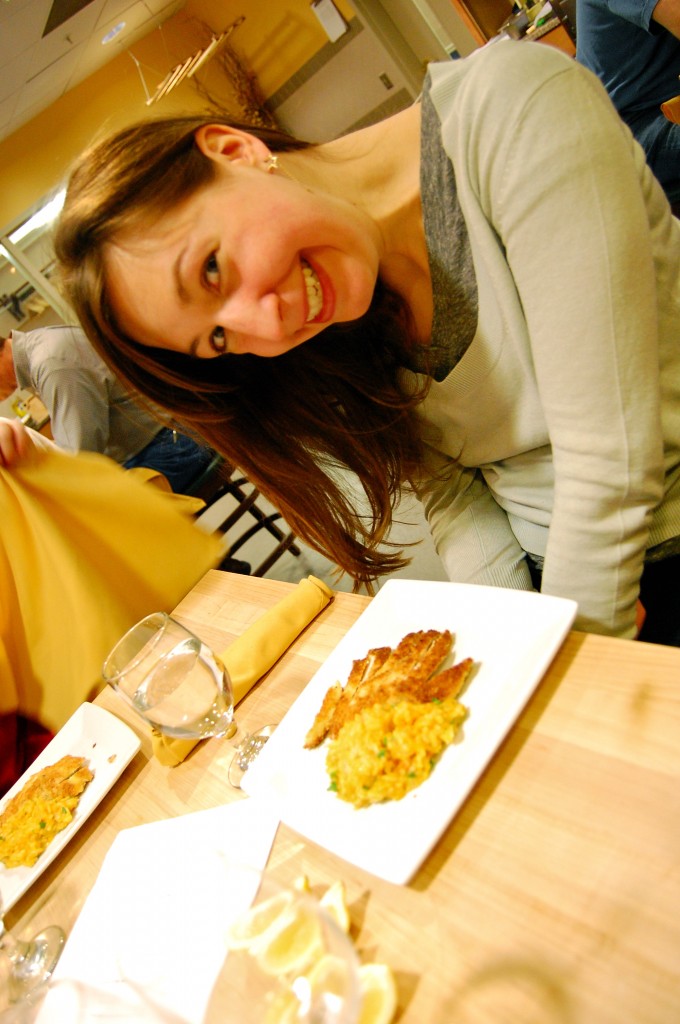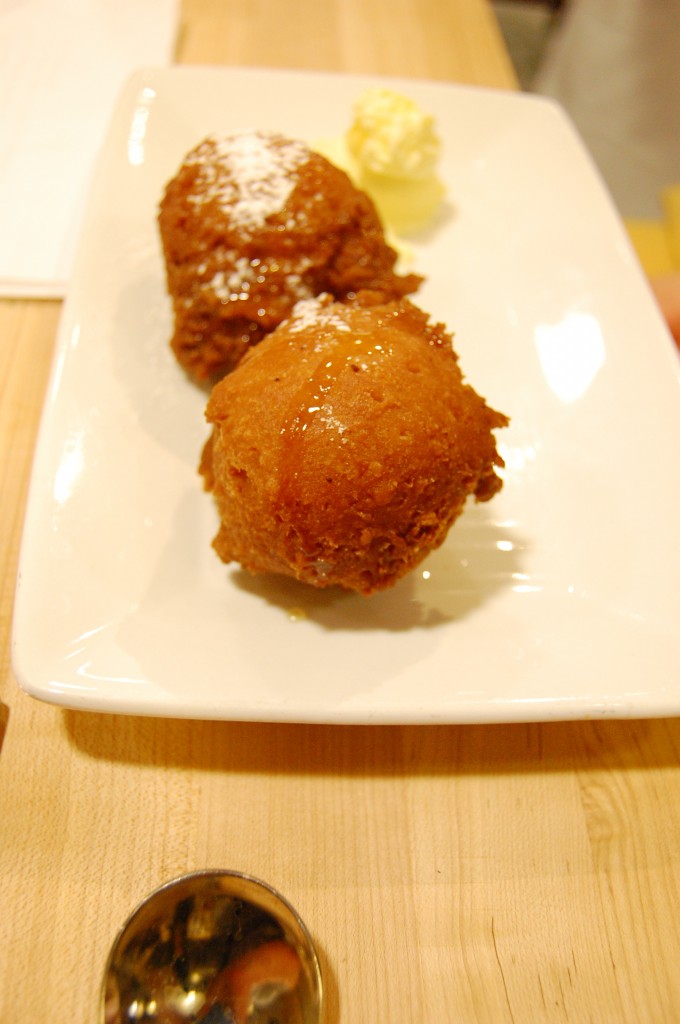 And of course, since this weekend was all about moderation (lolz, not really) we followed dinner up with some wine and peep s'mores.
Before saying goodbye to the Green Mountain state, we headed to American Flatbread for Easter Sunday lunch (1/2 roasted tomato salsa, corn, and black bean and 1/2 mushroom and VT sausage). We also split the restaurant's signature evolution salad as a starter and a few locally brewed beers. When it comes to good pizza and beer, my stomach knows no limits.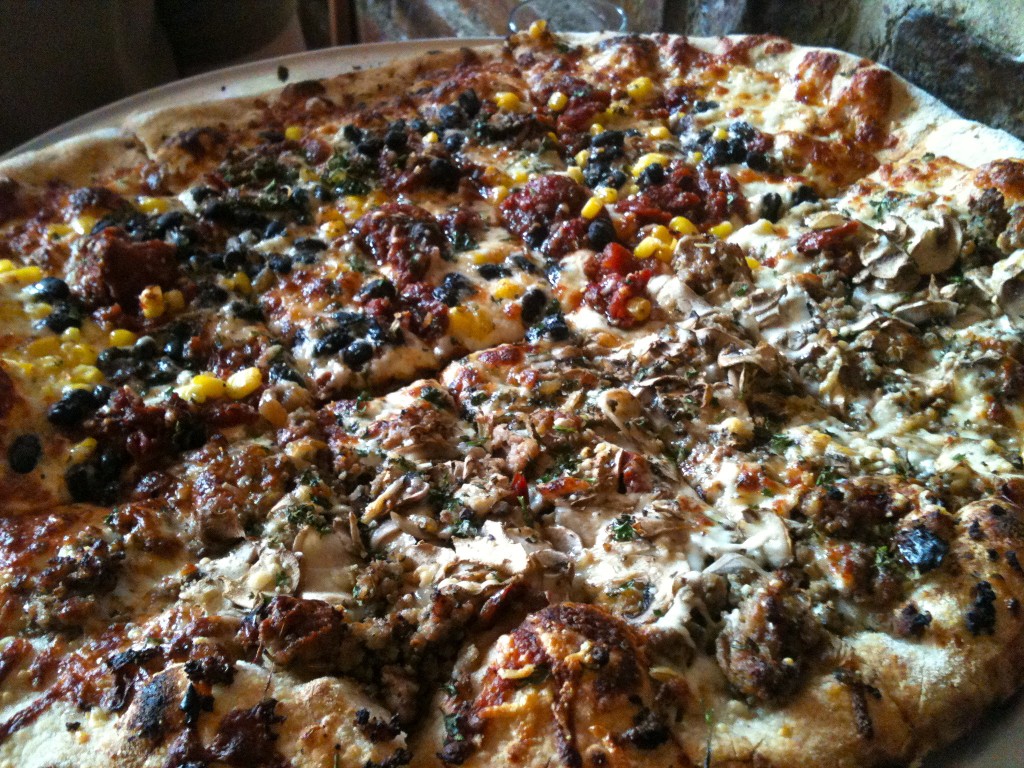 A walk near Lake Champlain closed out the weekend trip to Vermont and eventhough I was a little sad to fly home, having Monday off of work helped me ease back into my routine. I ate something healthy-ish for breakfast (egg white, spinach, and feta omelet from the local diner) and hit the gym for my almost-forgotten long run.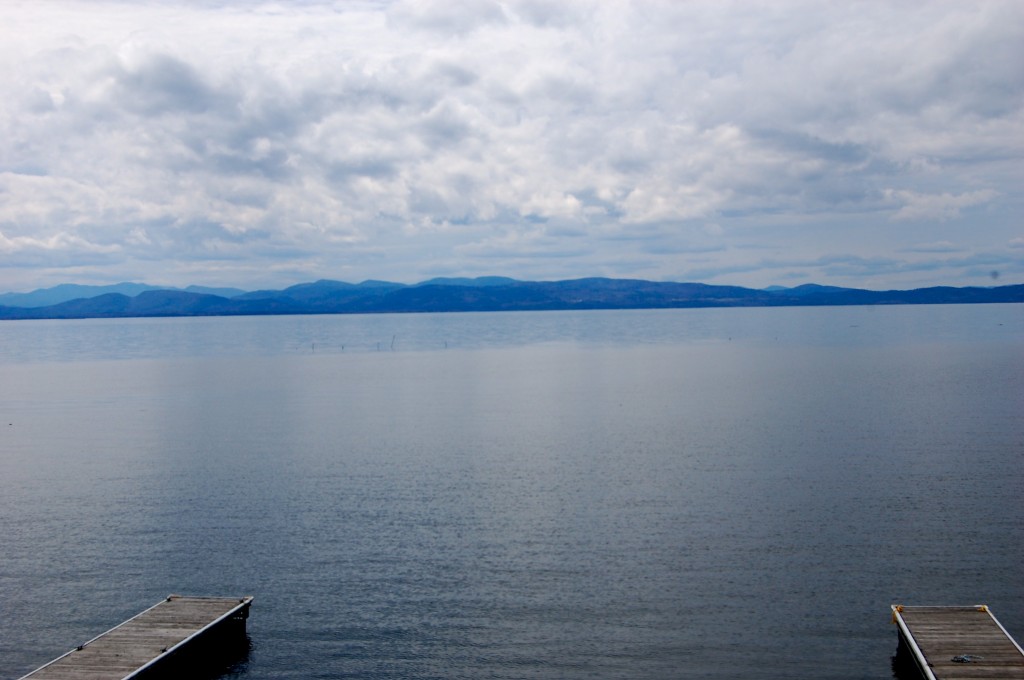 Hooray for travelling! And wine. And peeps.
Have you ever taken a cooking class? I never realized it could be a fun vacation activity, but now I want to sign up for more!