I wish I was one of those people (if they even exist?) who got pumped up to run a workout and stayed that way. Unfortunately, I often wage a mental battle with myself in the hours leading up to a tough track workout or tempo run. It gets easier once I'm in a routine, but I haven't been to a team workout since February due to a steady racing schedule in March and a bit of a motivation slump in April. However, I decided that today would mark my return, mostly because I don't want to embarrass myself in the Brooklyn half-marathon next month.
Inside Megan's head (Thursday, April 28)
8:30am – It sure was nice to sleep in this morning. I'm so glad I decided to do a workout with my running club this evening!
2:07pm – (and half a bag of chocolate covered pretzels later) – Oh yeah, feelin' good. I am carbo-loading for tonight.
2:28pm – (and an empty bag of chocolate covered pretzels) – Wah, too much chocolate. Why did I eat so much?? Now, I don't feel like running fast later. Maybe I'll go home and rent Country Strong instead. And watch it in bed…That sounds like a great idea.
4:00pm – Maybe I will just suck it up, drink some coffee for energy, and run a few miles easy. It will make me feel better! Yeah that's what I'll do…run a few miles solo. But definitely no workout. No way Jose.
6:08pm – (Text message from my friend J) Are you still going to the workout tonight?
6:48pm – Still at the office…pretty sure there's no way I could make the workout even if I wanted to. I tell my friend that I'm going to run on the treadmill instead.
6:50pm – Bahh, I should just go. If I walk really fast to the gym I could still change and make it to the meeting spot in time!
So that is what I did. And you know what? I always always always feel better after I do a workout with the team.
The deets –
*1 mile warm-up
*6.2 mile tempo run in 46:30 (7:30 pace-ish)
*2.3 mile cool-down
*9.5 miles total
Not gonna lie, I felt pretty out of shape tonight, but I suppose this is what happens when you spend your weekends making peep s'mores and drinking wine instead of running! The Brooklyn Half probably isn't going to be the race I envisioned when I signed up, but I've been putting in some decent mileage, so I shouldn't bomb too badly. And if I do have an awful race? I have a wedding + open bar later that night to drown my sorrows.
Just Kidding. Sort of.
So yeah…this week has been pretty solid in terms of running. If I can pull off my planned morning run tomorrow (Friday) and my long run on Saturday, I should be golden.
Monday, April 25 – 10 miles medium
Tuesday, April 26 – 5 miles easy
Wednesday, April 27 – 4 miles easy + lifting
Thursday, April 28 – 9.5 miles (incl. 10k @ tempo pace)
Friday, April 29 – 7 miles easy
Saturday, April 30 – 11 miles easy
Sunday, May 1 – Rest day (aka recover from my friend's bachelorette party from the night before)
Total: 45.5 miles
If you're still reading this post, you deserve an award. I'm definitely kind of rambling. Besides listening to my inner dialogue (run! don't run! eat chocolate!), I've been in a pretty good mood this week. I think a lot of it has to do with the weather – I love sunny, warm days more than anything. Winter can suck it.
Some things that have been making me happy this week-
My favorite breakfast! Every single day, I pick up berries + cottage cheese, coffee, and a slice of Eli Zabar's health loaf with pb&j from the office cafeteria. I never get tired of it. (And don't worry – I recycle those plastic containers!)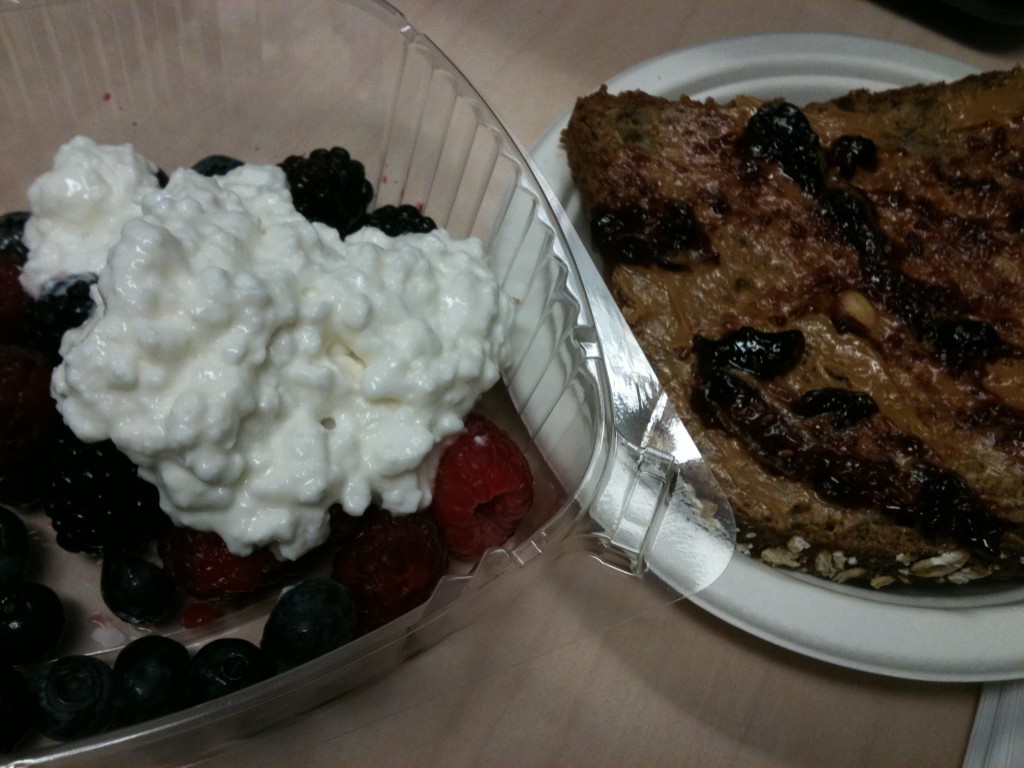 On Tuesday I took an actual lunch hour (how novel!) and sat outside in the sunshine and read my book whilst eating my salad.
Wednesday was Staff Appreciation day at work and I made sure to thank my stomach with a slice of chocolate cake and berries. It was excellent running fuel, I promise.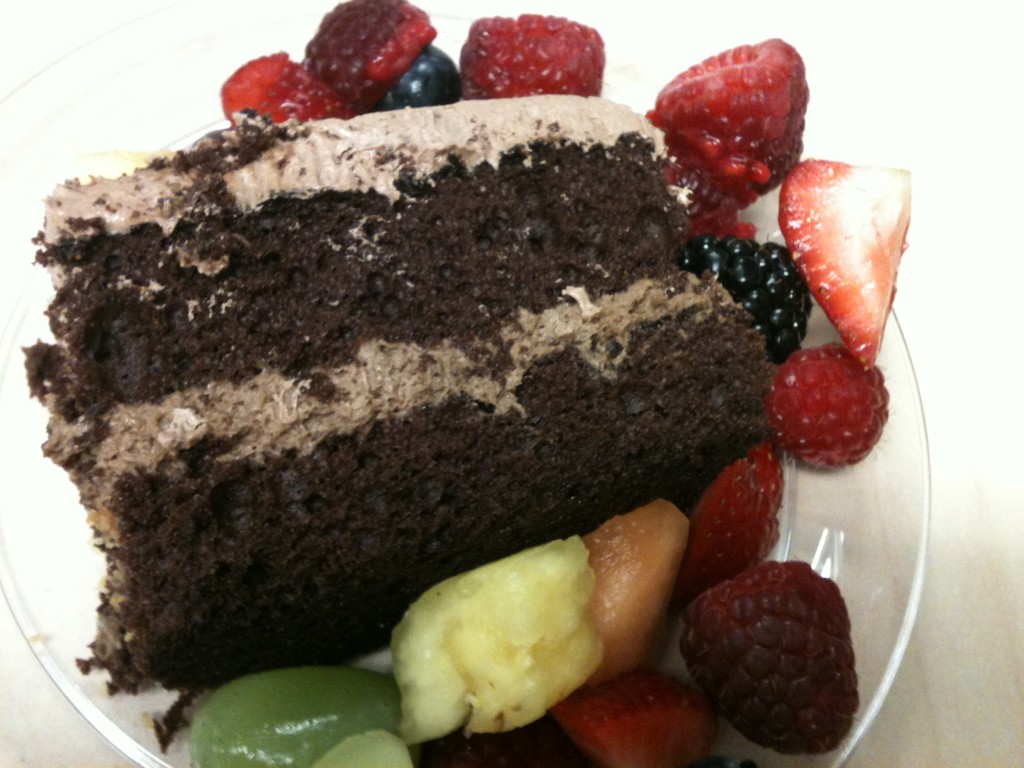 Do you get anxious and shifty when it comes to hard workouts or running with a group? Or am I just crazy? Because that is completely possible…