Sometimes taking a rest day is clear cut, other times the line is blurred. I left work early on Tuesday because I had the beginnings of a pretty wicked migraine. I get them every few months or so and they suck, blah. Luckily after a dose of Imitrex and a looong nap, the pain was gone. I woke up around 8pm groggy and feeling out of sorts. Although I wasn't sure, I thought an easy run might help, so I headed out for 4 easy miles in Central Park. It turned out to be a good decision – I returned feeling energized and ready to tackle my to-do list. From 10pm-midnight I hand washed all of my running clothes, mopped the floor, and baked up some yummy treats. Huzzah for running-induced energy!
My general rule for running while sick is as follows: If my troubles are below the neck (fever, chills, stomach pains, etc) I will take a rest day. If, however, I just have a headache, sore throat, or stuffy nose, I will attempt an easy run. Usually I feel better afterward!
I've been craving Girl Scout cookies lately (Mom, if you're reading this – can you order me some?!), but haven't been able to locate any in the city. Soo, I decided to bake a batch of cookie bars that reminded me of Samoas. These bars came together quickly (I mixed everything in one bowl!), so they were perfect to make on a busy weeknight.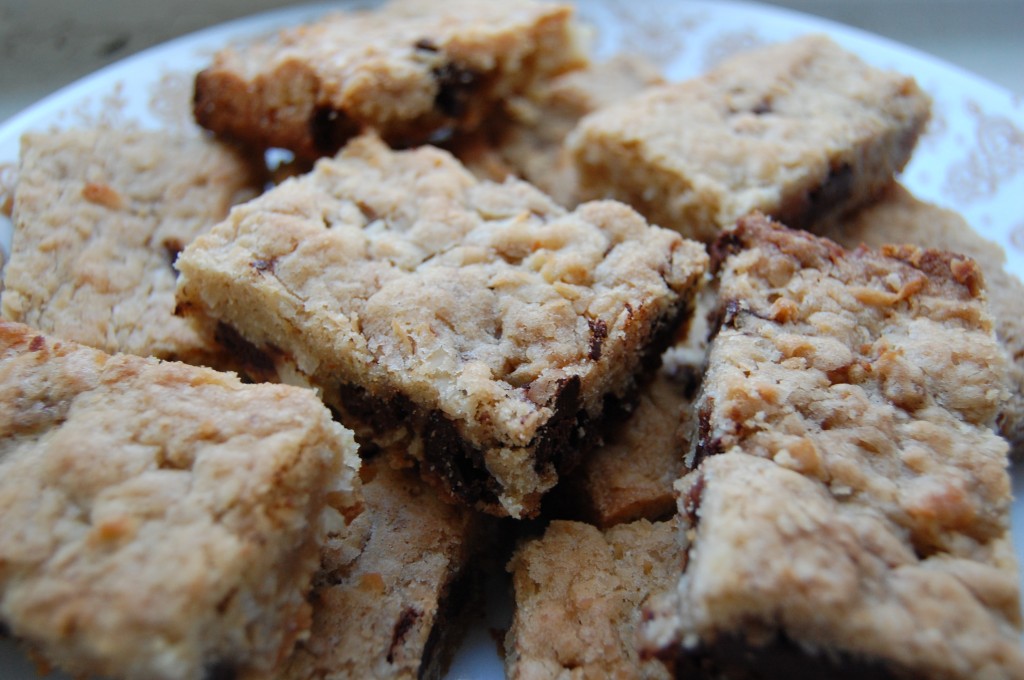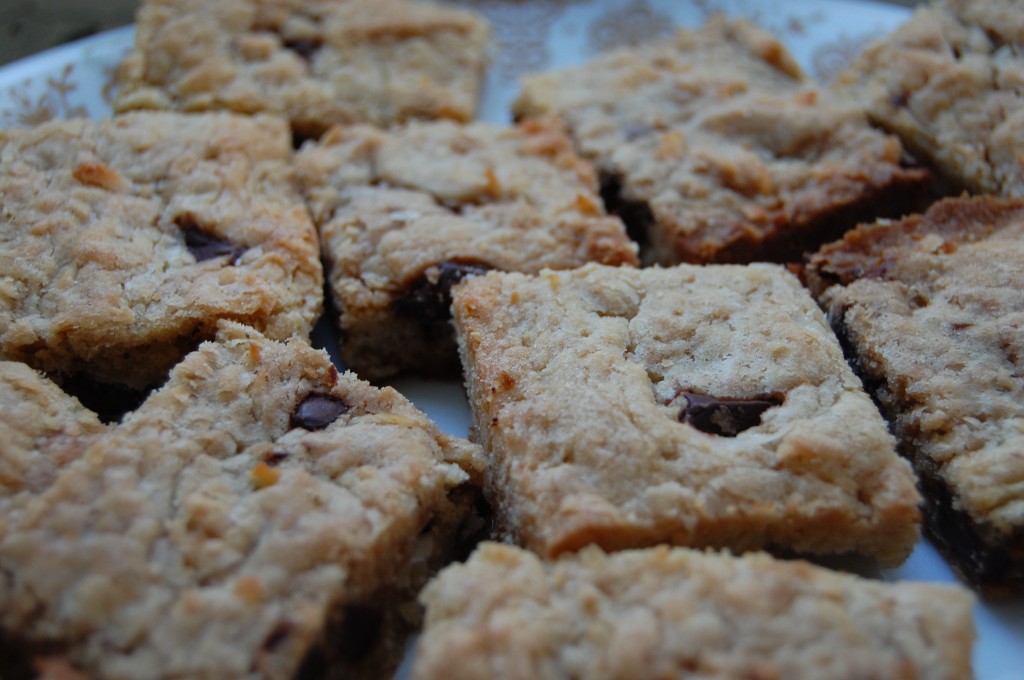 Samoa Cookie Bars (makes 12)
Ingredients:
1 stick of butter, melted
1 cup of light brown sugar
1 egg
2 tsp vanilla
1 cup of all-purpose flour
1/4 tsp salt
1 cup, shredded coconut (sweetened)
1/2 cup chocolate chips (I broke a dark chocolate bar into small chunks)
Directions:
Preheat the oven to 35o degrees. Coat a 8″ x 8″ pan with cooking spray.
Mix together the melted butter and sugar until combined. Add the egg and vanilla.
In a separate bowl, combine the flour and salt.
Slowly mix the flour mixture into the butter-sugar mixture. Stir in the coconut flakes and chocolate chips.
Pour the batter into the pan and smooth top with a spatula.
Bake for 20-25 minutes or until edges are *just* slightly golden brown. You don't want to overbake!
Allow cookie bars to cool completely and then cut into 12 pieces.
Note: If you wanted to get fancy, you could garnish the top of the bars with drizzled chocolate or caramel sauce.
Today, I hit the roads for an early 7-miler and came back to sample a few bites of cookie bar with my morning coffee. The migraine is gone, I started the day with running, and I have a plate of goodies waiting for me at home. Wednesday is definitely beating Tuesday by a long shot!
How do you decide whether to run or take a rest day when you're feeling under the weather?