Have I been feeling 100% ? No. Do I think the NYC 1/2 will be a PR race? Highly unlikely. I haven't fit in as many long runs or tempo runs as I would have liked. My right hamstring/glute has been bothering me. I've had a case of the motivation blahs since the NYC marathon in November. And late nights in the office have taken precedence over healthy dinners and 8 hours of sleep.
BUT just because I'm not feeling 100% doesn't mean I can't give 100% of what I have on race morning. In the March issue of Runner's World, I read an article about Sammy Wanjiru's Chicago Marathon win that said exactly that. He was the underdog for that race – he had missed workouts due to a stomach bug and was undertrained. Everyone expected him to drop out a few miles in. However, he didn't let self-doubt creep in and ruin his race. He gutted it out until the last 800m and eventually won the damn thing. Obviously not everyone can win a major marathon (or set a PR) just by believing in himself, but I do think that this article and Sammy's victory illustrates just how important the mental aspect of running can be. Races are often won, not by who has posted the most impressive workout splits, but by who wants it more. Especially in a race as long as a half-marathon (or marathon), it's all about staying in a positive mental place and being confident in your ability. I'm still working on getting myself pumped up for Sunday, so I'm pulling out all of my old tricks (upbeat music, reading running websites for inspiration, getting lots of sleep, even eating vegetables instead of candy!).
In honor of St. Patrick's Day, I drank apple-kale-celery-parsley juice on Thursday morning (I had one on Friday, too!). It must be the weather – I haven't craved one of these in months. I also had some scrambled eggs – I needed something to chew!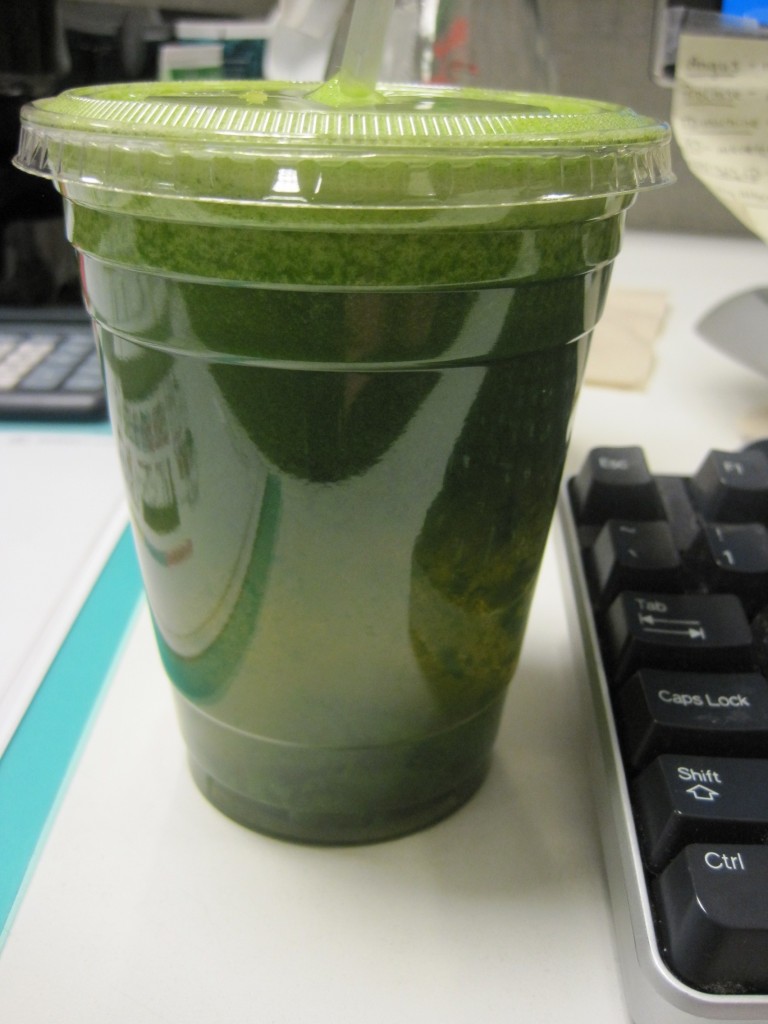 Late nights at work often mean my dinner plans are up in the air, so I try my best to fill my veggie quotient early. I'm lucky to have a great cafeteria on-site where I can get a container full of veggies, tofu, and grain-based salads for not too much $$. I always include a fat in my salad (nuts, cheese, olive oil) because the body absorbs the vitamins from vegetables much better when fat is consumed at the same time.
Thursday's salad had romaine lettuce, mushrooms, feta cheese, croutons, roasted sweet potatoes, tofu in sweet chili sauce, israeli cous cous, and a scoop of wild rice salad. With some sriracha!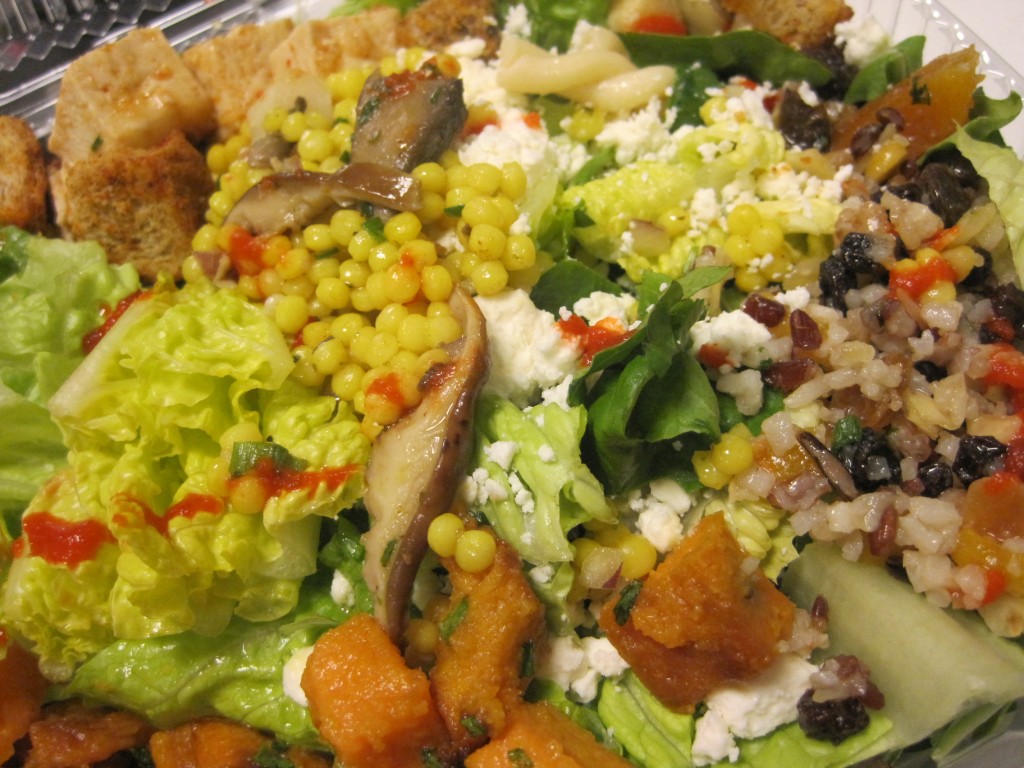 I didn't have time for a normal dinner, so I just snacked on some things throughout the evening –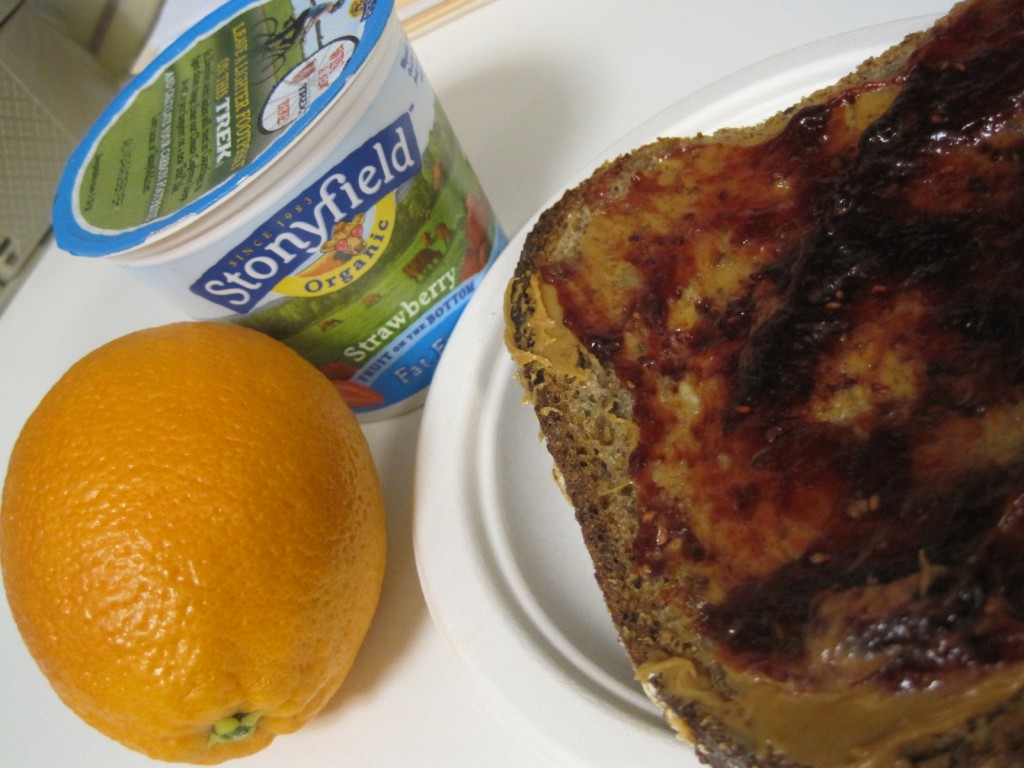 When I got home, I wanted to do a little something to celebrate St. Patrick's Day, but beer wasn't an option since I'm limiting the booze till after the race, omgz. Instead, I whipped up a homemade version of a shamrock shake! 1/2 cup Whole milk, 3/4 cup Breyer's mint chocolate chip ice cream (my favorite brand!), a splash of peppermint extract, and a few drops of green food coloring went into the blender.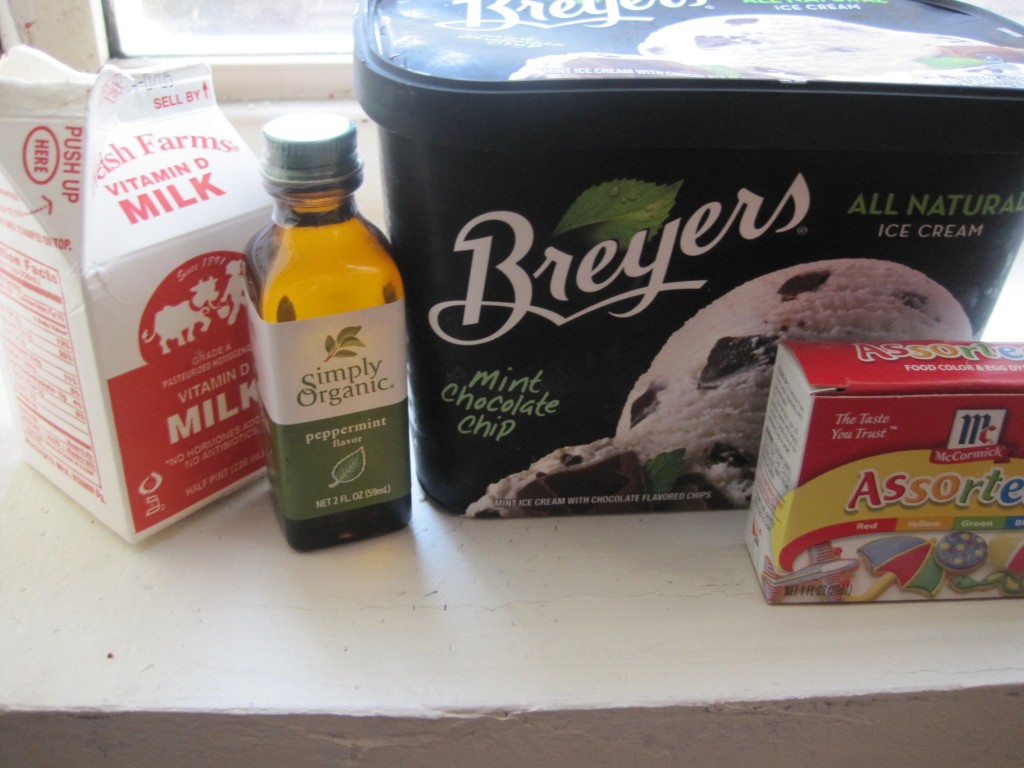 Topped with thin mint Girl Scout cookies! My mom took the hint and bought me a few boxes, hehe.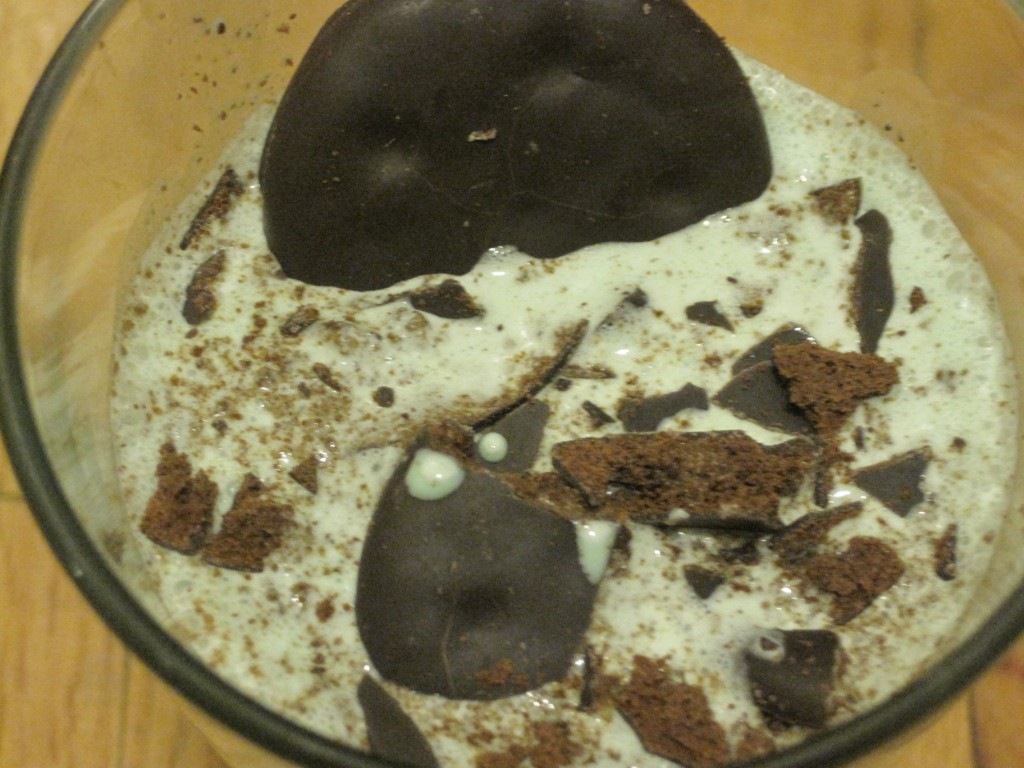 I've kept the running chill this week and have run between 4-7 miles every day except Tuesday (rest day!). I'll run a few easy miles on Saturday morning and then hopefully have 22+ hours ro rest up for the race.
It's going to be a busy weekend – I'll be back on Sunday with a recap of the NYC 1/2 marathon. Weather is lookin' perfect! Good luck to all my fellow racers!