Well. After spending all week whining, stressing out, and being cranky about the NYC Half-Marathon, things turned out pretty okay. I've realized a few things about my running –
1) The more pressure that I put on myself to do well, the worse I end up doing. My pre-race routine is often unconventional (I had multiple glasses of champagne and cupcakes at my friend's bachelorette party on Saturday night…umm pre-race fuel?), but I think setting my expectations low actually allows me to build confidence during the race. When I find myself feeling better than expected, it pushes me to go faster, to beat the odds.
2) The half-marathon is by far my favorite race distance. I will run cross-country, track, and 5k races because I know they make me a more well-rounded (and faster) runner, but that doesn't mean I'm going to love them. I feel like my talents lie in longer events (half marathons vs. 1500m track races) and it's no secret that when you're good (ish) at something, it's more enjoyable. And today, for the first time in many months, I enjoyed racing.
I woke up around 5:45am feeling a little out of sorts (see comment about late night champagne/cupcakes above…), so I settled on a small-ish breakfast: black coffee, Gatorade, and a banana with peanut butter.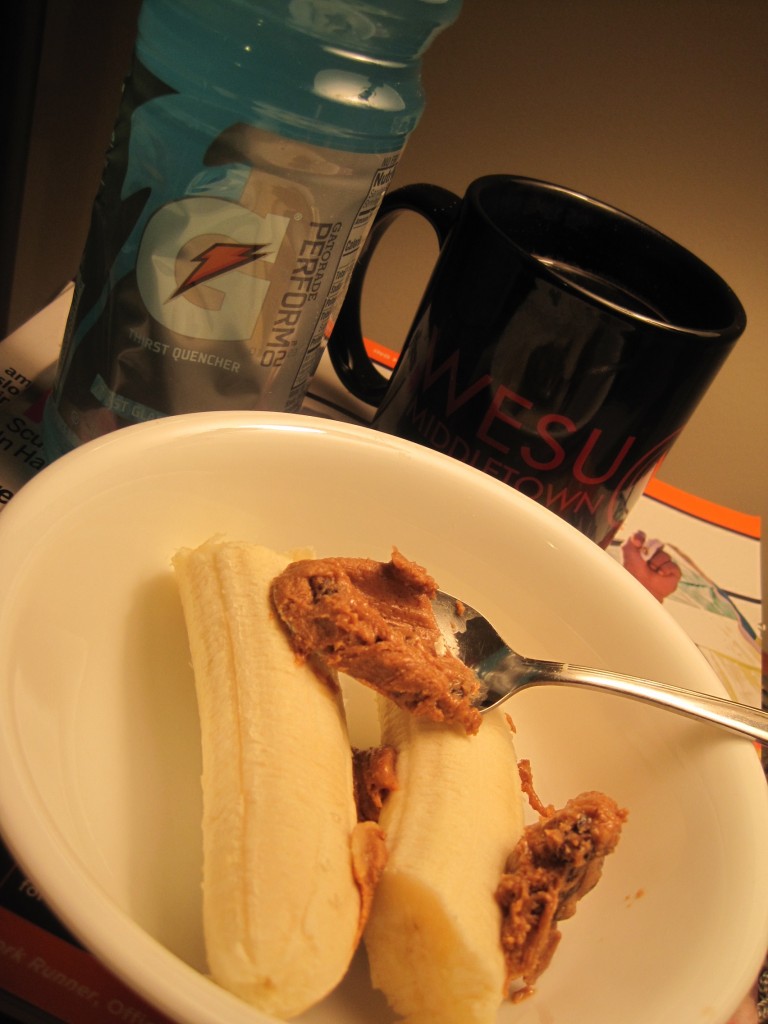 About 45 minutes later I hit the road for the 1.5 mile warm-up to Central Park. I dropped off my bag, waited in line to use the porta-potty, and then got into my corral a little after 7am. And then waited. And waited. And waited. Finally, the start gun went off a bit after 7:30am. My freezing cold muscles weren't quite sure what was happening to them – I felt so stiff after being outside in the cold for an hour! About 5 minutes into the race, this muscle numbness would come in handy. I don't really remember exactly what happened, but a stumble with a cone, and then a push from a large dude behind me had me in a face plant on the East Drive of Central Park. Luckily, this wasn't my first time biting the pavement (see: this post for deets about the time I split my lip), so I jumped back up and kept going. I knew my leg and elbow were bloody, but all my teeth were intact, so I figured I should carry on! First mile was in 7:18 – so I don't think I could have lost more than 10-15 seconds due to the fall. I kept things conservative for the first few miles (7:15 pace) and then started to open up my stride as we headed down the East Side for a second time (miles 5-8). I took a few sips of Gatorade around miles 6 and 9, but no gels (I haven't been using them during training lately and didn't want to upset my stomach). Once we exited the park, I had grouped up with three of my teammates and we were able to take advantage of the flat miles that followed. Miles 12 and 13 were tough, but I felt strong and in control the whole time. I was even able to pick up the pace significantly – I just realized that my last 5k was almost a minute faster than my first 5k. Final finish time was 1:32:54 (7:06 pace) – only about 30 seconds slower than my PR. All things considered, this was a nice surprise and a race that I'm proud of.
Race Splits:
5k #1 – 22:27 (~7:13 pace)
5k #2 – 22:21 (~7:11 pace)
5k #3 – 22:07 (~7:07 pace)
5k #4 – 21:26 (~6:53 pace)

The best part of the whole day? I'm going to have such bad ass race photos! By the time I finished, my knee and leg were covered in blood (sock was drenched in it) and I was quickly shepherded to the medical tent by a race volunteer. A very attentive doctor cleaned up my knee and elbow and checked to make sure I didn't have a concussion. And bonus surprise  – my friend Katherine was working in the tent and was able to keep me company! I will spare you gory photos of my leg, but check out the blood splatters on my shoe –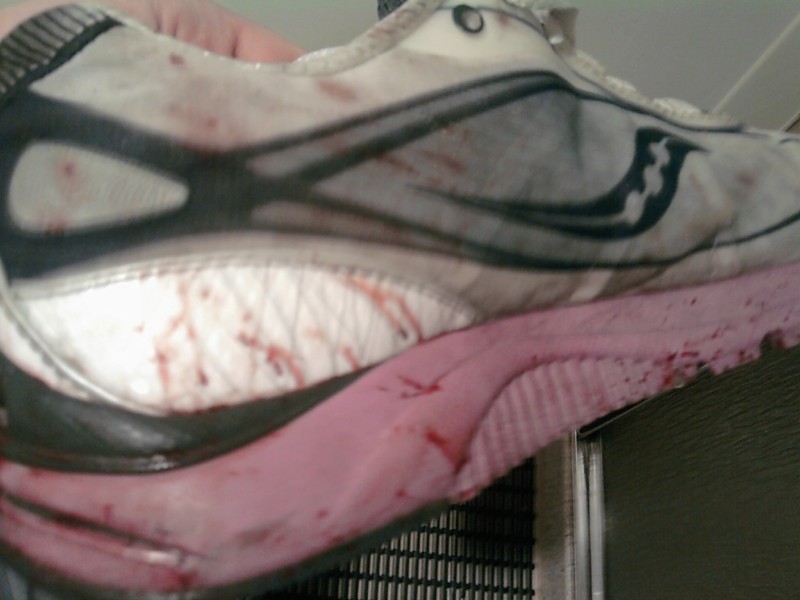 After I bandaged my wounds, the man-friend and I headed to a nearby Belgian Cafe called petite abeille for brunch. It's a fact – florentine eggs benedict taste 400x better after running 13+ miles.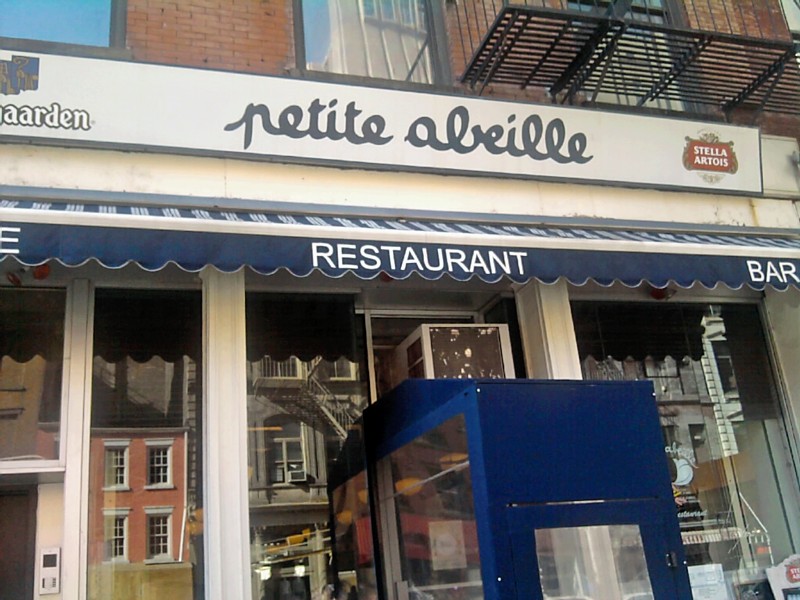 Obligatory post race photo with my finisher's medal – apparently, I was trying to look as awk as possible.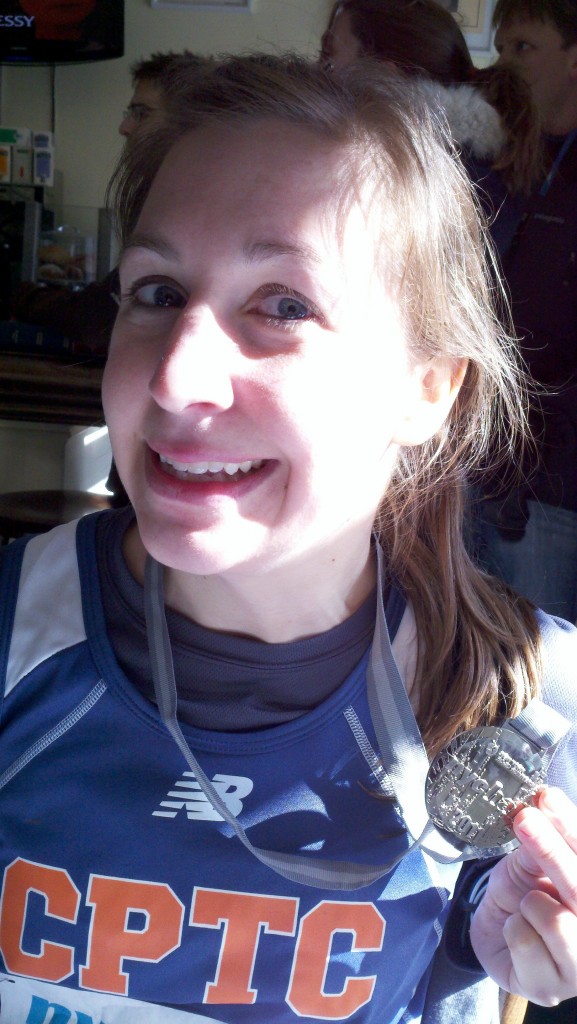 Stay tuned for some BAMF race photos. And maybe a dessert recipe or two. As for running – I'm taking some much needed rest days this week – and I can't wait!!
What's your referred brunch food? Sweet or Savory? I think restaurants should offer plates of 1/2 omelettes and 1/2 waffles. The best of both worlds!