Thank goodness for weekends! I just slept for 8 1/2 hours and feel like a new woman. And after 5 days of no running (just a little strength training and stretching), I'm finally feeling re-charged and ready to get back on the roads. I'm headed out for a Brooklyn running adventure in a little bit, but first wanted to post about some of my favorite NYC area running routes. Even though this city is crammed with people (and cars and bikes) – it's still an awesome place to train. No matter what time of day I head out to Central Park, I always have company on the roads. And the competition here is second to none – there's always someone to push you to kick it in at the end of a race!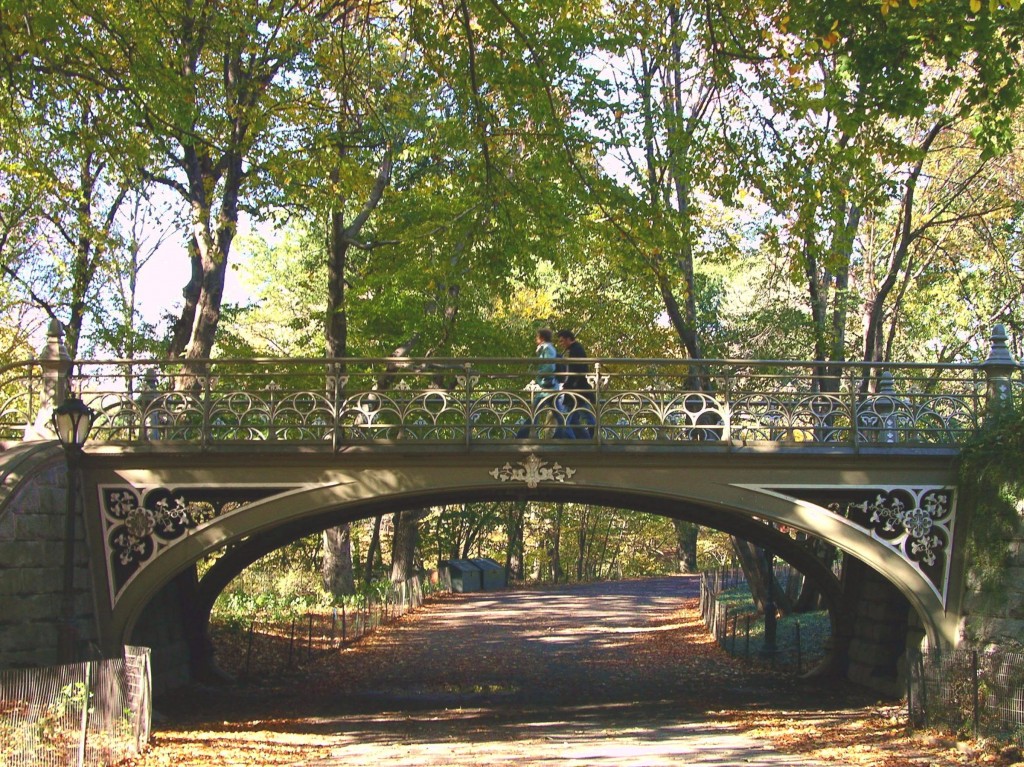 Central Park – The Bridle Path
The most popular route in Manhattan is Central Park. The Park's boundaries are 59th street on the Southern end, 110th street to the North, Central Park West (a.k.a 8th Avenue), and 5th Avenue. For suggested routes and mileage, check out NYRR's Guide to Running in Central Park. The main loop is great (tons of people watching opportunities!), but my favorite place to run is the dirt bridle path (yay soft surfaces!). Back in the day, horses used to travel this path, but now it's mostly filled with saavy runners.
Riverside Park/West Side Highway
If you're looking for flat, uninterrupted running, Riverside Park and the West Side Highway are where it's at. The views of the Hudson River and New Jersey make up for the wind you may have to battle.
East River Path
This route is a favorite amongst Upper East Siders – it's flat and straightforward, but can be a little shady after dark. Note: When Alma and I were training for the Boston marathon, we did a long run that went all the way down Riverside Park, into Battery Park at the bottom of the island, and then up the East River Path (check out the public track near E. 6th street!). However, be warned: The East River Park ends around 34th st and turns into the FDR. Apparently NYC cops frown upon highway running…We learned this the hard way.
Van Cortlandt Park
If you're willing to ride the 1 train into the Bronx, you'll be rewarded with a run in Van Cortlandt Park. This urban oasis has hosted some big time cross-country meets (Footlocker Cross Country Regionals) and contains a mix of grass flats and tough hills. Throughout the summer and fall there are weekly cross-country meets hosted here – most open to the public.
Prospect Park
For many Brooklynites, Prospect Park is the go-to place to run. In a lot of ways, it's a mini version of Central Park. The main loop is about 3.3 miles and there's a dirt bridle path that runs alongside it. NYRR hosts a few races here throughout the year – my favorite is the Brooklyn 1/2 marathon.
I'm also a big fan of "Adventure Runs" – some of my favorites have been:
Brooklyn Bridge to Brighton Beach
3 Bridges, 3 Boroughs (Manhattan, Queens, Brooklyn)
Miscellaneous Questions – What if I have to use the bathroom? Where can I buy running  gear? Where should I go to re-fuel and celebrate?
1) Best public restrooms for runners: My personal fav is on the second floor of the Time Warner Center Mall at Columbus Circle. It's never very crowded and usually very clean. The boat house bathroom (E. 74th St), the Delacorte Theatre bathroom (W. 79th st), and the bathroom near the Harlem Meer ( Northeast corner, near 110th st) are good options if you're running in Central Park. You can also pop into a Barnes and Noble or Starbucks location in an emergency.
2) Local running shops (many will even videotape you while you run and recommend a specific shoe – for free!):
3) My favorite places to eat after a long run or race:
4) If you're looking for somebody to keep you company, check out these lists: local running clubs and running buddy want-ads!
Where's your favorite place to run in your city? I have some trips to D.C., Burlington VT, and Southwest Virginia coming up and would love suggestions!