I wouldn't exactly give Sunday's race a thumbs up, BUT at least it was faster than my 2010 and 2009 performances. 14 seconds faster than last year = progress, even if I wasn't completely satisfied. Tring to look at the positive!
For the third year in a row, I toed the line at the Coogan's Shamrocks, Salsa, and Blues 5k in Washington Heights. This certainly isn't a flat and fast race – in fact, you're either going up or down hill almost the entire time. The start was crowded (think: 7,000 people on a narrow city street), but that's par for the course in NYC races, so I'm pretty used to it. My first mile was decent – 6:42 and my second mile was a surprising 6:30. However, the goal of picking up the pace during the last mile didn't happen. I tried to keep my head in the game, but physically I just felt tapped out by the half-way point. My form fell apart and the final mile felt like a slog. I went through the 3rd mile in 6:48 and finished in 20:36 (~6:38 pace average). Not awful, but certainly not what I'm capable of.
I think a large part of why I felt so crappy yesterday is due to the iron deficiency I've been struggling with, but of course, racing is always at least part mental. 2010 was a year full of PRs and I feel a lot of pressure to maintain that momentum, to keep getting faster.  It sucks not to feel like I'm not at the top of my game right now, but ultimately I think that accomplishments in running (or otherwise) can only be fully appreciated after you've dealt with the lows. I'm going to keep on keepin' on for the time being – taking my iron supplements, getting good sleep, pushing hard in workouts, and hope that I'll turn the corner eventually.
However, my frustration with the race was brightened by a day with friends and teammates. The skies opened up and poured on us during the race, so we were a pretty soggy bunch by cool-down time….At least it was a warm-ish 50 degrees!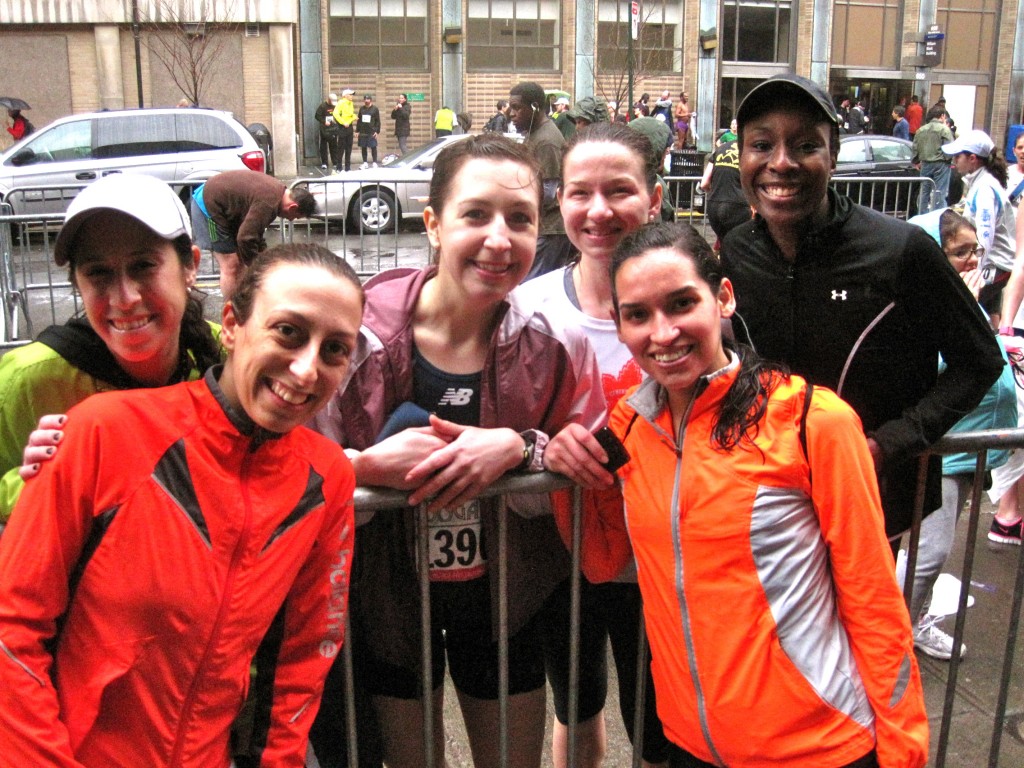 A teammate invited the racers over for bruch afterward and I was able to re-fuel with a smorgasboard of pancakes/waffles topped with yogurt and strawberries, peanut butter cookie granola, turkey bacon, and a OJ.
You could tell this apartment was full of runners…so much gear!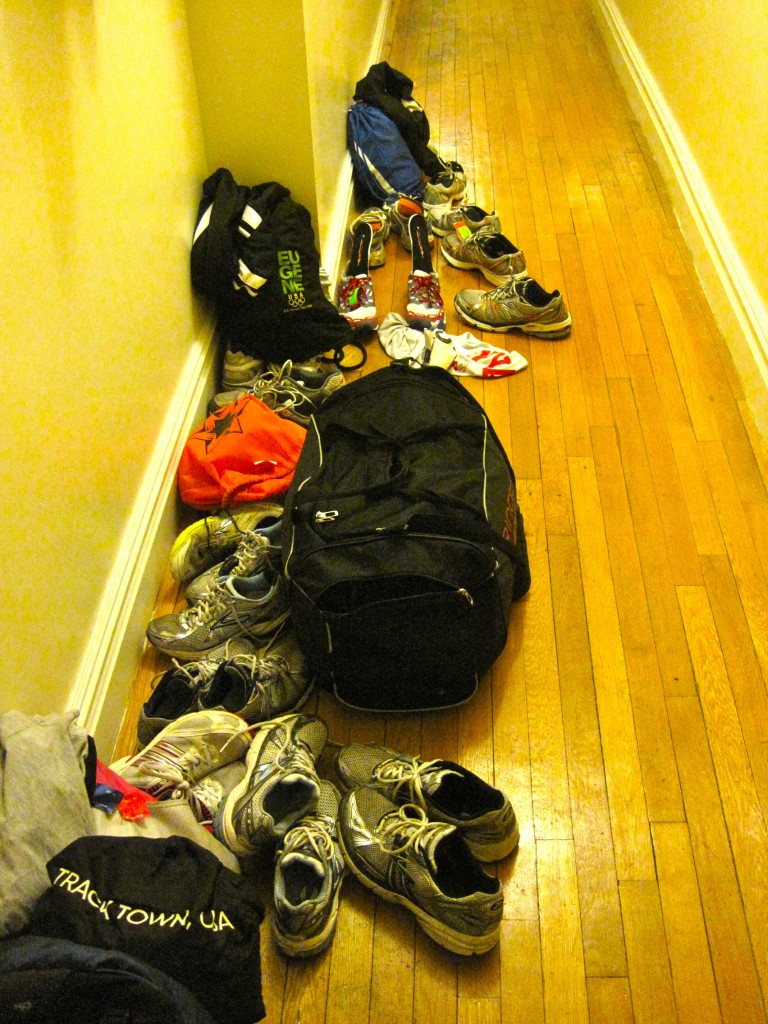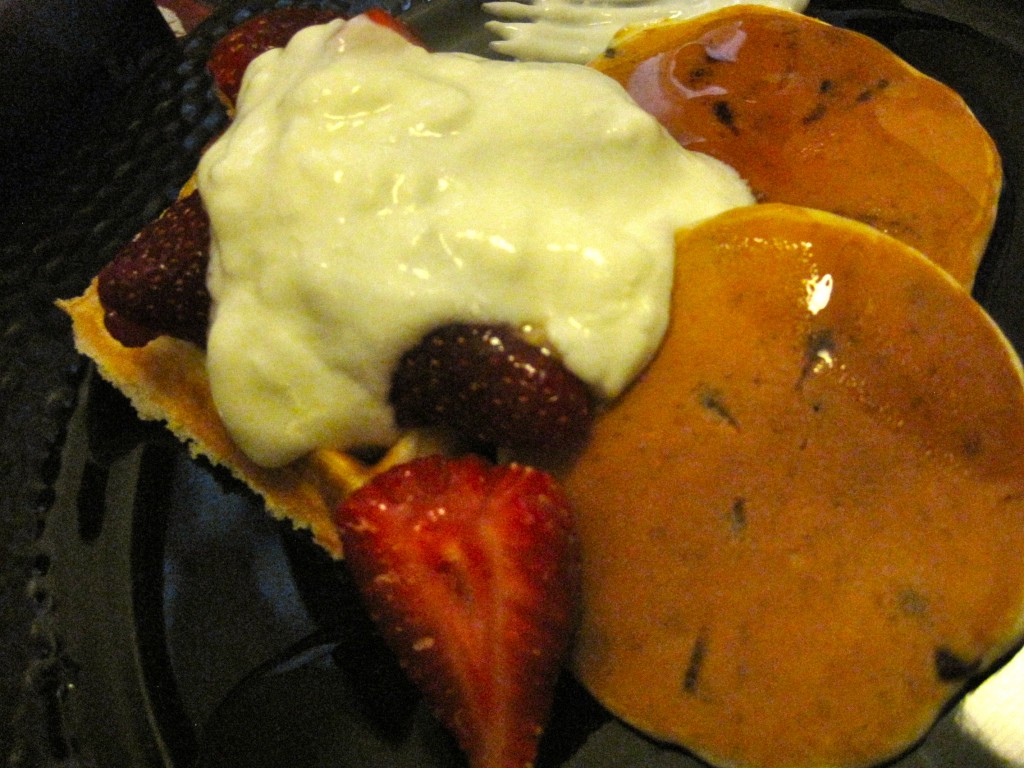 I don't quite remember the last time I trekked to the dirty jerz, but a very special birthday girl merited a trip on Sunday evening. A group of about 10 of us congregated at Star Tavern in Orange, NJ for an evening of PIZZA. I've had all sorts of pizza – classic NY style slices, gourmet pies with fancy toppings, Neopolitan style, etc., but I can honestly say that Star Tavern serves my favorite type. It reminds me a lot of the pizza I loved growing up (Sabatini's pizza in Pennsylvania). The crust was thin, the perfect mix of crispy and chewy and the mozzarella cheese on top was nicely browned – almost caramelized. The quickie photo that I snapped didn't do this slice justice.
To celebrate Sarah's day 'o birth, I baked her some classic chocolate chip cookies. My favorite cookie bakery just opened a location down the street from me, so I decided to make the cookies in that style. Levain Bakery cookies are behemoths – each one weighs in at nearly 1/3 lb! I made mine a little smaller, but they were still ooey-gooey in the middle. YUMM.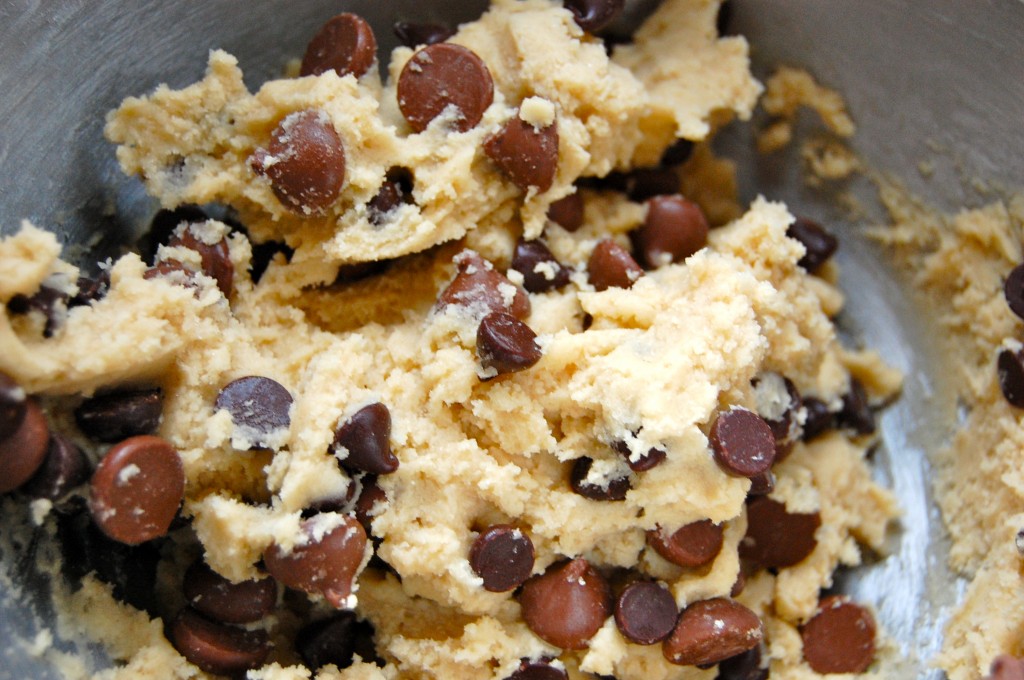 Levain Bakery Copy Cat Cookies (makes 16 cookies)
Ingredients:
1 stick butter, cut into cubes
1/4 cup granulated sugar
3/4 cup brown sugar
1 egg
1 tsp salt
3/4 cup all-purpose flour
3/4 cup bread flour (higher gluten content creates chewy-ness!)
1 tsp corn starch (adds to that "melt in your mouth" texture)
1/2 tsp baking powder
1/8 tsp baking soda
1 cup chocolate chips (I used 1/2 semi sweet and 1/2 milk chocolate – Guittard brand – my fav!)
Directions:
Preheat oven to 350 degrees.
Cream together the butter and sugars until light and fluffy. Mix in the egg until incorporated.
In a seperate bowl, combine the salt, flours, leaveners, and corn starch. Slowly add the dry ingredients to the butter mixture. The dough will be stiff!
Stir in the chocolate chips by hand. Take a golf ball size amount of dough, roll it into a round ball, and place it on the baking sheet. Do not flatten.
Bake for ~10 minutes or until just slightly golden brown. I baked my cookies on an ungreased cookie sheet, but was a little concerned about overbrowning on the bottom. Next time I might use parchment paper.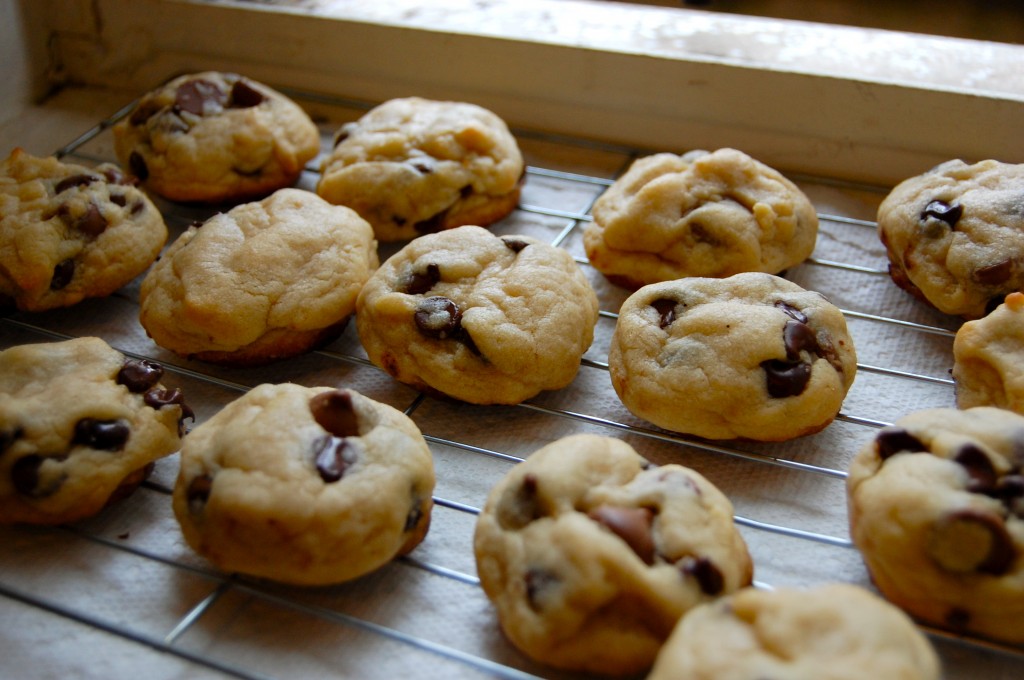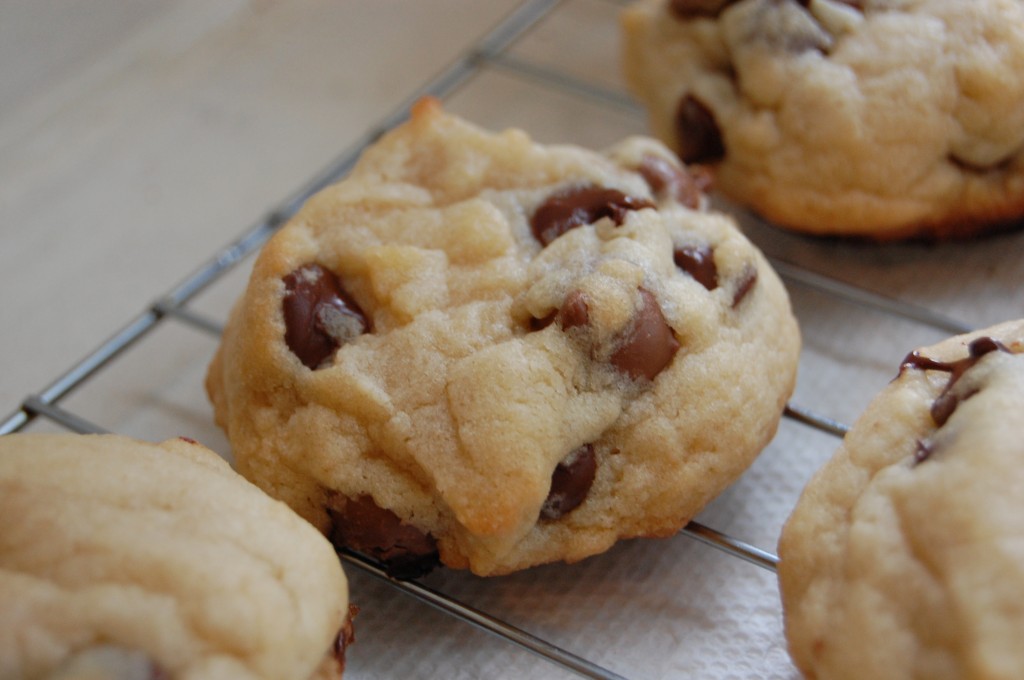 What's your favorite type of chocolate chip cookie? Chewy and chunky? Flat and crispy? With oatmeal? With nuts? Chips Ahoy?!?