I haven't been posting a lot of meal recipes lately…and honestly that's because I can't remember the last time I was home before 9pm. A combination of late nights in the office, evening runs with CPTC teammates, and after work events have made cooking dinner mission impossible. Some nights I eat in the office, other nights I piece together a meal (last night was wine + cupcakes). Certainly not ideal, but I hope to return to the kitchen once the crazyness subsides.
But as much as I complain about being too busy to pee (seriously, that was the case on Tuesday), I really thrive when my days are full. While my job isn't something I want to do forever, the project I've been working on lately is engaging and I find myself losing track of time instead of staring down the clock. And when my work day is jam packed – it gives structure to the rest of my life (running included!). Monday was a packed day and I didn't *really* have time to take a lunch hour, but I knew a mid-day break would be good for my sanity. 5 miles later, I was able to conquer (or at least survive…) the rest of the afternoon.
I knew that if a run was going to happen on Tuesday and Wednesday, it needed to happen in the morning. So while setting the alarm early wasn't much fun, I still fit in some miles both of those days (5 and 7 miles, respectively). Being busy spurs me into action – there is no pushing off runs till later, wasting time on the interwebs, or pushing the snooze button. I am definitely happier and more productive when I'm busy. Of course, this doesn't mean I'm immune to needing a glass (or bottle) of wine after work!
Tuesday was one of those days when I had to steamroll through my to-do list so that I could leave work by 6:30pm. Leslie and I had plans for a Butterlane cupcake baking class by 7pm. Three Leslie dates in a week? You bet. I promise we hang out with other people (sometimes) and No, we're not dating each other (yet). Haha, I kid.
Anyway, while I'm not exactly a novice baker, I still enjoyed the baking class. There's something so therapeutic about creaming together butter and sugar, adding in eggs and flour, and creating delicious. No matter how bad your day has been, no matter what's on your to-do list for tomorrow, a cupcake can make things just a little better.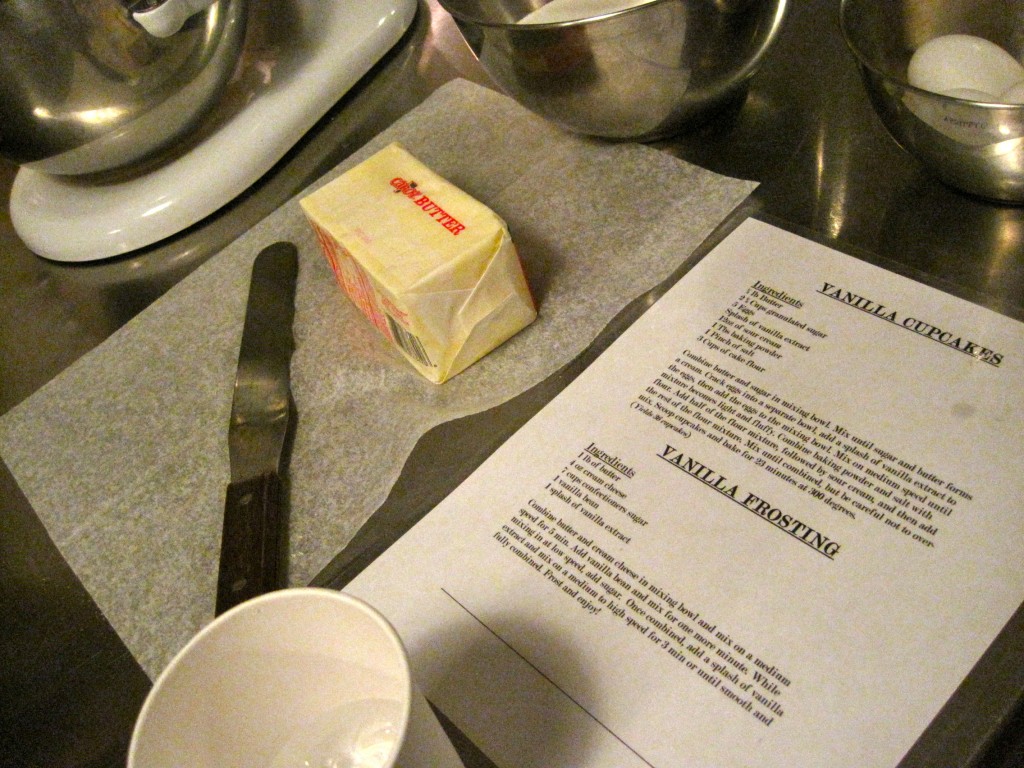 I did my share of tasting during class and am pretty sure I could eat a bowl of straight chocolate cupcake batter. Organic eggs and butter, 92% dark chocolate – that's a balanced meal if I ever saw one.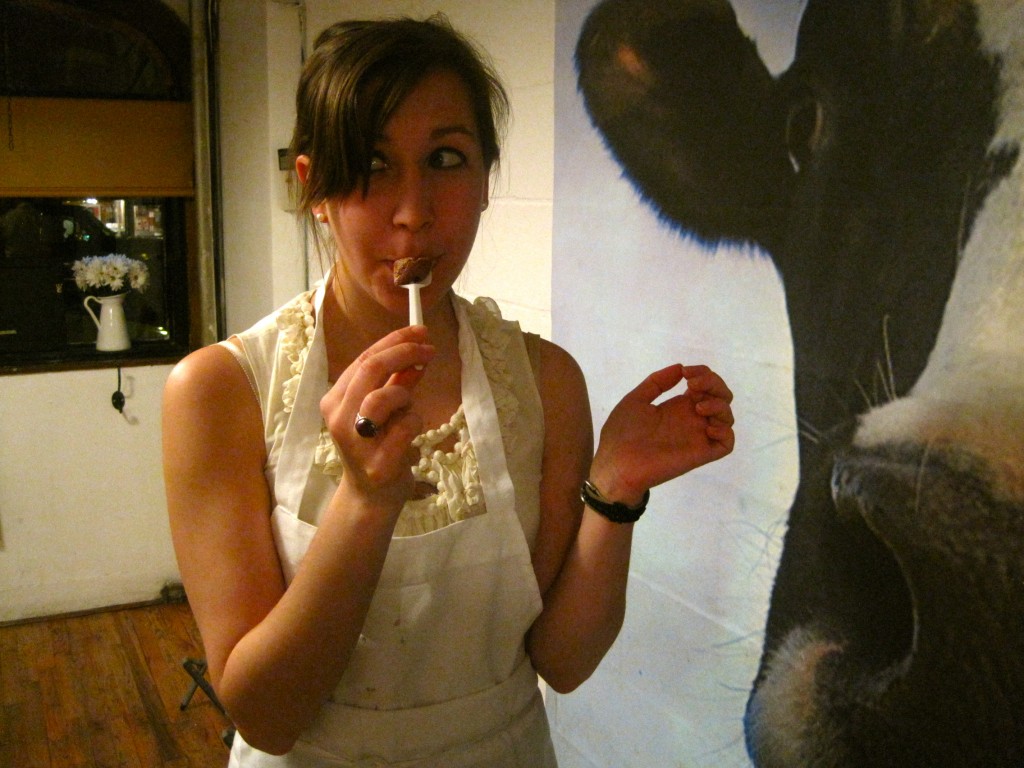 Meanwhile,  Leslie mastered the art of frosting a cupcake.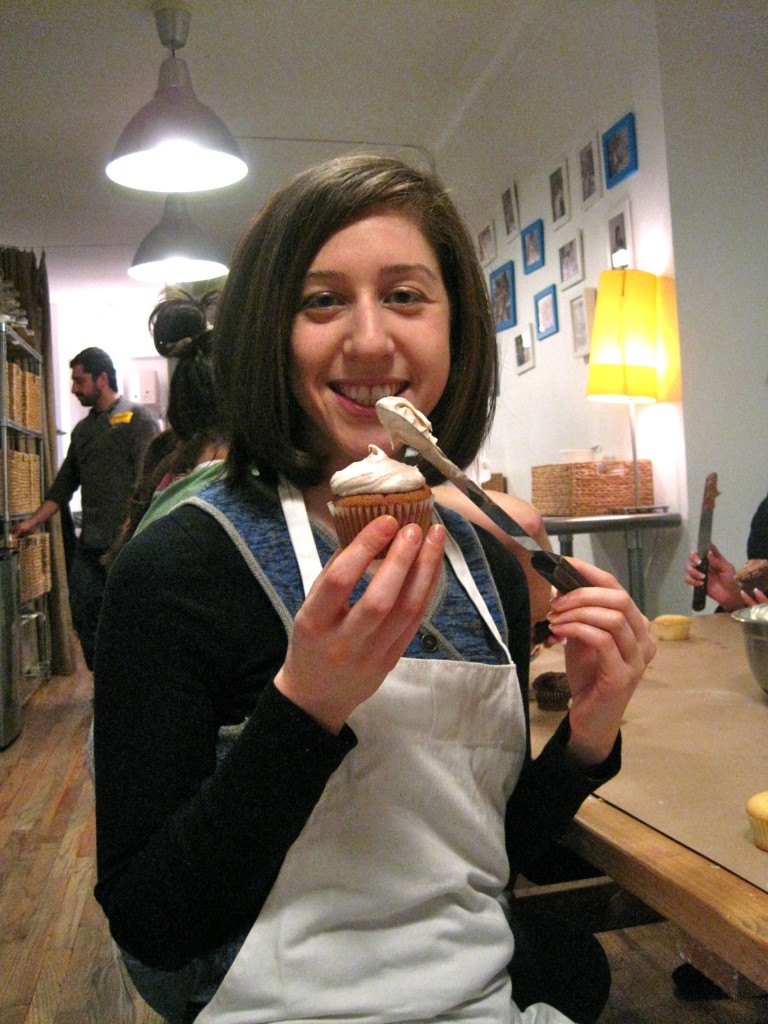 We each left the class with a dozen freshly baked cupcakes (a combination of vanilla/chocolate/banana cake with raspberry, cinnamon, cream cheese, vanilla, chocolate, or peanut butter frosting!) and made our way to a nearby bar. Before we reached the door of the lounge, I popped the remainder of my chocolate-peanut butter cupcake into my mouth (dinner!) and wiped the crumbs from my face. I suppose my night wasn't entirely made up of responsible decisions – I could have had protein for dinner and chosen an early bedtime over wine. But sometimes fun needs to come before responsibility. Busy days and busier nights are defining my life right now, the life of a 20-something living in New York City. I'm sure I'll be itching for homecooked food and quiet nights soon enough – until then, you can find me with the cupcakes.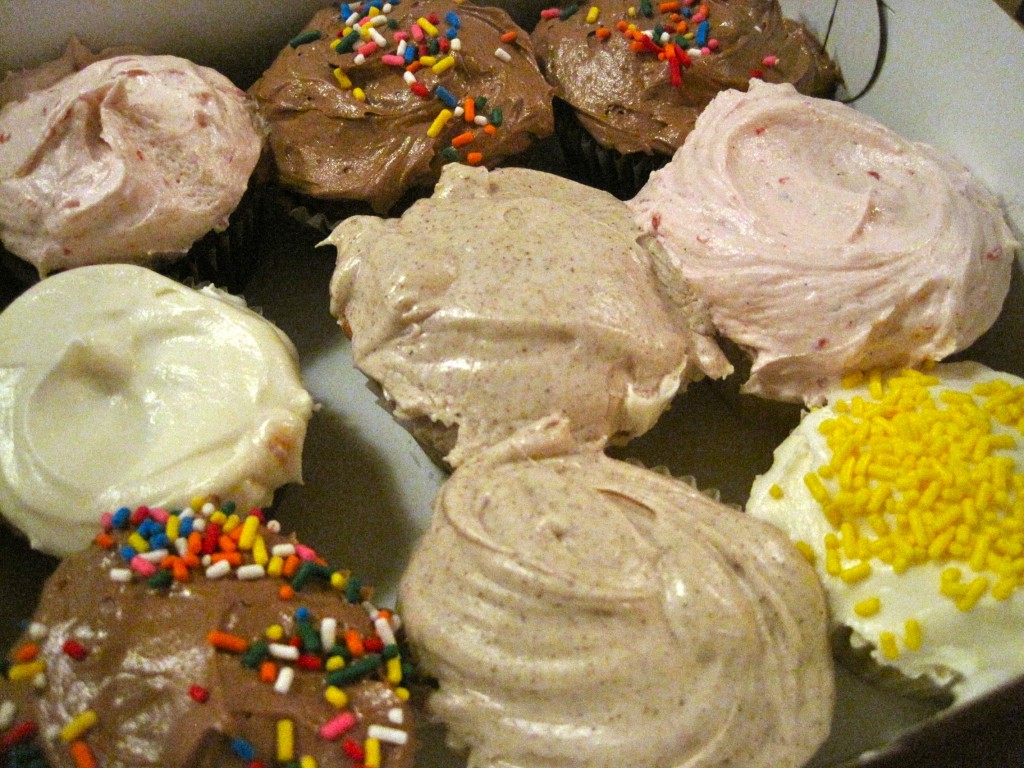 We learned a bunch of things during the class, but my favorite take-away was this: If you add a bit of cream cheese to your frosting, you can substantially cut down on the sugar. The cream cheese fluffs up the frosting, adds to a smooth texture, and prevents it from being overly sweet.
Butterlane Cupcake Frosting (for about 3-4 dozen cupcakes)
Ingredients:
1 lb butter, softened

4 oz cream cheese

seeds from one vanilla bean

7 cups powdered sugar

splash of vanilla extract
Directions:
Cream together butter and cream cheese for 5 minutes, until light and fluffy.

Add vanilla bean and mix until combined.

On a low speed, slowly add the powdered sugar until incorporated. Finish off with a splash of vanilla extract and mix for about ~3 minutes or until smooth.

If you want to make flavored frosting, now's the time to add raspberry jam, cinnamon, etc.
Do you prefer your schedule to be jam-packed? Or more low key?