If you're lucky enough to have a boy take you to Marcus Samuelsson's new Harlem restaurant, Red Rooster, it's definitely a time to do it up. For me, that time was yesterday!
After waiting 6 weeks for reservations (!!), the day of our 8pm dinner finally arrived. Red Rooster is in the heart of Harlem (my hood!) and has gotten rave reviews from the NY Times as well as criticism for hosting President Obama's $30,000 a plate dinner. The restaurant is within walking distance to my apartment and the 10-minute stroll only increased my anticipation for dinner. The vibe of the restaurant is swanky, yet warm and welcoming at the same time. Still, I didn't want to lug my DSLR to the table, so dinner photos were taken discreetly with my iphone.
The iconic Red Rooster greeted us at the entrance –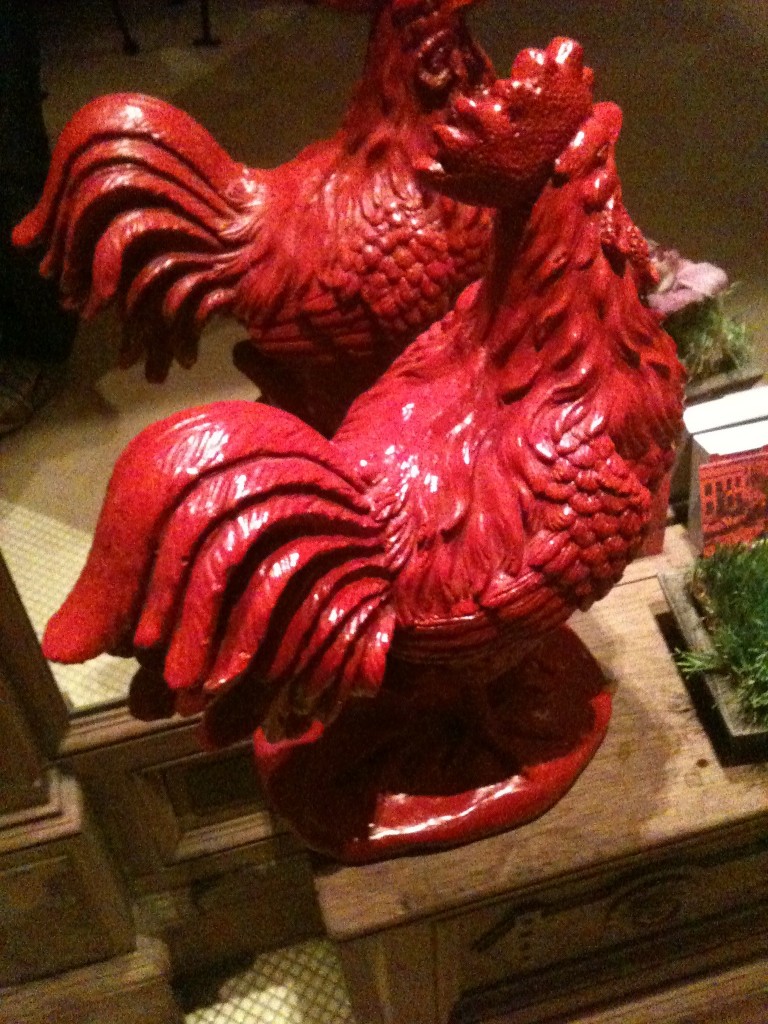 I started off with a vodka based cocktail called the Savoy. Check out the muddled grapes on the bottom, yum!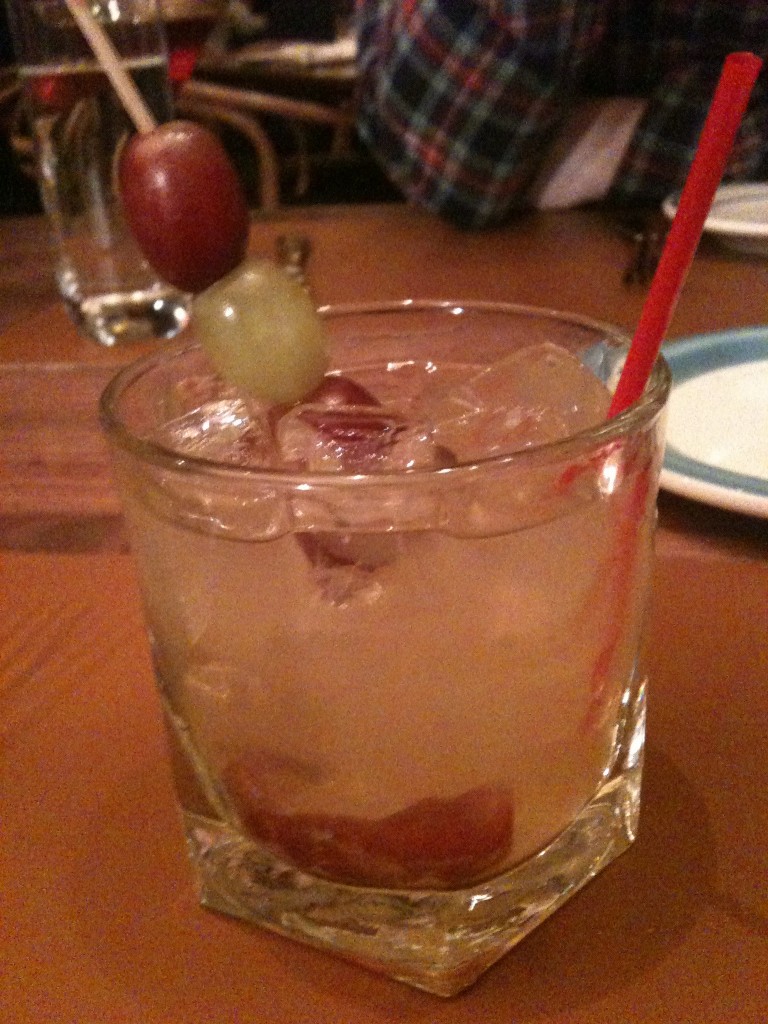 For appetizers, we shared the cornbread with honey butter and sundried tomato and currant chutney. The corn bread + tomato chutney was such an unexpected flavor combination – I loved it!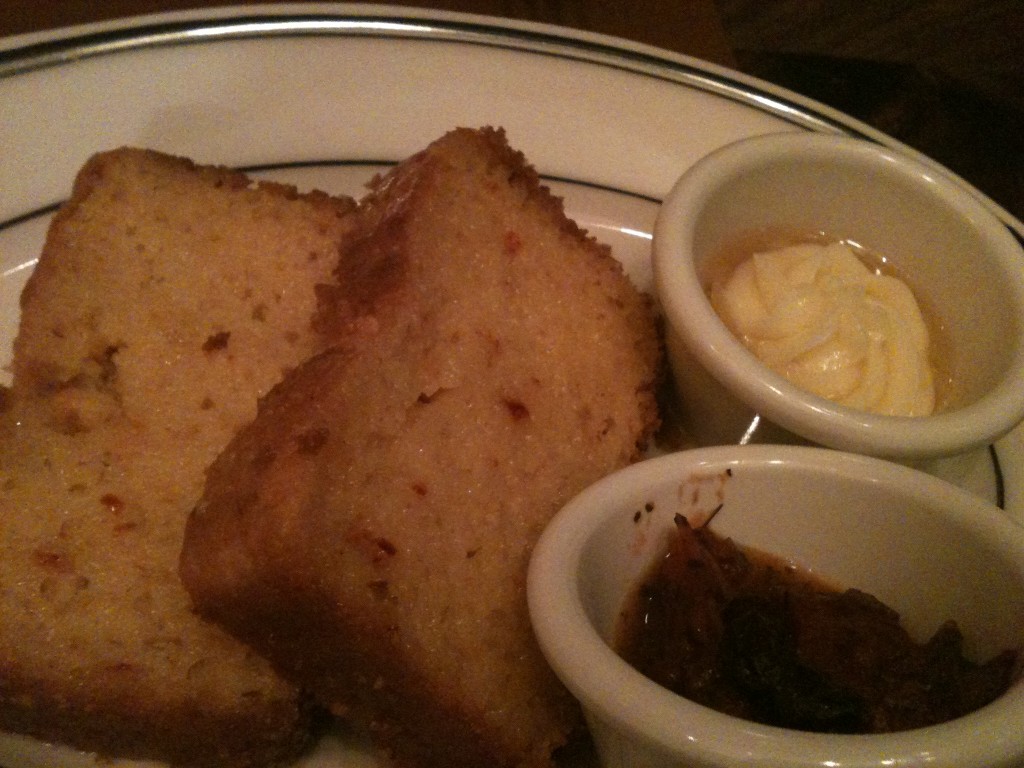 Our second appetizer was lumb blue crabcakes with a bed of arugula and spicy mayo – perfect size for sharing!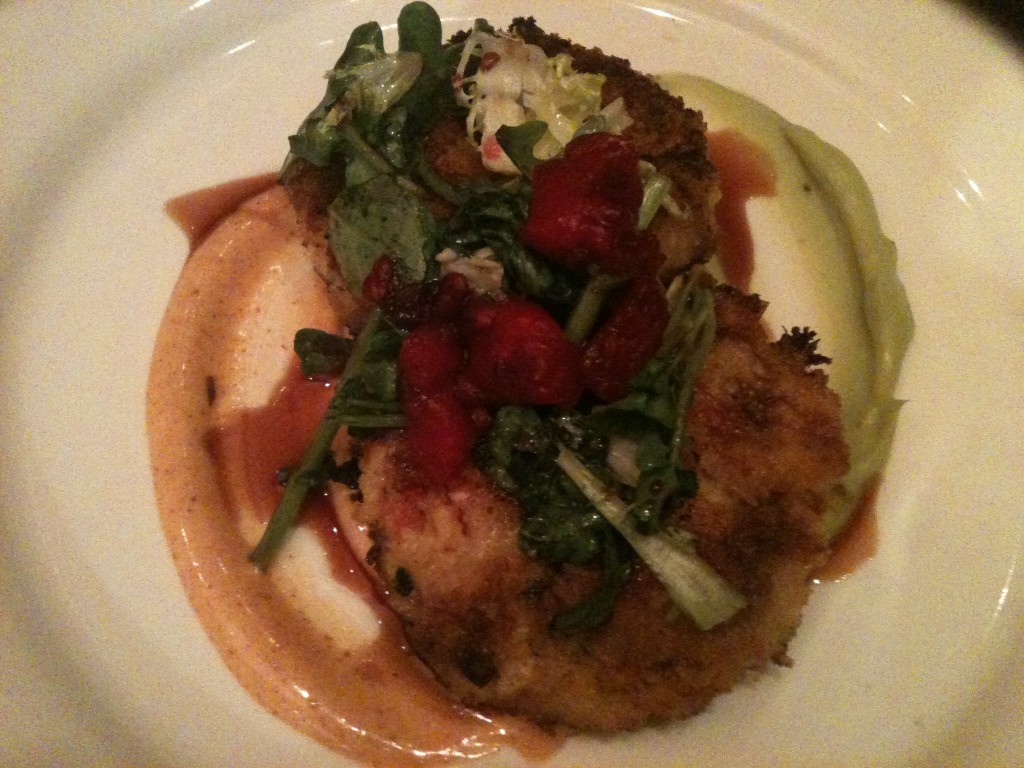 I'd heard such good things about the fried yard bird (old Harlem slang for fried chicken) that I knew I had to have it as my entree. The fried chicken was drizzled with white mace gravy and served with hot sauce on the side. This was classic, old school chicken. It reminded me of when I was kid, living in Georgia, and eating lots of Southern food.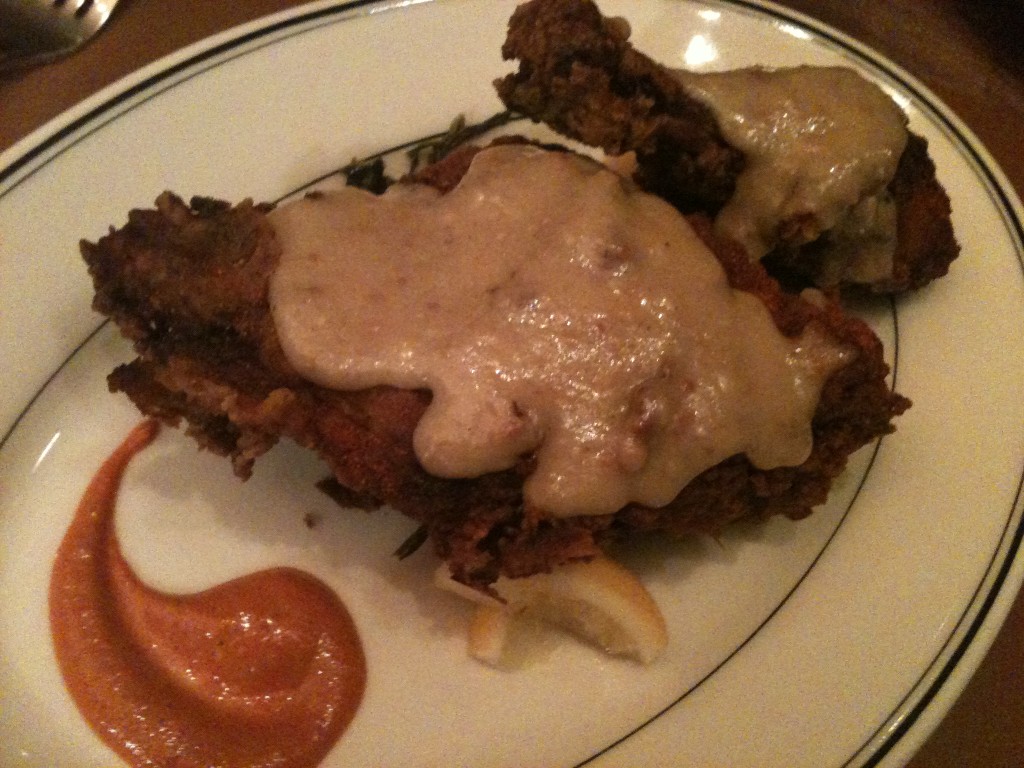 The man friend ordered the braised short ribs which I regretfully failed to photograph (this is what happens when I get overly excited at restaurants!), but I didn't forget to try a bite 🙂
We also shared a side of sweet potato and yam puree with bacon and horseradish. I also detected a hint of orange citrus in this dish – possibly my favorite thing of the night!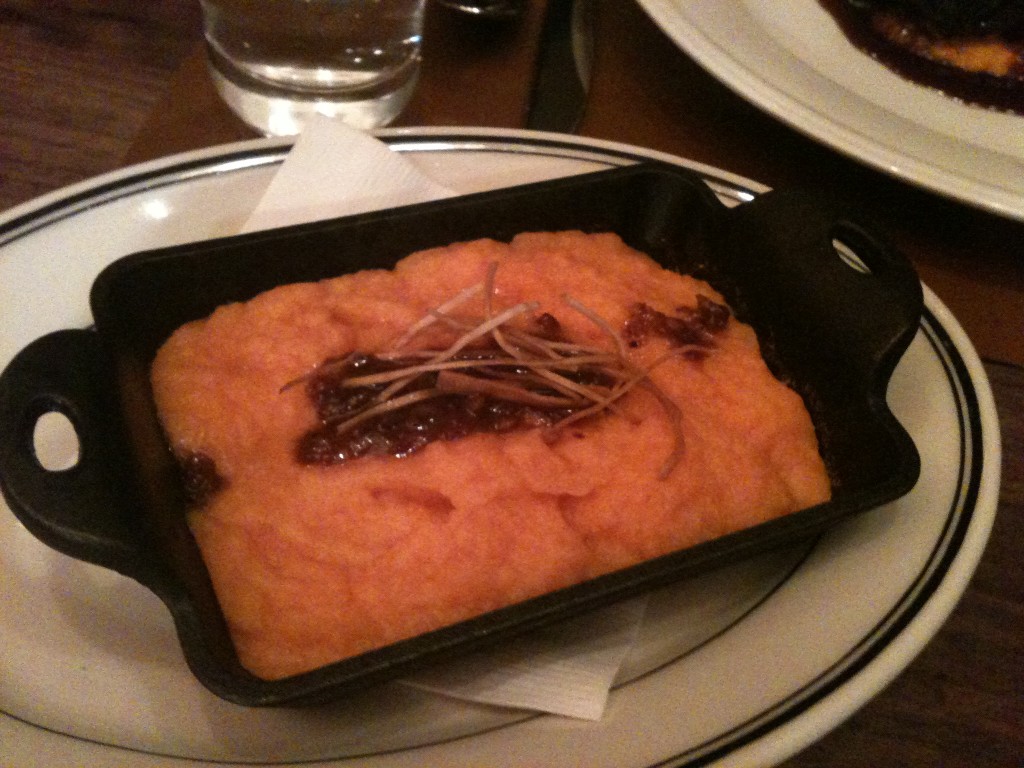 We shared the spiced chocolate cake with black cherry ice cream for dessert (warm chocolate cake + cold, melty ice cream = best combo) and since it took awhile to come out of the kitchen, our server also brought us a chocolate malted milkshake to share. It was really no biggie that the first dessert took 10 or so minutes to be brought to us, but our server was very apologetic. I was really impressed with the level of service we received!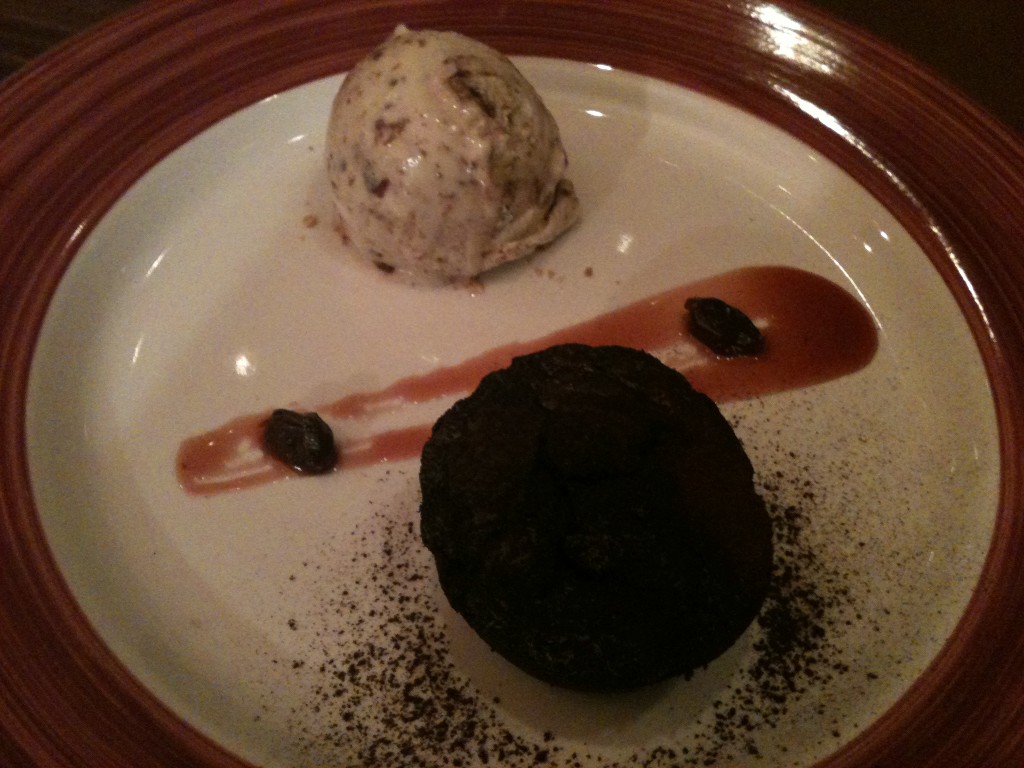 Chocolate malted milkshake for two (Savoy cocktail + 1/2 glass of wine + Megan = blurry photos, apparently).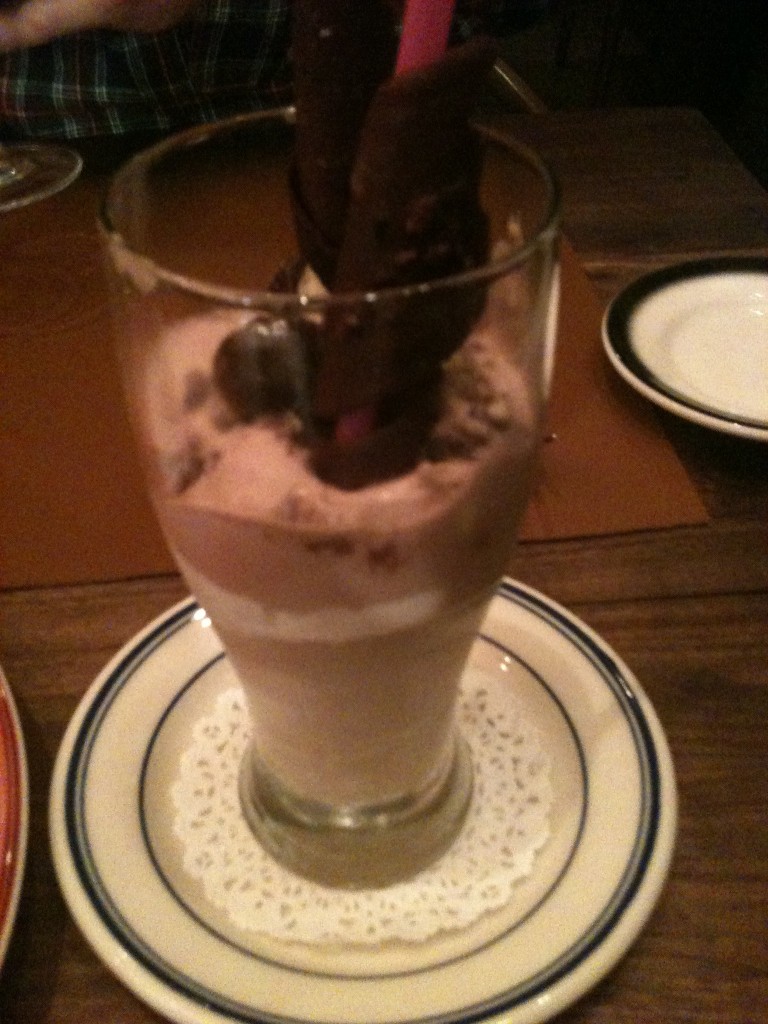 The best part of our night, however, happened after dessert. We were seated at a communal table and over the course of our dinner, we witnessed the two couples next to us interact. At first glance, they seemed very different. The first set of diners were two, white, middle-aged businessmen from Boston. The second set was an elderly black couple from Harlem (who also happened to be ardent Yankees fans). Over appetizers and entrees, these four people exchanged stories and experiences and by the time dessert was brought out – they were all sharing with each other. The two businessmen even picked up the check for the other couple. Four people who had never met became friends over a restaurant meal.
This whole experience really put a smile on my face and reminded me of why I love food. Of course it's about nutrients and calories sometimes, but more often than not, sharing a meal with someone is a bonding experience. It's something we do to show love, to provide comfort, to celebrate, to court someone. And so, my philosophy on restaurant meals is this – do everything you can to enjoy the experience. Of course I try to keep things in moderation (by sharing a dessert or running a few miles extra the next morning), but for me, a dinner out is not the time to order salads and grilled chicken. It's the time to "do it up!"
The running has been kind of "meh" this week – 4 miles on Monday, 5 miles on Wednesday, and 6 miles this morning, but I'm still looking forward to Sunday's 10 mile race in D.C. I'd like to run the course in about 1 hour, 10 minutes (~7:00 pace), but I'm not quite sure that's going to happen. I haven't done a hard workouts in weeks (unless you count races), so I'm feeling a little out of shape. Maybe all this easy running and time off will be like a really long taper….One can hope, right?
What was your best ever restaurant experience?….and go!