Yikes. Thursday evening's attempt at a tempo workout was a major fail. Probably one of the top 5 worst runs that I've ever had – so bad, it was (almost) funny.
The intended workout was 4 x 1 mile (first 2 repeats @ 10k pace, second 2 repeats @ 5k pace) with about 1/4 mi jog recovery in between. After a mile warm-up and 2 x 1 mile @ 6:49 pace, I called it quits. The pace seemed much harder than it should have and I was feeling dizzy and nauseous. I've felt really "off" for the last 10 days or so and I'm not really sure what's going on. I was averaging 40-45 miles a week, so I know the 32 miles I ran last week can't be considered overtraining. I'm getting 9+ hours of sleep every night and still feeling tired. And the thought of running is just exhausting some days. The only thing I can think it might be is a slight iron (or other vitamin?) deficiency. I've dealt with this in the past (mmm, liquid ferrous sulfate you taste so good), so I'm going to resume taking iron supplements and see if that helps.
I'm taking today (Friday) off from any sort of exercise and am going on a mini adventure to…..
The Korean Spa Castle in Flushing. I imagine it to be akin to a spa amusement park of sorts. Check out the website, it's hilarious.
To atone for my whining, I'm also going to post a yummy recipe 🙂
For those of you that know me – you know I don't like sushi. It's weird, I'm aware, but it's a textural thing. I find raw fish to be too…squishy? In any case, I do like crispy vegetables, so during a moment of ambitiousness I attempted homemade nori rolls this week. I paired my simple veggie sushi with some steamed edamame for extra protein.
Simple Veggie Sushi (makes 2-3 servings)
Ingredients:
6 sheets of nori (seaweed)
1 cup of un-cooked short-grain rice
1.5 cups water
1/2 tsp salt
2 Tbs brown rice syrup
2 Tbs rice vinegar
carrots/cucumber/avocado, cut into matchsticks
soysauce, for dipping
Directions:
Combine the water, rice, and 1/2 tsp salt until water is boiling. Reduce heat to simmer and cook covered for about 20 minutes, until nearly all water is absorbed.
Allow rice to sit for a few minutes and then fluff with a fork. Add brown rice syrup and rice vinegar and let rice mixture come to room temperature.
Lay out a sheet of nori, spread about 1/3 to 1/2 cup rice leaving a 2″ border around the edge. Add veggies to the edge closest to you.
Wet the end of nori that is farthest away and carefully begin rolling up the sushi away from you (try to make a tight roll). Use the wet nori edge to seal the roll.
Place roll seam-side down and allow it to sit for a few minutes, then use a sharp knife to cut it into 5 pieces.
Note: I am by no means a sushi-making expert!! I just sort of winged it.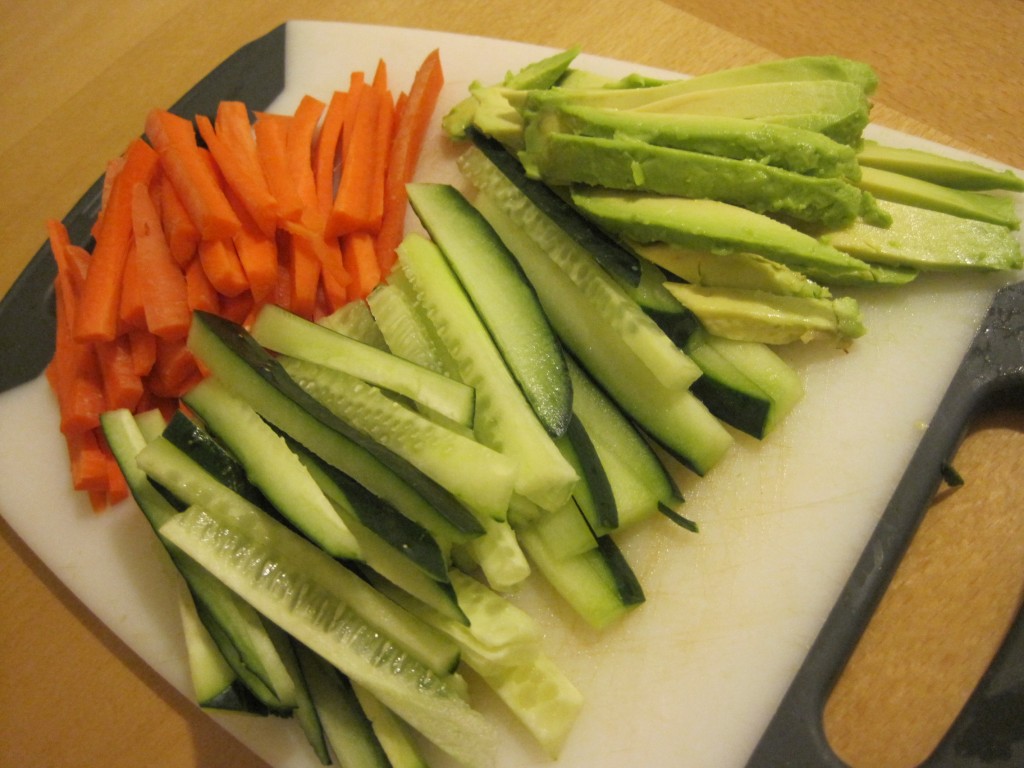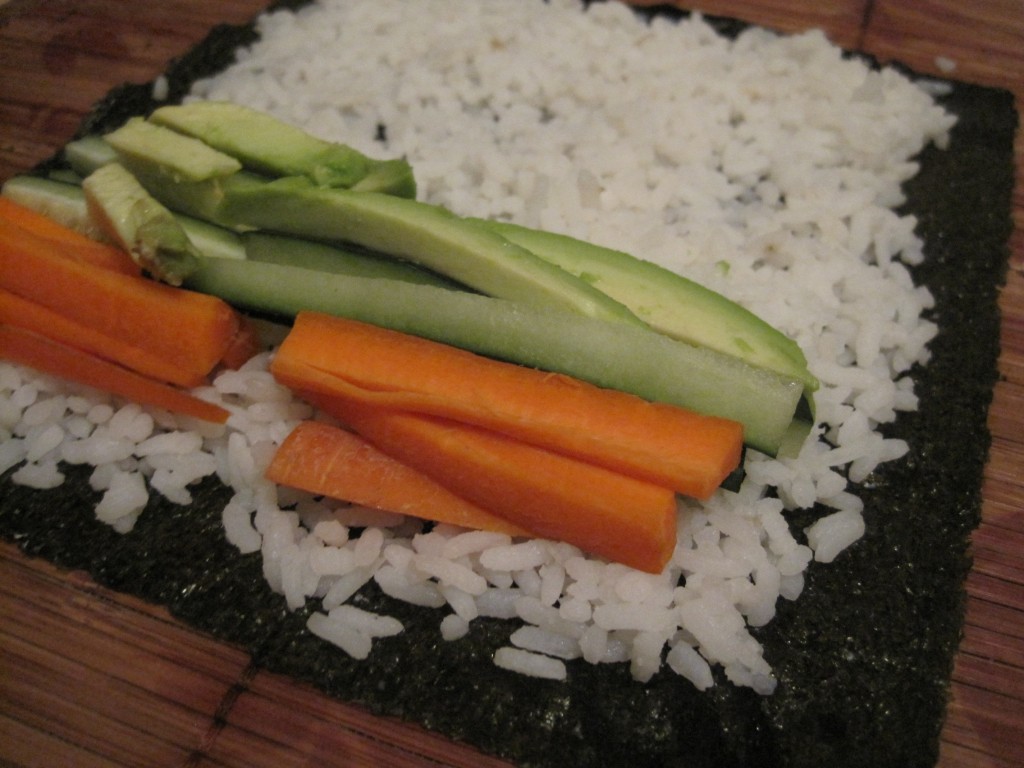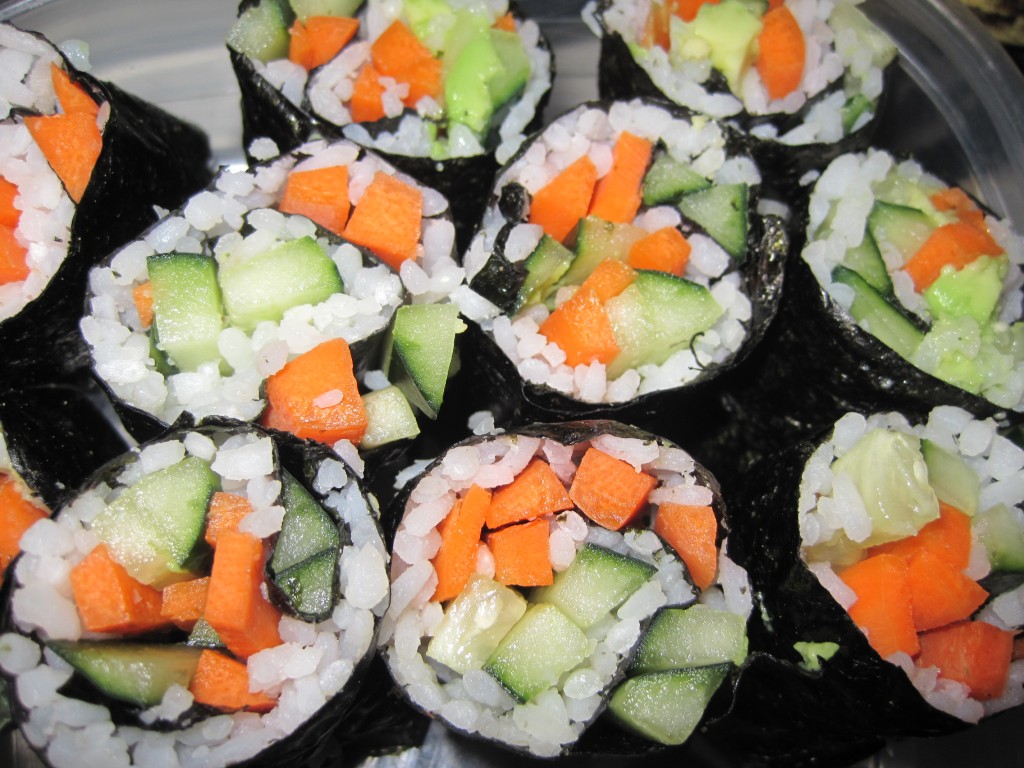 And now…something fun to kick off your weekend!
Stonyfield Organic Yogurt Give-Away
Back in January, Stonyfield yogurts received a packaging make-over. In addition to touting their 0% fat and organic status, the containers now contain information about being free of artificial sweeteners. A rare thing in the fat-free yogurt world! To celebrate their new look, Stonyfield has offered to give away some goodies to a Runner's Kitchen reader. The prize includes Stonyfield Organic yogurt coupons (1 free quart and 2 free 6 oz cups), as well as Organic Wear Lip Gloss and Powder/Bronzer, made by Physician's Formula.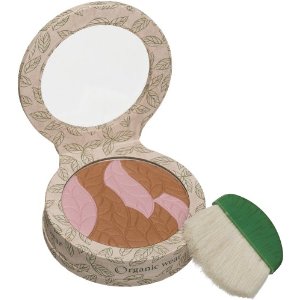 To win, tell me the one thing that you always buy organic (or would if you had an unlimited income!). I'll pick a winner Saturday p.m.