Friends, I have some bad news. A very loyal companion of the Runner's Kitchen has passed on to that great pottery kiln in the sky.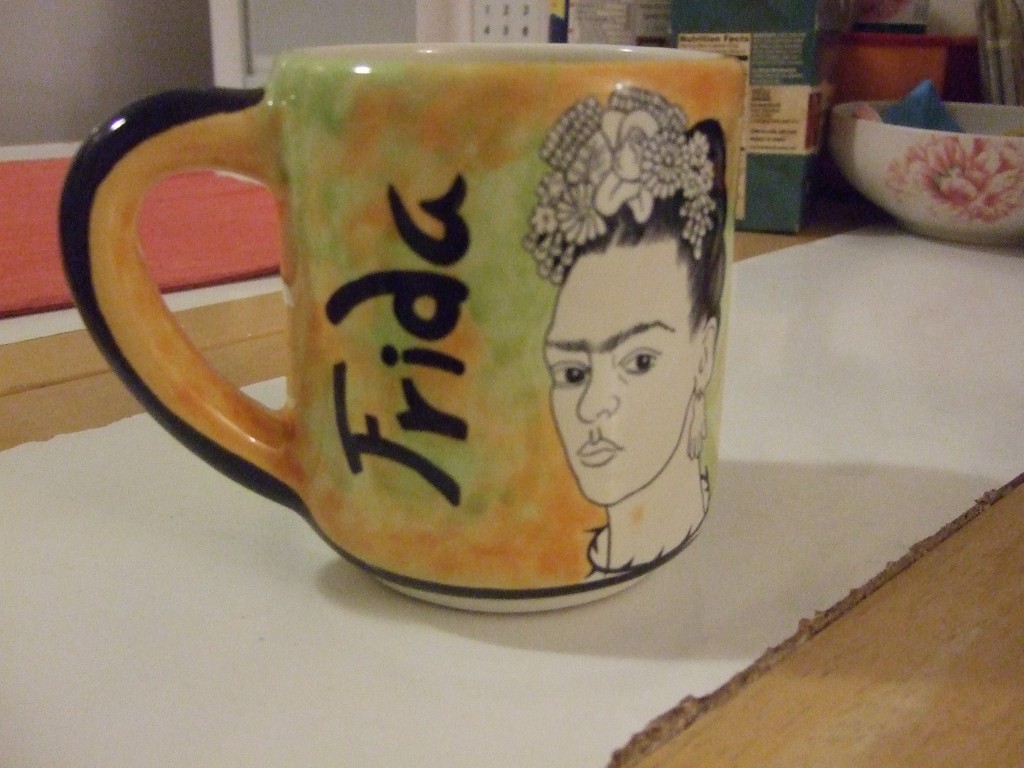 A few weeks ago, we were having some work done in our kitchen and Frida toppled off the edge of the counter and…well, I don't think I need to give you the gory details. My favorite bushy-eyebrowed artist may not be greeting me in the morning anymore, but I will never forget the countless cups of caffeine that she gave me over the years. Only an IV drip could have done it better.
There's been a hole in my life these last few weeks, but I finally found the courage to move on. I spent a good hour or so in a local homegoods store and after testing out handles, volume (must hold at least 15 oz!), designs, and material – I finally found a suitable replacement:
Meet Little Red Riding Hood & The Big Bad Wolf: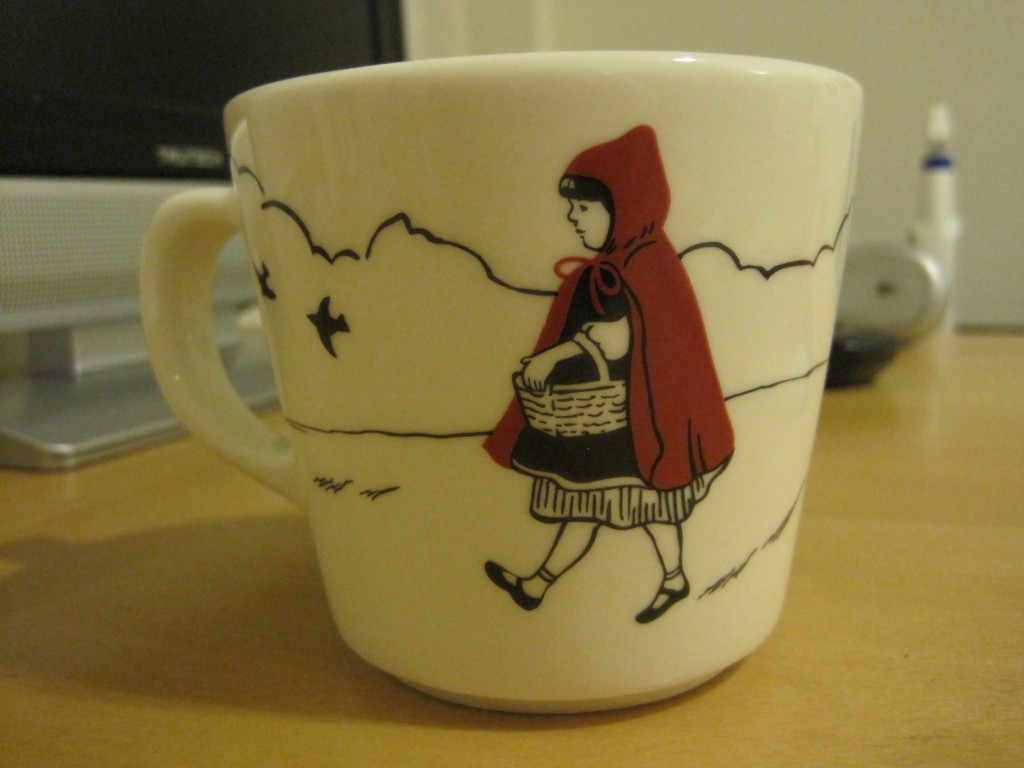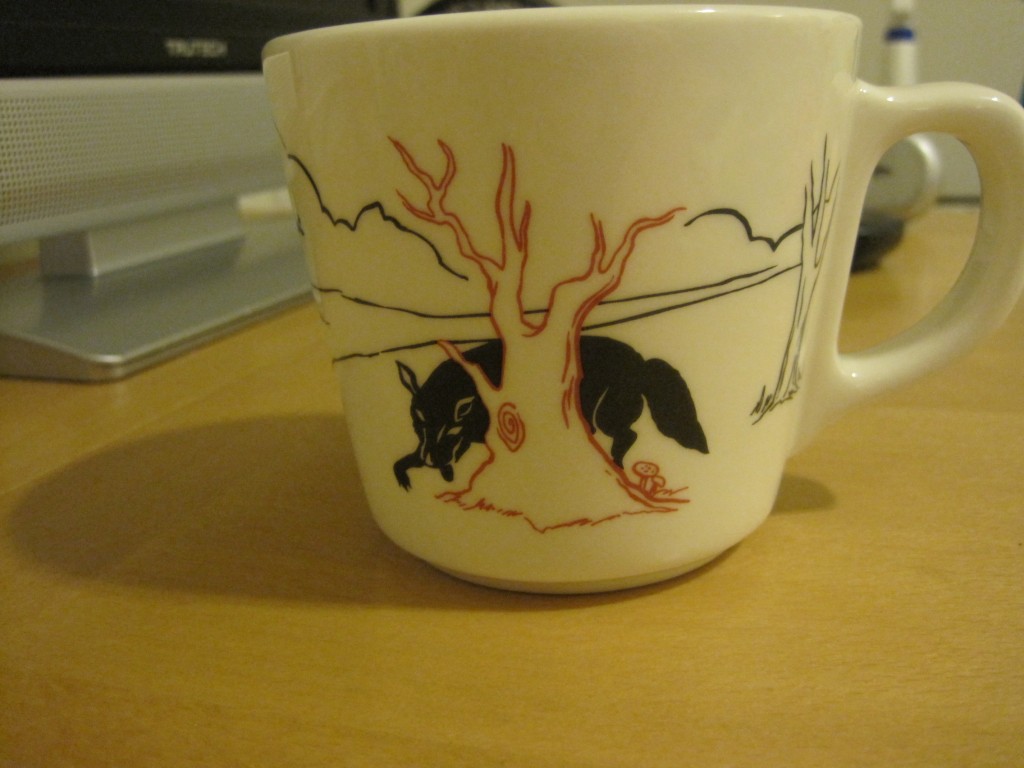 I also found an acceptable back-up. Nothing says "Good Morning!" like the faces of Trent Lott, Strom Thurmon, George Bush, and Richard Nixon.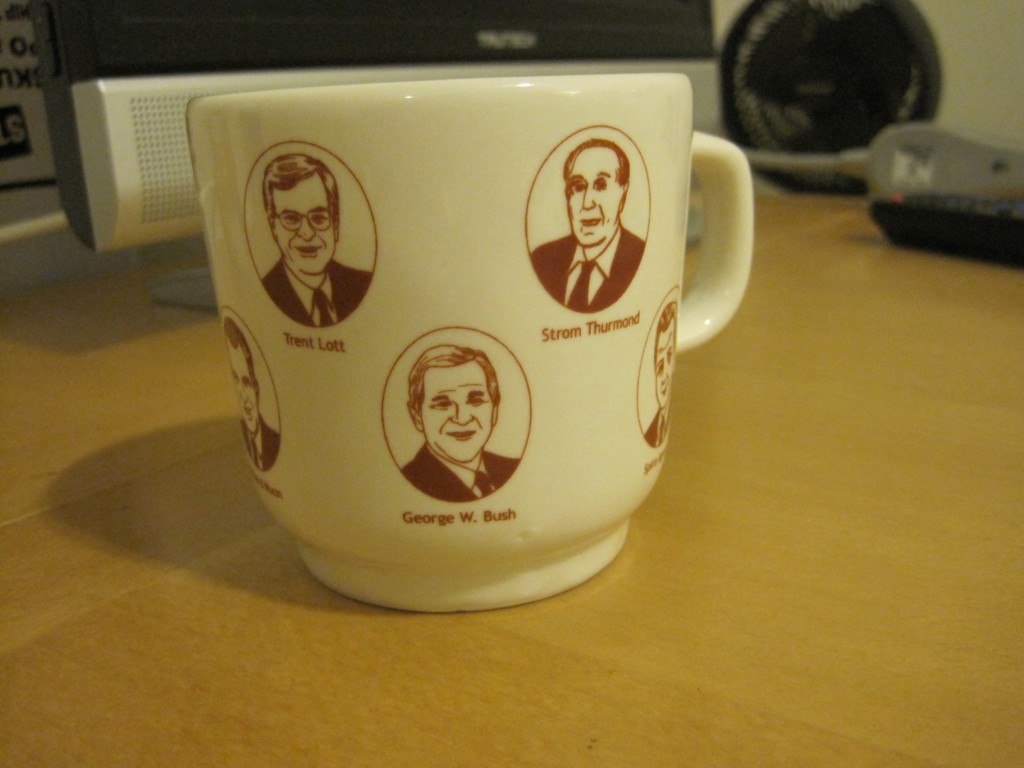 In other news, I think my doctor is a miracle worker. I first started seeing him about a year and a half ago for my hamstring injury. He's an M.D., but is also trained in alternative medicine such as accupunture, cupping, homeopathic injections, etc. He's my go-to for everything from running injuries to annual exams. If you live in NYC and need a recommendation, email me runnerskitchen [at] gmail [dot] com and I'll send over his info. I made an appointment on Monday to try and get to the bottom of the intense backache/headaches that had been plaguing me all weekend. I'm usually not one for "new age-y" treatments like accupuncture, but after my appointment I'm a believer. My doctor administered a combination of accupuncture and  homeopathic injections (basically saline solution with a little natural anti-inflammatory) and I almost immediately felt better. I was only able to run a few miles on Friday/Saturday and had to take Sunday off, but I felt so good after my appointment that I was able to run 10 miles. I kept the pace nice and easy and finished in about 1:27:12 (~8:43 pace). No pain at all afterward! Huzzah.
I also discovered my love for the Woodway brand of treadmills. My gym mostly has traditional treadmills with one or two woodways at each location. I had tried a woodway a few years ago and wasn't a fan (I think I was using a manual model), but after Monday's 10-miler I'm a convert. The belt feels like running on dirt path vs. hard asphalt. I'm going to try and do must of my hard indoor efforts on the woodway from now on.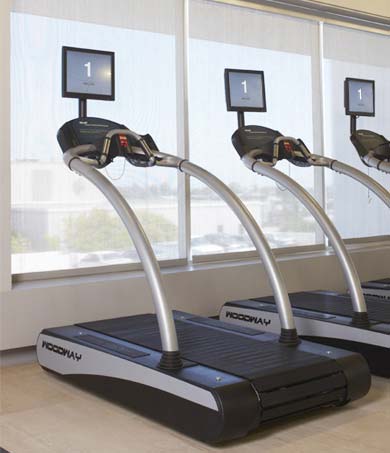 Yesterday was supposed to be track workout day, but I felt like running a tough interval workout the day after a long-ish run, would just be asking for trouble. So instead, I ran some easy solo miles in Central Park, rented a movie, and ate mint chocolate chip ice cream. It felt like a very good decision. The plan is to run some faster intervals today after work – wish me luck!
Does anyone else have a favorite mug/glass/plate? My morning cup of coffee isn't quite the same without Frida.