Somewhere between the 2nd cup of coffee and the 15 mini reese's pb cups (yes, really) that I ingested Thursday afternoon, I felt the urge to race the 3k. Since the marathon back in November, my running motivation has been on the fritz, so I figured I should take advantage of this whim. After Tuesday's rather brutal speed workout, I knew I wouldn't be in peak form, but at the very least running the 3k (15 laps around the indoor track) would be a good workout.
Every other week during January & February, NYRR holds a Thursday night track meet at the Armory. The start time was set for 7pm, so I really had to hustle to make it there by then. I only had time for a 1/2 mile warm-up (not ideal), but I wasn't too stressed out. My focus for this race was to 1) get in a good workout in preparation for next weekend's 5k and 2) run with my teammates and have fun! The race itself was pretty unremarkable – the goal was to run 46 seconds per 2oom lap. I was more or less on target through the first mile (6:10), but then I slowed down. I finished the race in 11:44 (about 3 seconds faster than my outdoor 3k last June). I wasn't thrilled, but for a workout, I'll take it. I don't love shorter races (I'd much rather race a half-marathon!), but I think it's good to mix things up every once in awhile, you know?
My workout/race/travel/froyo buddy, Jacqui, nailed her first indoor race EVER. We were really happy (and sweaty) to be finished.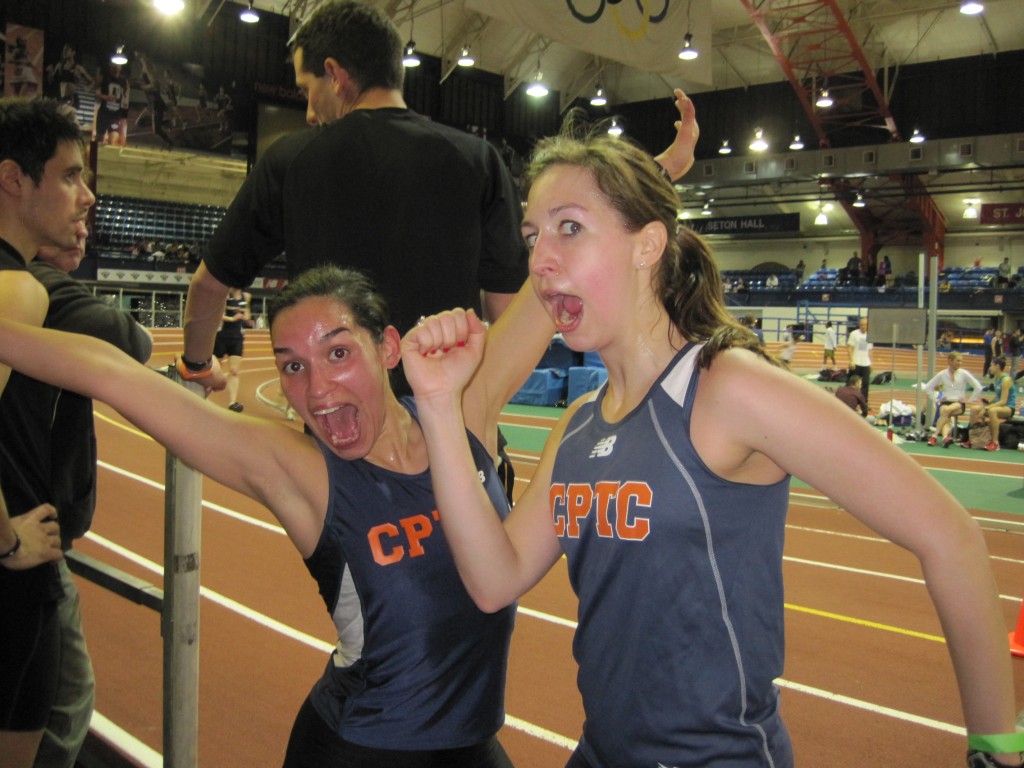 However, I still had one more race to do. My 3k finished around 7:30pm and I cooled down with an easy 3 miles. I knew I had a few more hours before my relay team toed the line for our 10k relay (10 people each run 5 x 200m legs), but, I didn't realize a few hours would actually be more like 4 hours….
I don't normally post photos of everything I eat, but I feel like fueling for a late night track meet is rather unusual, so I snapped some pics.
First up, a bottle of vitamin water (electrolytes!) and a banana (I ate this while I propped my legs up against a wall – to reduce lactic acid build up).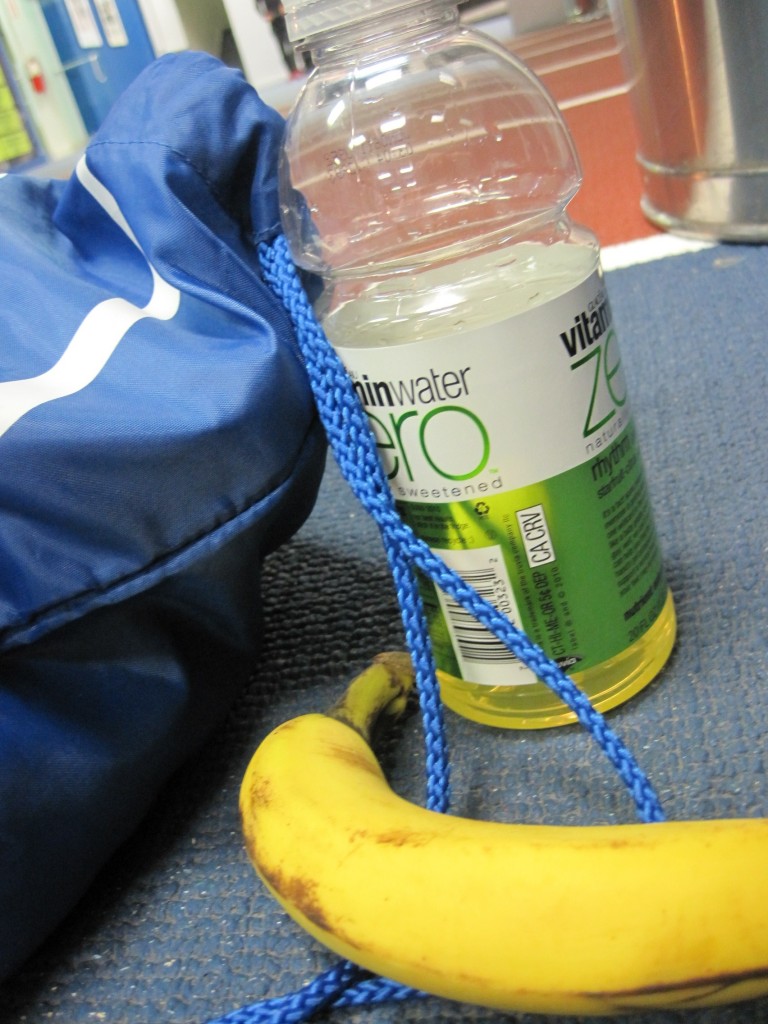 Followed by a picky bar (love, love, love these).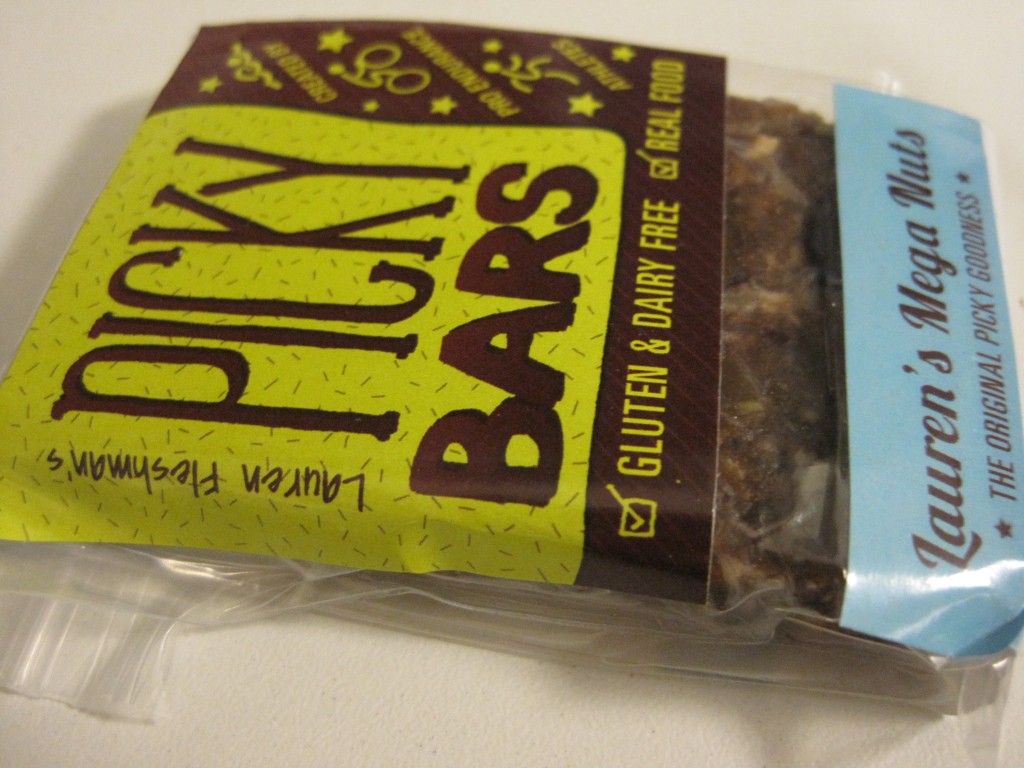 Hey
By 10pm, I knew we still had hours to go before the relay began, so I embarked on a hunt for something easily digestible. I went with my old standby – Dunkin Donuts hot chocolate. Mmm, sugar, mmm.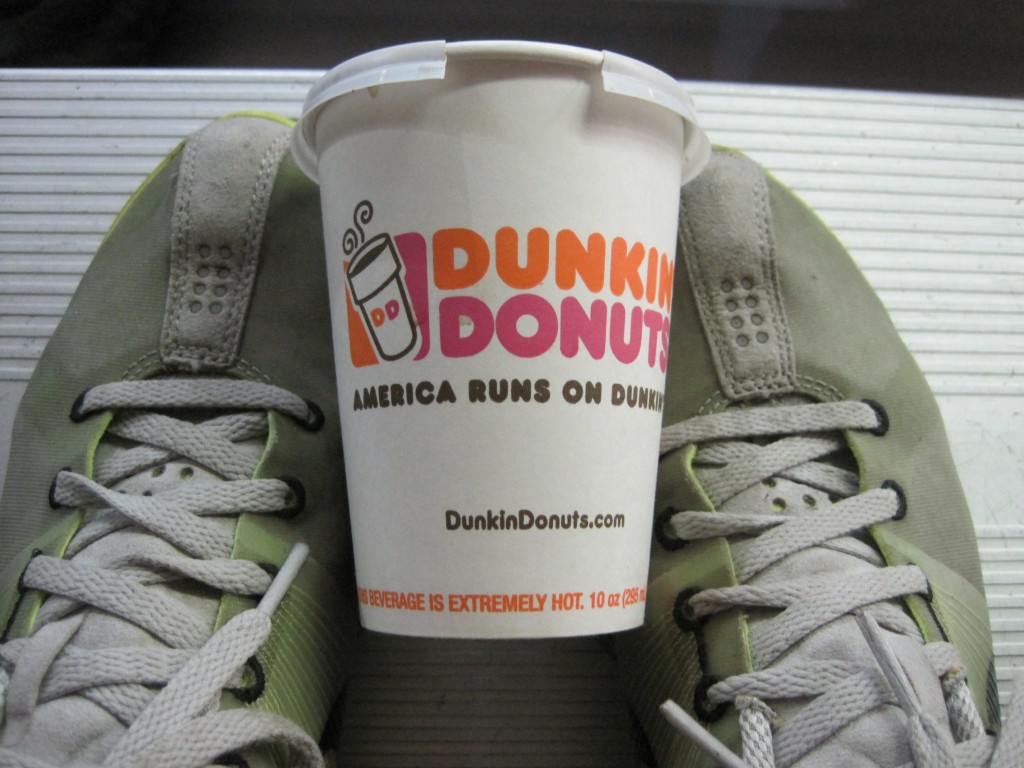 FINALLY, around 12:15am, my relay team's heat was called to the track. Sprinting 5 x 200m legs after midnight was definitely an interesting experience. I'm not sure I'd like to repeat it anytime soon…I didn't get splits, but I'd guess my 200's were somewhere in the 37-40 second range? The best part of the night?? Our relay team name was "Will Run For Cookies", so of course, we had to celebrate with some….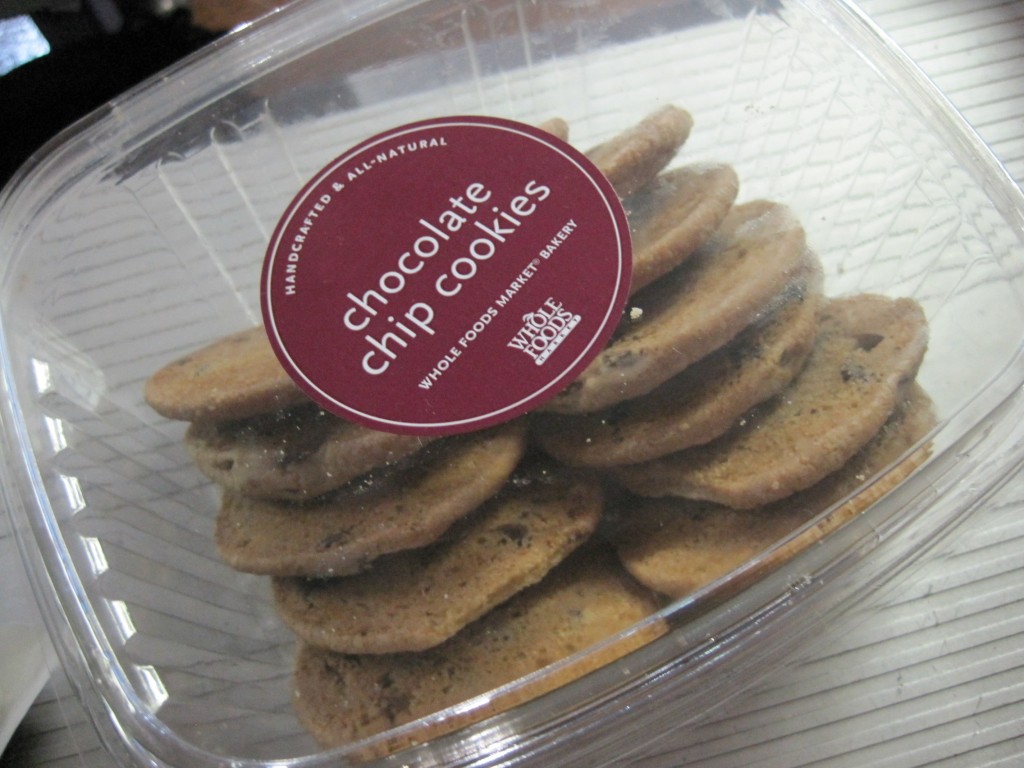 By the time I got home and showered, it was nearing 2am. I had a quick bowl of puffins + greek yogurt and an emergen-c before passing out.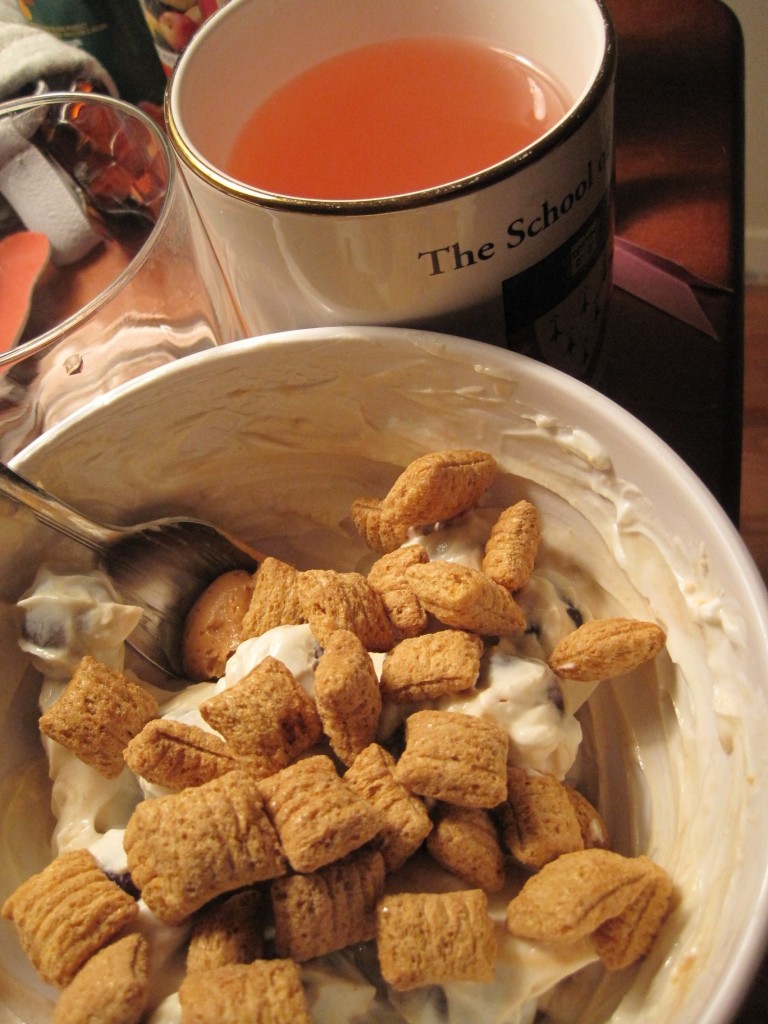 Last night (this morning?) was definitely the oddest time I've ever raced, but the absurdity made it kind of fun! What's the latest/earliest that you've ever gone for a run?
Hey New Yorkers! There's a really fun and free event happening next weekend. Friday, March 4 through  Sunday, March 6 Peanut Butter & Co. is sponsoring an event called"The Nutropolitan Museum of Art." There will be a ton of fun activities and best of all – everyone that visits will receive a FREE jar of peanut butter and a second jar of peanut butter will be donated to the NYC Food Bank. Win-win!