If you're a longtime Runner's Kitchen reader you may remember when my friend Matt (a.k.a. No Meat Athlete) and I wrote the weekly column, Running Shorts. A lot has happened since then – Matt's a Dad! He's running Boston this year! AND…he wrote an e-book called No Meat Athlete's Marathon Roadmap. I got a sneak preview and really enjoyed it. The book is a comprehensive resource for marathoners, but it's not boring or dry like some training manuals I've read (ahem, Jack Daniels' Running Formula, ahem). My favorite part? The recipes! In fact I wish there were more…In my continuing effort to save $$ and pack my own lunch, I headed to the kitchen to try out a dish.
The book is full of basic, wholesome recipes – I started off with basic rice and beans and then added a fun tropical twist.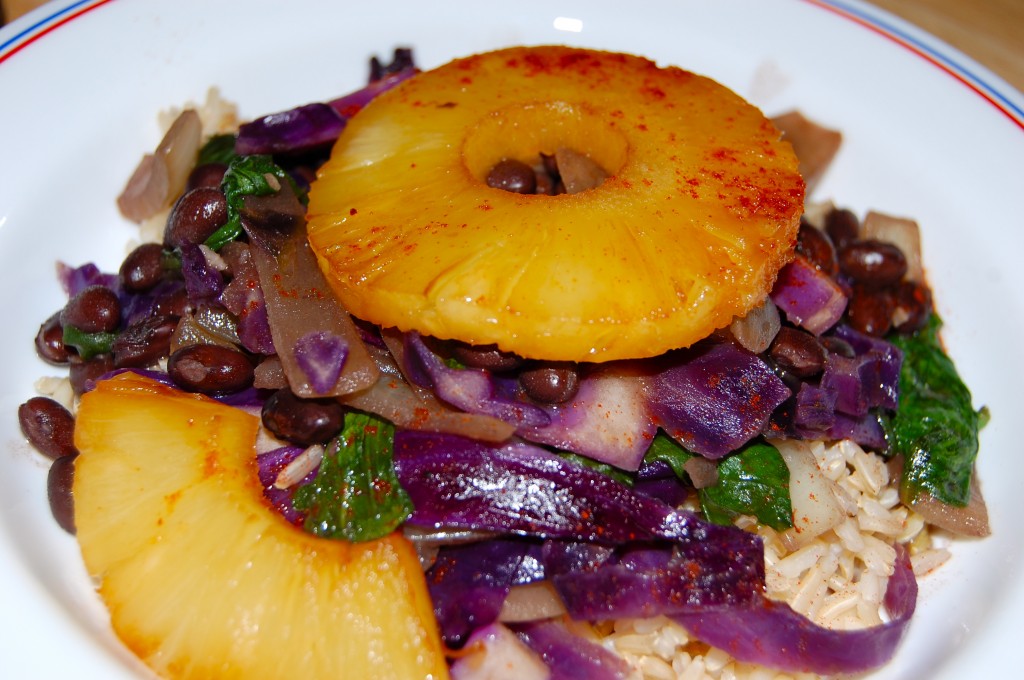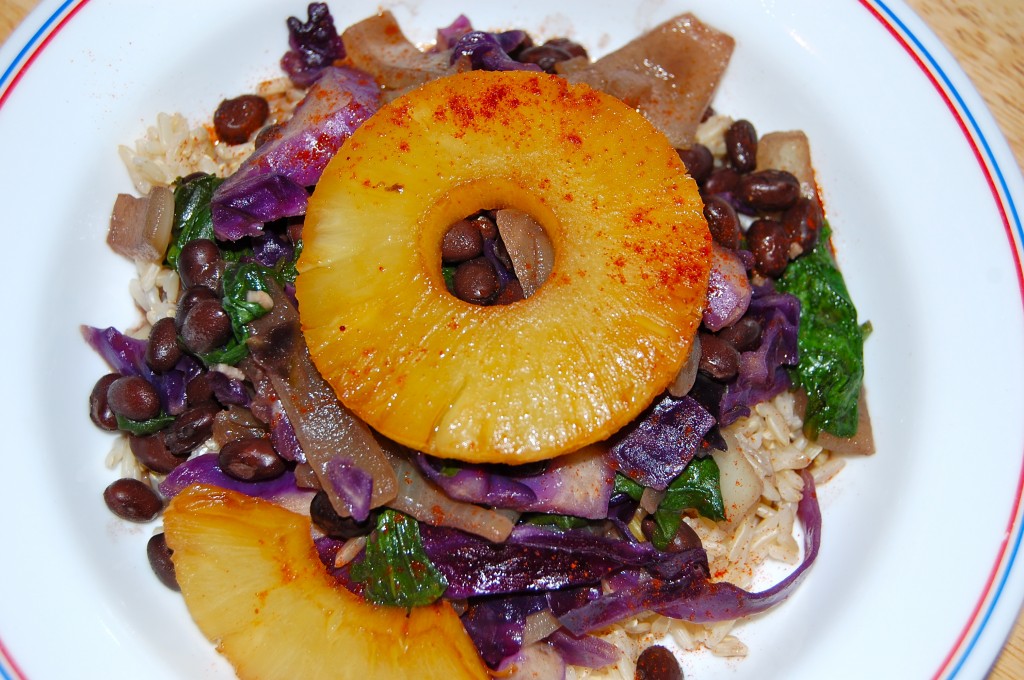 Basic Rice and Beans (From No Meat Athlete's Marathon Roadmap)
Ingredients (for 4 servings):
✦1 cup dry brown rice
✦1 can drained and rinsed beans, or 2 cups cooked
✦1 onion, chopped
✦1 clove garlic, minced
✦1 Tbs olive oil
Rinse the rice well and put in medium saucepan with 2 cups water and 1/4 tsp salt. Bring to boil, reduce heat to medium-low, coverfor 20-25 minutes until cooked. Remove from heat. Heat up the oil in a large pan over medium-high heat and onion for 5 minutes. Add the garlic and fry for an additional 5 minutes, less if it appears that it's going to burn. Stir in the beans and heat through. Add salt and pepper to taste. Serve with rice.
Hawaiian Beans and Rice (From No Meat Athlete's Marathon Roadmap)
You'll need one batch of the basic recipe above, as well as:
✦2 cups chopped red cabbage (about quarter of a head)
✦2 cups fresh baby spinach
✦2 tablespoons soy sauce
✦3/4 teaspoon smoked paprika
✦1 can sliced pineapple, juice reserved
✦1 Tbs coconut oil (I used Tropical Traditions brand)
Stir the red cabbage, 1/2 cup pineapple juice, 1 tablespoon of soy sauce, and smoked paprika into the bean and onion mixture. Cook for 5 minutes, until cabbage is cooked but still crunchy. Stir in spinach and cook for 2 more minutes, until slightly wilted. Add salt and pepper to taste. Meanwhile, melt coconut oil in pan over medium-high heat. Lay pineapple rings in pan, and sprinkle with 1tablespoon of soy sauce. Fry for 2 minutes per side, until nice and charred. Serve on top of beans and rice.
Not only was this recipe vegan and economical, it was also very nutritious! The black beans and spinach contain a good amount of iron and the vitamin-C rich pineapple aids in absorption.
I give this recipe an A- (I should have used a little more paprika/salt), but apparently one of my co-workers gave it an A+. I stashed a tupperware in the fridge the other morning and by lunch time the empty tupperware was in the sink…sans rice and beans. Who does that?? Of all the things in our communal office fridge (Fage yogurt, diet coke, etc) – who decided that my Hawaiian themed rice and beans were the least conspicious thing to steal? Ah well.
Disclaimer: Both No Meat Athlete and Tropical Traditions provided me with free samples, but I was under no obligation to review if I so chose. Nor was I under any obligation to write a positive review or sponsor a product giveaway in return for the free product.
Not too much to report on the running front – I've been pretty fatigued this week, so I've kept it really easy. I ran 3 miles on both Monday and Tuesday and 7 miles this morning (Wednesday). I have a fun event planned for Sunday (a relay race with some friends!), so my mileage needs to be juggled around a bit this week. I think I'm going to attempt a long run on Friday morning – stay tuned for how that goes, heh.
Ever had something of yours taken from a communal fridge? Was it more or less exciting than homemade rice & beans??