When it comes to specific workouts (long runs, tempos, track intervals), I'm pretty consistent about what time of day I run. Part of this is because I train with the Central Park Track Team and our Tuesday track workouts and Thursday tempo runs are always at 7pm. 800m repeats at sunrise? A 5-mile tempo before breakfast? Not gonna happen. I'm sure this isn't big news, but in the mornings I feel slower. My body temperature is lower due to 7+ hours of sleep, I'm still groggy, and my muscles haven't moved around enough to get loose. So, I tend to reserve the early morning hours for long and easy runs. Taking things nice and slow allows my body (and brain!) a chance to warm up.
It's tough getting myself motivated to run fast later in the day (7pm workout time means late dinner, later bedtime) but at least physically I'm at the top of my game (or more so than I am in the morning). I was recently perusing an article on Chronobiology for Runners and it got me thinking about my own circadian rhythym. I'm not an early morning person, but I'm not really a night owl either. I generally feel my best at around 9 or 10am. In an ideal world, I'd do all of my running then, but alas – I'm usually cubicle bound.
Anyway, the point of this ramble is…I do certain kinds of runs at certain times of day. And if I'm running long, I like to get it out of the way early. I'm running a leg of the Cherry Tree 10-miler in Prospect Park this weekend (each leg = 3.34 miles) and although I could "add on" miles in the form of warm-up/cool-down I feel like it wouldn't be the same as a continuous long run. SO. I decided that I'd try to run long before work this morning. Getting up at 6am wasn't super fun, but thankfully the weather was warm AND I had a running buddy (thanks Jacqui!).
The run itself was pretty uneventful – kept the pace easy, picked it up a bit in the last mile or two.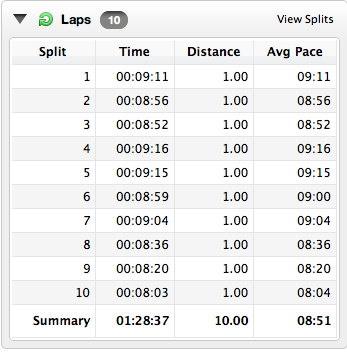 The best part about pre-dawn runs? I reward myself with Starbucks!! It gives me something to look forward to. My go-to drink lately has been a tall misto with 2% milk.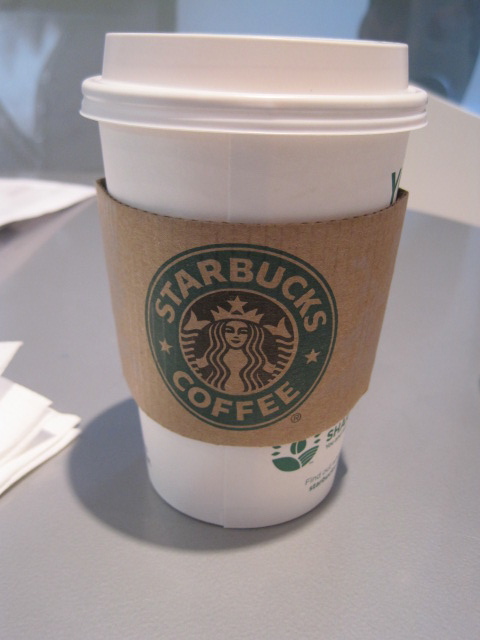 My work days have been getting longer and so, the office cafeteria has been my go-to source of breakfast and lunch nearly every day this week. Add in the free cupcakes I've been scoring from co-workers and I'll never have to buy groceries again! Hah. Kidding. Except maybe not really.
Breakfast today was the usual pb & j on flax bread and fruit with cottage cheese. Anddd more coffee. I almost always eat breakfast when I get to the office – even on days when I run long. I have my dinner pretty late (9-10pm), so I find that I'm still well-fueled for morning runs.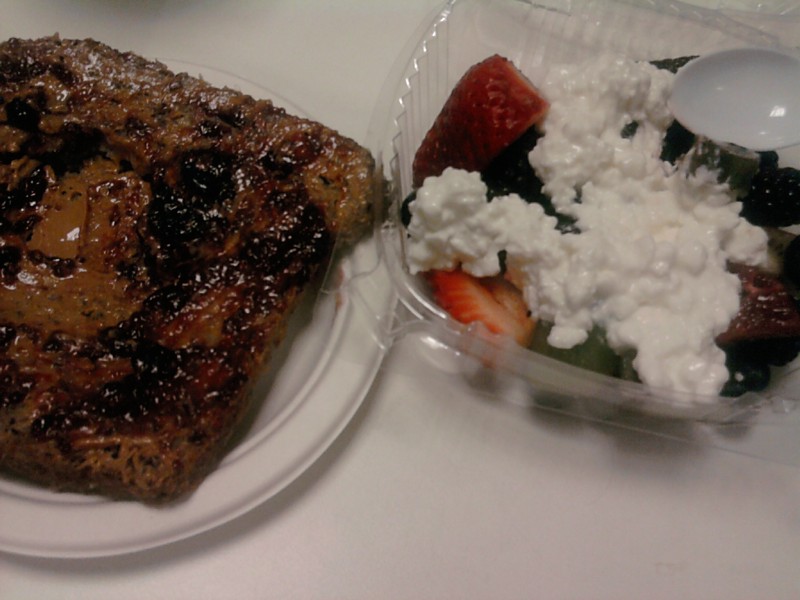 It feels good to have this long run done and done – more time for frolicking tonight and tomorrow! However, my left hamstring/gluteus muscle is being a pain in the ass (bwaha, pun intended). I think it needs some stretching and a yoga class asap.
Are you an early bird runner? Or do you feel your best mid-day? In the evening?