I think I'm finally getting into a groove with indoor workouts. I was a little sore after Tuesday's interval session, but felt good enough to attempt a tempo in Central Park last night. I met up with my running club for the following –
1 mile warm-up
4.08 miles @ half-marathon pace (28:27, or ~6:58 pace)
.6 mile recovery
2.05 miles @ 10 mile race pace (13:52, or ~6:45 pace)
1 mile cool-down
~8.75 miles total
This workout went so much better than I was expecting and even though 6:58 pace is a bit faster than I can manage for a full half-marathon, it was a great confidence booster. I think the fast intervals on the track definitely make tempos at least seem easier – half-marathon pace feels like it ain't no thang after gutting out 400's at mile pace. Last night's workout also made me realize how much I like longer, endurance efforts vs. fast and short ones. Sweaty Kid wrote a great post this week comparing the two – she used zoo animals as metaphors. Check it out!
The iron supplementation is going okay. I've started taking the pills with emergen-c at bedtime. FYI – if you haven't had emergen-c hot (like tea), try it! My running pal Megan clued me in to this and it's extra soothing if you have a scratchy throat. I wish I had more delicious recipes or food photos to share with you, but alas, it's been a busy week and I've been buying breakfast, lunch, and (sometimes) dinner from the office cafeteria. I promise to make something iron-rich this weekend!
Last night I ate the dinner of champions – a pint of chocolate milk, sangria, and a beer. Plus a picky bar when I finally got home at 1 am. Do as I say blog friends, not as I do. Heh.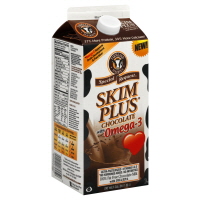 Obviously, the ideal situation would have involved a delicious and nutritious home-cooked meal, but I'm a busy girl and had places to go. In a pinch, my 16oz of chocolate milk provided 320 calories, 22 grams of protein, 58 grams of carbohydrates, 30% DV potassium, 80% DV calcium, and 50% DV vitamin D.
And everyone knows that sangria = antioxidants and beer = B-vitamins. So it's all cool. Right? Right?
Question: What's the weirdest dinner combination you've had?