So, you might think I'm crazy, but the best 10 minutes of my week were watching my pal Sarah race the 3K on an indoor track. Actually it was 10 minutes and 43 seconds (she's super speedy), but for that small chunk of time I felt really lucky to be part of the running community. These lady racers trekked to the indoor track after work on a Thursday, not for money (they actually paid $15 to do this!), not for fame (the bleachers were mostly empty), or for any other reason than that they enjoy it. There's something about being in the company of people who truly love what they're doing – it's contagious. Every runner I know has different reasons for doing the sport, but seeing my friends push their limits and challenge themselves really inspires me (hey, Sarah, that's you!!). I also feel really lucky to be able to incorporate my social life so seamlessly into exercise. Sure, I occasionally enjoy going for a good solo run, but having company makes the miles genuinely FUN.
Sometimes my non-running friends or co-workers will express curiosity at my devotion to running "I hate running", they say, "I can barely run a mile on the treadmill!". I usually just smile and nod, but sometimes I want to try and change their minds. Of course running on the treadmill by yourself (especially if you're out of shape!) isn't much fun. But galloping down Riverside drive, cheeks pink from the brisk January night, and gossiping with your girlfriends? That's something else entirely.
Apologies for getting a little mush on you all, but I just felt so happy to be where I was on Thursday night, that I wanted to share it. I ended up running 4 miles that evening (unplanned, considering I had run 8 miles in the morning) bringing me to 12 miles for the day. Shazam. The most I've run since the marathon. And I felt good! I suppose this is what happens when you take 3 days off.
Enough running chatter, I've also been baking things! One of my favorite things to make is homemade pie. Sure, it's time intensive, but the results are very satisfying. But pie baking is tricky! It's taken me years to figure out the process and while I'm still not an expert, I can share a few things that I've learned. First, some notes:
1) I ended up using a mix of all-purpose and whole-wheat flour for this crust, but if you're a pie novice, use only all-purpose flour. Whole wheat can be tricky and often leads to chewy/tough dough.
2) I'm serious about keeping the butter/shortening cold. Don't skip this!! And if you're even more ambitious – refrigerate your flour, bowl, and rolling pin. This will prevent sticky dough.
3) I only added the dried fruit because I didn't have enough canned cherries. I was worried about the results (dried prunes in a pie?!), but it turned out pretty well. Try it! I also generally use about 1/2 to 3/4 sugar that most recipes call for because I don't like my pies too sweet. My rule of thumb – sweeter fruits (cherries, peaches, blueberries) need less sugar while other fruits (rhubarb, apples, pears) need more.
Now on to the pie!
You want to see bits of butter and shortening in the dough – do not overmix.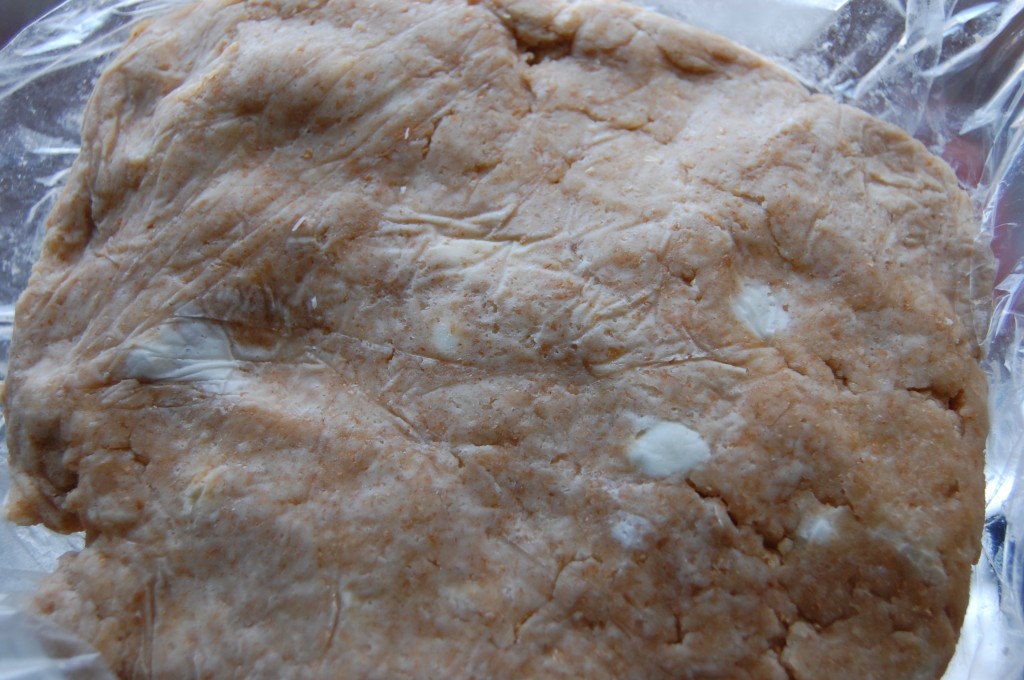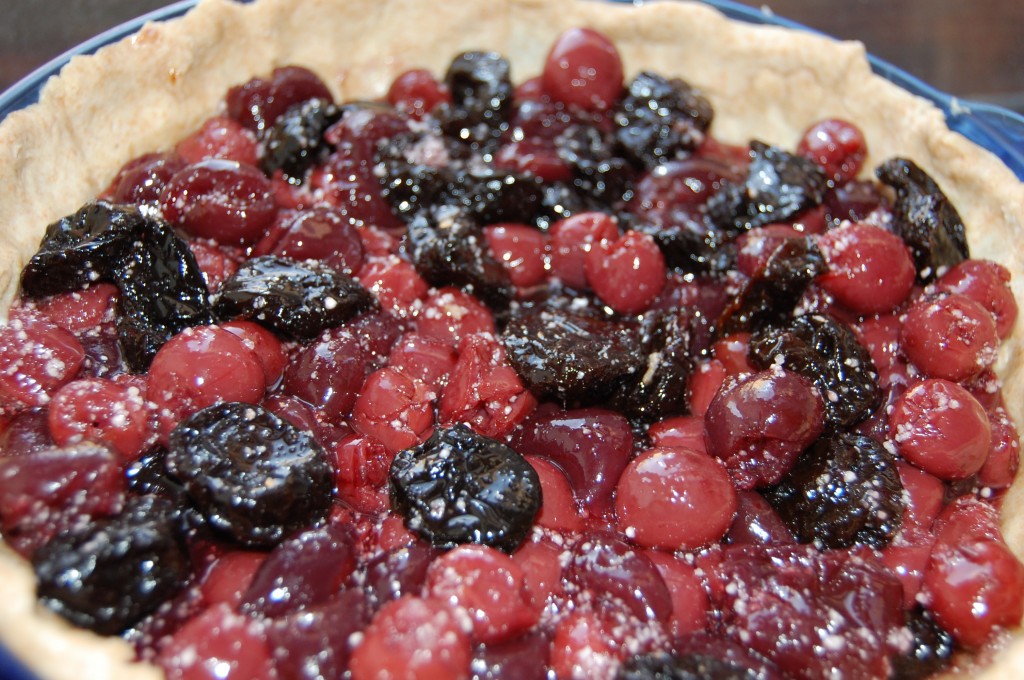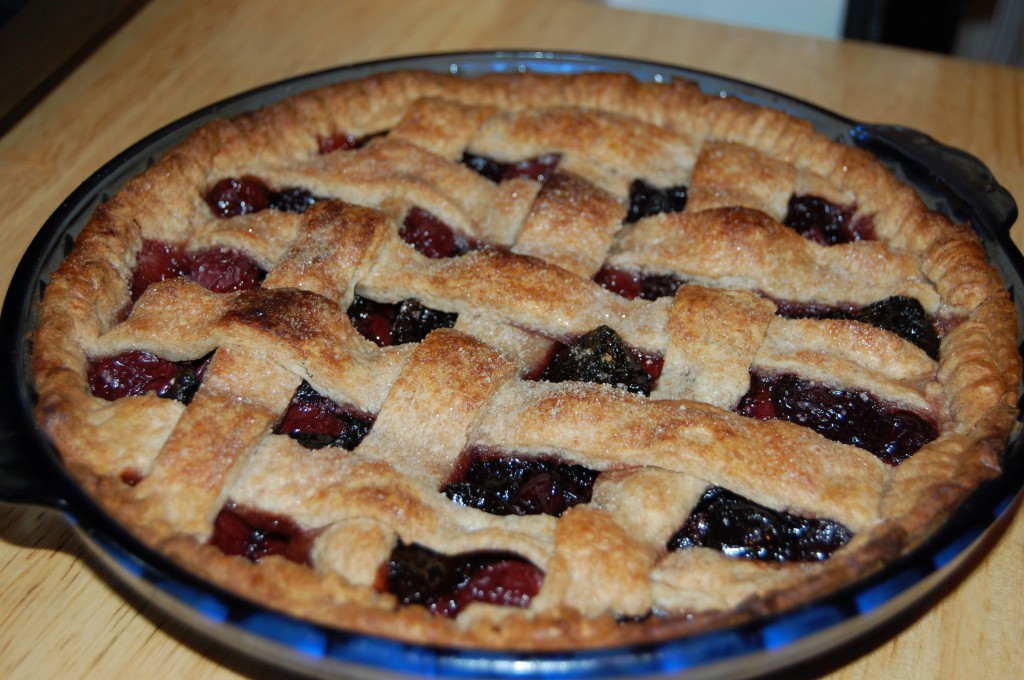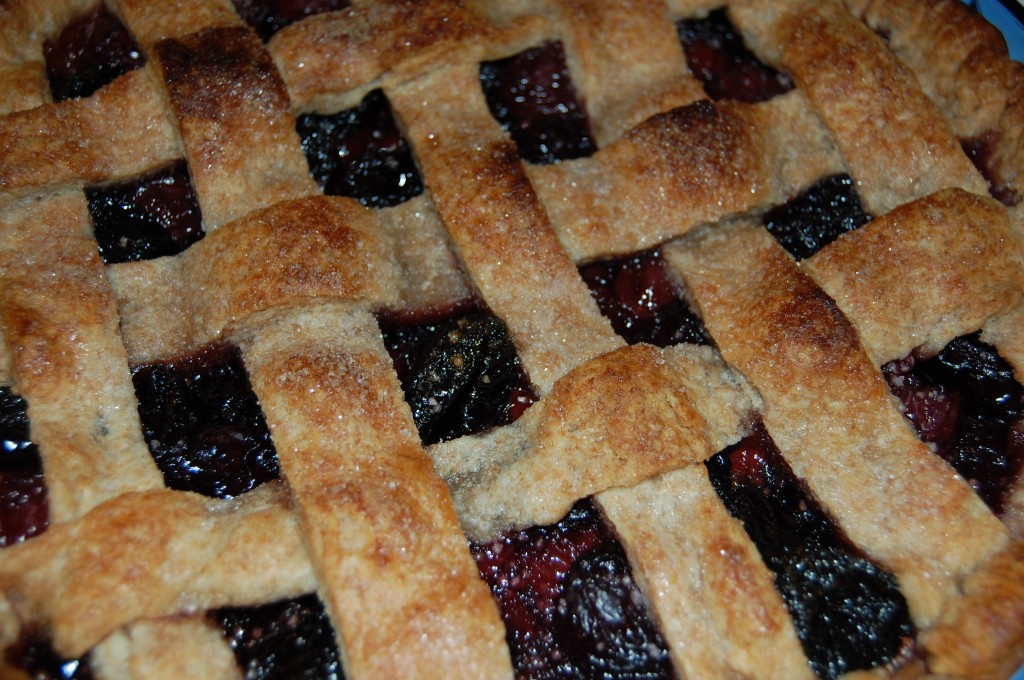 Cherry Lattice Crust Pie
Ingredients:
2.5 cups flour (I used 1/2 all-purpose, 1/2 whole wheat)
1 Tbs sugar
1 tsp salt
1 stick of butter (8 Tbs)
1/2 cup non-hydrogenated shortening (or LARD if you can find it)
2 cups canned sweet cherries, drained
2 cups canned sour cherries, drained
1 cup of dried fruit (I used 1/2 dried cherries and 1/2 dried plums)
1/2 cup sugar
3 Tbs quick cooking tapioca or cornstarch
1 cup of ice cold water (you may use less)
milk and extra granulated sugar, optional
Directions:
1) First, make sure that your butter and shortening are really cold. I usually stick mine in the freezer for 15-20 minutes. This is important!! Cold butter/shortening (a.k.a. fats) expand in the oven and create air pockets betwixt the flour. These little air pockets make for a tender and flaky crust. If your dough is too warm it will end up tough and/or soggy. Beware.
2) Whisk together the flour, sugar, and salt in a large bowl.
3) Cut your butter and shortening into small pieces and either use a pastry blender (it kind of looks like a potato masher) or two forks to incorporate the fat into the flour mixture. Keep at it until the butter/shortening is the size of small peas.
4) Gradually add a few Tbs of cold water at a time until the dough begins to come together. I ended up using about 1/2 cup water, but you may need more or less depending on the humidity and temperature of your kitchen.
5) Form the dough into a ball and then divide into two. Flatten out the dough bowls into a slight disk shape and then wrap in plastic wrap. Refrigerate for at least an hour.
6) Once the dough has chilled, flour your workspace and a rolling pan (to prevent sticking) and roll each dough disk into a circle that is a bit larger than your pie plate.
7) Use the rolling pin to pick up a dough circle and lightly press it into the pie plate. Use a sharp knife to cut the other dough circle into 2″ strips.
8 ) Pre-heat oven to 400 F and combine cherries, dried fruit, tapioca, and sugar in a medium bowl.
9) Add fruit filling to pie plate and then use remaining dough strips to weave a lattice top (alternate going under and over with each strip).
10) Use a pastry brush (or paper towel) to brush the lattice top with milk and then sprinkle with granulated sugar. This makes it look pretty!
11) Cover edges of crust with foil (to prevent over browning) and bake for 30 minutes. Remove foil and bake for another 20 minutes or until crust is nicely browned and fruit is bubbling.
What were the best 10 (or 20, or 30) minutes of your week?