Over Christmas my mom gifted me with a box of mint chocolate candy canes. They're delicious, but after one or two, I was a little bored with eating them straight up. I also had a box of mint oreo cookies in the pantry (the best kind), so I decided to combine the two in my latest baking endeavor. I loosely based my creation on a Philly oreo cheesecake recipe. Overall I think it came out really well! The top of the cheesecake cracked (a common problem), so I bedazzled it with drizzled chocolate and crushed candy cane.
Mint Oreo Cheesecake (makes about 12 servings)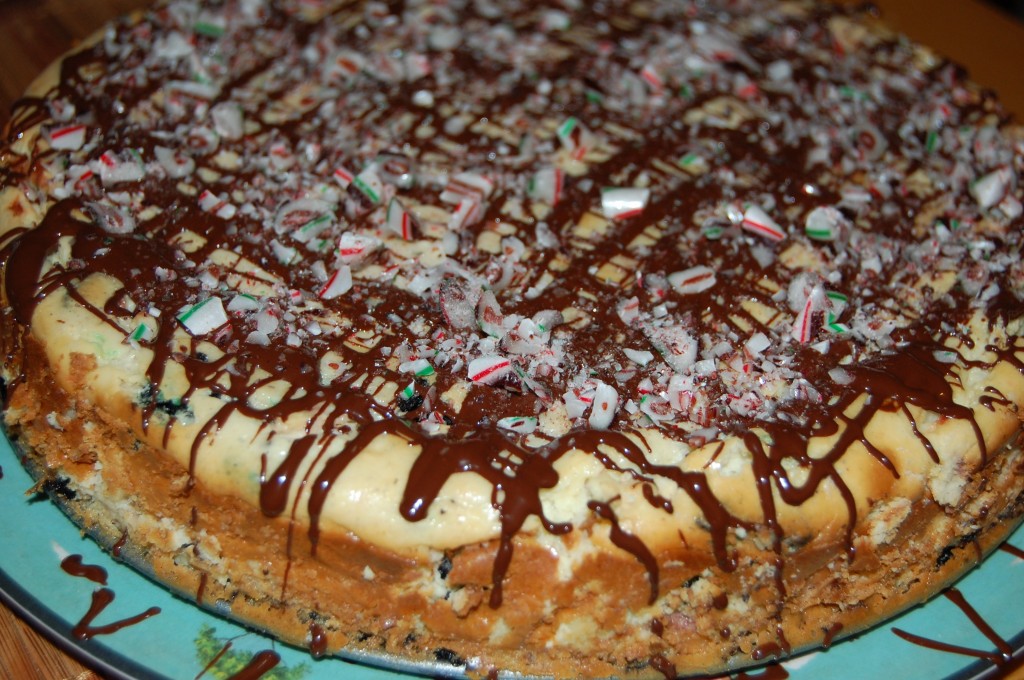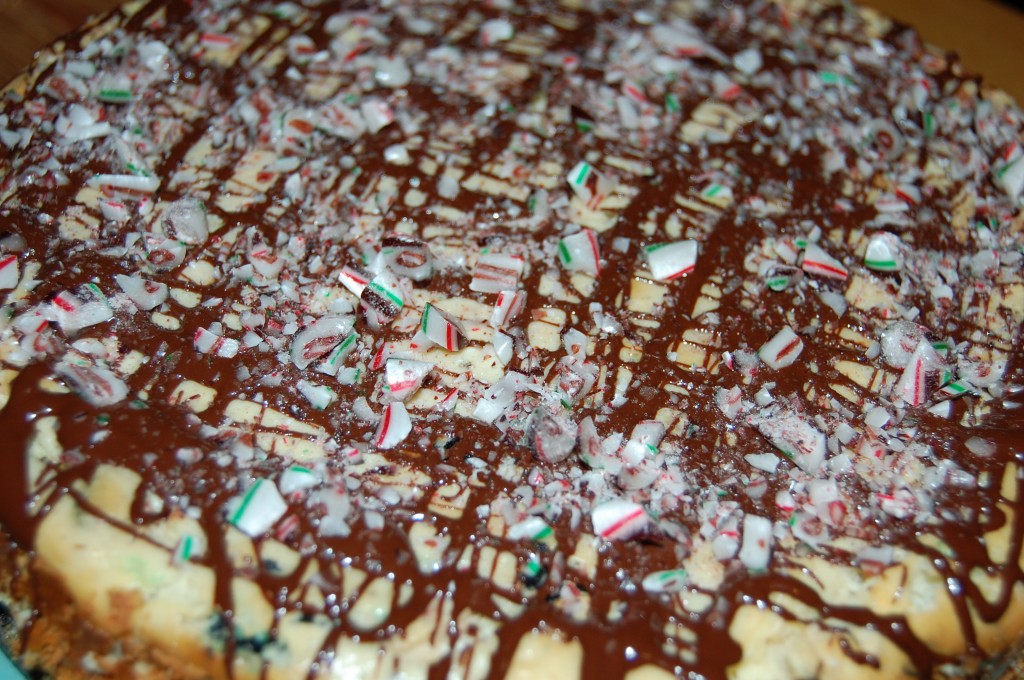 Ingredients:
25 mint oreo cookies (15 crushed finely, 10 crushed roughly)
3 Tbs butter, melted
4 8oz. packages of cream cheese (I used 2 regular, 2 fat free)
3/4 cup sugar
1 tsp vanilla
4 eggs
6 mint candy canes, crushed
1/4 cup semi sweet chocolate chips
Directions:
Preheat oven to 325 degrees (300 degrees if using dark, non stick pan)
Combine crushed oreos and melted butter and then press in the bottom of a 9″ spring form cake pan.
Whip cream cheese and sugar until blended together, add vanilla, and then add in eggs, one at a time
Fold in roughly crushed oreos and 1/2 of the crushed candy cane pieces
Pour cheesecake batter into the springform cake pan and bake for about 55 minutes (until top is light golden brown)
Run a knife along the edges of the pan and allow to cool completely
Microwave chocolate chips until melted (30-40 second intervals) and then drizzle chocolate on cake with a spoon. Garnish with candy cane pieces.
Refrigerate for at least 4 hours and then dig in!
When I wasn't eating cheesecake this week, I was trying to do a little running. My mileage has been low lately, so my focus has been on quality vs. quantity. I ran an easy 3 miler on Monday and followed it up with some strength training (who have I become?!). Tuesday was a jam packed day and I had to squeeze in a workout during my lunch break. Back in May, I wrote a post about how I manage lunch hour workouts, but basically it comes down to me being low maintenance. I don't  wear make-up or dry my hair and my gym is only 3 blocks away. I suppose, for me, running is more important than looking cute. heh. Plus my lunch time workouts are usually on the quicker side – you can fit in more miles if you run them faster!  
Tuesday's Workout –
.5 mile warm-up (8:30 pace)
6 x .5 mile @ HM pace (7:00)
w/ .25 mile recovery (8:30 pace)
5 miles in 38:08 (7:37 pace)
And this morning was a brisk 6-miler with Alma and Nicole. We negative-splitted the run by a minute and finished in about 47:30. 'Twas a beautiful day to be running in the park and I'm so glad that 1) I had company and 2) I was OUTSIDE. It really does make a difference.
What's your focus right now for workouts – quantity? quality? Or are you still trying to recover from your New Year's hangover? I won't judge.
Do you like cheesecake? I know some people have an aversion to cheese-based desserts….