I had planned on making Sunday an easy long run day, but when I realized some running buddies were meeting for a morning workout, I couldn't pass up the opportunity. Running with friends >>>> Running Alone ! I started with an easy 2-mile warm-up and then eased into a tempo run on Central Park's inner 4 mile loop.
Mile 1 – 6:58, finding my rythym, felt okay.

Mile 2 – 6:50, mostly downhill, good.

Mile 3 – 7:00, up Cat Hill, legs felt really heavy.

Mile 4 – 6:43, legs were tired, but still relatively strong.

Last .1 – 0:50, to the finish!

Total: 4.1 miles in 28:21 (6:54 average)
I finished up with a 2 mile cool-down and called it a day. I had planned on doing more than 8 miles (would have liked to run 10+), but considering the tempo miles, I was pleased with the effort.
I like running and racing. A lot. But by no means is it always easy. It's a constant battle both phsyically and mentally. It does get easier after time, but even after 11 years of running, I still stuggle. Around mile 2.5/3 of yesterday's tempo run,  I started to wuss out. I'm sure you know that feeling – the effort is difficult, your legs are heavy, your breathing is labored. Running feels HARD. Wouldn't it be better to just slow down or stop all together? I was definitely tempted, but I also know what my limits are and I was by no means approaching them.
If you're in danger of keeling over, well then, of course you need to stop. But I think many times our brains start mulling over negative thoughts (this is too fast! it hurts!) and it doesn't take long for our legs to get the message. So yesterday I just told myself to suck it up and get it done. I knew deep down that I was more than capable of doing a 4 mile tempo run at sub-7:00 pace, I just needed to get my brain to believe it. Sometimes I find it helpful to repeat "positive mantras" while I'm running. For example, yesterday's was – "You know your limit and this is not it". It sounds kind of lame to put it in writing, but I swear it works.
After my run, I quickly cleaned up and headed to Brooklyn to meet a friend for brunch. We chose a cozy, local place called The V-Spot. Everything on the menu was vegan! After all that running, I was looking for something hearty to fill me up. The tofu-veggie scramble, roasted rosemary potatoes, tempeh bacon, and whole wheat toast did the trick! Mmm, carbohydrates. This was a really cute place – many of the menu items were latin-themed (yummy!) and the prices were very reasonable by New York standards.
Served with plenty of cholula hot sauce, yay.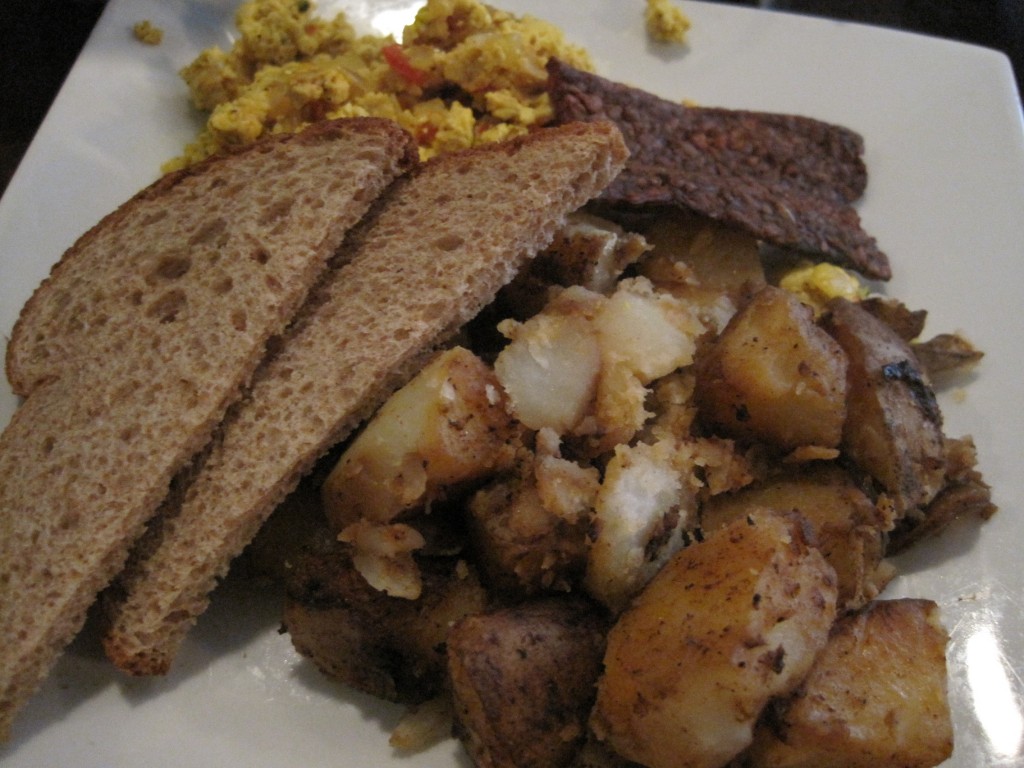 How do you know when you're approaching your limit (running or otherwise)? Some days I feel better than others, but I generally know what I'm capable of in terms or workouts and race paces. If I ever start to feel dizzy – I know that's a major red flag!