I have a healthy winter recipe and tales of an 11-mile treadmill run, but first! A give-away! I am no stranger to online shopping and luckily for you, I have the hook-up. CSN is giving one reader a $45 gift certificate to use on any of their sites. The CSN family of stores have everything for the home – from cookware, to shoes, to TV stands for flat screens! To win, tell me the best thing you've bought online. I'll choose a winner on Wednesday morning. My favorite purchase was my cw-x compression running tights!
If you're still reading this blog post, good for you! The prospect of commenting in return for free stuff wins me over everytime. On to this weekends long run…in short, it should have sucked, but miraculously it didn't. Jen at Runner's Trials touched on this subject the other day and it really rang true this weekend. Sometimes you do everything you're not supposed to do and the running Gods still grant you effortless miles.  In my case, I stayed out dancing until 3:30am, drank more than I should have, and only slept for 5 1/2 hours. I roused myself early-ish on Sunday morning and hydrated with coffee and Gatorade before meeting Nicole for a pasta cooking demonstration. I'm usually not the biggest fan of pasta, but I've been trying to be more open-minded lately. I think I've narrowed down my pasta distate for specific shapes – I really don't like spaghetti, angel hair, or penne. The rest I can more or less tolerate.
After our cooking demonstration (which inspired dinner), I went to my gym surprisingly motivated to run long and hard on the treadmill. It's very unusual for me to feel that way. I was probably still drunk (just kidding Mom!).
I did 2 mini progression runs for the first 6 miles (a mile each at 9:00 pace, 8:00 pace, 7:30 pace x 2) to keep things interesting and then finished up with 4 more easy-ish miles. In total, I ended up running 11 miles in 1:32:25 (8:24 pace). Unexpected, but I'll take it!
After putting my body through the ringer over the weekend, I was in the mood for a simple and healthy dinner. While I DO love heavy cream and butter, this creamy sauce is made only of goat cheese, which is naturally low in fat. That leaves extra toom for ice cream!
Creamy winter veggie pasta (serves 4)
Ingredients:
1/2 box orchiette pasta

1 head of cauliflower, cut into small florets

4 leeks, trimmed and washed

8 whole cloves of garlic, peeled

1 Tbs olive oil

4 oz goat cheese (small log)

handful of kalamata olives, sliced

1/2 cup reserved hot pasta water (it will be nice and starchy!)

salt and pepper, to taste

Protein of your choice, optional (see note)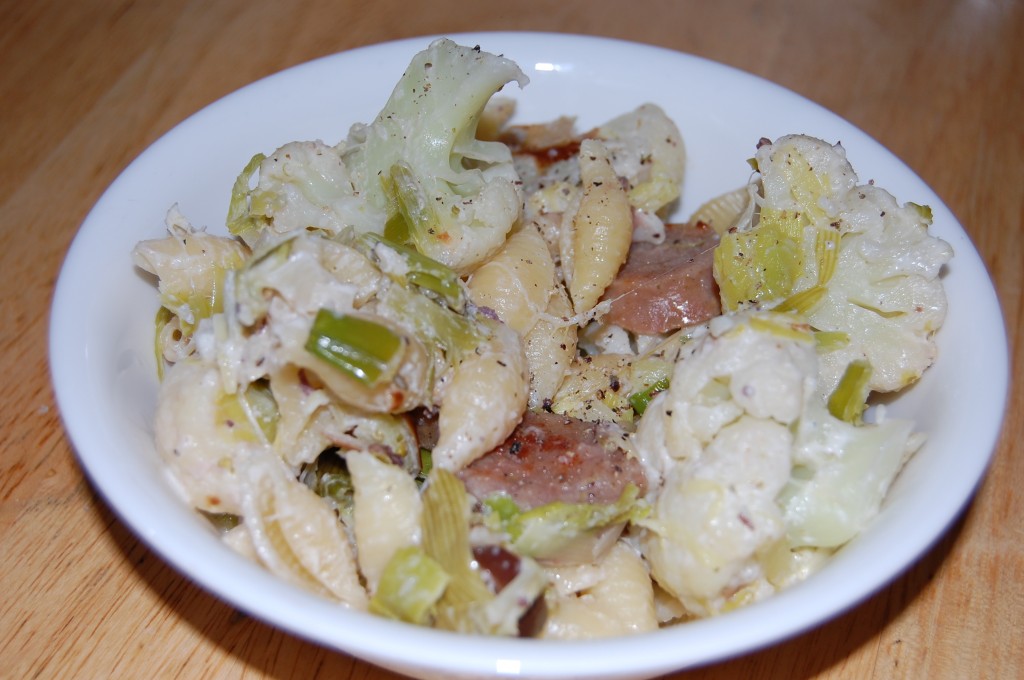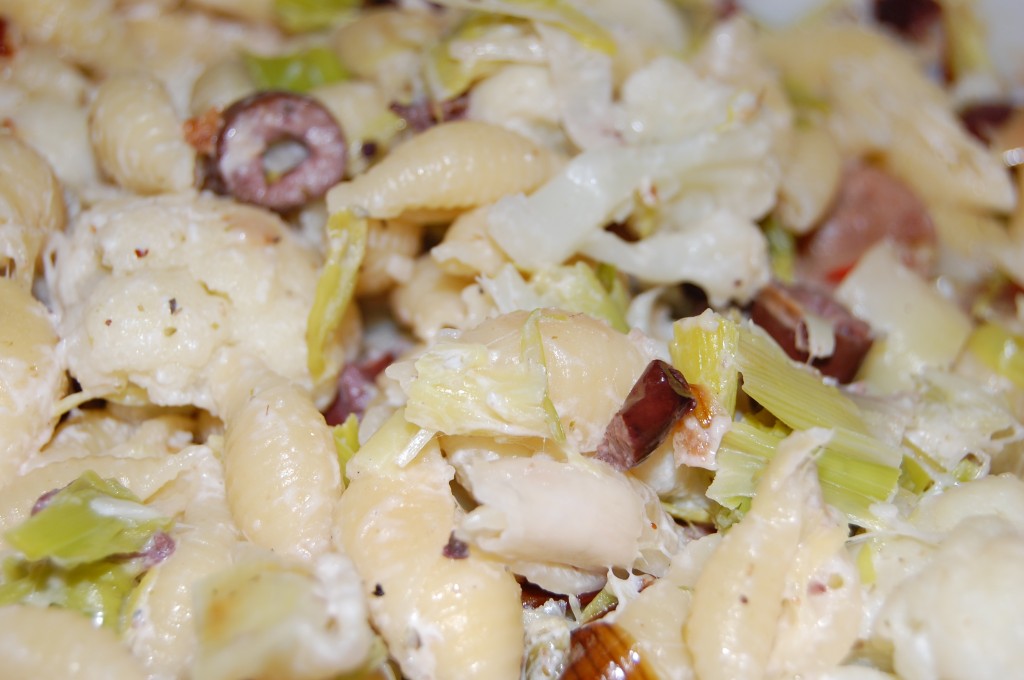 Directions:
 Preheat oven to 400 F, drizzle olive oil over leeks and garlic, and roast for about 20-25 minutes (watch that the garlic doesn't burn!)

Meanwhile, bring a large pot of salted water to a boil and cook pasta for 5 minutes. Add cauliflower and cook for an addition 3-4 minutes, or until pasta is al dente.

Set aside pasta and cauliflower and in a large bowl add the hot pasta water to the goat cheese. Whisk until combined and season with salt and pepper.

Chop roasted leeks and garlic and add to goat cheese-sauce. Add in the pasta and cauliflower and gently toss until combined.

Garnish with sliced kalamata olives and buon appetito!
Note: I added some sauteed vegetarian soy sausage to my dish, but white beans, shrimp, or grilled chicken would also work well.
Now, tell me the best thing you've bought online. Bonus points if you got it from Cananda and it's illegal.