A new post, finally! On Sunday, Jacqui and I ran the Bay Area Track Club 6k cross-country race. I'd give the race a B-, certainly not a focus race for me, but it could have been worse. I finished the 6k course in 26:04 (6:59 pace) and was REALLY happy when it was over. The sooner you're done, the sooner the fun!
Race Cons:
I spent the fall marathon training and just returned to indoor track workouts, so I'm not exactly in 6k shape.
I haven't done a cross-country race since college i.e. since 2006.
The cross-country flights and walking/sightseeing that I took part in leading up to the race did not exactly leave me with fresh legs.
Cross-country is HARD (hills! mud! tree roots!) and this race really reminded me of that.
The field was very concentrated with fast runners (think: Molly Huddle who holds the American 5k record) and I probably outweighed these girls by a good 20lbs (seriously).
Pros:
The BATC seems like a great organization and everyone we met was super friendly.
I got to run a race with super-star elite runners like Molly Huddle, Magdalena Lewy-Boulet, and Shannon Rowbury was on the sidelines!
Doing a race on vacation gave structure to the trip and it was a great way to interact with the local community.
The weather was perfect for racing! Cool, foggy, and in the mid-50's.
Beer tastes better when you run hard to earn it.
One of the things that I love best about running is that it's very much a sport based on numbers. My satisfaction from a workout or race is largely based on my times and running faster than my own PR is what motivates me to keep racing. Unfortunately, with cross-country, "time" doesn't matter quite as much as in road racing. Mud, hills, rocks, and roots make for slower times than road races and a since xc races are usually less popular than road races, there's less people to keep you company. I suppose the things that I don't like about cross-country are some of the things that many people DO like, but to each his own. My heart remains with road racing!
CPTC teammates, West Coast style.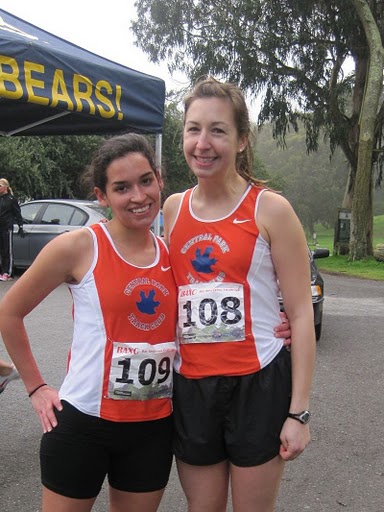 The fasties.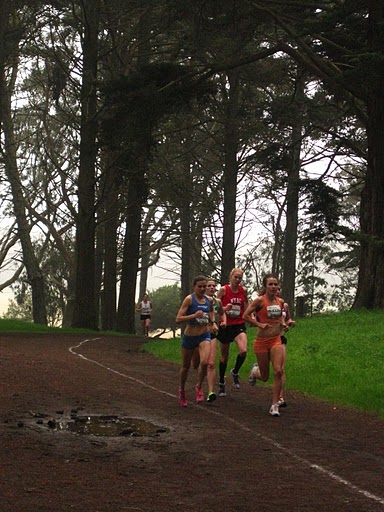 I love this photo!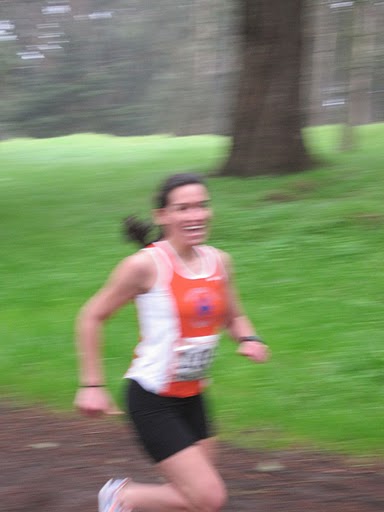 Big thanks to blog reader Anders who yelled "Go Runner's Kitchen" around the 4k mark. It was a nice surprise!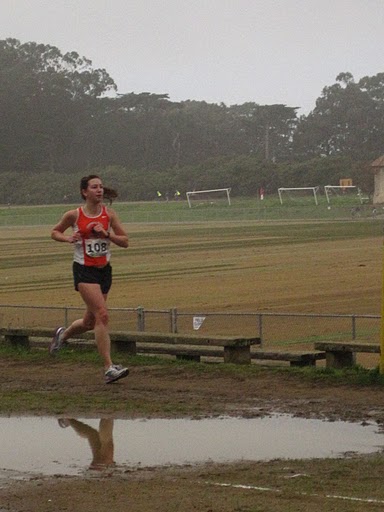 After I finished the race and cooled down, I had one thing on my mind – a hot beverage! I sort of wish it was acceptable to drink beer hot. A caramel machiato and some cashews from Starbucks had to do instead –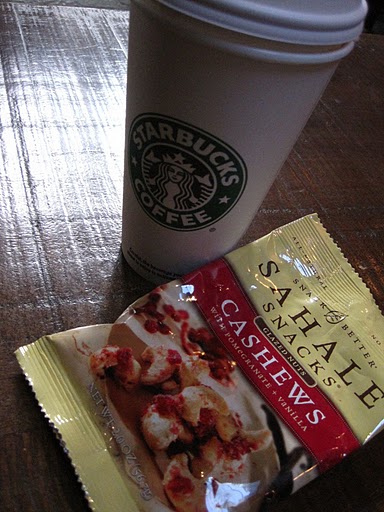 Lunch was a giant beet and goat cheese salad from The Grove.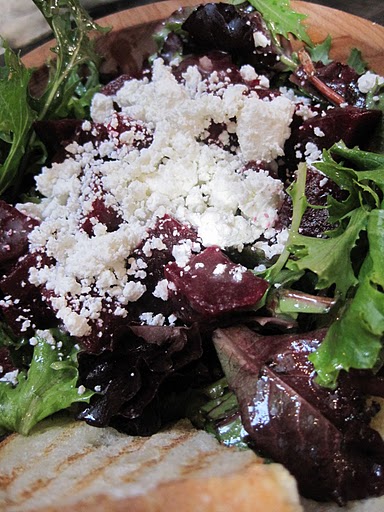 I followed up this healthy lunch with a decidedly less healthy afternoon snack – beer and cupcakes!! It's all about balance, right?
Mileage for the day totaled about 10.5 including ~2.75 mile warm-up, ~3.75 mile race, 1.5 mile cool-down, 2.5 mile afternoon "shake out" run. The shake out run wasn't planned, but I had to run an errand and getting my legs moving again actually felt sort of good.
Thoughts on cross-country races? Am I the only one who sort of hates them?