Last week, I pretty much went from 0 to 60 in terms of training and workouts. And I'm paying for it now! After Tuesday's 800m workout, I ran easy on Wednesday (4 miles), and then knocked out a tempo on Thursday. Because of a snow storm, CPTC's outdoor tempo workout was cancelled, so I did the workout on the treadmill.
1 mile warm-up
3 miles @ HM pace (7:19)
2 miles @ 10 mile pace (7:05)
1 mile @ 10k pace (6:45)
1 mile cool-down
Destroyed. That's how I felt after this workout. Yikes, I haven't done a track workout AND a tempo in the same week in ages…and my body is letting me know. I actually had to take 30 second breaks after the 3 mile and 2 mile portions – I was sweating buckets and needed to chug some water. I followed up the workout with a 15 minute abs class and a few minutes in the cold plunge pool at my gym (a.k.a. ice bath).
I was so ache-y and sore for the rest of the weekend, that I only ran 4-miles on Friday, 4-miles on Saturday, and took Sunday as a rest day. No long run this week! I'm hoping that my body adapts to twice a week workouts soon, but until the soreness goes away, I'll be keeping the mileage on the low side. I don't want to get injured.
I know I haven't blogged since last Wednesday, but I have a good excuse. I swear! I spent the weekend hanging out with one of the coolest gals on the interwebs and too much fun was had. We spent Saturday and Sunday being snarky, drinking wine (of course), and eating really healthy food. Such as pie and chocolate. And pizza and cupcakes.
I hosted a Figure Skaters and Lumberjacks party on Saturday evening and whipped up some goodies for my guests. Using my go-to pie crust recipe, I assembled a lattice crust apple pie. I don't really have a recipe for the filling – I just combined about 2 1/2 lbs of thinly sliced apples, some sugar, lemon juice, cinnamon, and nutmeg to taste. My favorite apple combo for pie baking is a mix of Granny Smith (tartness) and Empire (good texture/sweetness).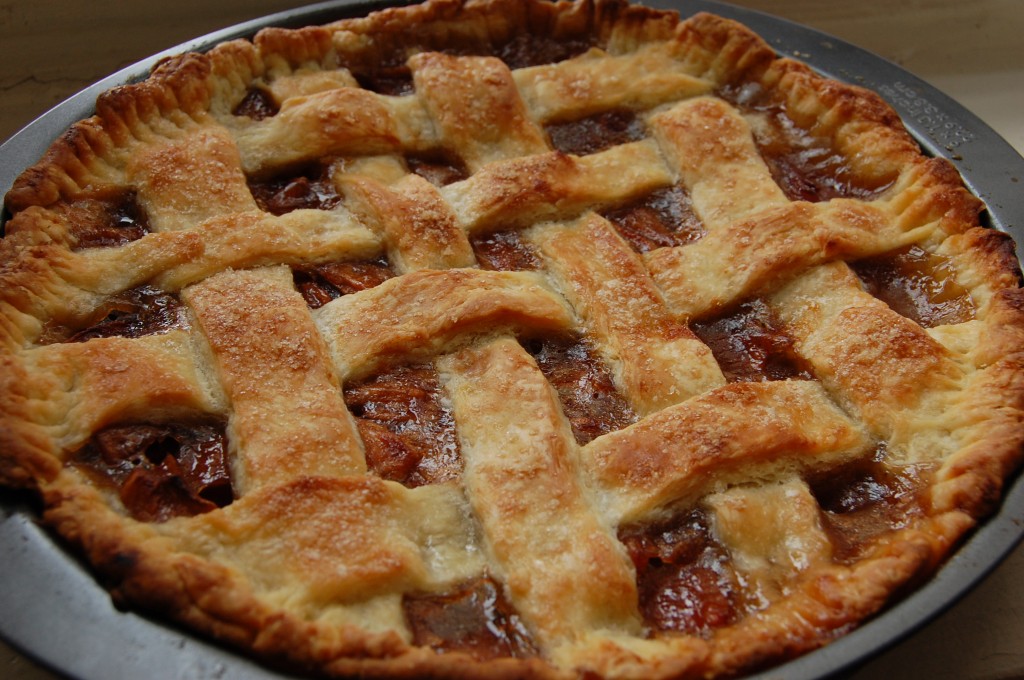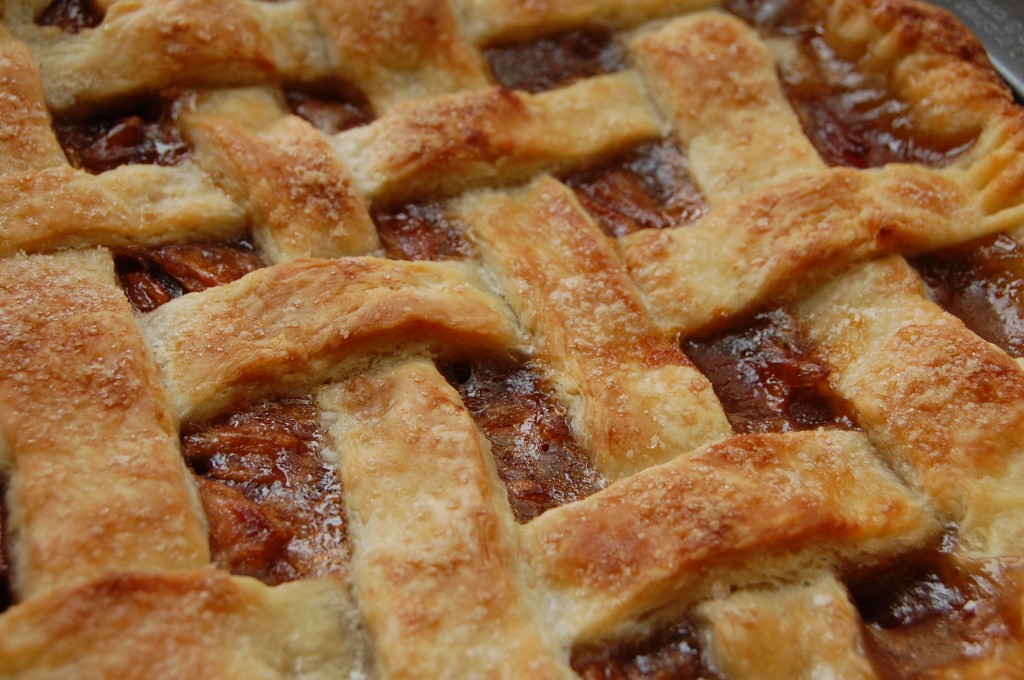 Snack #2 was peanut butter balls dipped in chocolate. So, so easy to make – and they're gluten free and vegan!
Chocolate-dipped peanut butter balls
Ingredients:
1 16 oz jar of smooth peanut butter (I used PB & Co. Smooth Operator brand)
2 cups powdered sugar
1 tsp vanilla
6 oz dark chocolate chips (Whole Foods vegan semi sweet chips are my go-to)
Directions:
Use a hand mixer or Kitchenaid mixer to blend together peanut butter and powdered sugar until combined.
Add vanilla extract until incorporated.
Line a baking sheet with parchment paper. Use your hands to form approximately 36 1″ balls and arrange on baking sheet. Freeze for one hour.
Melt the chocolate in a double boiler or in 30-40 second increments in the microwave.
Dip peanut butter balls half way into chocolate. Place on baking sheet. Drizzle remaining melted chocolate on top.
Refrigerate until ready to serve!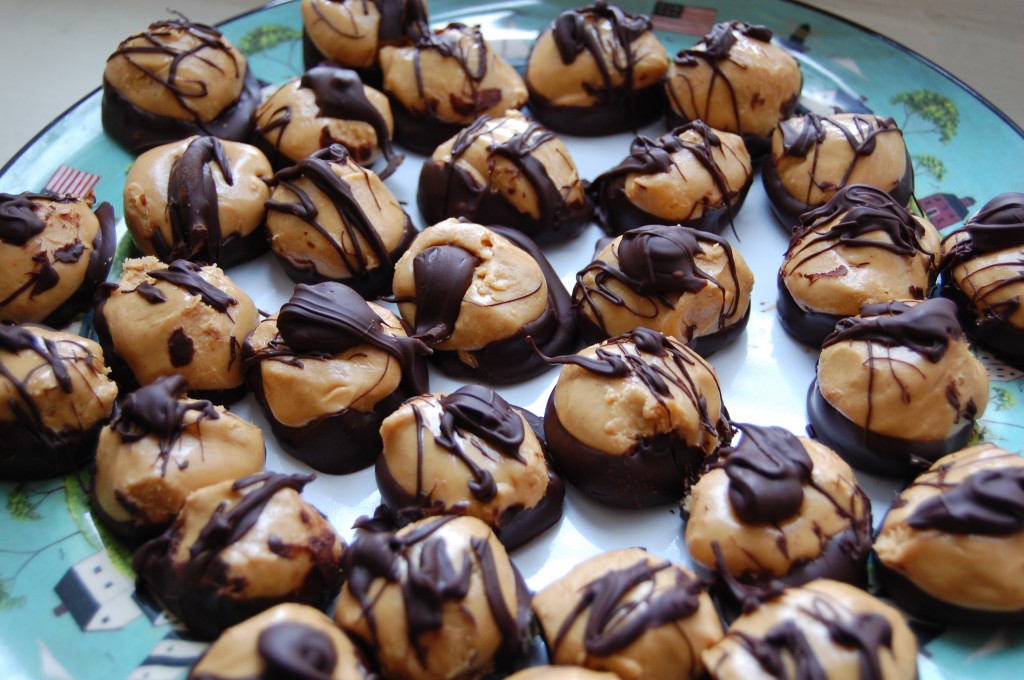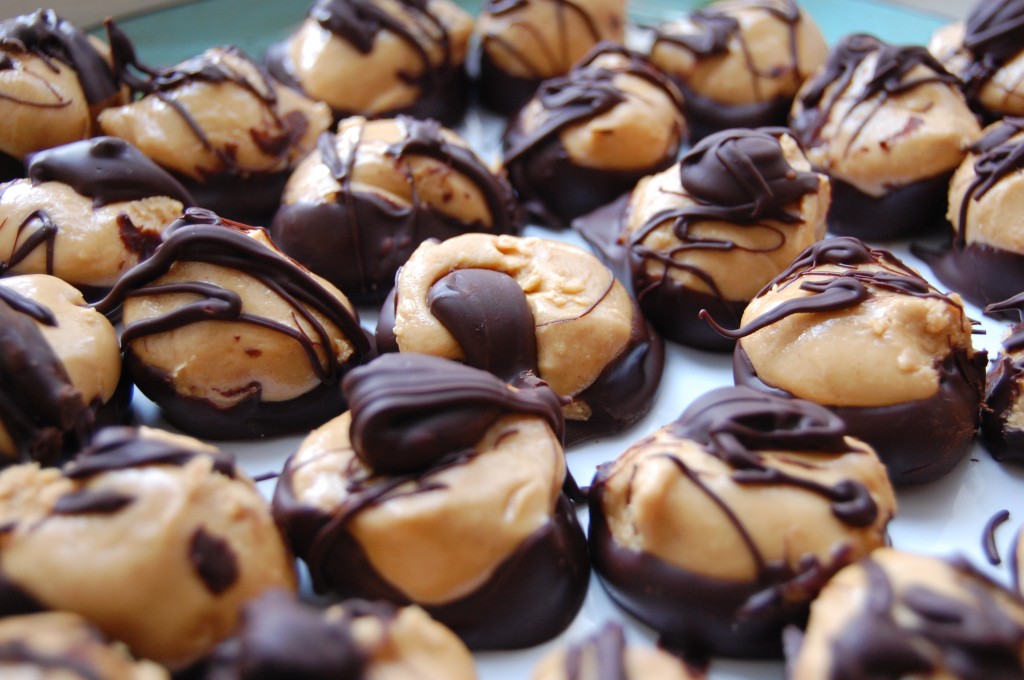 What is your go-to party snack?
How do you deal with training soreness? I have DOMS (delayed onset muscle soreness) like WHOA.