Now that winter weather is upon us, the temperatures are falling and it's often dark before we leave the office. It's no wonder that Seasonal Affective Disorder begins to bum out anyone not living in Florida or California (oh hai cranky Megan)!  Luckily, running is a great way to boost endorphins and keep you in a good mood until the Spring thaw.
If your motivation for winter training is lacking, first identify your obstacles. Do you cringe at 20 degree windchill? Are snowy roads scary? Do you skip runs after the sun goes down? Once you know the things that might cause you to bail on a run, it's time to come up with some solutions.
Before you head out into the elements, make sure you've got the necessary gear. A run in spandex tights and proper running gloves will make a winter long run much more bearable. However, you don't want to overheat. Keep in mind that you should probably dress as though it were 15-20 degrees warmer.
25-35 degrees: insulated running top, pair of spandex running tights, gloves, headband or hat.
15 – 25 degrees: long-sleeve top, running jacket, tights, wind pants, gloves, hat.
0 – 15 degrees: 2 long-sleeve tops, running jacket, tights, wind pants, mittens, hat.
Minus 15 to 0 degrees: 2 long-sleeve tops, 2 pairs of tights (and maybe windpants also) hat, gloves AND mittens, scarf wrapped around mouth.
Colder than minus 15 degrees: Hit the treadmill or take a rest day!
If you're prone to cold hands, you might want to consider disposable hand-warmers. You can usually get these at the local hardware store or pharmacy.
Once you're properly attired, think about the time of day that you'll be most motivated to run. If you need to get in your miles before breakfast, perhaps a running buddy can be the "kick-in-the-butt" you need to run in the early morning darkness. Or if you need some sunshine, ask your boss if you can take a longer lunch hour to fit in a mid-day jaunt.
When you're out on the roads, there are certain things you can do to keep yourself more comfortable. For example, begin an out-and-back run facing the wind. When you turn around, the wind will be at your back. Believe me, your sweaty self will appreciate this! When selecting your running route, try to run on the sunny side of the street – it can really make a difference. And good news for trail-lovers: trees block the wind better than the open road!
If you just can't bear the thought of running in freezing temps, consider investing in a gym membership. Many local YMCA's offer reasonable rates. You can also investigate the cost for a day pass – most health clubs allow non-members to purchase a one-time pass for $5-10. Even if you prefer to run outside most of the time, a treadmill or indoor track can be a lifesaver (especially if you have an important workout planned mid-blizzard!). A gym membership will also give you access to cross-training machines and weights – this winter could be the perfect opportunity to work on your strength or recover from a nagging injury.
In terms of mental motivation, it helps to have a time-line specific running goal. Are you training for a spring half-marathon? A Shamrock 5k? What kind of miles and workouts will you need to complete? Knowing the purpose of each run will make skipping it a lot harder. Take a look at your calendar for the next few months and mark down key workouts: long runs, tempos, and races. This visual reminder might be all you need to get you out the door and off on your chilly run.
And if all else fails, you could take a rest day and bake something yummy!
Cranberry-Pecan Bars (makes 12)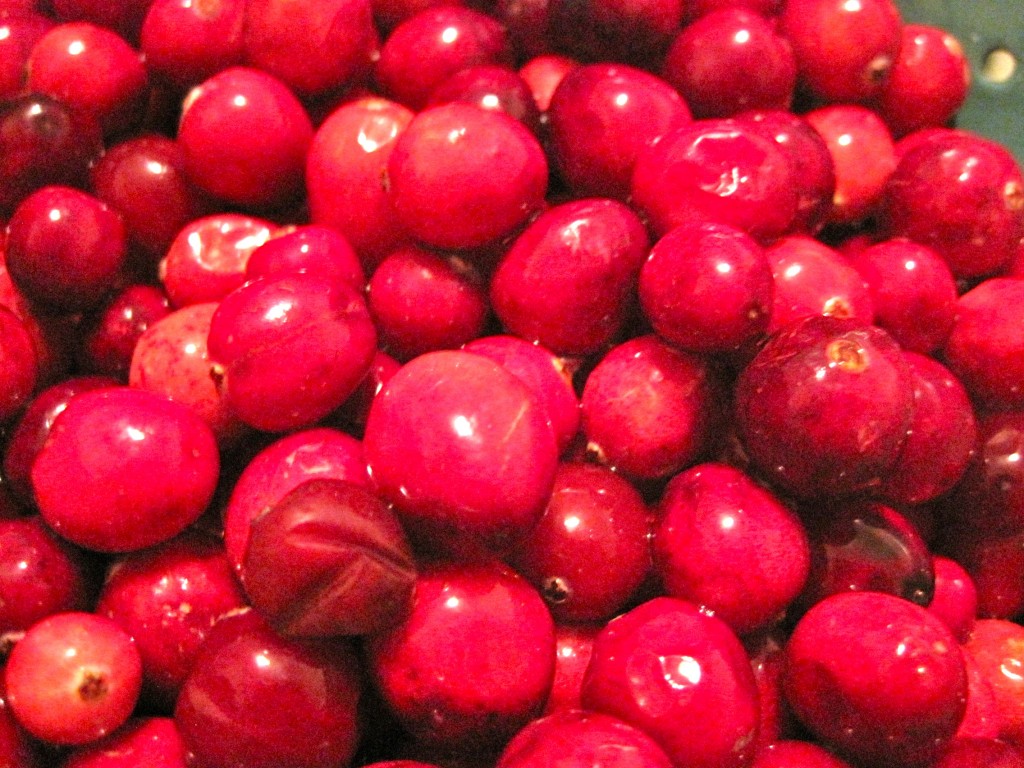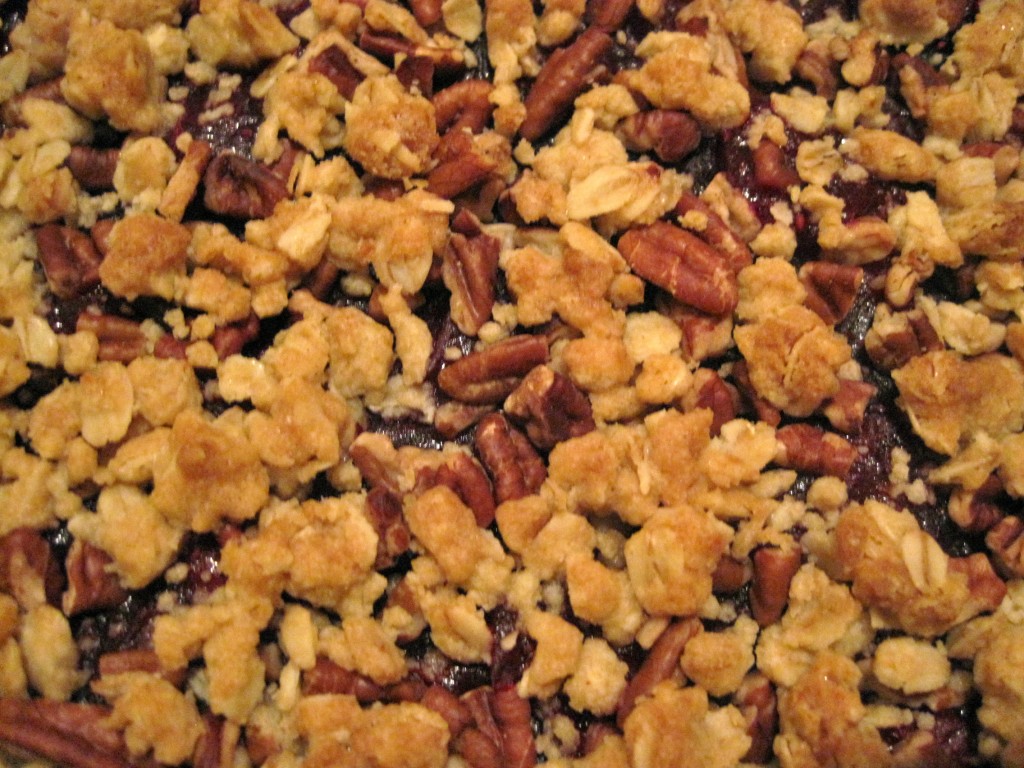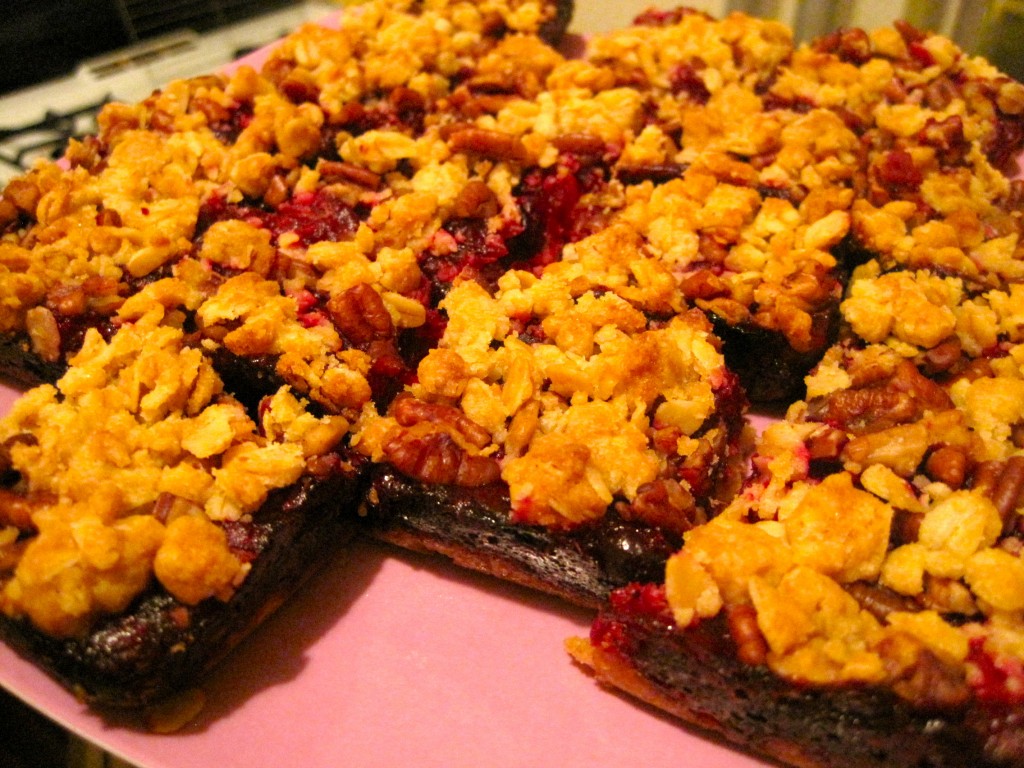 Ingredients:
3/4 cup all-purpose flour
3/4 cup oats
1/3 cup packed brown sugar
1/3 cup butter, melted
1 package of fresh cranberries
1/2 cup cranberry, apple, or grape juice
1/2 cup craisins
1/3 cup agave nectar (or honey)
3 Tbs sugar
1/2 tsp cinnamon
1/2 tsp cornstarch
1/3 cup chopped pecans
Directions:
Combine flour, oats, and brown sugar in a bowl. Stir in the butter until mixed together. Set aside 2/3 cup and press remaining mixture into a lightly oiled 8″ x 8″ baking pan.
Combine fresh cranberries, 7 Tbs juice, craisins, agave (or honey), sugar, and cinnamon in a medium saucepan and cook over medium heat for about 10 minutes. Stir occasionally; berries should burst and break down into a sauce-like consistency.
Combine cornsyrup and remaining Tbs of juice until smooth; stir into berry mixture and bring to a boil. Cook for another 2 minutes until sauce is thick.
Pour filling over crust, top with pecans, and 2/3 cup of oat-sugar-flour mixture. Bake for 30 minutes at 350 degrees and then allow to cool completely. Cut into squares and enjoy with a dollop of greek yogurt or whipped cream!
**These bars have less than 200 calories per serving and they're high in fiber and packed with immune system-boosting cranberries. YUM.
Do you have any winter running tips?