On Sunday, I ran the Joe Kleinerman 10k in Central Park. CP is where I do 80% of my training runs, so it always surprises me a bit when people describe it as "hilly". After Sunday's 10k, I don't think I'll be surprised anymore! The 10k course was one big counter clockwise loop of the park and every hill left me crankier than the last. In fact, I was pretty cranky for this whole race. I'm not sure if it was the early start time (8am), cold weather (30 degrees and windy), or general racing burn-out, but I felt sufficiently "meh" the whole time. I've come to expect the first mile or so of my races to pass in an adrenaline fueled rush, but for some reason this 10k felt tough from the start. The paces felt much harder than they should have – and at the end I was left thinking "this felt so tough, how am I EVER going to run 6:30 pace?". (One of my 2011 goals is to run a sub-40:30 10k a.k.a. 6:30 pace).
Apologies for the whine-fest…there were some positives – I PR'd by 7 seconds (woo!) and I'm healthy. It's only been a month since the marathon, so I'm not quite sure why I'm being so hard on myself. I'm not sure exactly what I was expecting from this race, but whatever it was, I can't help but feel like I fell short. And now 24 hours later, I can't figure out what would make me feel better. Part of me wants another shot at racing this 10k – to bang out a really fast PR. Another part of me knows I had nothin' left deep down and I need some more time to mentally and physically re-charge. Anyway, here are the race deets –
6:45 <— Mile 1
6:57 <— Mile 2
6:45 <— Mile 3
6:53 <— Mile 4
7:04 <— Mile 5
6:35 <— Mile 6
1:29 <— Last .2
Finish time: 42:28 (6:50 pace)
There's nothing like some fresh-baked brownie to make you feel less cranky : )
Dark chocolate brownies with Reese's Peanut Butter Cups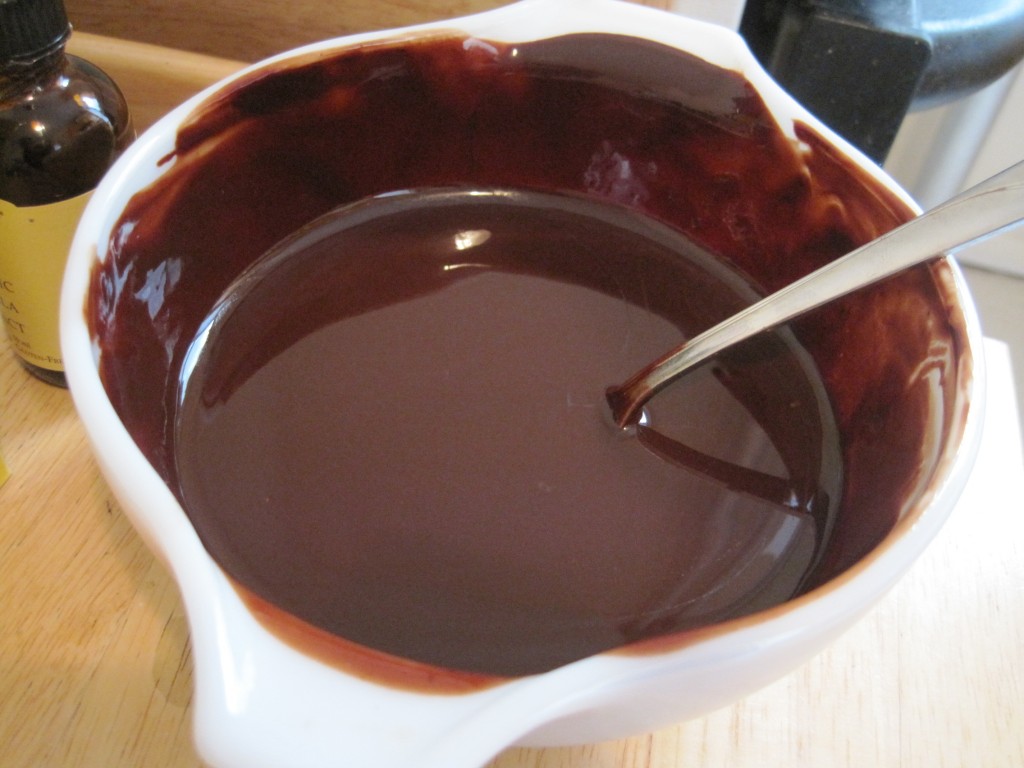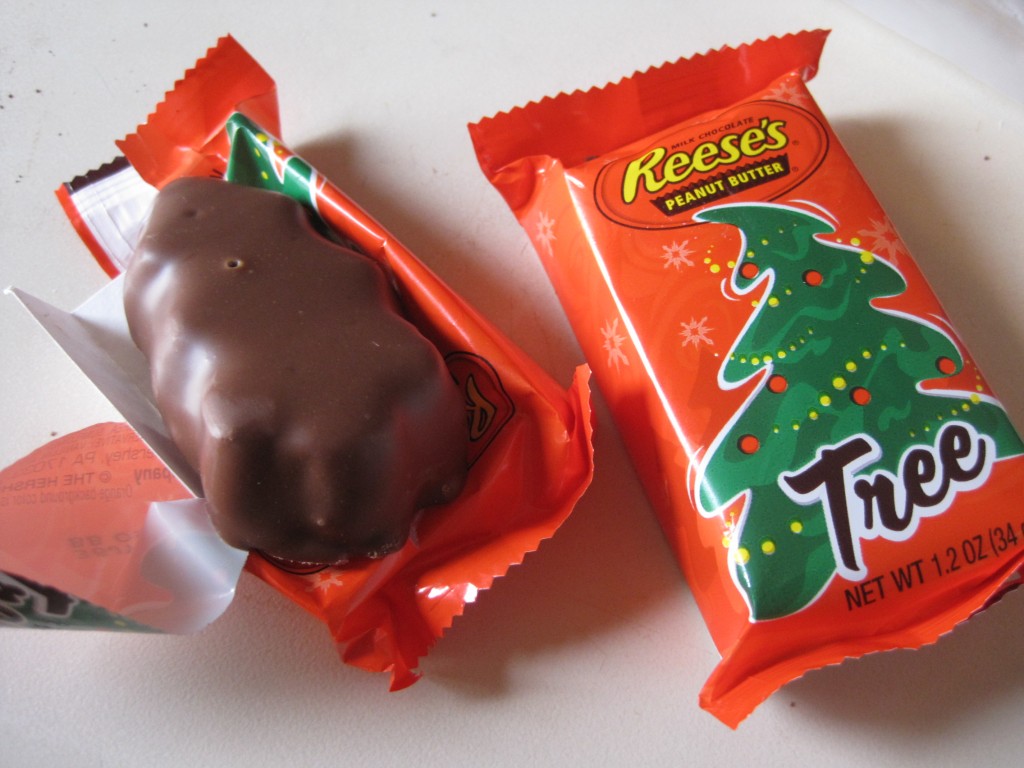 Ingredients:
4 oz bittersweet chocolate
2 oz semisweet chocolate
1 stick of butter
2 eggs
1 cup of sugar
1/4 tsp salt
1 cup all-purpose flour
3 Reese's PB cup trees, chopped into small pieces
Directions:
Preheat oven to 350 F and butter an 8″ x 8″ baking pan.
In a small bowl, microwave the chocolate and butter on medium heat until melted (I heated for 45 seconds at a time, stirring in between intervals).
In a large bowl, whisk together the eggs and sugar until creamy.
Slowly add the melted chocolate/butter mixture to the eggs and sugar.
Combine the salt and flour in a measuring cup and stir this into the chocolate-butter-egg-mixture. Do not overmix!
Add the Reese's cups and pour batter into the baking pan.
Bake for 20 minutes, cover with foil, and bake for another 8-10 minutes.
Cool completely and then cut into 16 squares.
Note: these were super-fudgey and chocolate-y. Yum! However, next time I might try adding a 3rd egg. The brownies were a tad on the crumbly side and I think an extra egg might bind them together.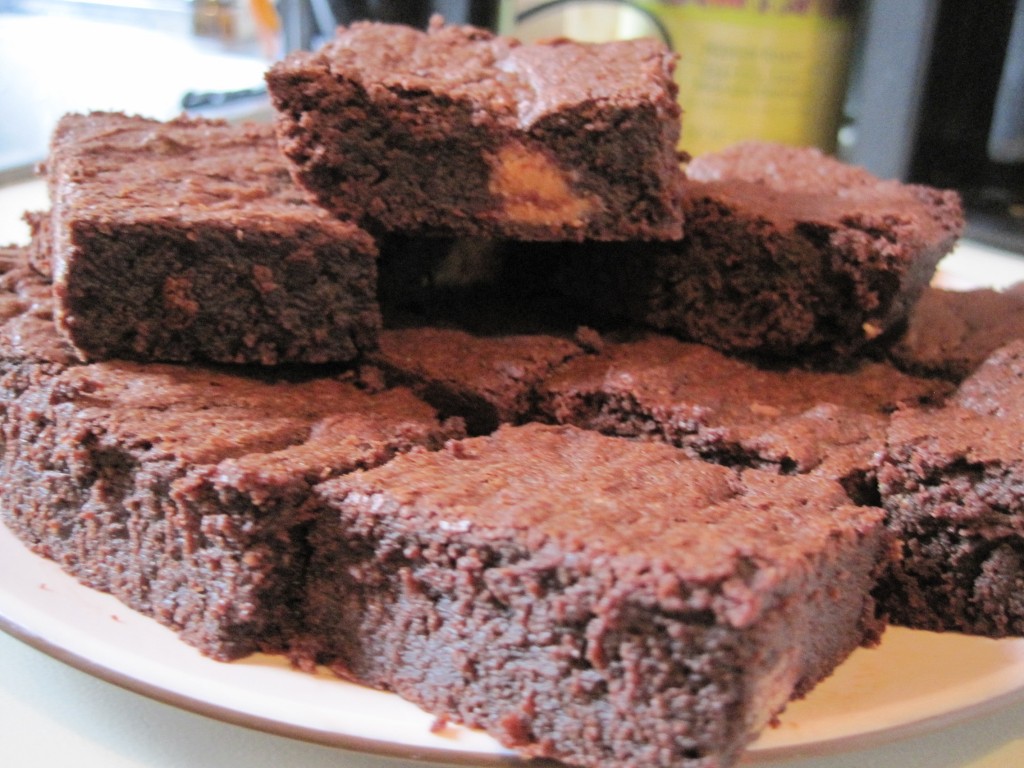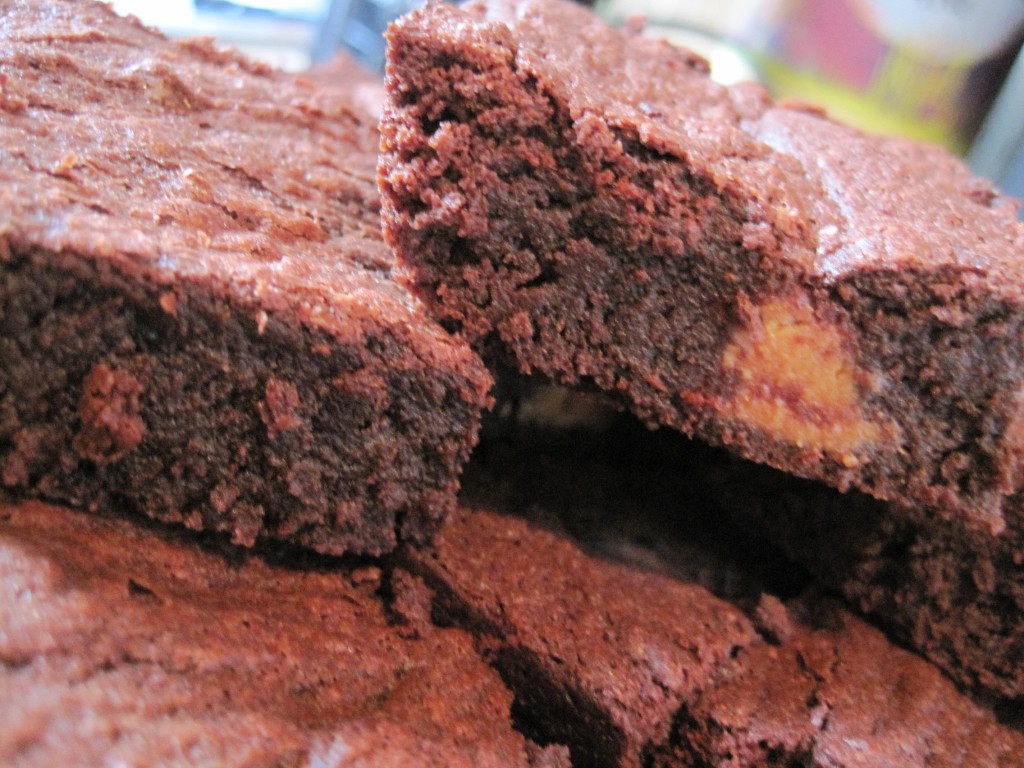 Am I being crazy? Does anyone else feel conflicted after races?