Happy Thursday blog friends! I hope you're feelin' as good as I am as we inch closer to the weekend. I've been pondering a lot of deep thoughts about running (and life) lately and I have some posts in the works. BUT occasionally you just need something a little more lighthearted. And that's what you're gonna get today! I know some of you live in NYC, so my  routine might be similar to your own, but for you non-New Yorkers, I thought I'd post a daily recap so you can see how I live. Sometimes things get so crazy that I end up ordering take-out or going to a restaurant for every meal. That happened yesterday! Confession: As much as I love spending time in the kitchen, I like eating out even more : )
I started my morning around 7am with a coffee from the cart near the subway. As I was en route to the gym, the guy next to me said "Lady, that's a BIG coffee. It's kind of scary". I replied; "You know what's even scarier? Me without caffeine."
I drink my coffee with whole milk, no sugar. Although if I'm visiting the fam in PA, I'll use half 'n half because that's what mom buys.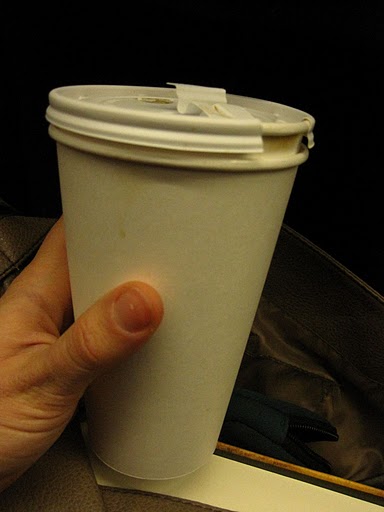 After a much needed dose of caffeine and a 25 minute commute, I arrive at my gym. I had taken 2 days off of exercise for a variety of reasons, so Wednesday's run was my first since the Joe Kleinerman 10k. And wow, this workout kicked my butt. Early mornings are apparently not my body's favorite time to run fast! I was a sweaty mess by the end.
 1 mile warm-up (~9 min pace)
4 × 800m @ 5k pace (~6:25 min pace)
4 × 400m recovery (~9:30 min pace)
1 mile cool-down (~9 min pace) 
The highlight of my run was testing out my new Saucony Kinvaras. These shoes are Saucony's newest minimalist trainers – they're VERY light and there's only a 4mm difference between the heel and the forefoot (most heels are much higher). Out of the box and on my feet, they reminded me a lot of my Nike lunaracers. However, there's a bit more cushioning because I think they're intended to be more of a performance trainer (i.e. for workout days, tempo runs) vs. a racing flat. I only ran 5 miles in them yesterday, but they seemed to work out fine. No chafing, blisters, or aches. However, I'm not sure how they'll fare for longer runs. I'm a neutral runner who's on the lighter side, so I'm hoping I can use these as an everyday training shoe. My plan is to give it a go for a few weeks (running 30-40 mpw) and then re-evaulate. If I feel like I need more cushioning, I'll save the Kinvaras for workouts and get another pair of Brooks Ghosts for everyday miles.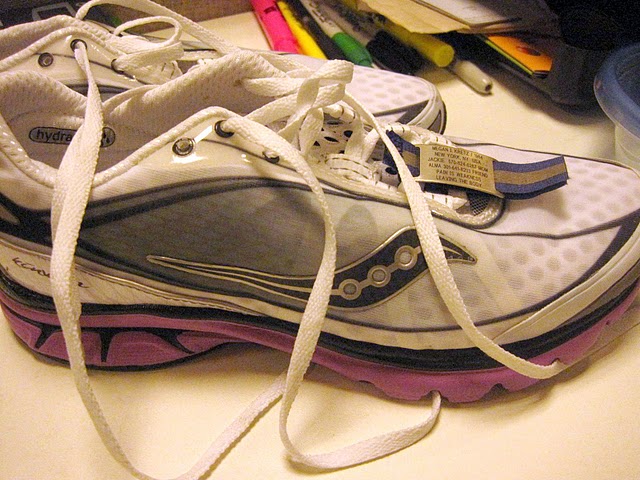 Breakfast at my desk was an apple  and steelcut oats w/ fruit topping from Jamba Juice (their oatmeal is only $2 everyday!).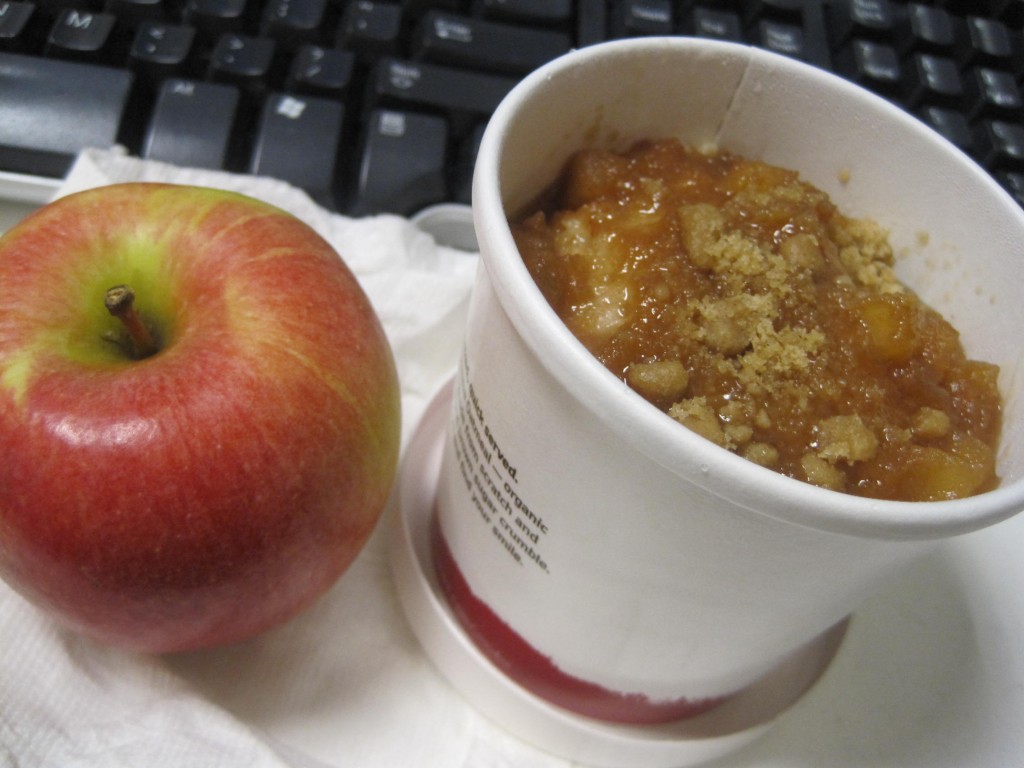 Lunch was a big salad from the office cafeteria – I filled my container with a base of veggies (spinach, shredded carrots, mushrooms) and then topped with spoonfuls of lentils, feta cheese, croutons, roasted potatoes, and a piece of Chicken Tikka Masala from the hot bar. I finished off my salad with a drizzle of balsamic vinaigrette. Did you know that an oil based salad dressing helps you absorb the nutrients in veggies?!?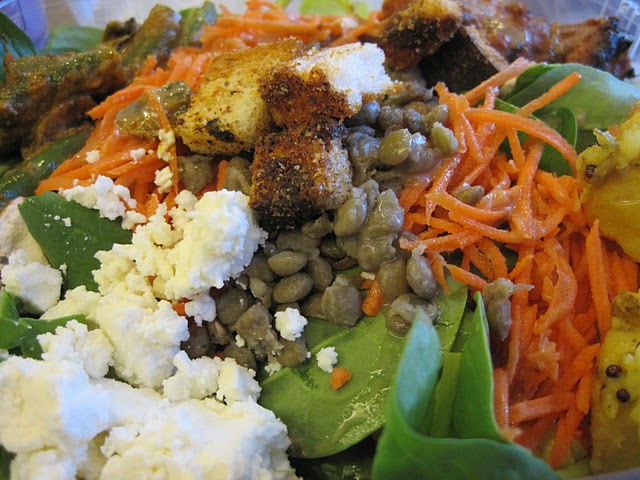 My salad kept me pretty full through the afternoon, but I couldn't resist a few seasonal treats. I sipped a second cup of coffee and enjoyed a few rugelach around 3:30pm. Some christmas candy (malted milkballs that look like snowballs!!) may have also snuck in.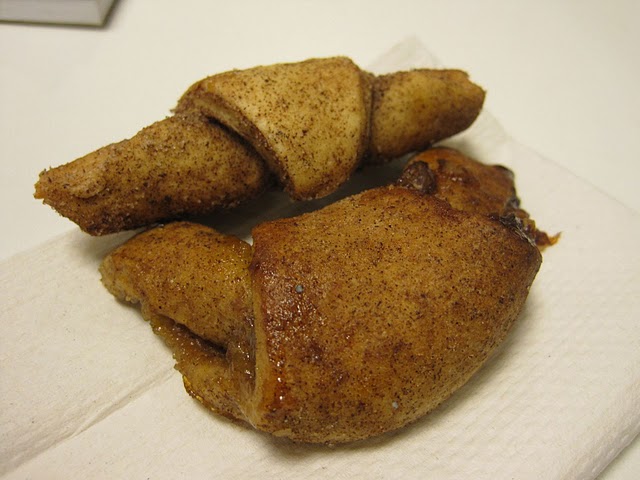 I had a little extra time after work, so I headed back to the gym for 30 minutes of strength training. I based my routine on exercises I read about in Women's Health Magazine. I completed 2 × 15 reps of each exercise with low weights: reverse lunges w/ bicep curls, deadlifts, tricep dips on a balance ball, plank hold w/ single arm row, squat w/ leg abduction and lateral raise.  Anddd some ab work afterward. Oh.my.goodness. My musles were shakin' after that! It's crazy how I can be more sore and tired after a weight session than after a long run. I re-fueled my muscles with a container of chocolate soy milk as I took the subway into Brooklyn.
The long work day was made worth it with a visit to Toby's Public House for pizza and beer. My dining companion introduced me to this cozy, neighborhood spot and I'm smitten! The space itself is warm and inviting – made even more so by the brick-fired pizza oven at the back of the restaurant. We took seats at the long bar and ordered up some beers. I don't recall the name of my beer, but I think it was German wheat variety. The service was quick and before we knew it, we were digging in to crispy crusts and melty cheese. To start, we split the bruschetta appetizer that came topped with crispy sausage, caramelized onions, and mozzarella cheese.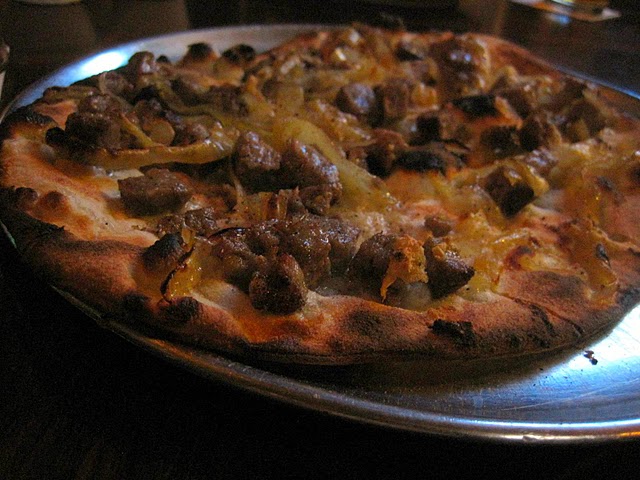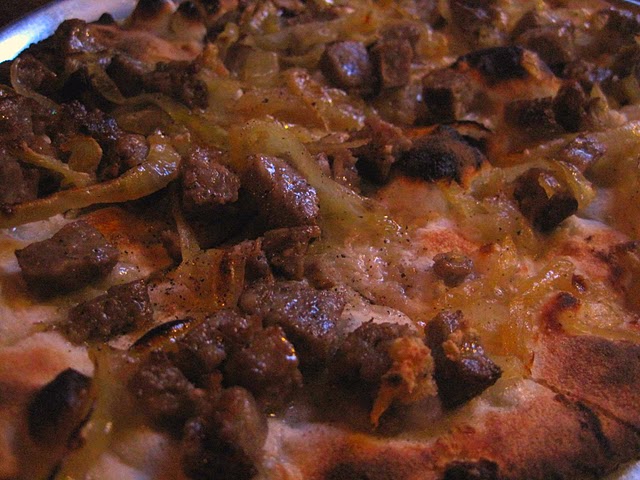 There must have been over a dozen pizza varieties, but our Primavera pizza ended up being a good choice. The crispy thin crust was topped with tomato sauce, fresh mozzarella (the good stuff), salty olives, red onions, artichoke hearts, and arugula. I ate half of everything, but it would have been possible for me to dominate an entire pizza by myself, no problem! The crust is chewy and crisp, not greasy and the toppings are flavorful, yet not overwhelming. I already want to go back! I hear they offer a nutella calzone for dessert (eeee!).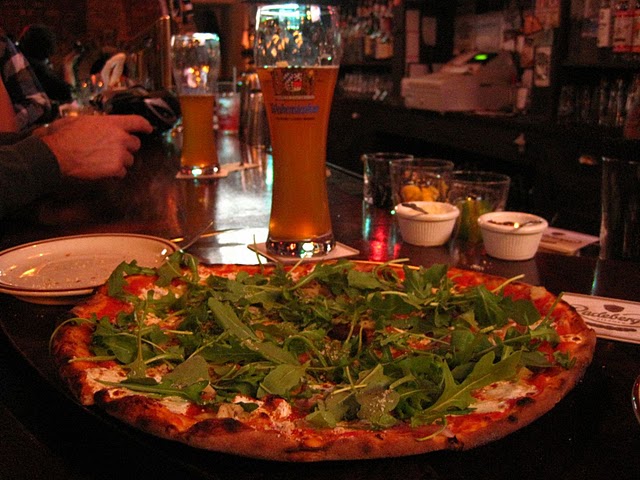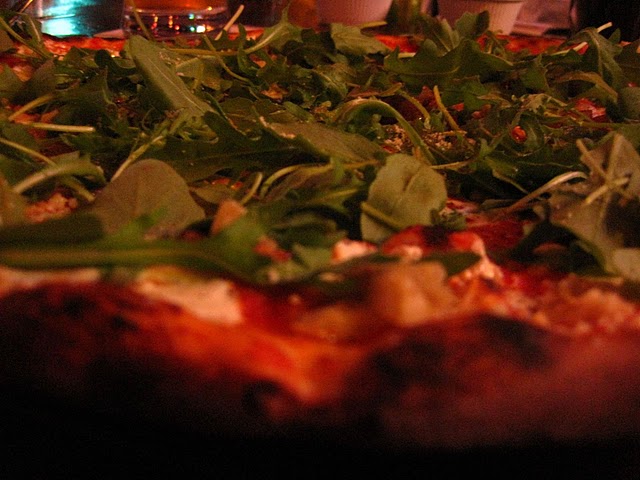 After I finished my beer and pizza, I didn't last much longer. Soon it was time for bed and 8 hours of sleep! Hope you were somewhat entertained by "A day in the life of…"  Pertinent running information and some homecookin' to return soon!
Questions: Have you or would you ever try minimalist shoes like the Saucony Kinvaras?
What was the best part of your day yesterday? (Mine was pizza + beer + sleep!)