I started my Christmas morning off with a 8 mile run. The first miles were nice and easy, but I was really enjoying myself by the end and finished up with a 7:36 last mile. Whee! Even though it's tough to hit the road early, getting my run out of the way in the a.m. really frees up the rest of my day. If I wait till after breakfast, my run usually doesn't happen (or I end up running in the dark). The weather here in Pennsylvania is cold, but I've been eating lots of comfort food to keep me warm and fueled. First up, a rustic loaf of homemade bread (it made the kitchen smell a-m-a-z-i-n-g). I was skeptical of a bread recipe that didn't require a stand mixer or a lot of muscle, but Mark Bittman's speedy no-knead bread proved to be a winner.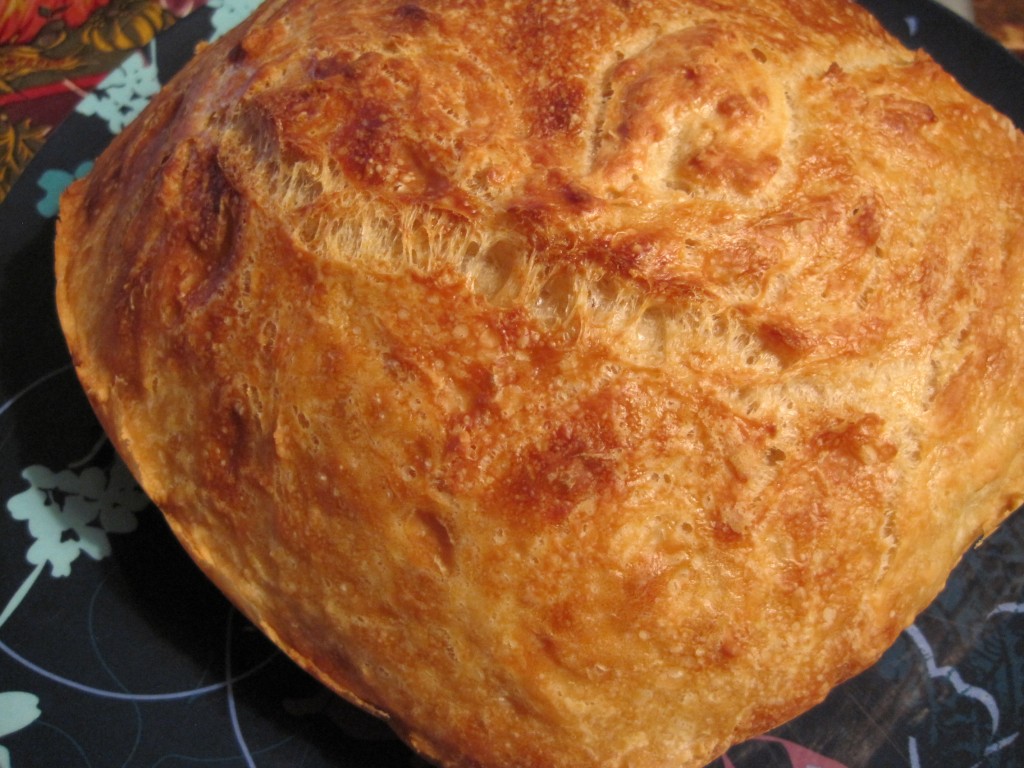 So easy to make and excellent with butter!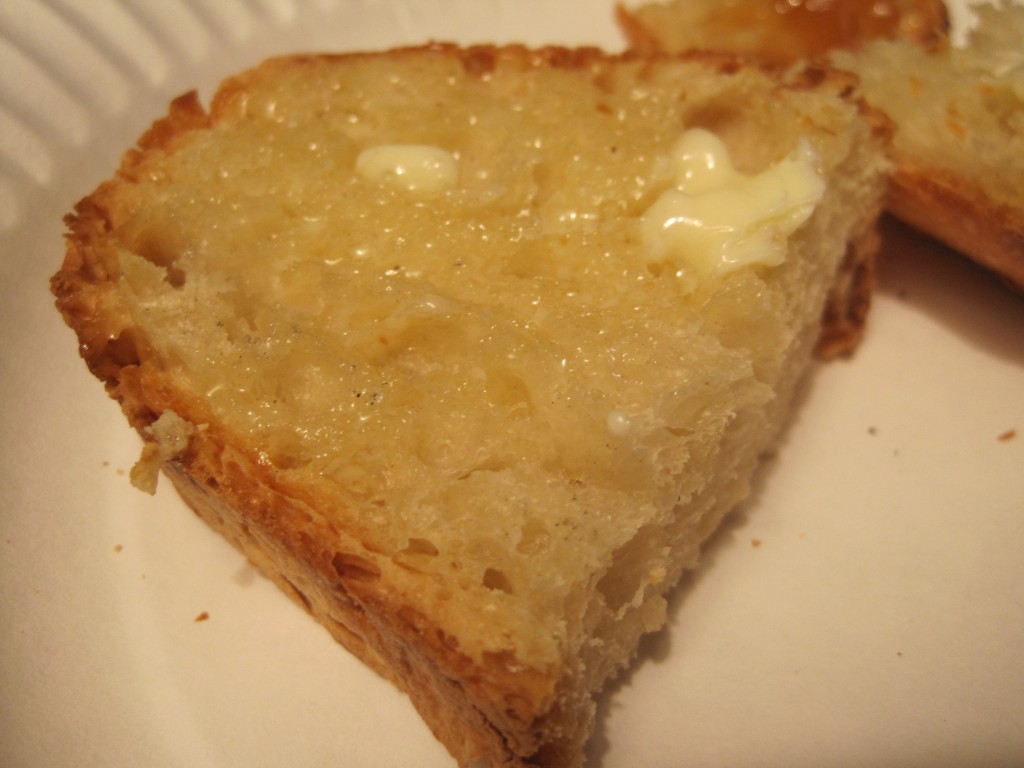 I'm always encouraging my family to eat healthier, but it's a delicate balance between cooking healthy dishes and cooking dishes they will actually eat. For example, my Thanksgiving roasted grapes and Brussels sprouts dish did not go over so well (even though I thought it was delicious). Since I genuinely love to cook, I usually offer to do the bulk of the holiday meal preparation for my immediate family. When deciding on the menu for Christmas Eve, I was tempted to use whole wheat pasta instead of regular and substitute lean turkey for ground beef. But then I thought…what's the use of cooking dishes that my family doesn't love? Thanksgiving and Christmas only come once a year – a little real bacon and pasta never hurt anyone. Of course, I couldn't resist a few healthy updates, but for the most part I think the changes went un-noticed (Grandma would have commented otherwise…) So even though they don't often make an appearance on the blog, today's recipes feature beef, bacon, and regular 'ol white pasta. And the results are delicious – I promise!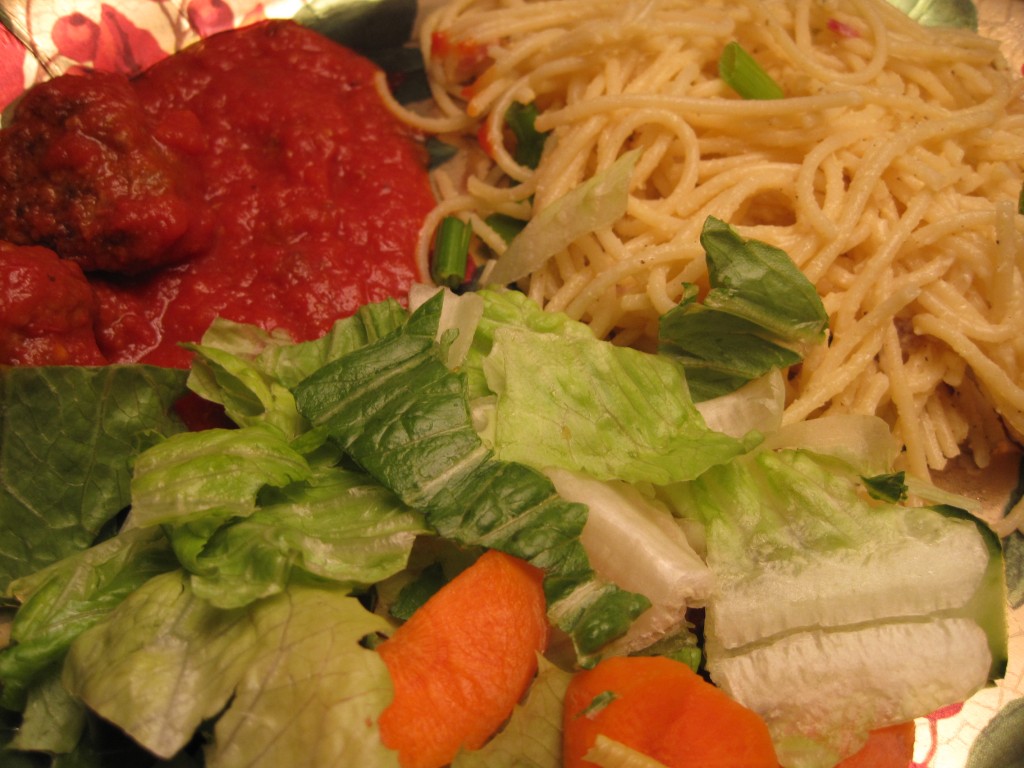 Megan's Pasta Carbonara (serves 6)

Ingredients:
1 lb dry spaghetti or linguine
4 slices of center cut bacon, cut into small pieces
1/2 cup dry white wine
2 eggs
3/4 cup grated parmesan cheese
salt and pepper, to taste
chopped scallions or parsley, for garnish
Directions:
Bring a large pot of water to a boil, salt liberally, and cook pasta for 7-8 minutes
Meanwhile, heat the bacon in a cold frying pan and cook until crispy, add 1/2 cup dry white wine to deglaze the pan, and then remove from heat
Reserve 1/2 cup of hot pasta water and then drain pasta thoroughly
Add pasta to the bacon-wine mixture and toss until combined
Add 1/2 cup hot pasta water to eggs and whisk thoroughly (this is called tempering – it prevents the eggs from scrambling)
Pour the egg-water mixture over the pasta, add the cheese, salt, and pepper and toss thoroughly until pasta is evenly coated
Allow sauce to absorb into the pasta, about 2-3 minutes. Garnish with scallions or parsley. Buon Appetitio!
*Unlike traditional pasta carbonara, this version doesn't contain any cream, but the eggs, grated cheese, and center cut bacon (lower in fat and sodium than regular bacon) still provide plenty of flavor.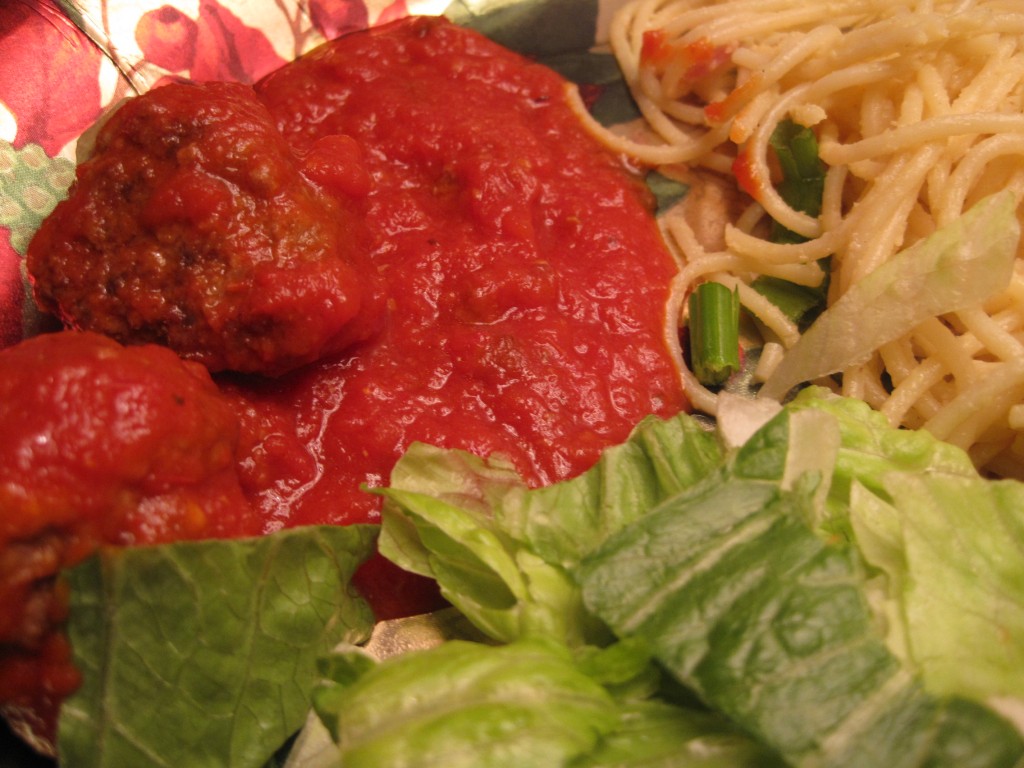 Baked Meatballs (makes about 24 meatballs)

Ingredients:
1.25 lbs 85% lean ground beef
1 egg, whisked
1/2 cup breadcrumbs
1/4 cup grated parmesan cheese
2 Tbs fresh rosemary, minced (don't leave this out – adds great flavor!)
splash of Worcestershire sauce (I was out so I substituted soy sauce)
salt and pepper to taste
Directions:
Preheat oven to 425 degrees
Mix together all ingredients in a bowl and lightly combine with your hands (don't overmix or meat will become too tough!)
Form into ping-pong sized balls and place on baking sheet
Bake for about 10 minutes, until no longer pink inside
Combine with tomato sauce and simmer on medium heat until both sauce and meatballs are hot
*Since these meatballs are baked and not fried they are a little healthier. They were also surprisingly moist – I think the key is not to overwork the meat. That makes it tough and dry!
Pumpkin and Pineapple Upside-Down Pie for dessert – from the best bakery ever!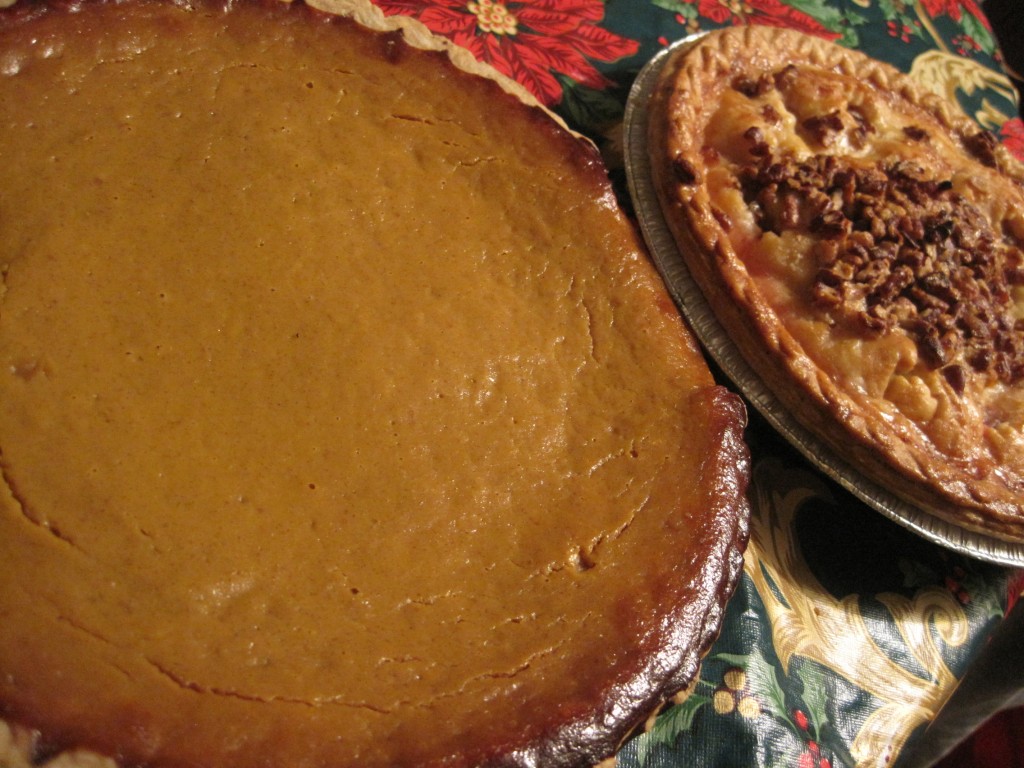 I ate this chocolate cupcake a few days ago, but I thought it was too cute to leave off the blog. Plus it was less than a dollar! I love non-NYC prices.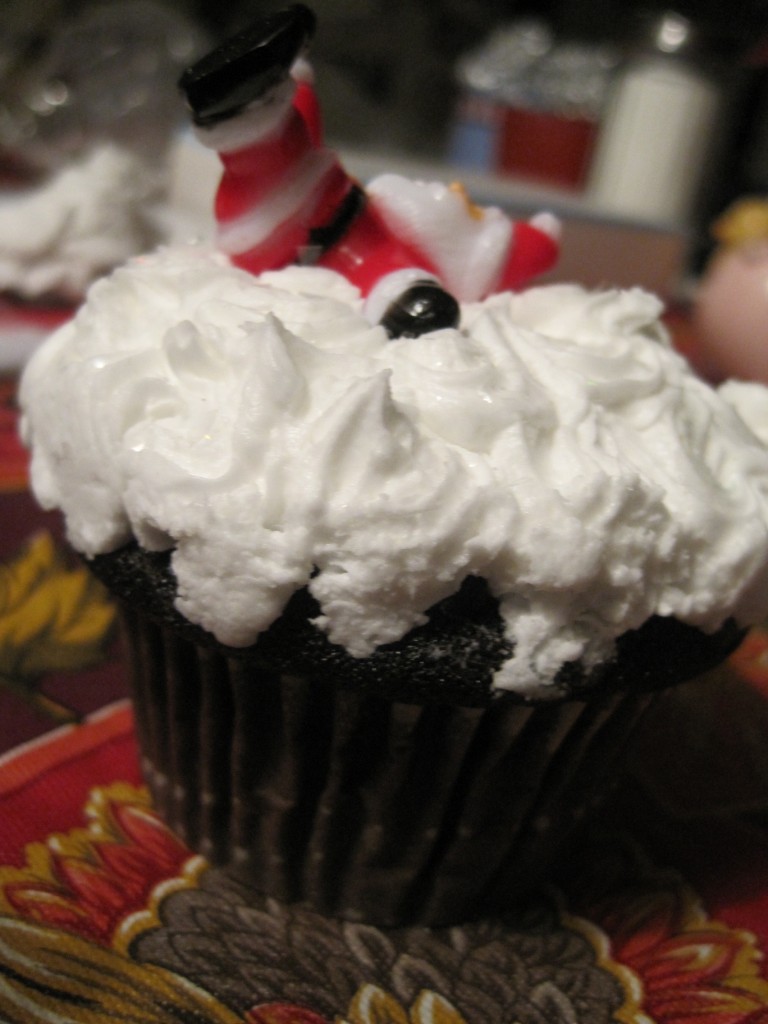 Happy Holidays from me and Kiwi, the cat!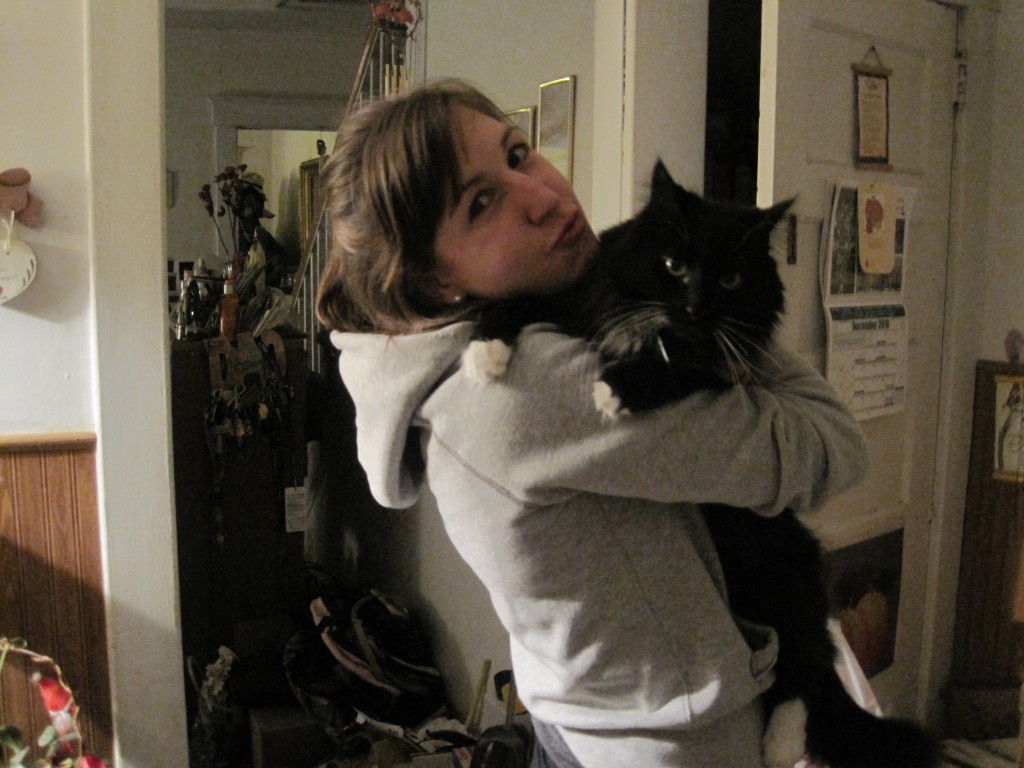 Question: When you cook for others do you try to "healthify" your dishes? Or do you go with classic recipes?