Run for the Diamonds Recap
The short version: 9 miles up and down a mountain. Snow and slushy roads. Icicles in my hair. But I PR'd by 3 minutes!
2010 – 1:06:21
2008 – 1:09:38

2007 – 1:09:29

The long version: This was my 4th consecutive year running the race and definitely the worst weather conditions. Temps were in the low 30's with snow at the start, this turned into freezing rain by the end. Road conditions were very slippery (no plowing or salt on the roads), so I had to hold back at points. The race starts on a flat and then climbs up a mountain (seriously) for miles 2-4. After the halfway point, it's mostly downhill or flat which results in a nice negative split. I beat last year's time and PR'd by 3+ minutes! I think if I ever make this a focus race (you know…not run a marathon 3 weeks before…) I think I could run close to an hour. The 2nd/3rd miles SUCKED – felt like I was crawling, but the rest of the race was kind of pleasant. My quads were definitely still feeling the effects of Tuesday's lunges and squats! Big props to mom who stood in the freezing rain and waited for me to finish. AND had a blanket and hot chocolate waiting at the finish line : )
After a warm shower, my mom and I teamed up in the kitchen. I started off by making an appetizer to hold everyone over –
Pumpkin Yogurt Dip
Mix together 1 cup vanilla Stonyfield oikos greek yogurt, 1/2 cup canned pumpkin, 1 Tbs brown sugar, and 1 tsp cinnamon. Serve with apple slices, grapes, and cinnamon sugar pita chips for dipping!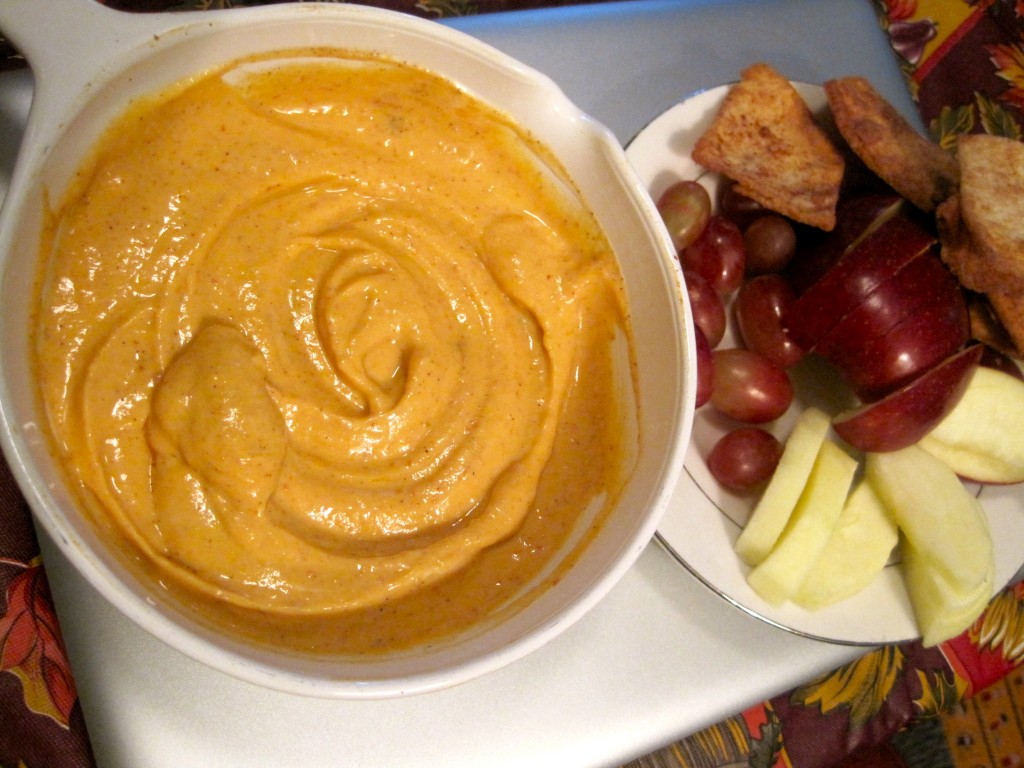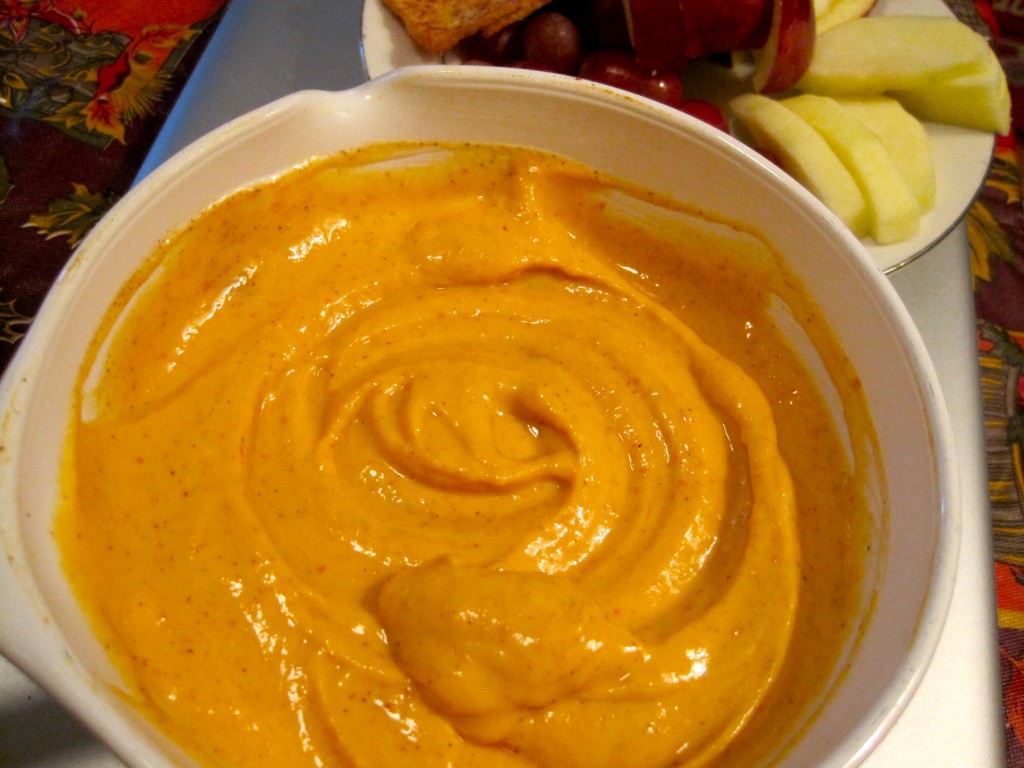 This year's side dish was quite unique (and my family was a little skeptical…), but I promise it was delicious. Inspired by Real Simple's November 2010 magazine, I roasted brussels sprouts, grapes, and thyme.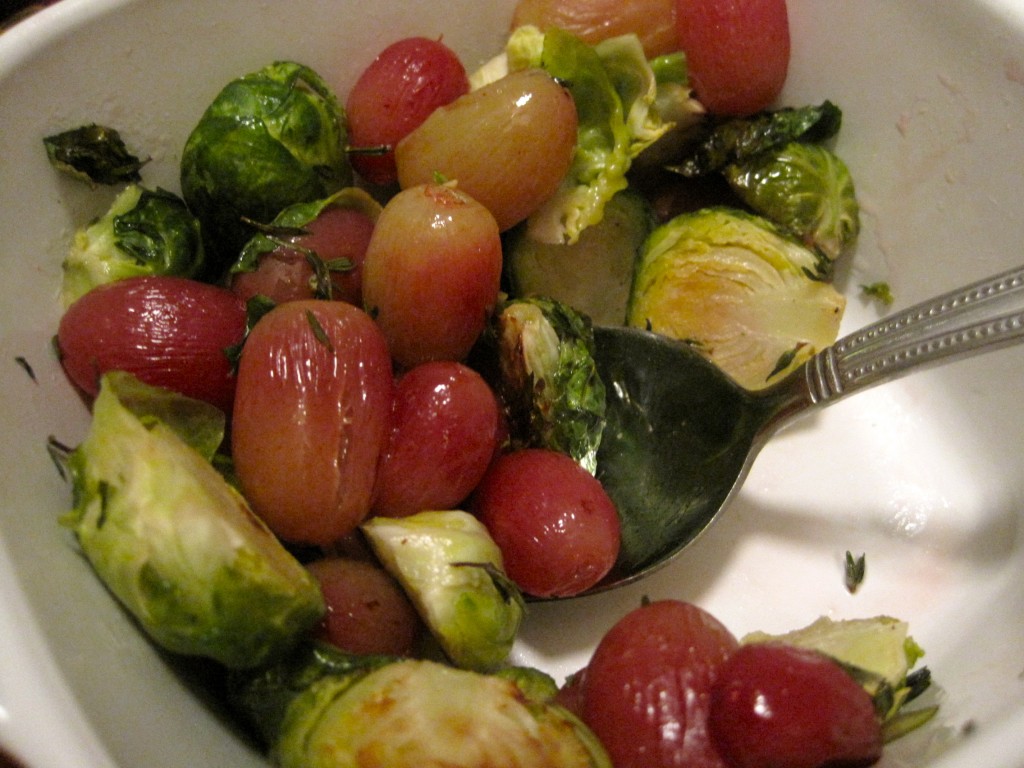 Since the fam put up with my experimental vegetable dish, I also made a traditional sweet potato casserole.
Sweet Potato Casserole
Ingredients:
4 large sweet potatoes, scrubbed
1/4 cup light brown sugar
1/4 cup half 'n' half or milk
2 Tbs butter
1 tsp vanilla extract
1/2 tsp salt
1/2 tsp cinnamon
1/4 tsp nutmeg
1/4 cup chopped pecans
2 cups mini marshmallows
Directions:
Pierce the sweet potatoes with a fork and microwave until soft (~15 or so minutes depending on how large the sweet potatoes are)
Allow the potatoes to cool and then peel, cube, and mash
Put the potatoes in a baking dish and add in all of the ingredients except the pecans and marshmallows and stir until combined
Top the potatoes with the pecans and marshmallows and bake at 350 degrees until marshmallows are lightly browned, 35-45 minutes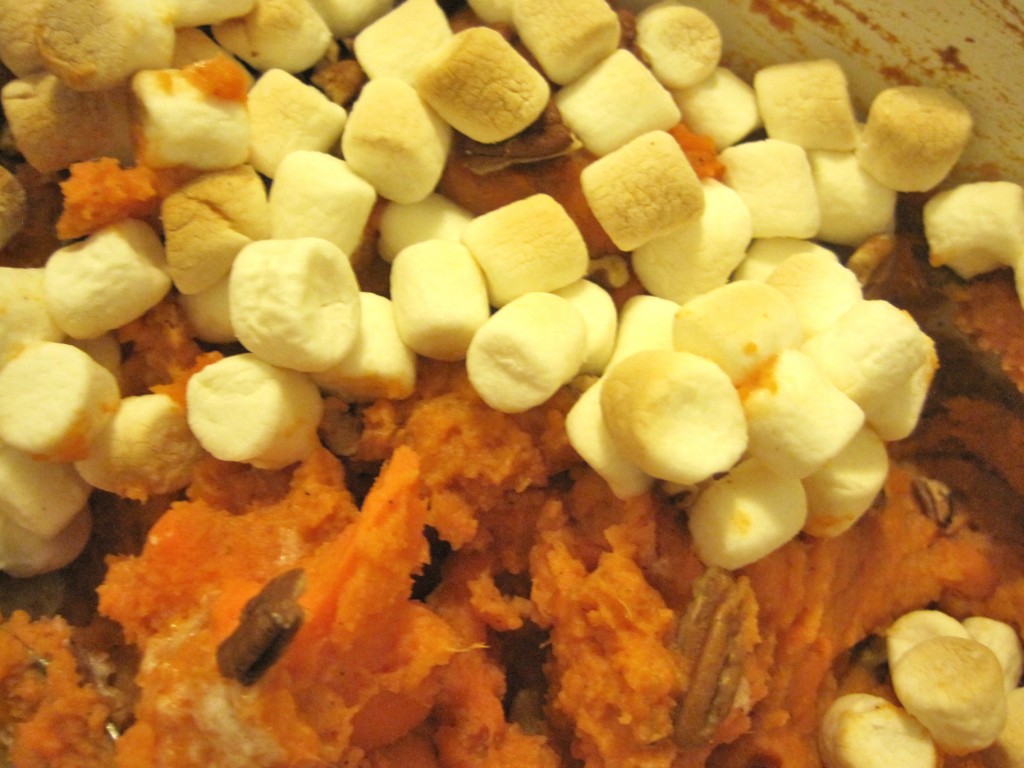 And I made a healthy stuffing based. It's low fat and full of veggies!
Pear-Cranberry Stuffing
Ingredients:
8 oz day-old bread, cut into 1″ cubes
10 oz mushrooms, sliced
2 stalks of celery, chopped
Tbs olive oil
2 Tbs fresh thyme
1 tsp dried sage
salt and pepper, to taste
1 pear, chopped
1/3 cup dried cranberries
15 oz chicken broth, reduced sodium
Directions:
Heat the oil in a pan and saute the mushrooms and celery until soft. Add in the thyme, sage, salt, and pepper and cook until fragrant.
Put the bread cubes into a 8″ x 8″ baking dish and add the veggie mixture,
Add in the pear and cranberries and toss lightly with your hands until combined
Pour the chicken broth over the stuffing, cover with foil and bake at 350 degrees for 40 minutes. Remove foil and bake for 5 more minutes.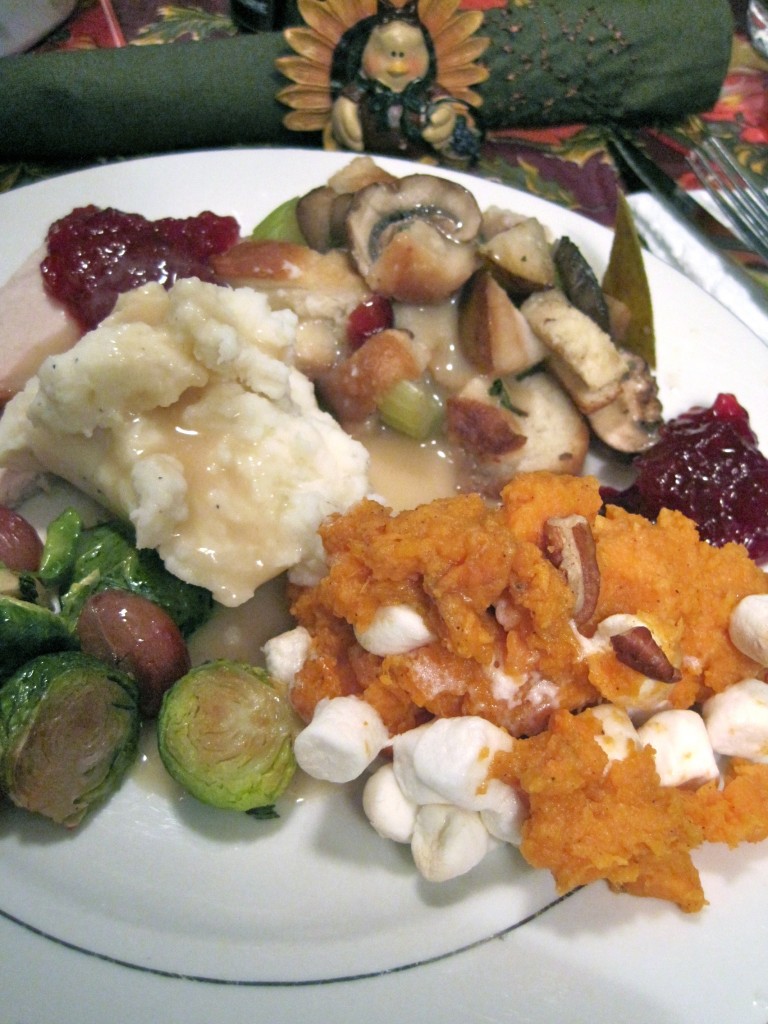 !!Give-away!!
Yogurt is expensive, yo. Especially the Greek variety. Luckily for you, I have 3 free Oikos multipack coupons, 3 free 16 oz Oikos coupons, 3 free Stonyfield quart coupons, a spatula, and a recipe card to give-away.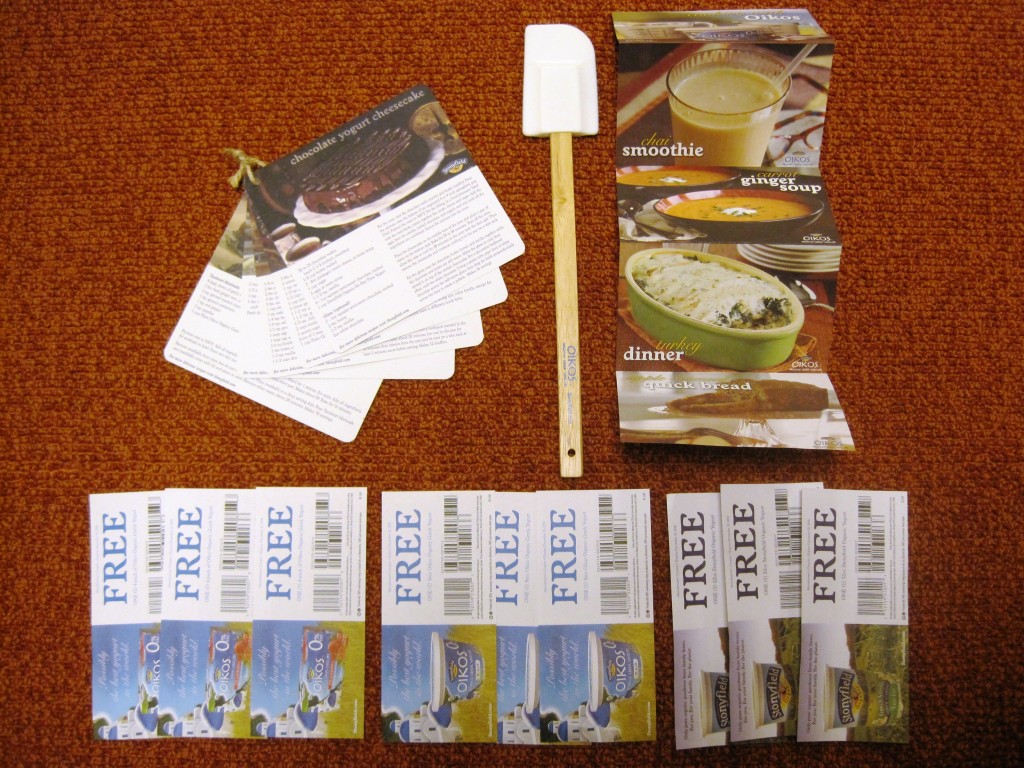 To enter – leave a comment telling me about a recipe in which you've swapped in yogurt for butter or oil or sour cream. I'll pick a winner on Monday, November 29. Yay, free yogurt!