I ran 6 rainy and cold miles this morning (including a lap around the res with Kelly), so all that stands between me and race day is an easy 2-3 miler on Saturday. I'm getting VERY excited!
Dear Farmer Ted,
Your turnip casserole recipe was a fail. I did not like it.
Love, Megan
The thought of leftovers was NOT appealing last night, so instead the roomie and I ordered take out. I can't think of a better way to carbo load than a big dish of pad thai with shrimp.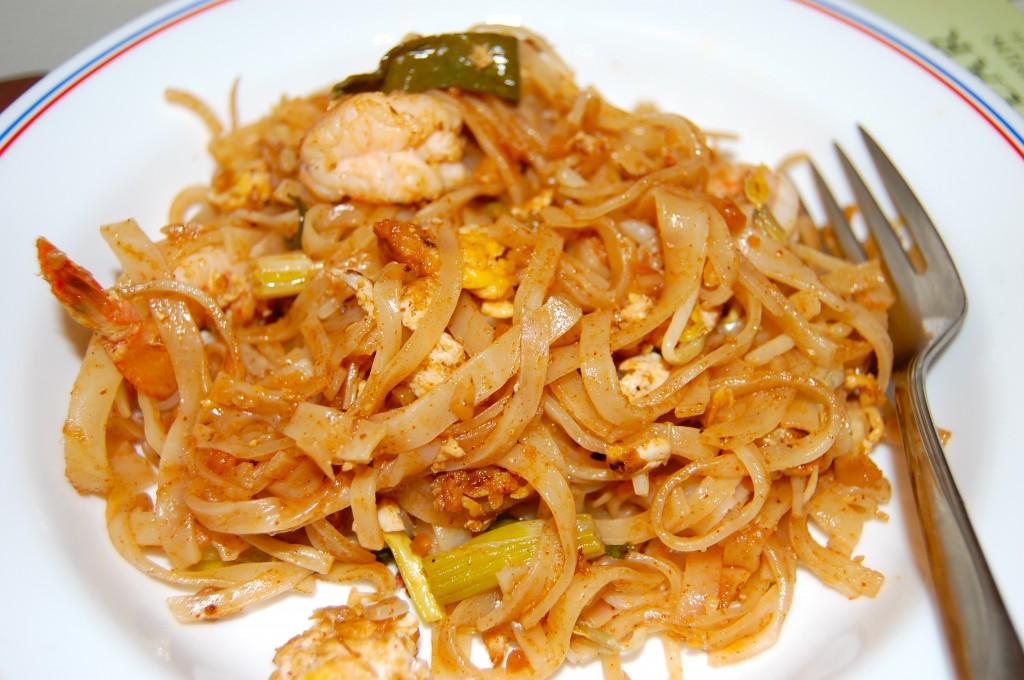 Megan 1, Pad Thai 0. Completely dominated!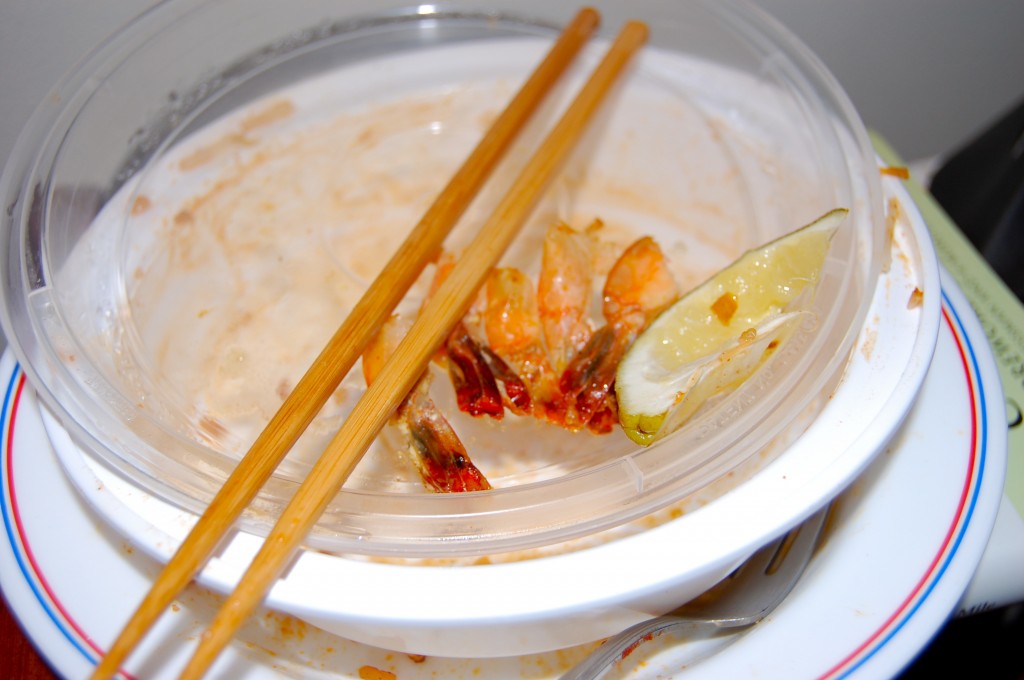 Besides eating lots of yummy things, my plan for today is a visit to the race expo. The NYC marathon has a cool program for runners in local running clubs. If you meet a certain time standard (sub-1:35 half marathon for my gender/age), you can gain access to the "local competitive/local elite" corral. I'm never going to be an Olympian or win a race, but getting into this start corral makes me feel special!
Dear Megan,
Congratulations!  You have been accepted into the 2010 ING New York City Marathon Local Competitive Program.  Athletes in the Local Competitive Program will have exclusive access to the Local Competitive staging area located near the runner entrance by the Verrazano Bridge Toll Plaza (private toilets, tents, Gatorade, etc).  Look for the "Local Competitive" sign attached to the fence near the entrances.   Runners will be asked to show their bib number before entering this area.
Wahoo! For those interested in tracking me on race day, you can check out the details here: Athlete Alert My bib number is #668, green start, wave 1 (9:40am).
Some of you have been asking what my goal time is and honestly…I'm still not entirely sure. Barring any major catastrophes, I should break 3:30. If I can run somewhere between 3:20-3:29 I will be really happy. And 3:15-3:20? I think it's possible, but everything will have to fall perfectly into place. My plan is to approach the marathon with a 10-10-10 strategy. I will run the first 10 miles about 10 seconds slower than goal pace (7:45), the middle 10 miles will be run 10 seconds faster than goal pace (7:25), and the final 10k will be at goal pace (7:35 or whatever I can manage). This will put me in the 3:19-3:20 range. The idea is to start out slowly, pick it up and pass people in the middle miles (when runners typically start slowing down…), and then run with guts and heart for the last 10k.
I've only run the NYC marathon once (back in 2008), so I'm no expert, but living and training in the city have taught me a few things. If you're running the NYC marathon on Sunday:
Dress very, very warmly for the start. If you have an old space blanket from a previous 1/2 or full marathon, bring it. You can sit on it or use it to block the wind. Also consider bringing some hand warmers (you can buy them for $1 at CVS/Duane Read) and a fleece blanket that you can toss at the last minute.

Do not, I repeat, do not go out to fast. When you come off the Verrazano Bridge (it's a downhill) at mile 2 and enter the crowds of Brooklyn, it's an amazing experience. You're going to be hyped up on adrenaline and running faster than your goal pace is going to feel like a breeze. But if you go out too fast, I promise you, you'll pay for it on First Avenue. In 2008 I was running around 8:00 pace for the first 10 miles and felt AWESOME, but when I got to mile 17/18, my legs turned to lead. I think my last few miles of the race were in the 9:00 range. Learn from my mistake!

Start drinking before you're thirsty. Eat a gel before you think you need it. By the time you start feeling woozy or tired from lack of water/electrolytes/carbs it's almost always too late. Hitting the wall means your body's muscles are depleted of glycogen (energy). Everyone's fueling needs are different, but my personal plan is to eat a banana + pb &j on a bagel a few hours before the start (~600 calories) and then take gels/Gu's at miles 8, 16, and 21 (if I need it). I'm also going to carry a little mini bottle of Gatorade with me on the bridge. I'll toss it after the first mile or so and then start alternating sips of water and Gatorade every few miles.

Instead of dreading the solitude of the Queensboro Bridge (miles 15/16), embrace it! The quietness of this mile was actually one of my favorite parts of the marathon. I was able to calmly collect myself and prepare for the hardest miles of the race. Plus, you know that a screaming wall of adoring fans wait on the other side!

Don't go crazy during mile 17. Yes, the crowds on 1st Ave are awesome, but if you don't pay attention, you'll pick up the pace too much. Case in point: In 2008, I dropped a 6:59 mile on 1st Ave and at mile 18 thought "HOLY SH*T, I still have 8 more miles to go". Not fun.

5th Avenue is probably going to suck. There's no way around it. There's a gradual hill from 110th to where you enter the park at 90th street. You're going to be at mile 23 and you're going to be hurting. Think of a mantra to get you through these final miles. Play your favorite "pump up song" on your ipod. Ask your family and friends to cheer for you here instead of at the finish. Do whatever you can to prepare yourself mentally.

The finish. Congrats! You made it! And your reward? A mile walk in the cold to get your baggage. Woo. Wrap that space blanket around you and drink some Gatorade. Eat some pretzels and nibble on an energy bar. I don't care of you're nauseous, euphoric, or completely out of it. EAT AND DRINK SOMETHING ASAP. If you're meeting your friends and family, try to choose a meeting spot away from the W. 60's (it's going to be crazy crowded). Try something like – the Northwest corner of 82nd and Columbus Avenue. Be as specific as possible!
If you're spectating the NYC marathon on Sunday:
Look at the course map, plot out your transportation, and tell your racer EXACTLY where you're going to be. Race day gets crazy and with 40,000+ people participating in the marathon, it's very easy to miss your runner. Tell your runner specifically where you'll be – i.e. on the west side of the street, on the corner of Flatbush and Lafayette Avenues in Brooklyn (mile 8). Get there a few minutes before you expect them to pass by – you don't want to be late!
Spectating is almost a marathon in itself. Prepare accordingly. Dress warmly, wear comfortable shoes, don't carry a lot of crap with you, and bring along some snacks.
For the love of God, do not tell us we're "almost finished" when we're only at mile 20. The only time you should be yelling anything about the finish is when it's clearly in sight.
Be enthusiastic! Seeing a smiling face on the course is one of the best parts of the marathon experience. Clap loudly, hoot, holler, etc. And specific cheers are always appreciated – for example, yell "look straight ahead, relax your shoulders" or "keep focused on the guy in blue, catch up to him!". I always appreciate these types of motivation rather than a general "good job". Although ANY sort of cheering is always a good thing 🙂
Your marathoner is going to be tired and probably feelin' a little out of it at the finish. Encourage them to drink some Gatorade. Help them put on sweat pants. Don't insist on a 3-course dinner or bar crawl right away.
Readers – what accumulated wisdom do you have for us marathon runners and spectators??