Hey kids, we're 5 days post-marathon. My thoughts?
1) I wasn't as sore as I thought I'd be. That's not to say I didn't have to slowly lower myself into a sitting position for the first 48 hours…but the thought "OMG Do I have quad nerve damage?" didn't cross my mind like it did in 2009.
2) I was more tired that I expected. I think this was partially due to the nasty cold that settled in my lungs and sinuses on Tuesday. I slept from midnight Tuesday until nearly 2pm on Wednesday. 14 hours folks!! And then I took another nap between 4-7pm, before heading to bed again around 11pm.
3) I didn't feel quite as victorious as I'd hoped. Sure, I set a 20 minute PR and beat my "A" goal time of 3:20, but the type-A part of couldn't help thinking "Could I have broken 3:15?", "Why didn't I run faster in the final miles?" "Should I have paid better attention to my training, shoes, racing weight?" There a million un-answered questions and while I'm trying to be happy and satisfied with this race – for a competitive runner, the self doubt rarely ceases.
4) I underestimated the amount of free time I'd have this week. My thoughts – I won't be running, so of course I'll have time to stay late at work (busy season!), co-chair the auction committee for the CPTC benefit dinner, write witty blog posts, catch up on housecleaning, plan a party for Saturday evening, and spend time with all the friends I neglected during marathon build-up. Umm. A bit ambitious to say the least. I did manage to wrap up my volunteer duties and knock some things off my to-do list at work, but other things were pushed to the way side (weekend party, time with friends, un-wrinkled work clothing…). It's been nice to have a break from running and workouts, but I think that running makes me MORE productive if that makes sense. I've sort of felt "off" all week. Although that could be my sinus infection talking…
I guess the point of this post is to share my discombobulated feeling with you all. I miss running. I miss my schedule. I miss having time to blog. (Cue the waaaahbulance). But next week should be better, so thanks for sticking around 🙂
Before I leave you with some gorgeous marathon photos (HAH! I think Brightroom actually TRIES to take unattractive photos of me…), I thought I'd share some of my tips for reducing the post-marathon blahs. Maybe next time I'll follow my own advice.
Running 26 miles suppresses your immune system, so don't be surprised if you come down with a cold. Try to schedule a low-key week following the marathon (i.e. no crazy trips or big events).
DO plan something fun to keep your spirits up – maybe a pedicure with your girlfriends on Monday, pizza and beers with your family on Thursday, etc.
Don't even think about running or exercising for AT LEAST 4 days. I'm serious. I'm actually planning on taking a full week off. It's better to rest now, than be sidelined with an overuse injury in a few weeks. I know what I'm talking about, yo. It was called January-November 2009 (or the year of the cranky hamstring/IT band).
Continue to eat healthful foods (your muscles are repairing themselves!), get enough sleep, and keep active. While I don't recommend running right away, easy walking and stretching is a good way to loosen up sore muscles.
Don't freak out if something hurts. Any nagging injury that you had (or didn't know you had) before the marathon might make an appearance. But better now than before the race, eh? Baby yourself – ice, foam roller, stretching, etc. It's normal to feel post-race aches and pains, I promise!
And nowwwww, the Runner's Kitchen in photos!
Umm, 42,ooo+ runners make this race crowded. For the entire 26 miles. Luckily I know how to drop some 'bows when necessary.
Somewhere in Harlem. Oh hey, arm swing. Let's work on that form, shall we?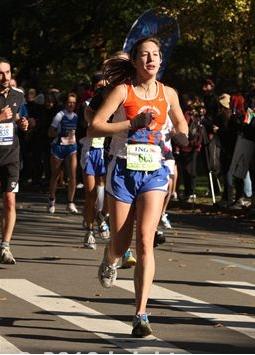 At 40K. I am rockin' my FIERCE face. Too bad the dude behind me looks like he's out for a jog in the park.
Mile 25. Running for 3+ hours is hard. Wah. At least my arms aren't goin' crazy.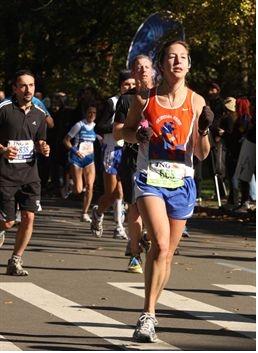 Oh hai! I finished. Let the 1 mile death march to baggage claim begin!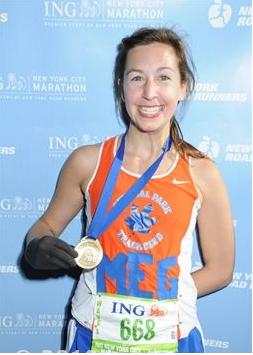 Coming up on the blog – my running plans for the rest of the year, 2011 goals, and what I really think about marathons. Stay tuned!
How do you feel after a big race? Disappointed? Accomplished? Antsy?