My running life hasn't been very interesting lately – still feelin' kind of blah. For the next month or so, I'm trying to take it easy on myself and enjoy the break from hard training. I've run 3 times so far this week – 4.5 miles on Monday, 3.5 miles on Wednesday, and 6 miles on Thursday (oof, head was not in the game for this one). I think I'll probably run at least once this weekend – assuming I can find the motivation! Physically, I feel fine. No injuries or anything like that, but mentally? When I think about running I'm just kind of "meh". Post-marathon blues, I suppose. Anyway, this too shall pass! And while I've got some extra time on my hands, I've been a little busier in the kitchen.
Butternut Squash Fries (ok, so these do NOT actually taste like delicious, greasy, crinkle cut french fries, but they're not bad for a squash).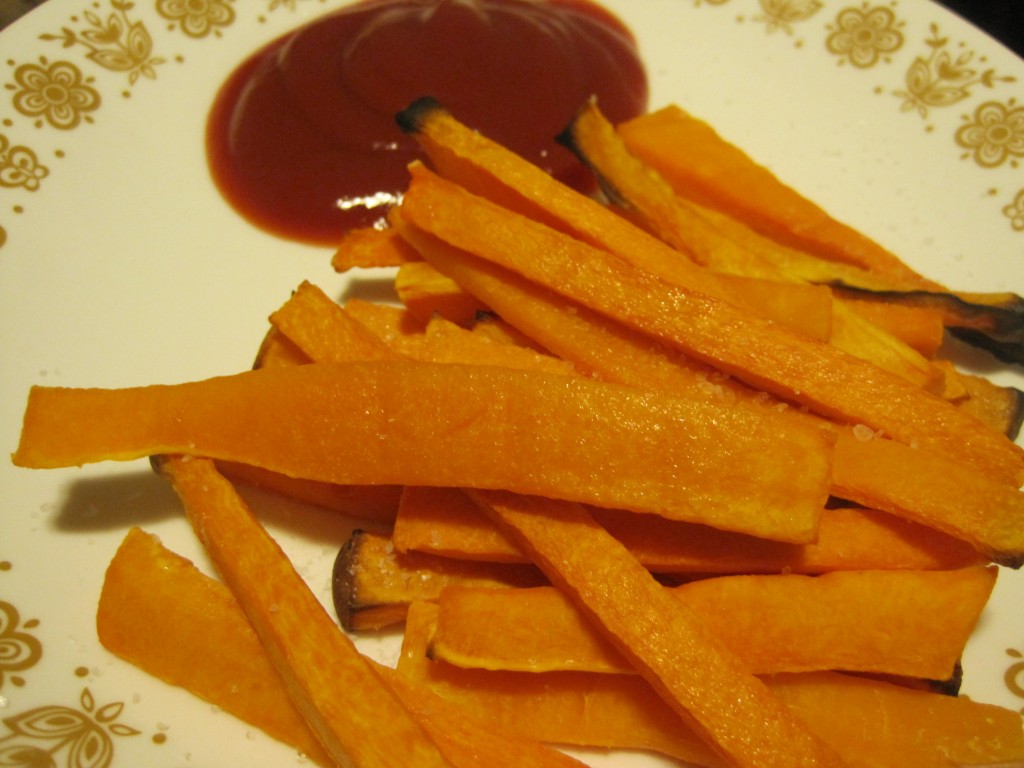 I finally cracked open the butternut squash that I got from my last CSA shipment. It was a huge pain to peel and de-seed, but it's one of my favorite fall vegetables, so I suppose it was worth it.  However, I hardly feel qualified to give you pointers on prepping the squash – so google if you need instructions!
I cut 1/2 of the squash into matchsticks, sprinkled them with salt, and then let them hang out on a tray for about 10 minutes. Once the 10 minutes were up (the salt helps the squash shed extra water and get crispy in the oven), I patted the matchsticks down with a paper towel. Next I tossed them in about 1/2 Tbs canola oil and baked on a wire rack at 425 F for about 30 ish minutes. Once they're starting to get crispy and brown – they're done! Serve with a sprinkle of salt and ketchup.
Roasted butternut squash, dried cherry, mozzarella, and hummus wrap – yeah, the combo sounds weird (maybe leave out the hummus next time?), but I actually kind of liked it. The pairing of dried cherries and butternut squash made it taste quite Autumnal!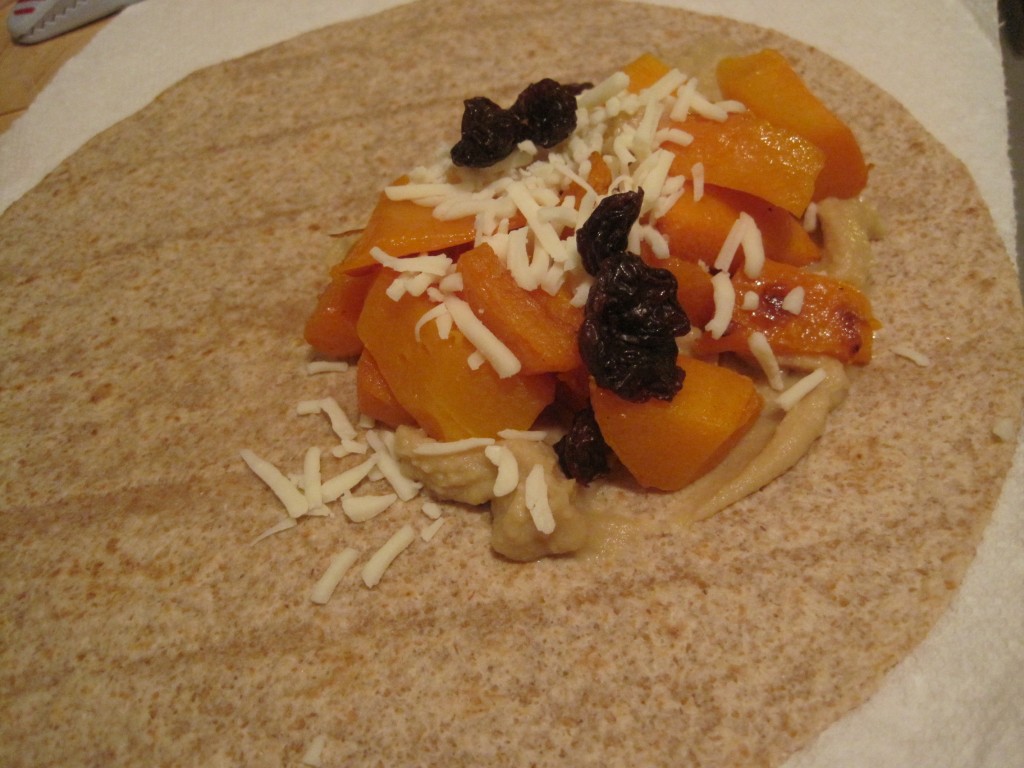 Pumpkin overnight oatmeal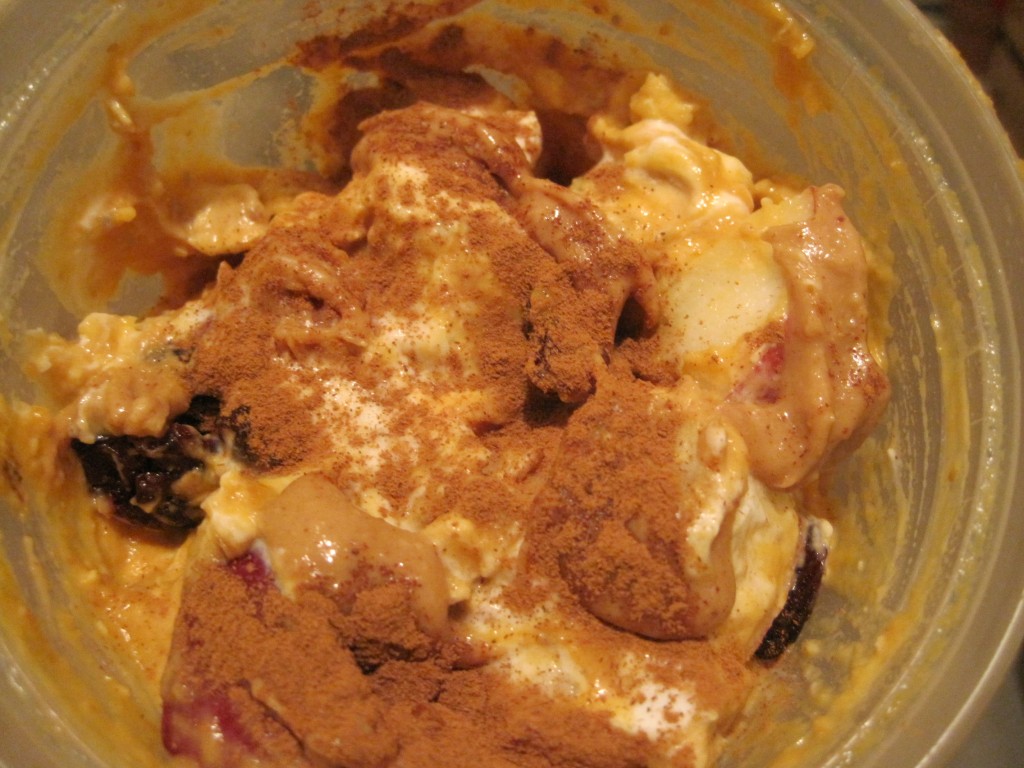 Putting canned pumpkin in oatmeal isn't anything new (well, if you're an active blog reader anyway), but every October/November I'm always reminded of how tasty it is! A go-to breakfast of mine this fall has been to combine the following in a tupperware overnight and devour the next morning. No cooking needed!
1/2 cup canned pumpkin
1/2 cup rolled oats
1 small apple, chopped
1/4 cup greek yogurt
tsp of brown sugar
1 Tbs natural peanut butter, drizzled on top
sprinkle of cinnamon on top
optional add ins: dried cranberries, raisins, chia seeds, splash of milk
This breakfast is not only quick and portable, but also contains a serving of veggies (pumpkin), a serving of fruit (apple), a whole grain (oats), a healthy fat (peanut butter), calcium + protein (Greek yogurt), and antioxidants (cinnamon). Yay!
Green Chili Enchiladas with black beans and veggies
And finally, my weeknight "go-to dish" comes together in a less than 30 minutes and it's infitably adaptable. Plus it goes great with an ice cold Mexican beer – perfect for livening up dark and gloomy November nights!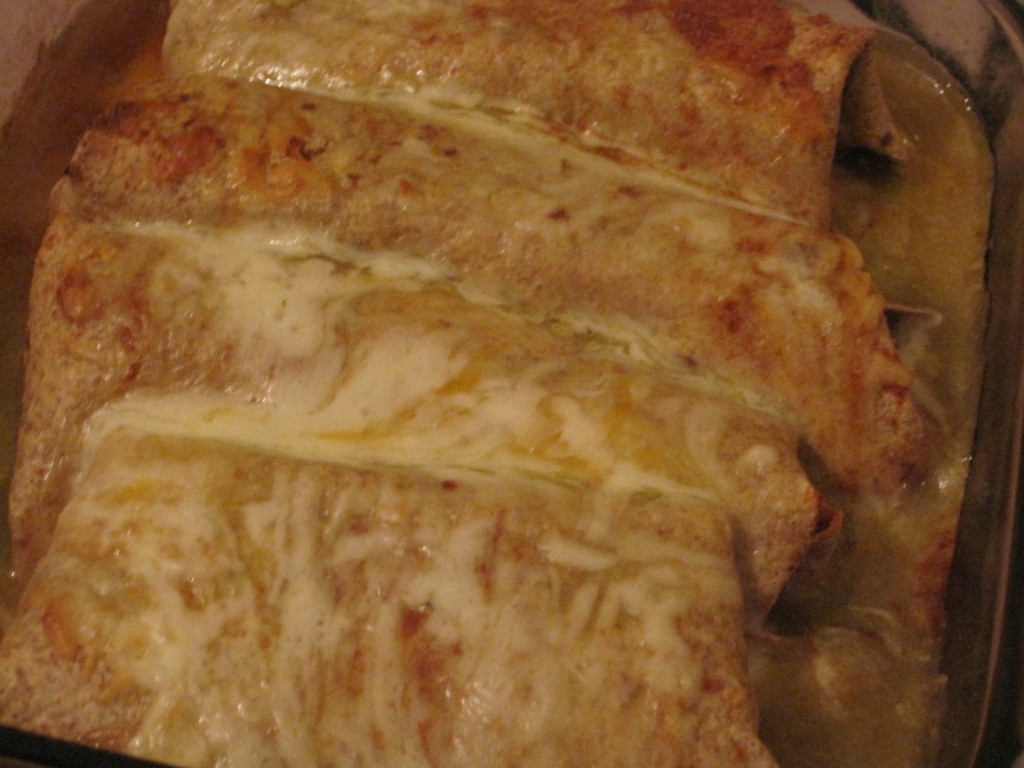 Ingredients:
4 whole wheat tortillas
1 can of black beans, rinsed and drained
cumin and chili powder, to taste
1 cup sauteed veggies (like onion, bell pepper, etc) or use frozen and defrosted veggies to save time!
1 cup of salsa
1.5 cups of Monterey Jack cheese
1 can of green chile enchilada sauce
Directions:
Preheat the oven to 350 degrees, pour 1/2 can of enchilada sauce into an 8″x8″ baking dish
Sautee (or defrost!) onions and peppers in a bit of canola oil
Season the beans with cumin and chili powder, to taste
Starting about 2″ from the bottom of the tortilla, add 1/2 cup beans, 1/4 cup veggies, 1/4 cup cheese, and a few Tbs of salsa. Roll up and place seam side down in baking dish. Repeat with remaining tortillas.
Pour remaining enchilada sauce over tortillas and top with 1/2 cup of cheese.
Cover with foil and bake for about 25 minutes. Serve with extra salsa, sour cream, etc.