I'm alive!! I survived marathon #3 and am here to tell about it – please excuse the rambling nature of this post. It's been an intense 24 hours, but I wanted to blog an update ASAP. Race day morning went off as planned – coffee at home, followed by pb&j and a banana on the bus. I arrived on Staten Island about 2 hours before my race started and had time to use the porta-john multiple times, sip Gatorade, and nibble on graham crackers. The officials herded us into the corrals around 9am and we stood there for the next 45 minutes or so. There weren't any bathrooms in the local competitive corral, so my teammates and I ended up peeing on the starting line. Yes, we popped a squat and peed in the middle of the crowd. No shame. Although I did try to fashion a blanket around my waist to hide my lady bits….
The start was cold (serious wind on the Verrazano!), but I did fine in my singlet, shorts, and gloves. Although I got some very unfortunate chafing from my uniform shorts. I took Clif Shots (100 cals, 25g carbs) at miles 8 and 16 and alternated Gatorade/Water every few miles after the 10k mark. I was pleased that my stomach cooperated well.
I tried to stay relaxed for the first 10 miles and then I put my headphones on somewhere around the half-way point. My teammates gave me some hate for that (they don't approve of music during races), but I think it helped a lot. Listening to "Juicy" by Biggie on repeat was a life saver for some of the tough later miles. You gotta do whatever works! There are only a few minor things I'd do differently – run a slower first 5k and use some body glide to prevent chafing!  
While this may not have been the perfect race (is there such a thing??), I think it was a smart race. My second mile was TOO FAST, but I realized this and corrected my mistake by concentrating on slowing down. It's quite hard to reign it in when you're feeling good early on! Besides the first two miles, I ran pretty consistently and even managed to negative split the race by 39 seconds. I never really hit the "wall", although the last 2 miles were really tough. My legs felt like lead on Central Park South – if this race was 27 miles instead of 26.2, I fear I would have collapsed. While I think that someday 3:15 might be possible, I can honestly say that yesterday's effort was 100%. I left nothing out there on the course. That's all I can ask of myself. And I certainly can't complain too much about a 20+ minute PR!
The Nitty-Gritty:
Start – 5K: 00:23:22 (7:31 pace)
5K – 10K: 00:46:53 (7:34 pace)
10K – 15K: 01:10:45 (7:43 pace)
15K – 20K: 01:34:22 (7:36 pace)
13.1M 01:39:28
20K – 25K: 01:58:00 (7:36 pace)
25K – 30K: 02:21:12 (7:28 pace)
30K – 35K: 02:44:45 (7:35 pace)
35K – 40K: 03:08:11 (7:33 pace)
Mile 1: 8:00 (good, nice and slow)
Mile 2: 6:47 (TOO FAST)
Miles 3-14: Somewhere around 7:35-7:45 pace (Reigned it in for miles 3-10 and then tried to pick it up for miles 11-14)
Mile 14-15: 7:38
Mile 15-16: 7:30
Mile 16-17: 7:32
Mile 17-18: 7:28
Mile 18-19: 7:33
Mile 19-20: 7:37
Mile 20-21: 7:32
Mile 21-22: 7:27
Mile 22-23: 7:24
Mile 23-24: 7:50 <—- NEVER ENDING HILL ON 5th AVE, wtf.
Mile 24-25: 7:32
Mile 25-26: 7:24
Total: 3:18:17 (7:35 pace)
258th Female Overall, 73rd in the 25-29 Age group
WARNING – Marathons are not always pretty. Sometimes you have to pee on the starting line. Sometimes you have blisters that look like plague boils. Other times, spilled Gatorade + your shorts lead to some nasty chafing. Runner's Kitchen holds nothing back…
Around mile 22, I noticed some blood on mid thigh, but luckily didn't feel any pain. However, when I finished the race I noticed some serious war wounds. This is really bizarre because I've never had chafing like this before – especially with all the BLOOD! I washed off the wound and put a little neosporin on it and today you can barely notice. Goodbye blue Nike shorts, you had a good run.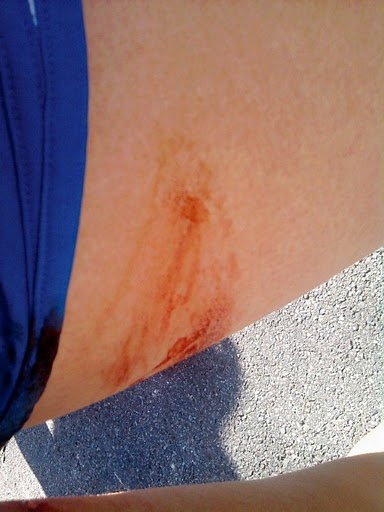 I felt AWFUL in the 5 minutes after finishing. My body couldn't decide if it wanted to pass out, throw up, die, or all of the above. Luckily, after I got my heat sheet and walked for a few minutes, I started feeling a little more normal. I immediately started sipping Gatorade Recovery drink (with protein) and nibbling on some pretzels (salt). After the mile+ walk to get my bag, I was feelin' pretty good.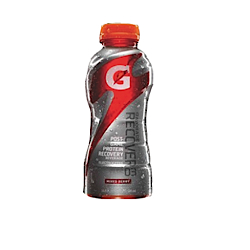 The fam and I went to Kefi, a Greek restaurant for lunch and I swear food never tasted so good. I was craving carbonation, so I downed 2 glasses of Pepsi and chose the Greek frittata (eggs, tomato, onions, feta) as my meal. My mom shared some of her meal's homemade (salty!!!) potato chips with me and they were excellent.
Sorry for the crappy cell phone photo – I was too busy eating to bother with photography!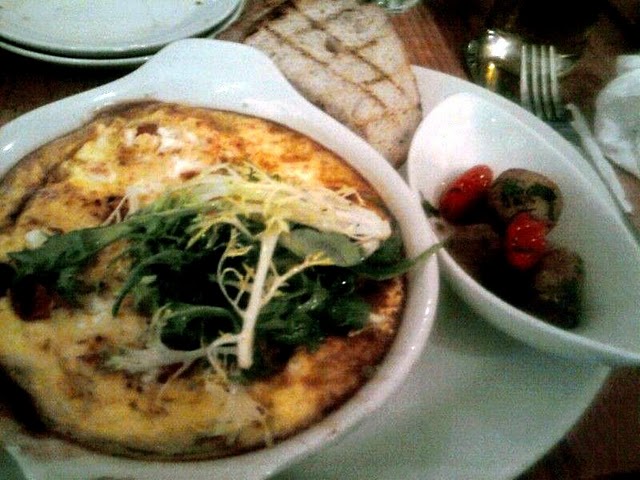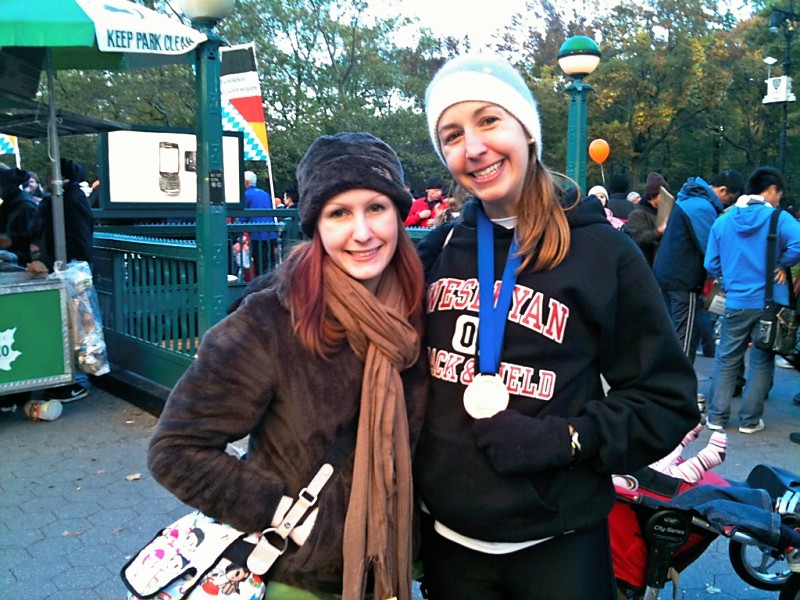 I spent the rest of the afternoon chilling with my Mom and sister (best.spectators.ever!!) and then attempted to make it over to the team afterparty. I'm not sure who chose midtown east as the party location, but the journey there was EPIC. The area near the park was a zoo and cabs were basically impossible to find. I walked for 2 miles and tried to hail a cab for over an hour. Finally a pedicab (bicycle cab!) offered to take me to the bar on 2nd Avenue. As we zipped through the city streets, I realized I didn't have any cash. Luckily a friend was able to loan me $10. Was the journey worth it?
Dirty and exhausted as I was, I 100% enjoyed the Sam Adams lager that I sipped in the company of my running friends.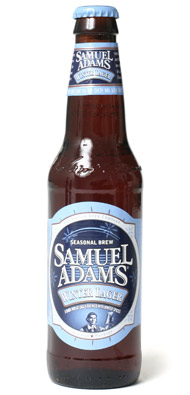 Even better than a post-race brew? A SHOWER. Besides some yelps of pain from my chafe wounds, hot water never felt so good. I ended the night with some leftovers and a peanut butter brownie from my Momma. 2010 Marathon recap, THE END.
Thank you, thank you, thank you for all the encouraging comments, tweets, text messages, and cheers!!! It meant so much to me that all of you cared about how I was doing. Knowing that people were tracking me online really kept me focused on running strong and not giving up.
xoxo, Megan