Good morning and TGIF! I just finished running a very Autumn-y (is that a word?) 7 miles with Alma and Nicole.
46.5 miles so far this week, 26 miles to go! Lately, it seems as though running has taken over my life (well at least more so than usual). I thought I'd share a few of my musings –
You know you're a runner when…
1) Your social schedule is determined not by family committments or work assignments, but by mileage. The master copy of my running schedule is posted in my cubicle and I reference it at least once an hour. 6pm happy hour on Wednesday? Good thing I've got a morning run planned! Stay late in the office tonight? No can do…I've got a team workout at 7pm. With the help of my super-organized, awesome runner-friend Megan M., I put together my training plan back in June. However, as you can see from the scribbles and cross-outs, I've made quite a few changes since then. I keep an online training log and track appointments on a Google calendar, but there's something about plotting out my mileage and daily routine on paper that feels so satisfying.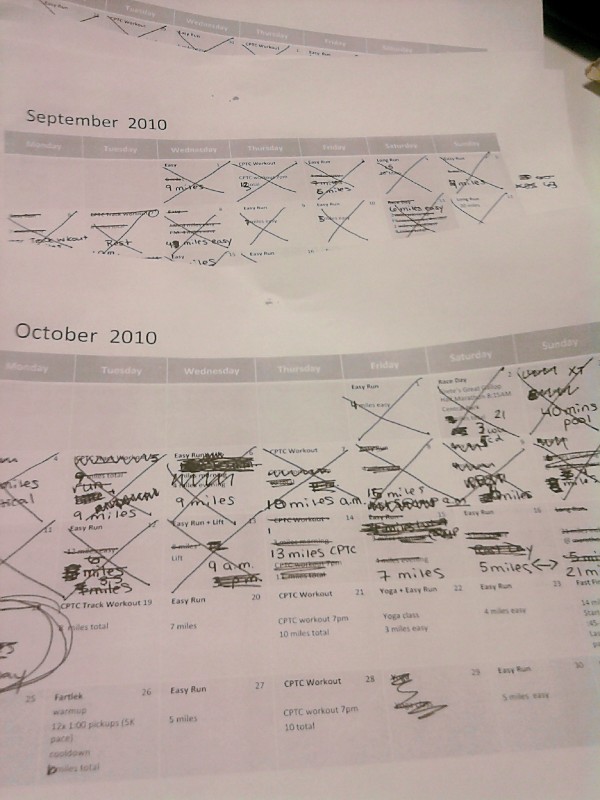 2) Laundry and showers increase exponentially. Or…if you're like me, you resign yourself to being just a little bit smelly. True story: between my shower on Tuesday morning and my shower on Wednesday morning, I ran 3 times. And if I can find a clean sports bra to run in, it's a good day. Judge if you must.
3) The reading material, blogs, and conversations you engage in become decidedly running focused. My bedside table is littered with Runner's World magazines, a map of the NYC marathon course, Matt Fitzgerald's new book Run and I've got countless running blogs and my training log bookmarked on Internet Explorer. Did anyone else get really exited when the ING NYC marathon site started posting their daily tips?!?
4) Every little twinge and ache puts you into a panic spiral. Zomg, when did my calf started hurting? Maybe it's a strain….Oh crap, this website says that calf strains take 4-6 weeks to heal. *#%&!! And by the way…my shin feels a little sore. Maybe it's a STRESS fracture….Also, I'm feeling a little sick…dear god, I hope it's not the flu. Should I cross-train? See a doctor? Drink my sorrows away? 
Thankfully, after taking a rest day….you realize you're going to be totally fine. Phew.
5) All non-essential energy expenditures are nixed. For example – I became irrationally irritated when the escalators in the subway station stopped working this morning. I just ran 7 miles, damn it. A flight of stairs is just too much to handle. And I'm sure if I had a car, I'd circle the parking lot at least 12 times looking for the closest spot. I'm only sort-of kidding.
In other news…
Oh haiii rain and wind! When I saw the forecast for Thursday evening, I was less than thrilled about the workout I had planned for 7pm. I had done a 3-mile shake out run during my lunch break, but still had 10 miles on tap for the evening (including 4 miles at tempo pace). Yesterday's tempo run was a bit soggy, but you know what? It might rain on race day. So I think it's important to practice running in all sorts of conditions (even wet, windy, and cold ones….womp, womp).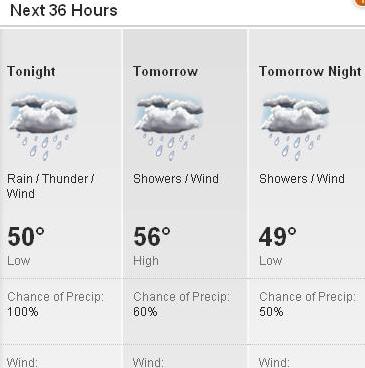 CPTC Workout:
4 mile warm-up 35:30
4.05 mile Tempo run in 28:49 (~7:06 pace)
2 mile cool-down in 17:30
I felt pretty good, especially during the workout warm-up. So much energy! I attribute this to the snack I had immediately prior, although note to self: lay off the fiber. A Quaker Oats chocolate fiber bar was probably not the best pre-workout choice. My stomach sorted of hated me by the cool-down.
After 10 miles in pouring rain and 50 degree temps, I was more than ready for a hot shower + soup. Luckily, I had made a big batch of potato and leek chowda the night before. I paired my soup with a piece of buttered bread and a sample of herb & garlic cheese that I received from Cabot Creamery. I really liked this flavor! I also tried the habanero variety and while it was flavorful, I found it to be almost overwhelmingly spicy.
Potato & Leek Chowder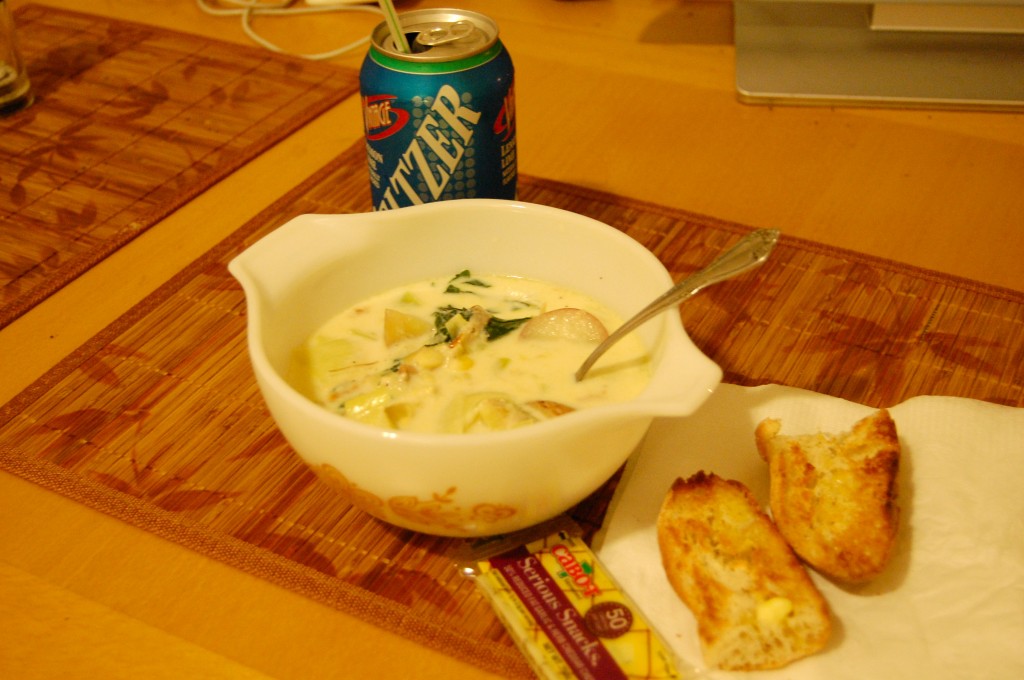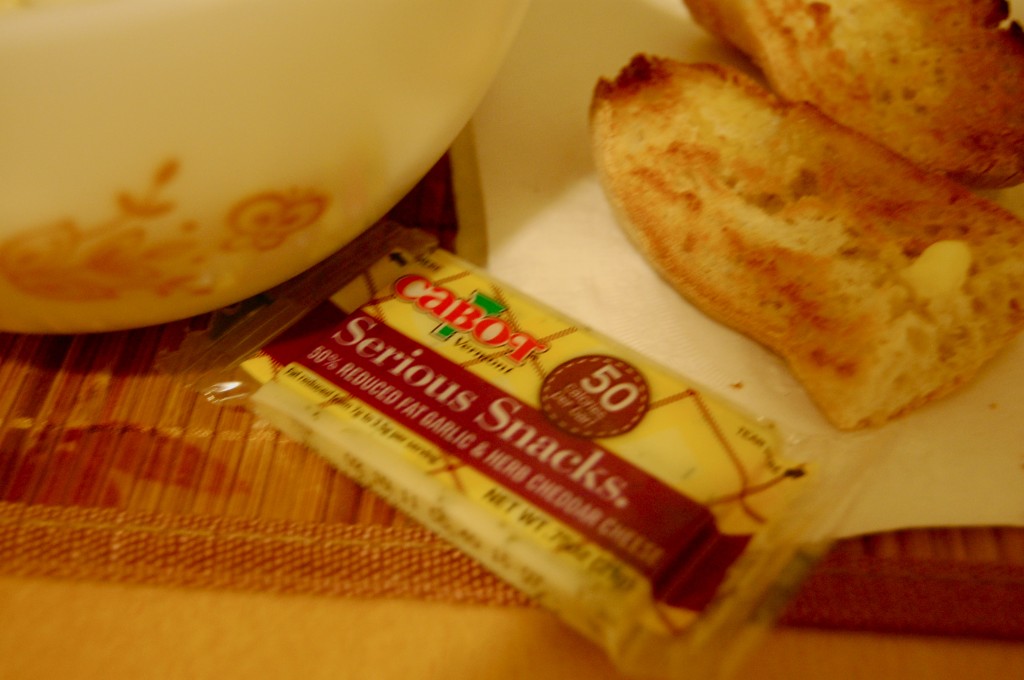 Ingredients:
Tbs olive oil

1 bunch of leeks, cleaned and chopped

3 cloves of garlic, minced

2 Tbs flour

3 cups of milk + 1/2 cup water or broth

1 lb of potatoes, quartered

1/2 bunch of kale, chopped

1/2 cup corn kernels (defrosted if frozen)

1/4 cup shredded cheddar cheese

salt, pepper to taste
Directions:
Heat the olive oil in a dutch oven or soup pot and saute leeks and garlic until softened, about 4 minutes

Add flour, milk, and water to pot, add potatoes and bring to a simmer

Simmer potatoes for about 10 minutes or until they are fork tender

Add kale, corn, and cheese to the pot and cook for another 2-4 minutes, until soup is warmed throughout

Season with salt and pepper to taste!
Nutrition Facts
Serving Size 1/3 of recipe
Amount Per Serving
Calories 300
Calories from Fat 55
Total Carbohydrates 48.4g
| | | |
| --- | --- | --- |
| Vitamin A 90% | • | Vitamin C 105% |
| Calcium 41% | • | Iron 12% |
* Based on a 2000 calorie diet
Like most of the recipes I post, you can easily make substitutions. Use broth instead of milk if you're lactose intolerant or replace some of the milk with cream for a more indulgent take on the recipe.
Replace the kale with spinach, add sausage or white beans for more protein, get creative!
Fill in the blank – You know you're a runner when…..