TGIF. This week has gone by verrry slowly for me – bring on the weekend! Last night, my coach assigned the "beast" a.k.a. an 8 mile tempo run in Central Park. The run consists of two continuous 4 mile loops – the first loop at marathon pace, the second loop at 10-15 seconds per mile faster than MP. The tough thing about this workout is that it's easy to go out too fast. Marathon pace even feels comfortable…at first. But then you've gotta drop the pace for the second part and run negative splits. That's when things get difficult. I've done this workout 3 other times this year and it's neat being able to track and compare my performance over the course of several months. I definitely recommend doing the same workout every 3 months or so and tracking your progress!
2.60 warm-up

4.09 @ Marathon Pace (7:38, 7:26, 7:50, 7:34, 0:39)

4.07 @ Faster than MP (7:32, 7:14, 7:18, 6:33, 0:27)

—> 8.16 miles in 1 hour, 17 seconds (31:10 1st loop, 29:07 2nd loop)

3.75 mile cool-down

Total: 14.5 miles
I took the first loop nice and easy and held a mostly conversational pace with my teammate, Krissy. We picked it up on the second loop and were able to negative split by one minute 2 minutes (edit: just realized I negative splitted by TWO minutes, not one – huzzah!). I didn't feel 100% for this workout – still fatigued from Saturday's 22 miler, sore from Tuesday's flu shot, and a bit full from the pb sandwich I scarfed minutes before my warm-up. I wish my splits were a little more consistent (notice that 7:50 3rd mile?), but when all is said and done, this was a good effort. Today I kind of feel like a truck hit me – me thinks 14.5 miles after work is a wee bit much. I'm rockin' the compression socks and a second cup of coffee with hopes that I'll feel more revived later today.
In other news…
I receive a lot of comments asking me about my shoes/running gear. Besides shoes, socks, shorts, and a sports bra – I don't need much to get me out the door. However, I do have some favorites. Read on for the deets!
*Note: all opinions expressed below are my own. I paid for my shoes, compression socks, Garmin, etc etc with my own money. The companies did NOT send me this stuff to review.
The Basics
Shoes- In high school I trained primarily in New Balance, switched to Asics in college, and more recently became a Brooks convert. I love my Brooks Ghost 3's! They're lightweight yet durable, and my toes don't poke holes in the mesh (this was a big issue with my Asics). I wear the Ghosts for everyday training, but I also have a pair of Nike Lunaracers that I use for shorter races. When it comes to running shoes, I do believe that lighter is better (especially when it comes to racing), but I don't partake in barefoot running. Evidence suggests forefoot strikers (vs. overstriders/rearfoot strikers) are less prone to injury, so I'm trying to focus on staying "light & quick on my feet" while running.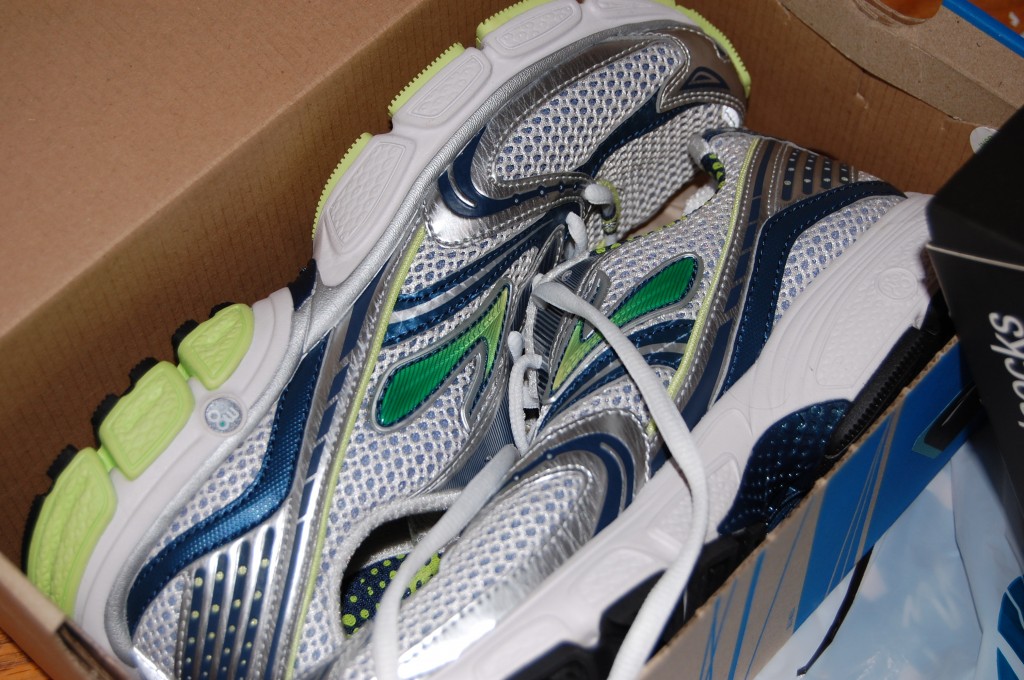 Bottoms- My "go to" shorts are without a doubt, Nike tempo track shorts. They don't ride up or chafe and they come in a ton of cool colors. However, I also have a pair of really comfy shorts by Pearl Izumi. The key component – pockets! I like to carry keys, metrocard, and cash with me when I run and a pocket is non-negotiable. I usually wear shorts if it's above 45 degrees, but in the winter I switch to spandex capris or tights. After the marathon I'm treating myself to a fancy schmancy pair of CWX running tights!
Tops- Fortunately (unfortunately?) I am not well endowed, so having enough support from a sports bra has never been a problem. I really like racer back style sports bras – especially those by Nike. Over my sports bra I either wear a dri-fit tank top (if it's hot) or a tshirt/zip-up if it's cold. I love my Nike half-zip hoodie with built in hand mitts!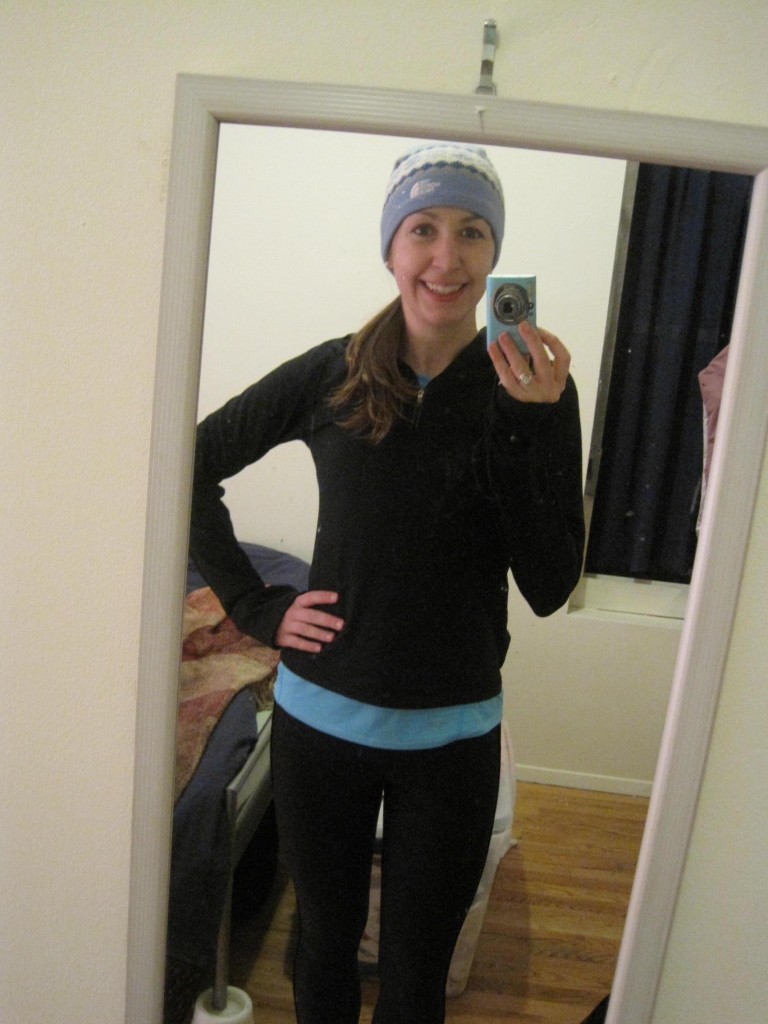 The Extras
Watches- For many years I relied on my Timex ironman "sleek" stop watch (still love it!). Recently I bought a Garmin 110 and it's been very useful for long runs and out of town training. However, when I'm in a rush and don't want to wait for satellites to load or I'm running easy, I skip the Garmin and take along my trusty Timex.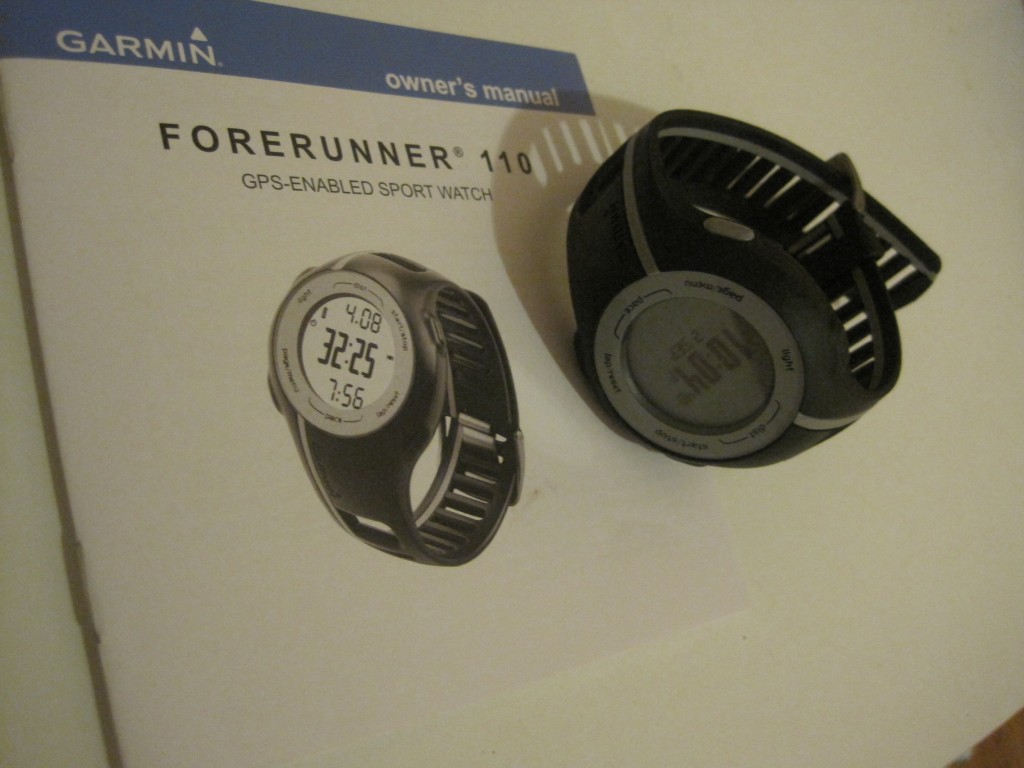 Compression Socks- Over the summer I invested in a pair of CEP compression socks and I've been lovin' them. Totally worth the $60 price tag! I think that my legs recover faster and feel less sore when I wear them (usually after running, not during).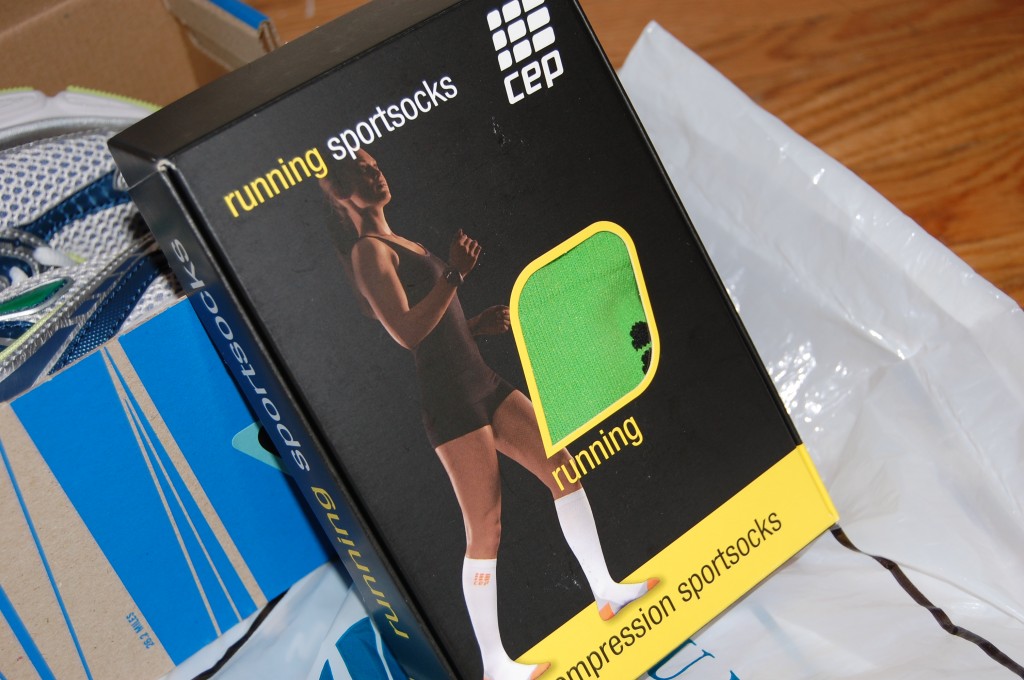 Gus/Fuel Belts- I'm usually pretty minimalistic when it comes to fueling on the running. I rely mainly on the water fountains in Central Park (or a stashed Gatorade on my route). For runs longer than 2 hours I'll take along a gel – GU espresso love flavor is my favorite!
Finally – check out this Running Times article about the disparity between Women's and Men's BQ standards.
What are your thoughts? Are women's BQ (Boston Marathon Qualifying) Standards too easy? Just right? How should the Boston registration process be handled?
What's your go-to running gear? Watch, shoes, sports bra, etc?