When I started running nearly 11 years ago, it was mostly because I was too uncoordinated to do the more "popular" sports like tennis, basketball, or softball. Honestly, I sucked at running those first few years. And even after I was in better shape, it still wasn't an activity that I loved. My high school teammates and I would often scheme ways to short cut our runs and eat popsicles. Until my 20's, running was something I did to be social, to keep busy, to have fun. These days, my reasons for running have changed a bit (thankfully having fun and being social are still near the top!), so I thought I'd share them with you.
A good run can fix almost any mood. When I was feeling overwhelmed and scared (like the day I lost my first post-college job), I ran. When my heart felt broken, I ran. When I was so frustrated that I wanted to scream, I ran. I ran on the morning that I graduated from college. The day I moved to New York City. The day my grandfather died. All of these stressful events were mitigated by the comforting sound of my feet hitting the pavement. Even if everything else in my world seemed to be going wrong, running was something I could count on to feel the same.
It's an inexpensive and healthy way to make friends – unlike the Manhattan bar scene. Sure, running can cost $$ (shoes, race entries, etc), but a long run with my girlfriends costs far less than a round of martinis and a cab ride home. Plus, it's a 2-for-1 deal – I can fit in my exercise while spending time with some of my favorite people. While I love my non-running girlfriends, I share something extra special with my running buddies. We know what it feels like to be on the starting line of a track race, we remember the pain of mile 2.5 in a 5k, we can appreciate the pleasant exhaustion and feeling of accomplishment that comes after a long run. Even though we may run different races or live hundreds of miles away, we share this.
The feeling I get after PR'ing in a race produces an incomparable sense of accomplishment. Maybe if I had kids or my dream job, I'd feel similarly in other areas on my life, but I never feel so strong, confident, and proud of myself as I do after a tough run.
I love running because it's hard – it's not something that everyone can do or at least do well. I'm certainly not the best runner, but I'm decent enough. And you know what? When you're good at something, it's more fun!
I don't run to burn calories or to be "skinny". That has never been a goal of mine. I run because it makes me feel strong, because it enhances my social life, and because it makes me a happier and less stressed person.
After Saturday's 21-miler, I knew I needed to take it easy on my calf for a few days. I aqua jogged for 40 minutes on Sunday and ellipticalled for 65 minutes on Monday. Can you say B-O-R-I-N-G? I know I needed to take some cross-training days, but yeesh…Sometimes I really don't think I'd exercise (or at least belong to a gym) if I didn't run competitively. Luckily, the running gods were smiling upon me because my calf has been feeling good and I was able to get back on the roads today. I ran 9 ish miles after work and was just so happy the whole time. Nothing makes you appreciate running like an injury scare!
This week is going to be bananas at work, so in order to make my week a little more bearable, I took a cue from Kelly and made a big bowl of Mediterranean cous cous salad to have for dinner this week.
Mediterranean Cous Cous Salad (makes 4 servings)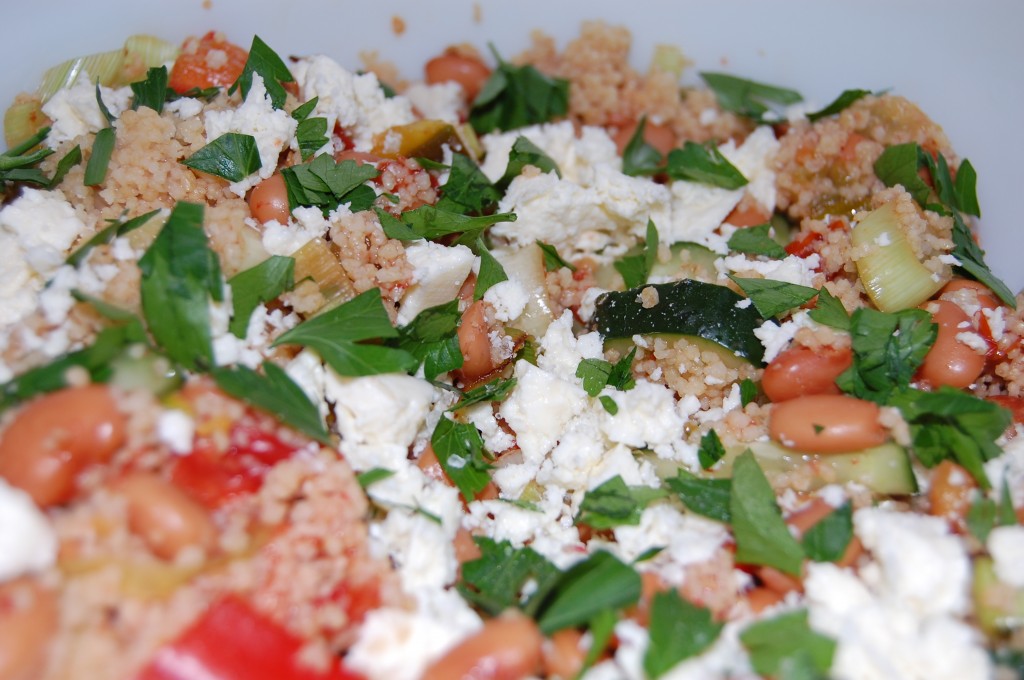 Ingredients:
2/3 cup dry whole wheat cous cous
olive oil, salt, pepper (to taste)
tomatoes (dozen small or 2-3 large)
one bunch of leeks, chopped
cucumber, diced
bell pepper, chopped
1 can of pinto or garbanzo beans, rinsed and drained
4 oz feta, crumbled
parsley to garnish
lemon juice and/or hummus (optional)
Directions:
Prepare cous cous according to package directions, set aside
Drizzle tomatoes and leeks in olive oil, roast at 400 degrees until soft and lightly browned
Combine cous cous, tomatoes, leeks, cucumber, bell pepper, and beans in a large bowl.
Season with salt and pepper (to taste) and garnish with feta and parsley.
Before serving, top with a dollop of hummus or a squeeze of lemon juice. Enjoy!
Whether it be running, yoga, or cycling – what is your reason for doing what you do?