There's nothing like afterwork plans to make the week a little brighter! On Tuesday, I got my butt out of bed to run some pre-dawn miles with my girl, Kelly. I finished 8 miles, all before the sun came up. Oh heyyyy 7am sunrise.
My early wake-up was rewarded after work – I had plans to attend a cocktail party with another lady friend. The event was sponsored by Ocean Spray cranberries and featured Martha Stewart as the guest of honor. Wheee! I really wanted to gush about how much I love her macaroni and cheese recipe, but I didn't get the opportunity for any one-on-one chatting. Martha, if you ever stumble upon this blog – I <3 you!!!
Anyway, the event was held at the super swank 620 Fifth Avenue rooftop lounge. I had lots of fun taking glamour shots in front of St. Patrick's Cathdral-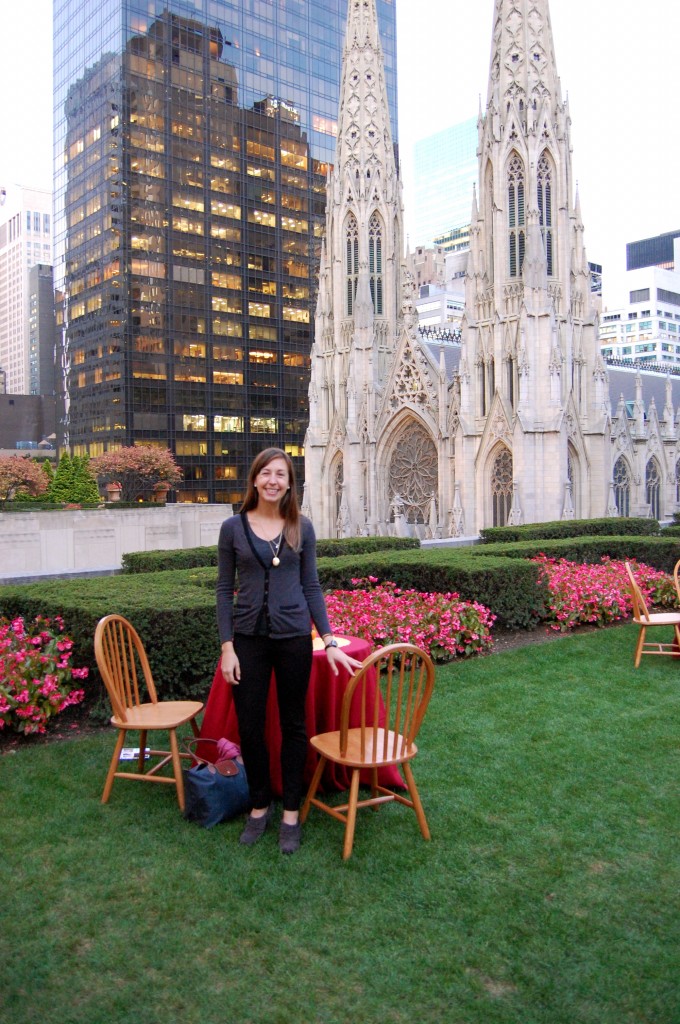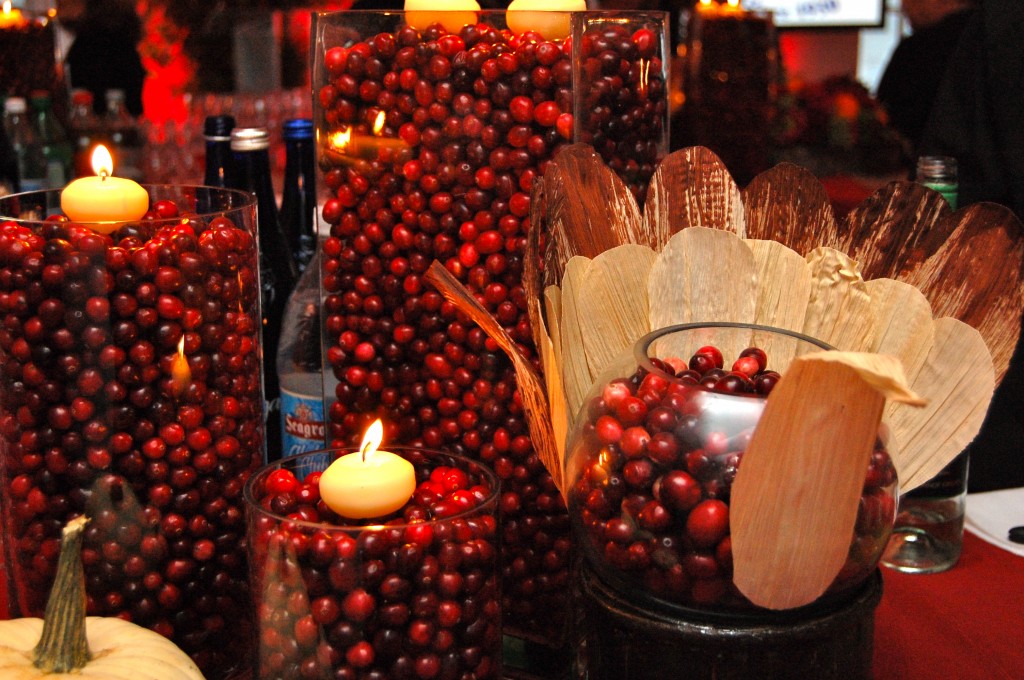 ….and sipping cranberry themed cocktails!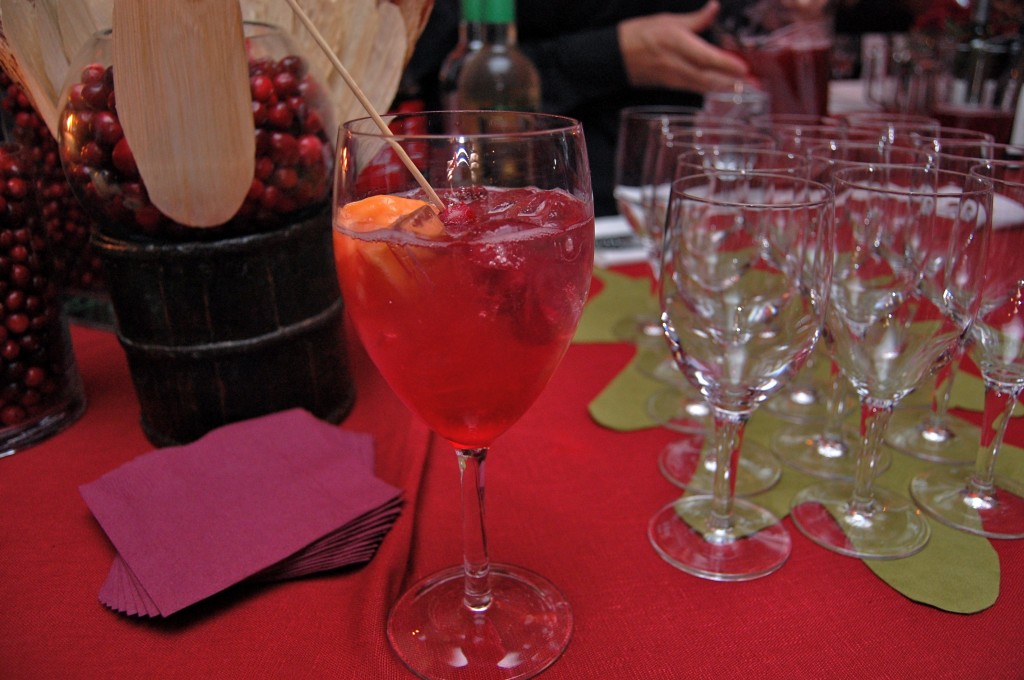 I enjoy cranberries and blueberries all year round, but they are especially appealing in Autumn. My favorite way to enjoy them? In sweet & salty nantucket cookies. Yum!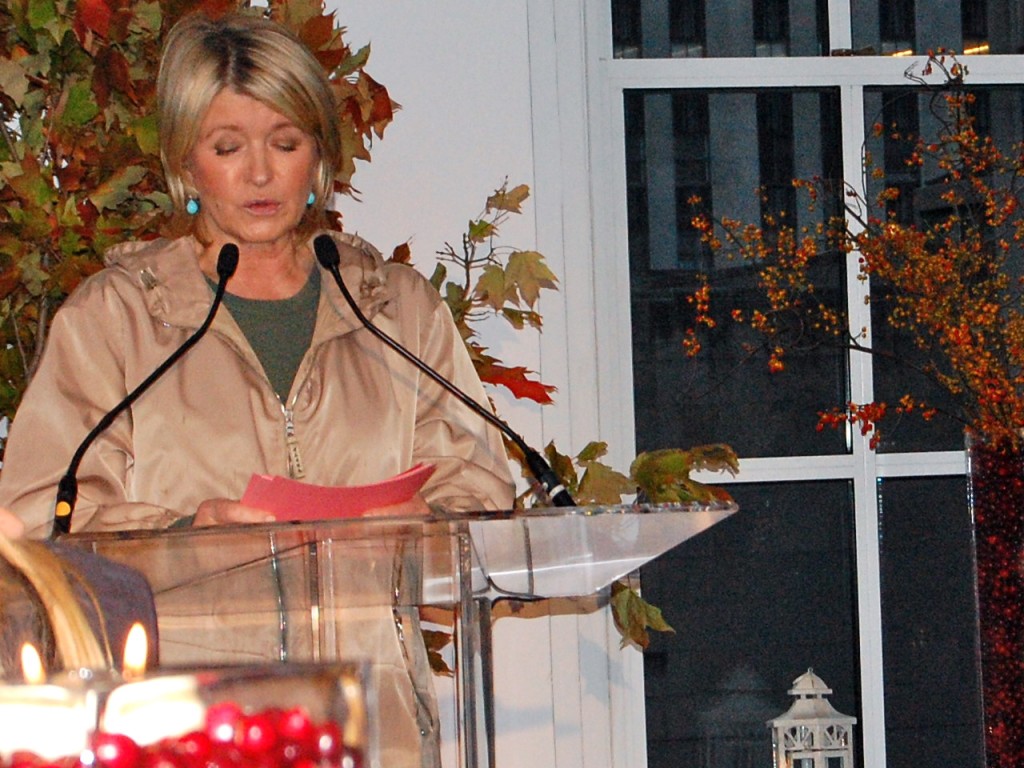 (Love that anorak jacket Martha!)
After some introductions and presentations about Ocean Spray cranberries, we sampled some passed appetizers. Martha Stewart's ingenius pumpkin swirl brownies (!!!) were on the menu. Once I tried one for myself (ok…2), I knew I had to make them ASAP.
I think they came out pretty well! Yum, yum, yum.
Pumpkin Swirl Brownies
Adapted from Martha Stewart.com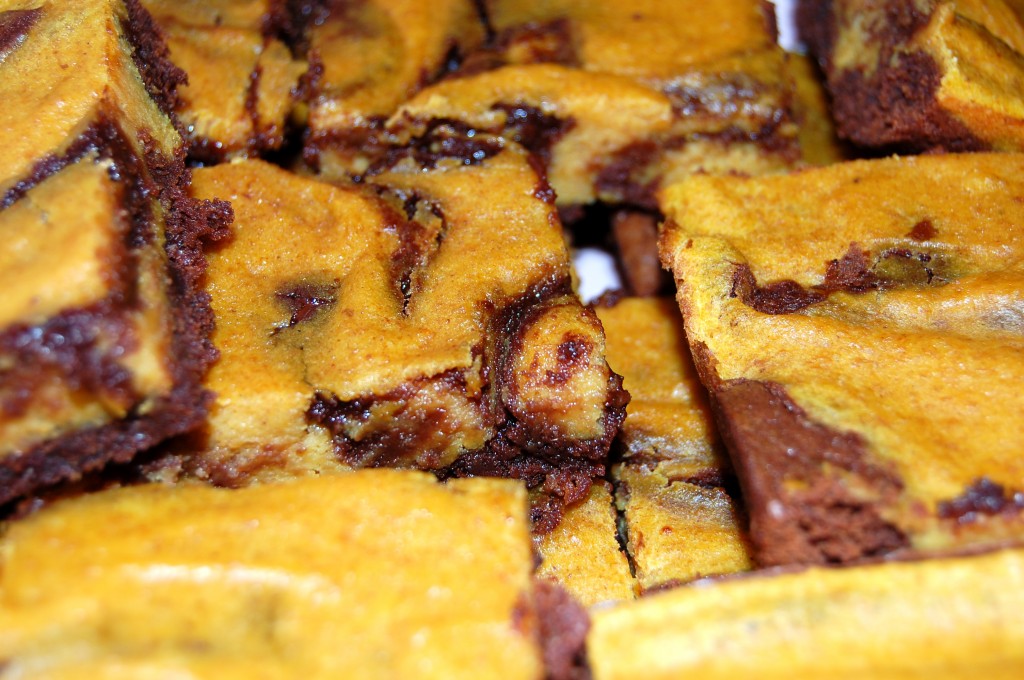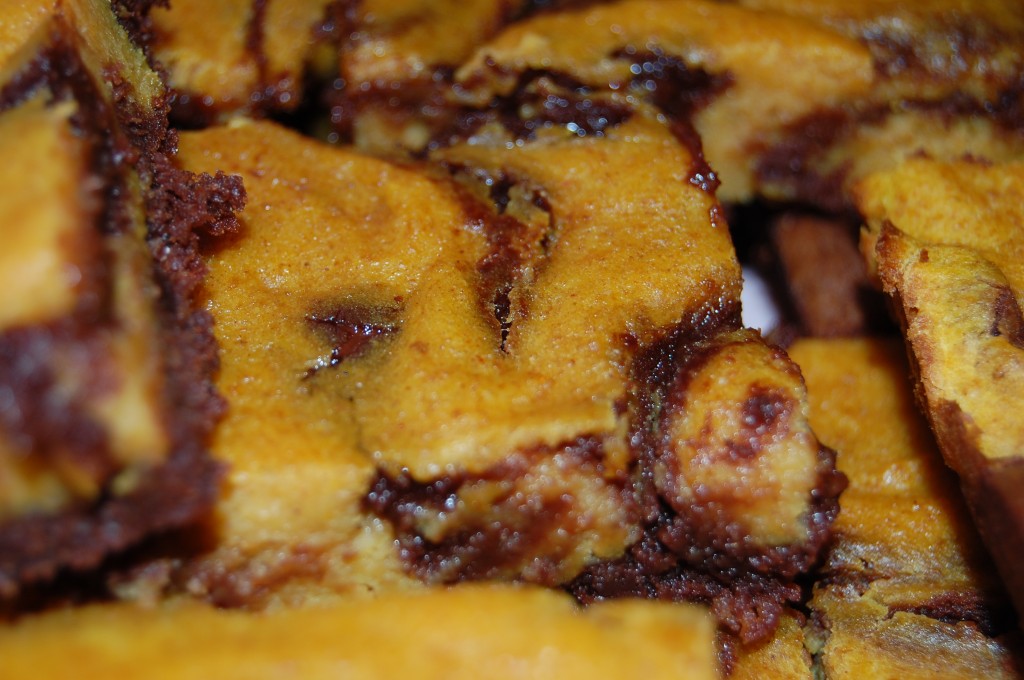 Ingredients:
8 tablespoons (1 stick) unsalted butter, plus more for pan
6 ounces bittersweet chocolate chips
1 cups all-purpose flour, 1 cup whole wheat flour
1 teaspoon baking powder
1/4 teaspoon cayenne pepper
1/2 teaspoon salt
1 1/2  cups sugar
4 large eggs
1 tablespoon pure vanilla extract
1 1/4 cups solid-pack pumpkin
1/4 cup full-fat greek yogurt
1 teaspoon ground cinnamon
1/4 teaspoon ground nutmeg
Directions:
Preheat oven to 350 degrees and butter a 9″x 13″ baking pan.
Melt chocolate and butter together in the microwave on medium power for 1 1/2 minutes. Stir and microwave for 20 second intervals until smooth, stirring between each interval.
Whisk together flour, baking powder, cayenne, and salt in a large bowl; set aside. Put sugar, eggs, and vanilla in another bowl and use an electric mixer to beat until fluffy and well combined.  Beat in flour mixture.
Divide batter between two medium bowls. Stir chocolate mixture into one bowl and  stir in pumpkin, yogurt, cinnamon, and nutmeg into the other. Transfer half of chocolate batter to prepared pan smoothing top with a rubber spatula. Top with half of pumpkin batter. Repeat layers – pumpkin should be your final layer.
With a small butter knife, gently swirl the two batters to create a marbled effect.
Bake for about 25 minutes, depending on oven. Cool in pan, on a wire rack. Makes 18 thick, delicious brownies!
Week one of the taper is going well – I ended up doing a double today. 4 1/2 miles in the morning, 3 miles in the evening. The double was mostly due to time constraints a.k.a. I had to be at work early and didn't have time to run more than 40 minutes this a.m. I have a beastly tempo workout on tap for Thursday (4 miles at marathon pace, 4 miles at half marathon pace) – so stay tuned for the gory details.
Thanks for all the great feedback on my last post! I have plans to write a "gear" post soon i.e. a ramble about running shoes, watches, and sports bras. In the meantime, I thought I'd talk a little about how I balance my running and social life.
I'm fortunate in that my roommate (hey Alma!) is a runner. Did you know that we actually met during a half-marathon?? Having a live-in running buddy makes heading out the door for an early morning run MUCH easier. Plus – we get to chat and gossip for 45 minutes or so. It's a win-win situation! Besides my roommate, many of my other friends are also runners. Our lives revolve around track workouts, spectating races, running shoe sales, and post-long run brunches. Going to bed early on a Friday night never seems like a sacrifice if I know I'm going to meet my running friends for a 10-miler the next morning!
But I DO have girlfriends that don't run. I think the most important thing is to let people know how important running is to you. They might peer pressure you the first time you skip the bars in favor of an early bedtime, but eventually they'll realize that you sometimes need to put running at the top of your priority list. And if you can get your non-running friends excited about your races – even better! My mom and sister know very little about marathons, but they're pysched to come spectate on November 7th. Why? They know how important it is to me. And we're going to make a day out of it – fun brunch plans, a post-race celebration, etc.
But what if you still want to enjoy being a 20-something while training for a marathon? I doubt Runner's World is going to condone excessive drinking anytime soon, but a few too many beers is not necessarily the end of the world. Last June, I stayed out till 2am and indulged in a little bit too much A LOT of wine and cake. And you know what? I ran a 10k PR the next day!! I'm not sure I would recommend this pre-race strategy, but I think it's the overall picture that counts, not one night or one meal. If you're regularly eating well, getting 7 ish hours of sleep, and drinking in moderation (i.e. one glass of wine a night vs. 3) – a late night isn't necessarily going to kill you. And sometimes I make compromises. I recently went to a Friday night concert knowing full well that my long run the next day wasn't going to be stellar. But as my wise friend Sarah says "Not all runs can be awesome". I guess my point is – pick your battles. If a run or race is really  important to you, behave yourself. (You better believe I will be tucked into bed at 10pm the night before the marathon). But you're only young once, so don't resign yourself to Grandma bedtimes and herbal tea if you feel the itch to cut loose.
Happy running, friends.