Happy Monday! I've just returned from a weekend in LBI and two days of sun, 70 degree temperatures, lots of sleep, and good food were exactly what I needed. A few days ago I talked about my reasons for running and since the other half of this blog is about yummy food, I thought I'd share my eating philosophy with you. In general, I try to make good choices. I gravitate towards fruits, veggies, whole grains, legumes, and dairy, but I also really enjoy good, indulgent food. This weekend included a variety of things that most people wouldn't consider typical "runner food" – macaroni and cheese, beer, bacon, etc., but I think there is room for these foods in anyone's diet. Although, I will probably eat a little more salad and drink a little less beer this week to even things out.
Confession: I haven't weighed myself in months. As I log 60+ mile weeks, I'm more concerned with having the energy to run vs. a number on the scale. It's possible that I've gained a few pounds since upping my mileage (I'm always hungry!), but it doesn't really matter to me. I'm in the best (endurance) shape of my life and all the yummy food I've been eating has helped me get there. I think it's fairly straight forward – you need energy to run, specifically carbohydrates. If you aren't giving your body what it needs (i.e. calories!) – it's not going to give you what you want (more mileage, faster race times). One of the best things about running is that it heightens your appreciation for life's little things – a post-workout shower feels blissful, sleep feels amazing after a a hard week of training, and food never tastes so good as it does after a run. So please – don't be afraid to eat yummy foods! Your running log will thank you.
Speaking of food, I ate some GOOD stuff this weekend. Friday night's dinner was roasted tomatoes & mushrooms alongside the world's most amazing macaroni & cheese (seriously…that is not an exaggeration!)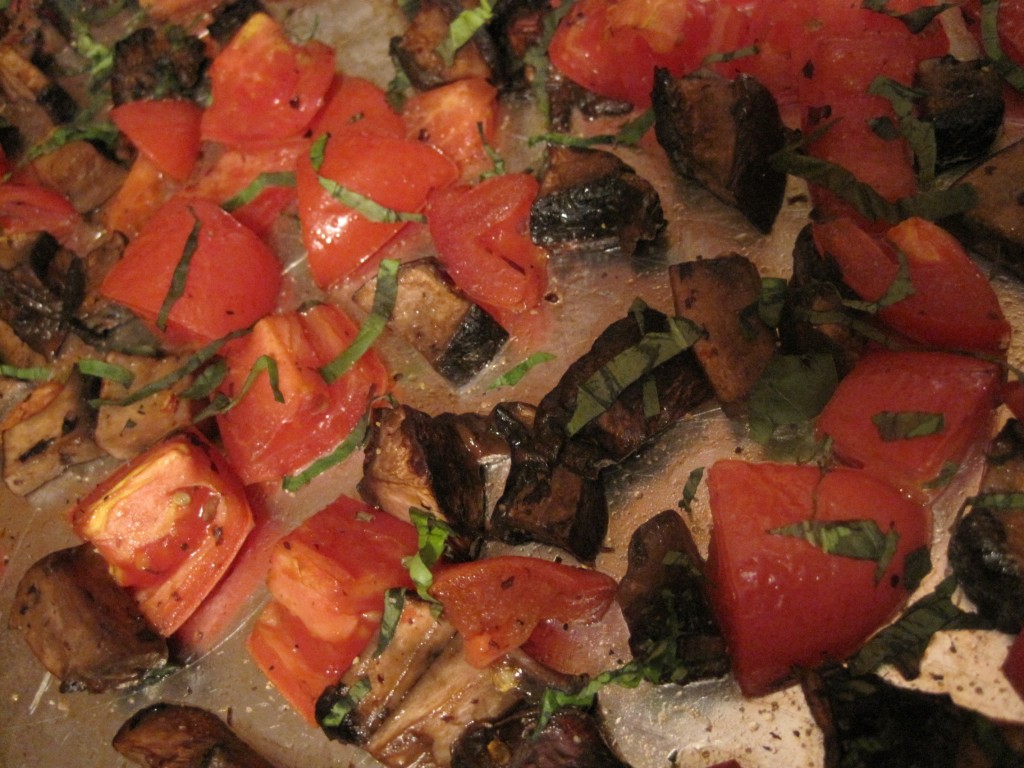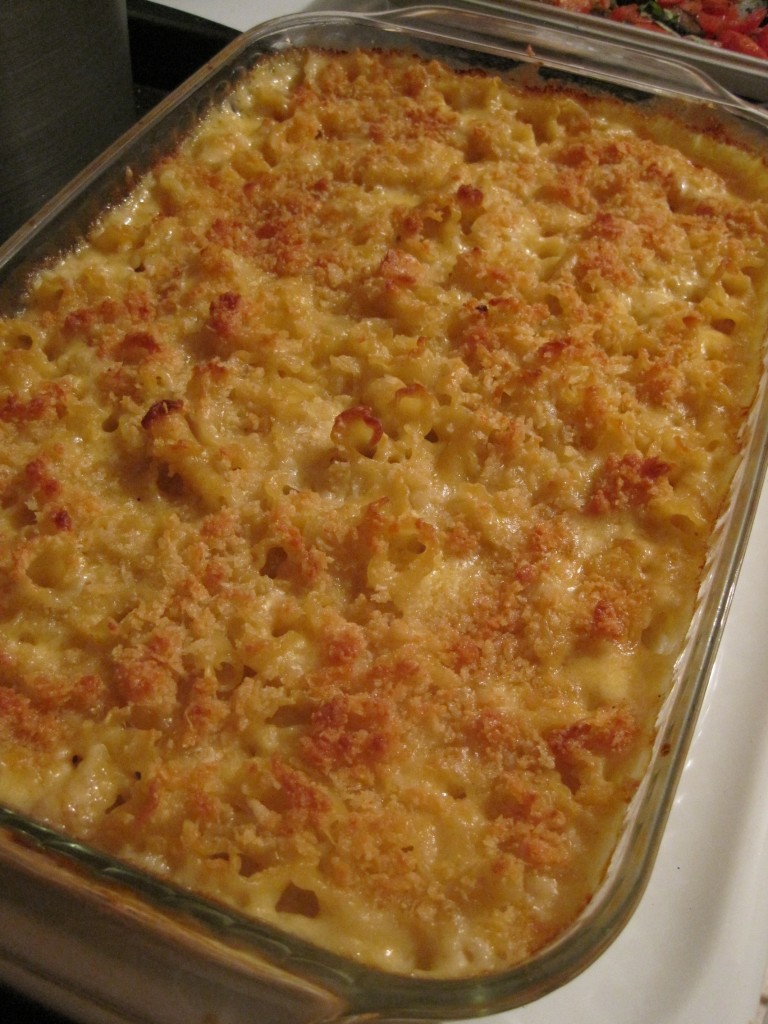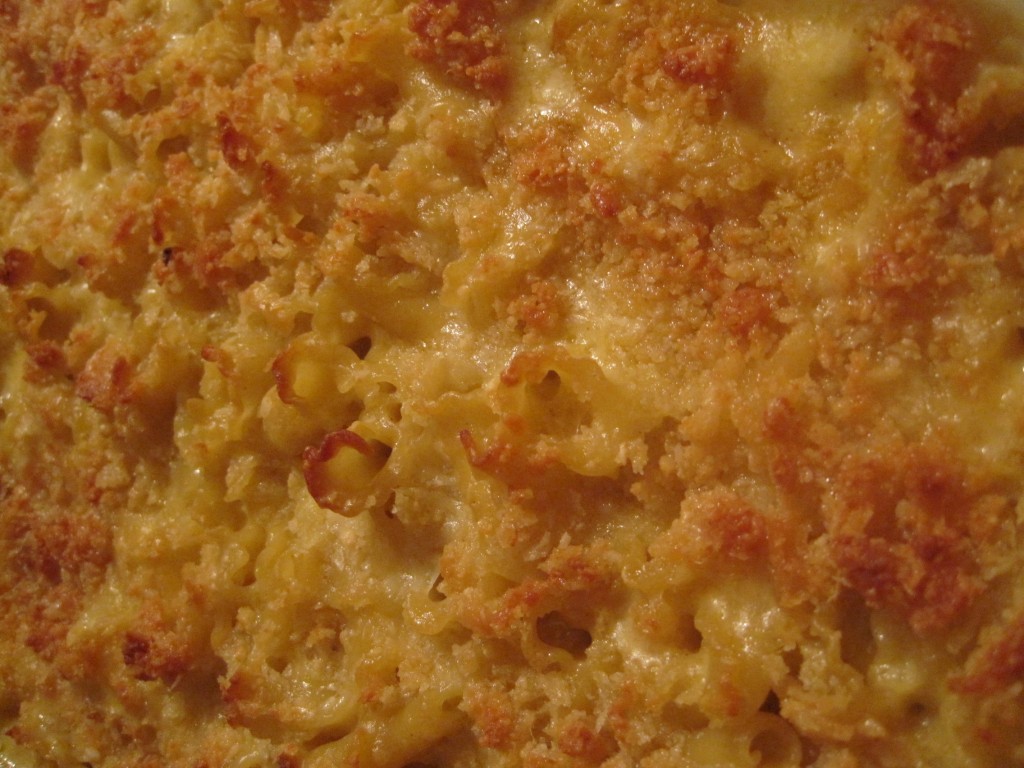 On Saturday, we woke up to the sound of waves crashing on the beach and promptly set out to make breakfast.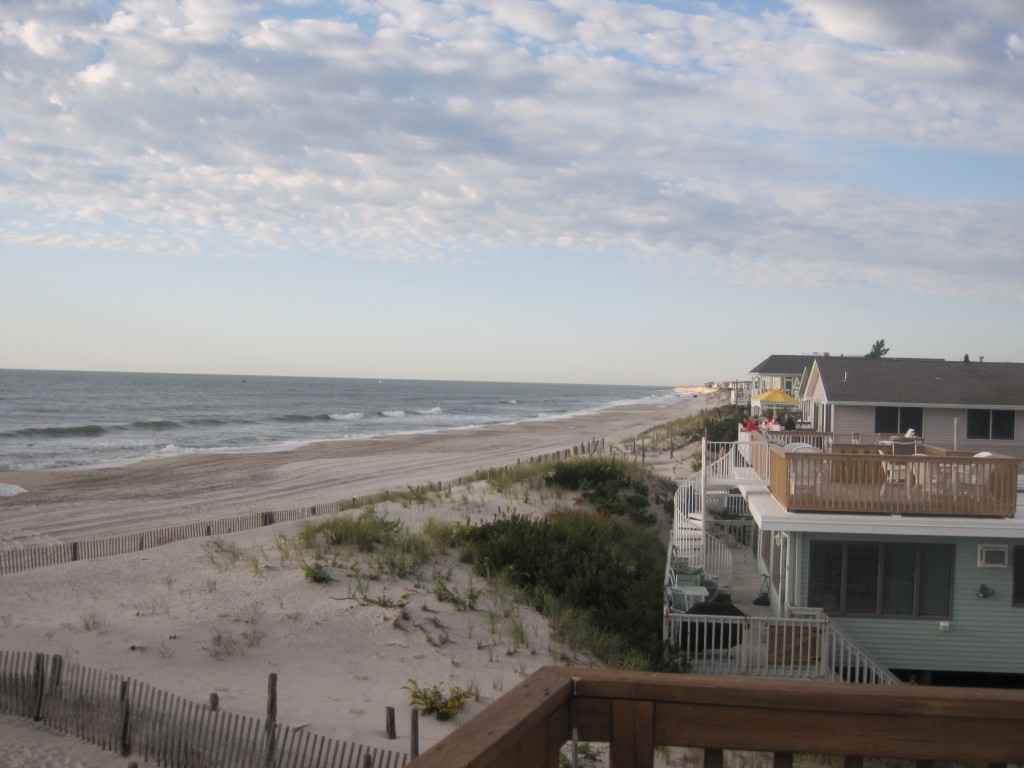 French press coffee to begin….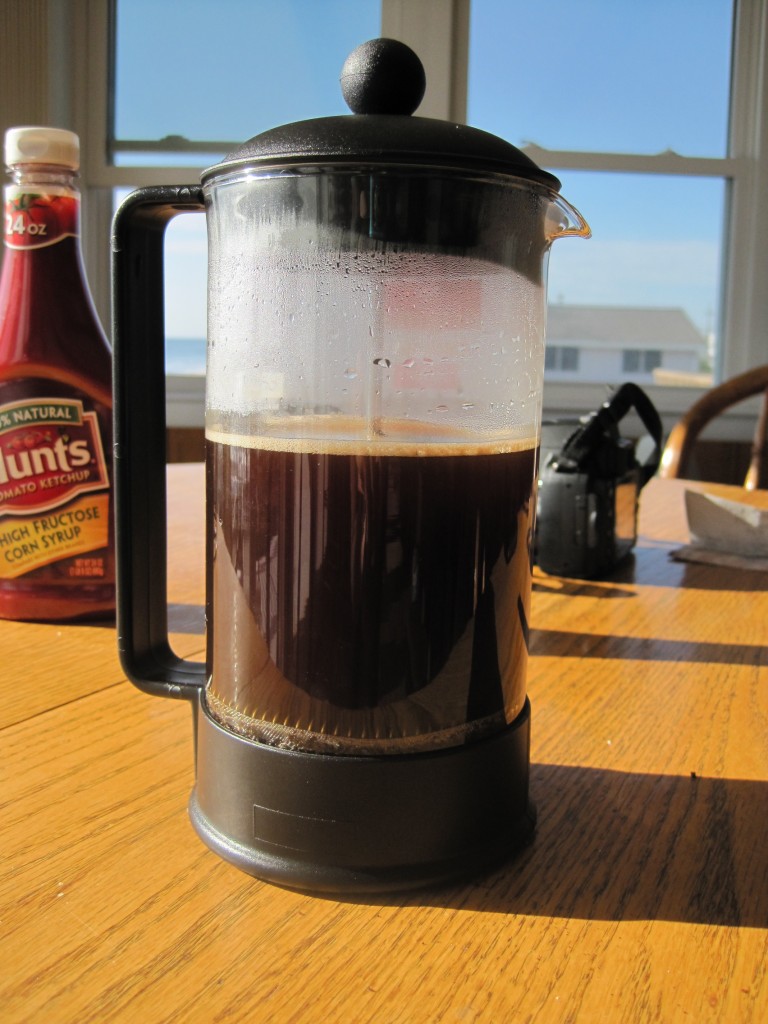 Followed by an oceanside brunch – mimosas (champagne + OJ), hashbrowns with onions and bacon, and eggs.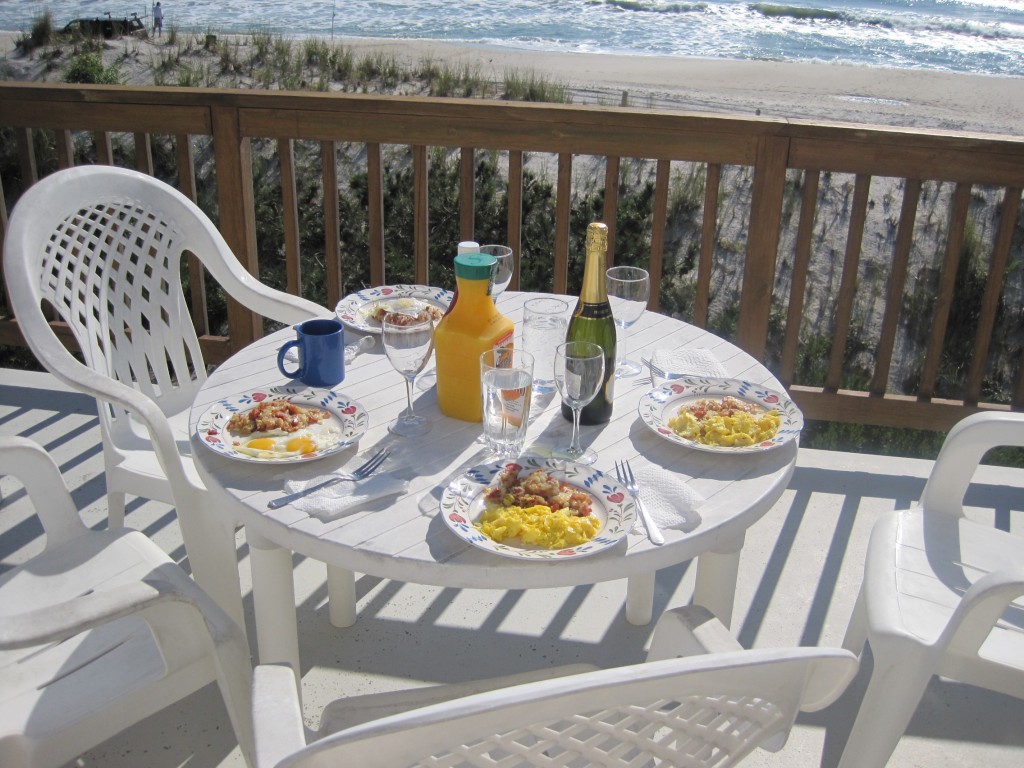 BBB made the hashbrowns – hopefully he'll share the recipe with us soon. It was delish!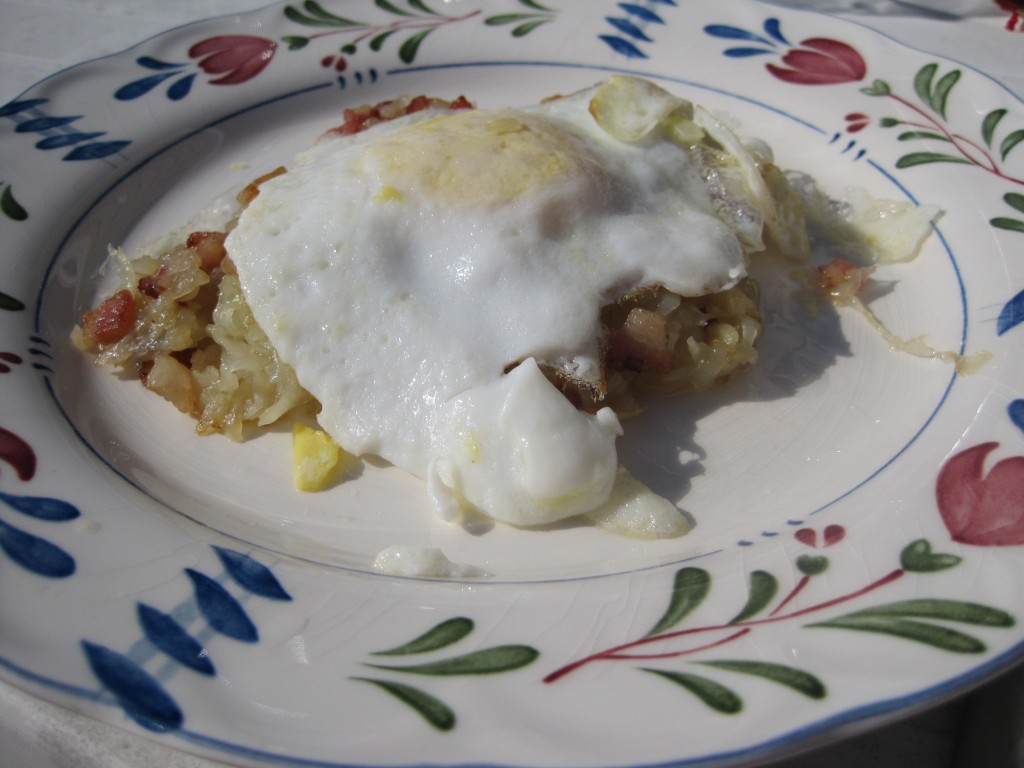 We really lucked out with the weather – eventhough it's October, it was warm enough to frolic on the beach. We sampled a variety of seasonal brews- BK brewery Oktoberfest, Flying Fish Brewery Oktoberfish, and my new favorite beer – Weyerbacher Imperial Pumpkin Ale. Oh my goodness. I'm already a big fan of pumpkin beers – but this brew tops them all! It's an IPA, but not overly hoppy and it has a rich, spicyness that a lot of other seasonal beers lack. It's like pumpkin pie in a bottle!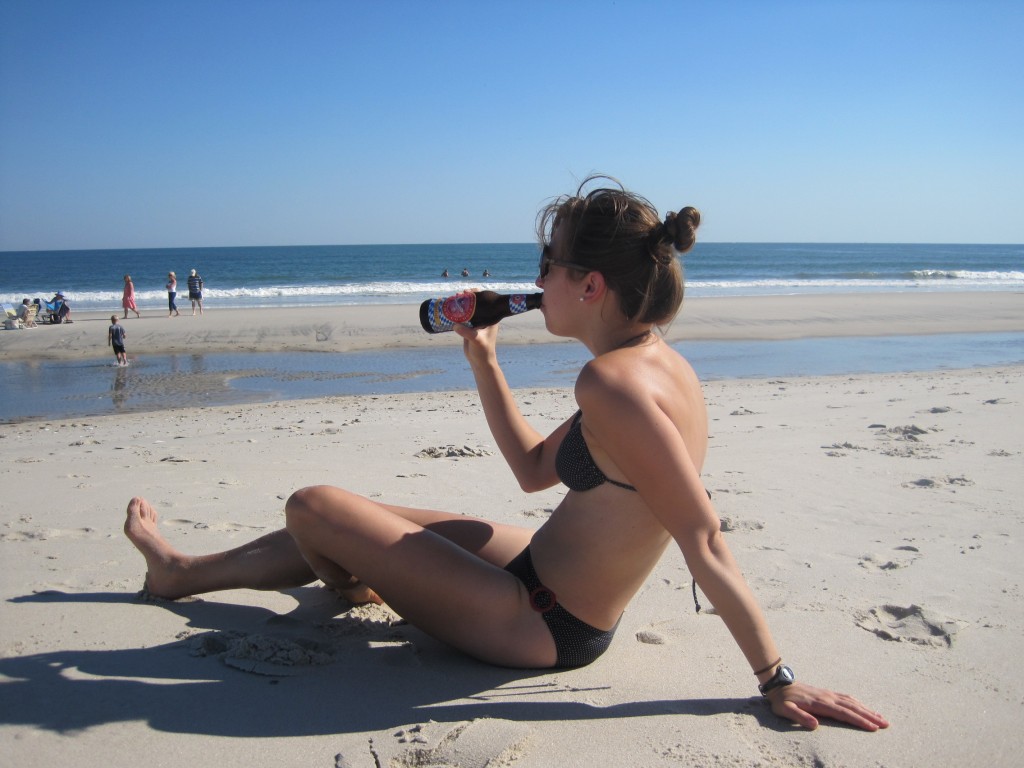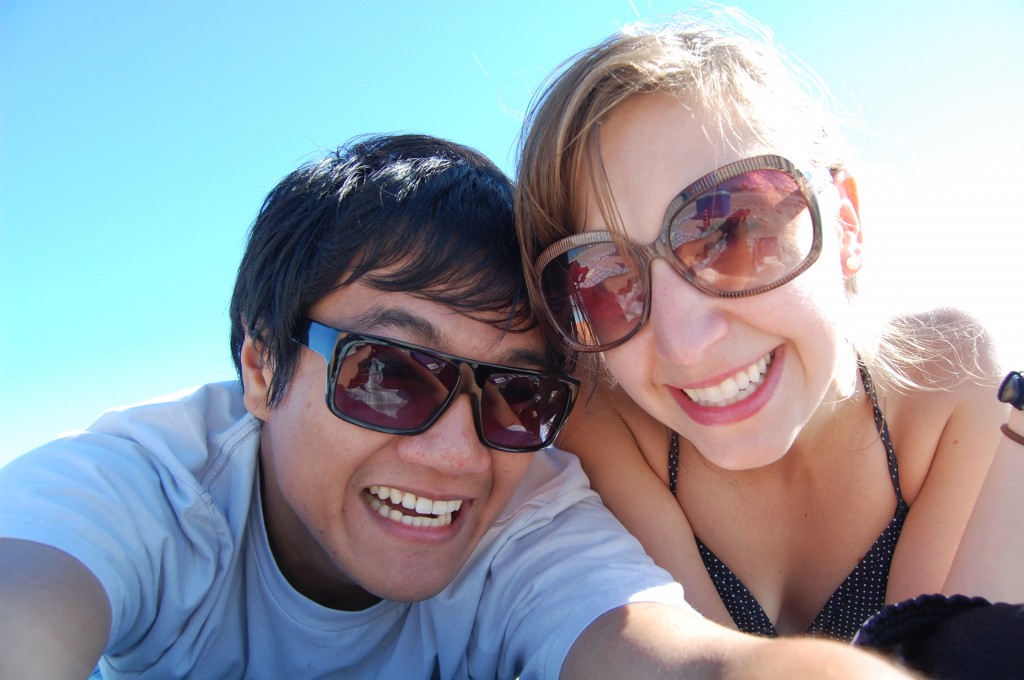 I was well fueled for a 6-mile run later in the afternoon. I ran the first 3 miles with BBB nice and easy and then dropped down to 7:30 pace for the final 3 miles. It felt good to get my legs movin' quickly! I slept really well Saturday night – I think I was in bed by 11pm. Win!
Our second brunch of the weekend utilized the brioche I made last week – french toast with plenty of maple syrup, bacon, coffee, and OJ. Yumm!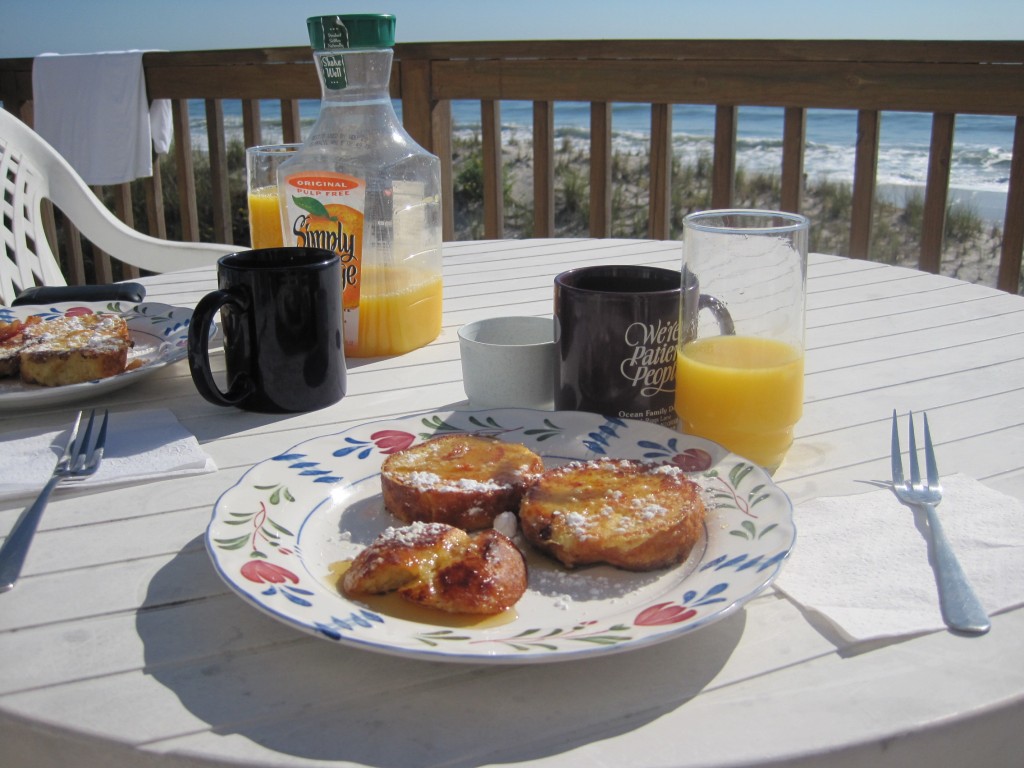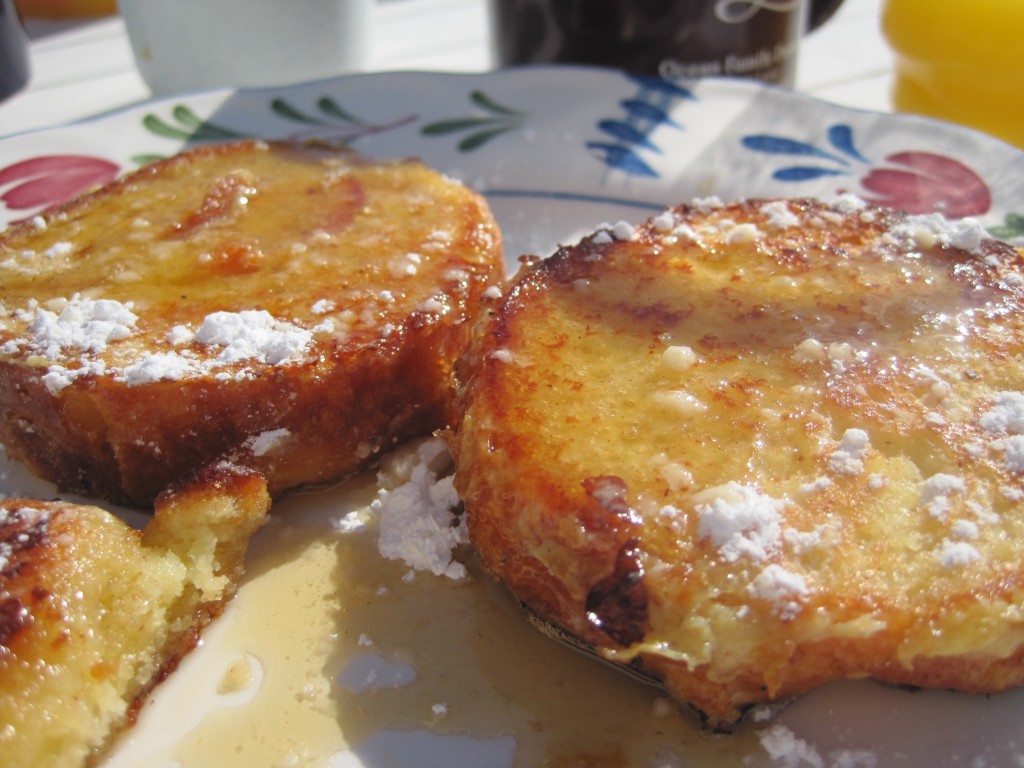 Sunday was another chill day – a 4 mile run and more oceanside relaxation. We headed out of LBI just as the sun was setting –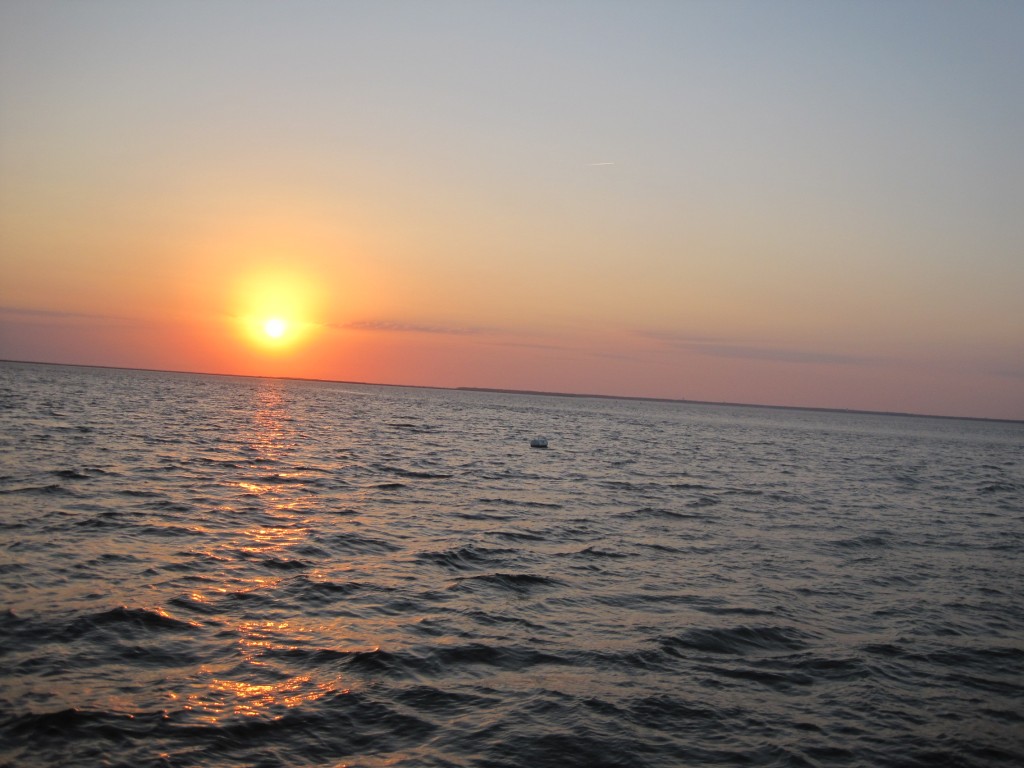 But before we hit the road, we stopped by The Chicken or the Egg, a local favorite. The best thing about this restaurant (besides the buffalo wings…) – it's BYOB! I took this opportunity to enjoy another pumpkin ale.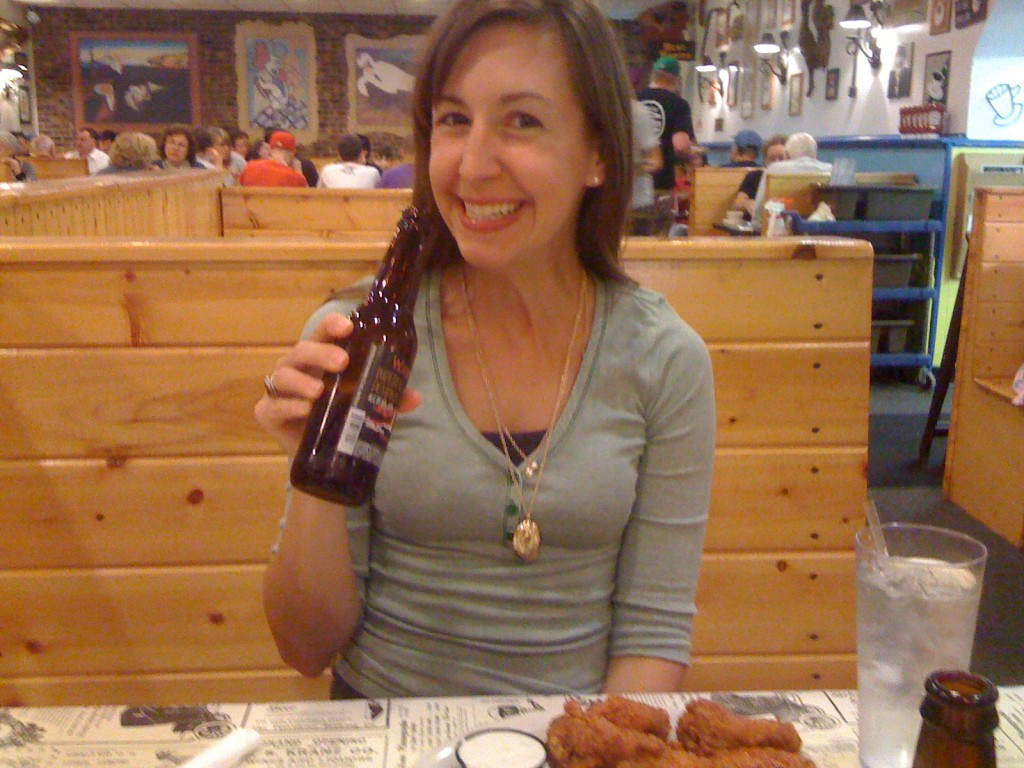 (thanks for the photo BBB!)
Before I hopped on the Bolt Bus back to NYC, BBB suggested we stop for self-serve frozen yogurt in Cherry Hill. I was one happy girl!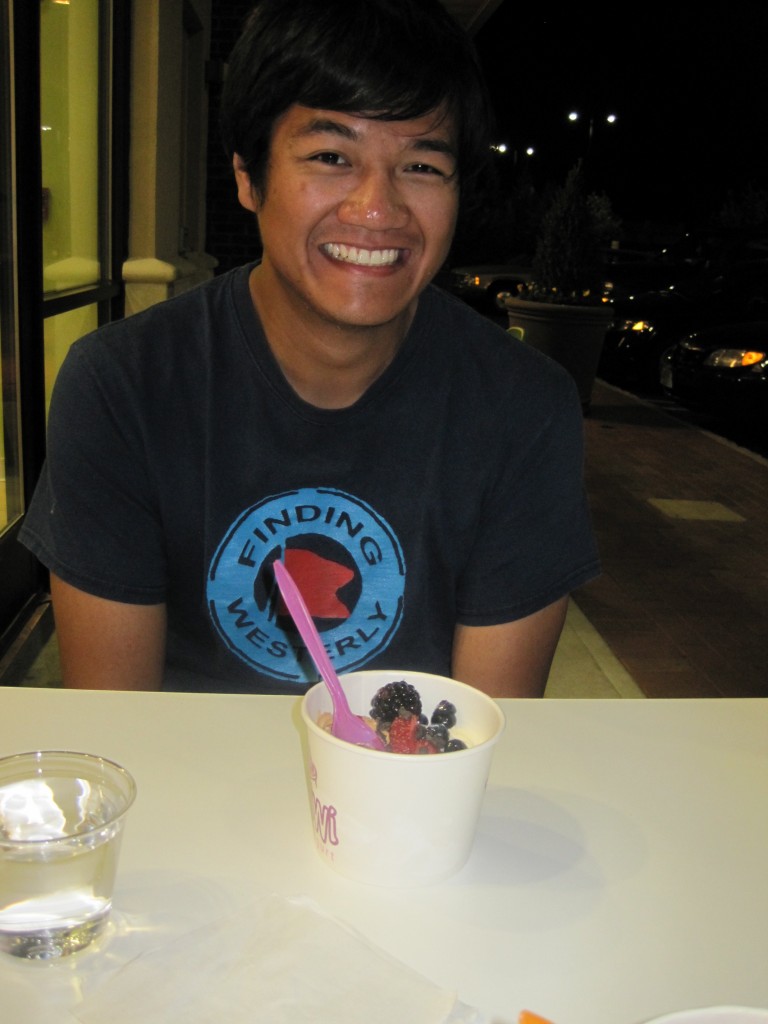 I'm all for sharing…except when it comes to frozen yogurt. I want all that deliciousness to myself!
At Kiwi I filled my cup with peanut butter, cookies 'n cream, cheesecake, and pumpkin spice froyo and topped it off with strawberries, waffle cone pieces, pb cup, and chocolate sauce.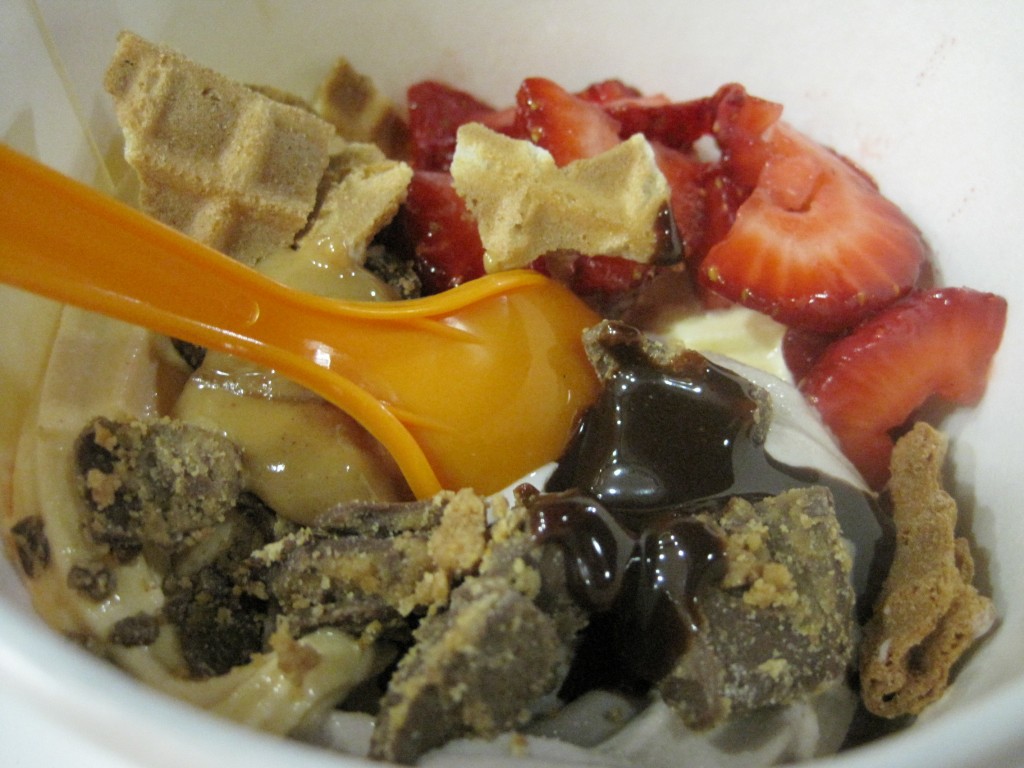 Now that I'm back in the city and returning to my normal routine, I think some extra fruits & veggies will definitely be in order! This is going to be an intense week of training (highest mileage yet!), so stay tuned…
Question – What's your food philosophy? Everything in moderation? Vegetarian? Clean eating? I want to know!
p.s. The winners of the Strands.com give-away are as follows. Email your size and mailing address to runnerskitchen [at] gmail [dot] com and I'll make sure the Mizuno tech tee is sent your way!