The title of this post isn't referring to my insatiable hunger, but rather to this week's monster mileage. I'm on week 16 of my training plan and by Sunday I hope to have 70+ miles under my belt. I've run a few 65-ish mile weeks, but have never cracked the 70 mile barrier. After reading Pfitzinger's Advanced Marathoning, I really started thinking about the positive effects high mileage can have on competitive performance. I don't think it's absolutely necessary to run high mileage in order to have a successful race, but in my case, I think it's been a boon to my training. There are many theories on the ideal amount of mileage and your own personal number will depend on race goals, injury history, lifestyle, etc., but if you're looking to make a mileage jump, take the following into consideration: 
Positive adaptations that result from running more miles (from the Pfizinger Lab Report):
Increased capacity to store glycogen (carbohydrate)
Improved ability to utilise fats
Increased capillary density in your muscles
More mitochondria in your muscles
Improved mental toughness
Increasing mileage can be done in a number of ways. If your mileage goal is above 60 miles a week, it may be beneficial to incorporate doubles into your routine. I know that a morning 7-miler and an pre-dinner 4-miler is a lot more managable than an 11-mile run all at once. If you're new to doubles, start with an easy 20 minute "shake out" run the morning before an evening track workout or tempo run. Surprisingly, this always makes my legs feel less lethargic! You can also incorporate more cross-training into your schedule. Instead of running twice a day, replace the easy run with some time on the elliptical. Finally, try adding just a few minutes to each of your weekday runs. Before I started marathon training, 4-5 miles was my usual run distance. Now, 8 or 9 miles is the new "normal". I gradually built up my mileage over the summer and now an hour+ weekday run is no longer so daunting.
The plan for this week:
Monday, October 11 – 8 miles after work on the bridle path
Tuesday, October 12 – 5 x 1k @ 5k pace w/ 400m recovery (6 miles total), 3.5 mile easy run after work
Wednesday, October 13 – 9 miles easy before work
Thursday, October 14 – 3 mile morning shake out run, 4 mile evening tempo run @ half marathon pace plus warm-up/cool-down (10 miles total)
Friday, October 15 – 7 miles easy before work
Saturday, October 16 – 21 mile long run, finishing at marathon pace (7:30 pace)
Sunday, October 17 – 4.5 miles easy
Total: 72 miles
Note: Monday, October 18th will absolutely be a rest day. I'm trying to figure out a fun reward for that day. Pedicure? New running clothes?
72 miles = lots of eating. You don't even want to know how much $$ I spend at the grocery store. Luckily, I've been receiving a bounty of fresh, fall vegetables courtesy of my CSA. I gathered some odds and ends in my pantry and used them to create this fall dish –
Mediterranean Baked Acorn Squash (serves 2)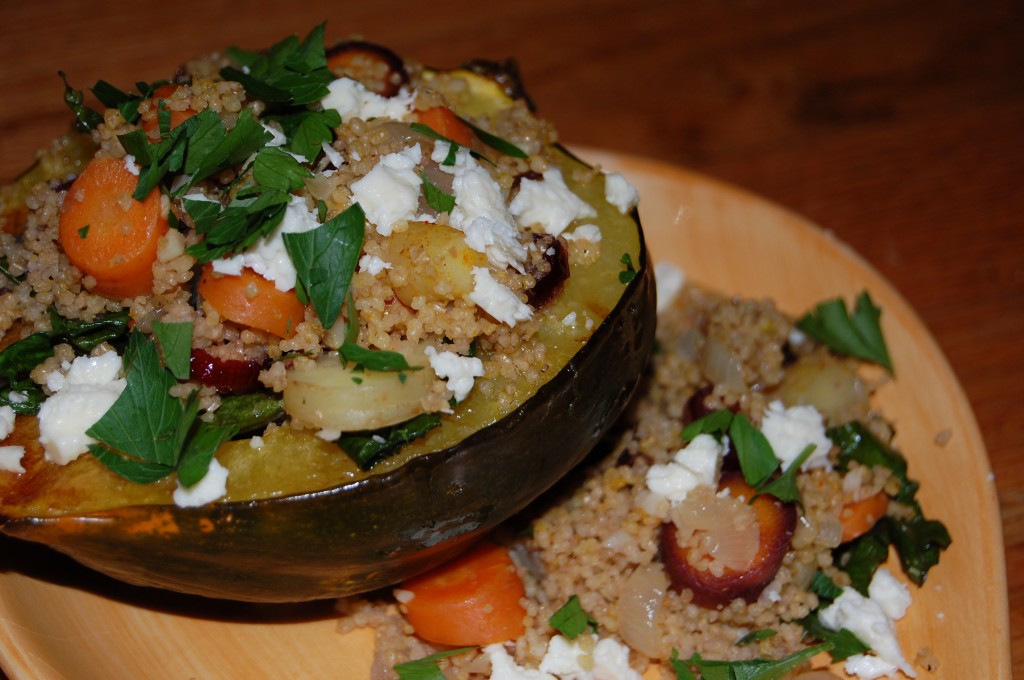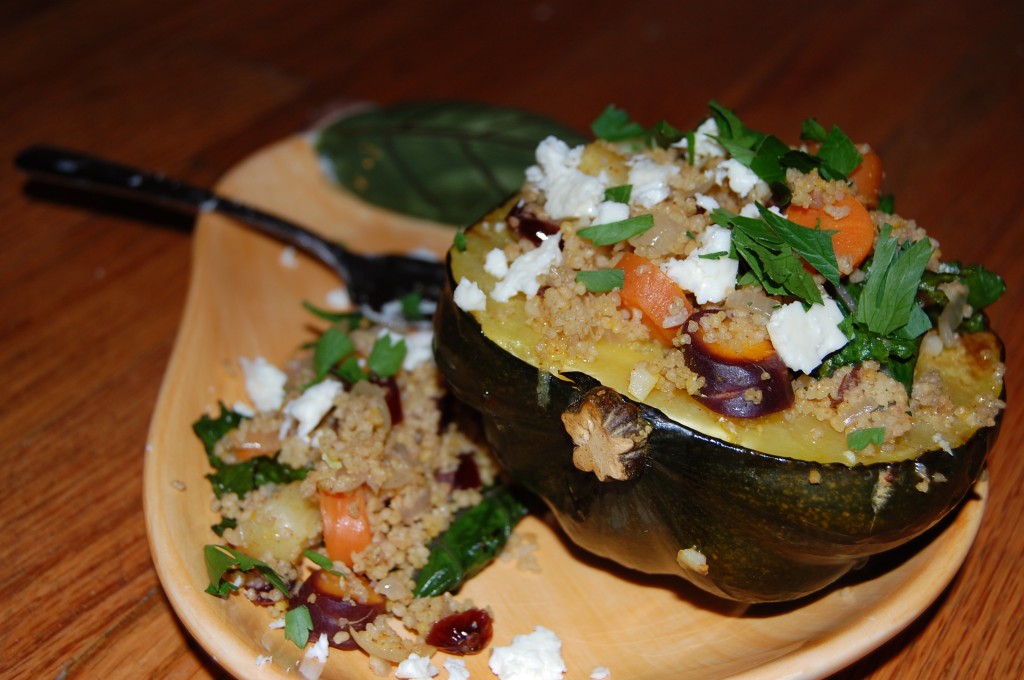 Ingredients:
1 acorn squash, halved and pitted
butter
1 Tbs olive oil
1 large onion, diced
3 garlic cloves, minced
3 carrots, diced
1/4 cup dried cranberries
1 Tbs cumin
1/2 tsp salt
dash of tumeric and cinnamon, to taste
1/3 cup dry cous cous
1/3 cup of water or broth
feta and parsley to garnish
Directions:
Place the squash, cut side down, on a baking sheet and roast for 30 minutes at 350 degrees.
Meanwhile, in a medium sauce pot saute garlic, onions, and carrots in olive oil until soft (~5 minutes), add dried cranberries and spices
 Add 1/3 cup of water (or broth) to veggie mixture and bring to boiling. Add in cous cous, remove from heat, and cover.
Allow cous cous to absorb water (~5 minutes) and then fluff the mixture with a fork.
When squash is finished baking, rub the inside with butter or olive oil, and fill with cous cous-veggie mixture.
Garnish with feta cheese and parsley!
Note: olives and chickpeas would make nice additions to this dish!
Doing high mileage? Check out this interesting essay on running doubles from the Running Times website.
Question: Have you ever done a double (a.k.a. two runs/two workouts in one day)?
Also, I mentioned this on twitter, but I just remembered that I have a bag of nutritional yeast. What should I use it for? Need ideas!