Happy Sunday! It has been the most perfect fall weekend in NYC and about time, too…that rain last week was gross….
Yesterday I ran my 4th Grete's Gallop Half-Marathon in Central Park. The event is named after Norwegian marathon champ Grete Waitz and it's a really special race for me. When I ran it in 2007, I had just moved to the city and it was my very first race in NYC/Central Park. I was worried I wouldn't be able to run 13.1 miles! In 2008, I ran it as I was gearing up for my first marathon and it's the day I met Alma! Last year, it was my first long race after dealing with many, many months of injury. It really kicked off what has been a good year of running. And 2010? Well, I decided not to race as my calf is not 100%, so instead I approached the 13.1 miles as a workout. I ran to the start (3 miles), completed 13.1 at marathon pace (~7:30 pace), and then tacked on another 5 miles. NYRR told me my official time was 1:38:07 for 13.1 miles – not bad for a training run! Also, note to self: you suck at running the tangents. When I finished, the Garmin told me I had run 13.35 miles instead of 13.1 – I really need to work on this for marathon day!
The stats –
1    00:09:08    1.00    09:08
2    00:09:15    1.00    09:15
3    00:09:02    1.00    09:02
4    00:07:22    1.00    07:23
5    00:07:41    1.00    07:41
6    00:07:22    1.00    07:22
7    00:07:22    1.00    07:22
8    00:07:33    1.00    07:33
9    00:07:18    1.00    07:18
10    00:07:24    1.00    07:24
11    00:07:34    1.00    07:34
12    00:07:24    1.00    07:24
13    00:07:17    1.00    07:17
14    00:07:15    1.00    07:16
15    00:06:54    1.00    06:54
16    00:06:51    1.00    06:51
17    00:08:21    1.00    08:21
18    00:09:22    1.00    09:22
19    00:09:19    1.00    09:19
20    00:09:19    1.00    09:19
21    00:08:55    1.00    08:55
Summary: 02:48:10  21.00 miles (8:00 average pace)
My calf was pretty tight and sore, but it didn't get any worse, so I decided to carry-on with the planned mileage. I'm going to take a few days of cross-training. As much as I dislike getting in the pool or on the bike, now is not the time to screw around with possible injuries. But besides the calf, I felt excellent! 7:30 pace felt easy, I was conversational the entire time, and I didn't start feeling fatigued until the last 2 miles of the fast portion (and they were sub-7:00, so that's probably why). My fluid/calorie intake for this run was minimal – not really intentional, but I just didn't feel like I needed anything. I had a few sips of water and Gatorade, but never used the gel I had stashed in my pocket. I think during the marathon I'll just force myself to eat a gel, even if I think I don't need it. I don't want to crash and burn!
Pre-race breakfast was my go to: black coffee, banana, peanut butter, piece of a clif bar.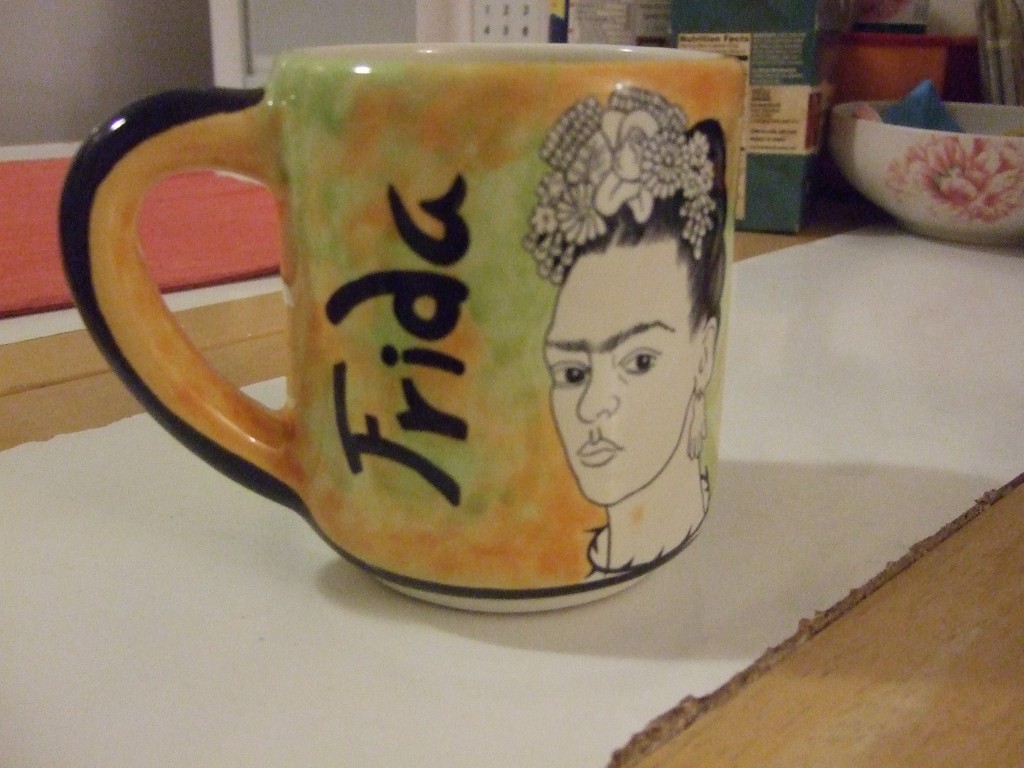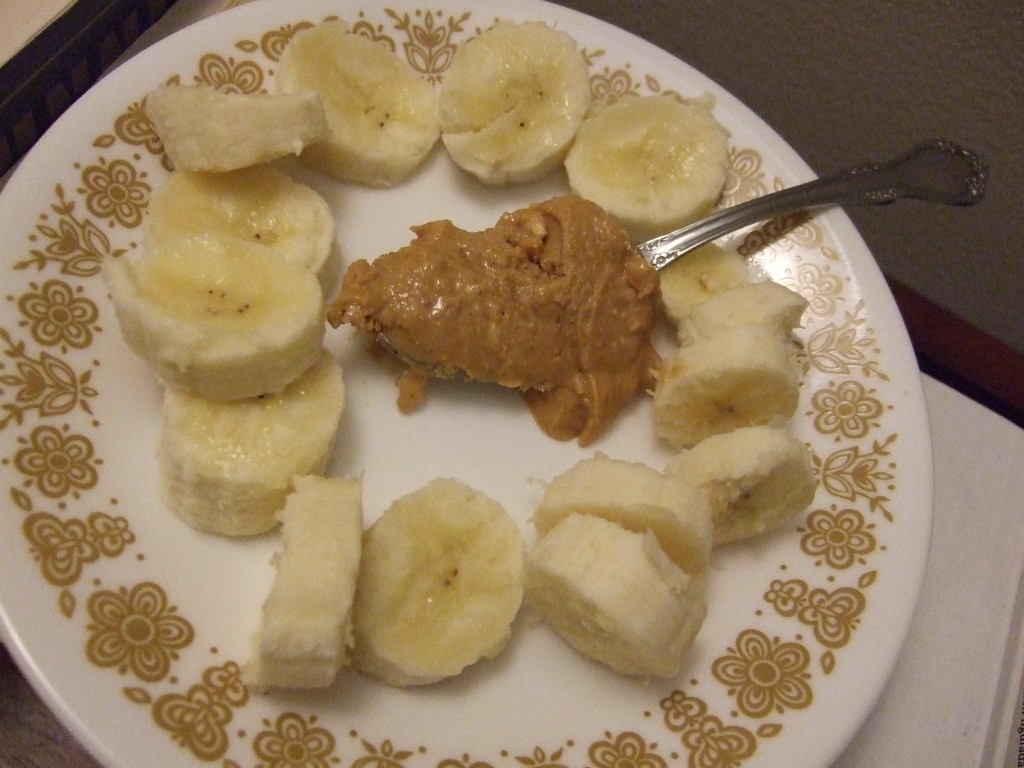 Immediately after the run I snagged a plum and drank a pumpkin spice misto from the 'bucks.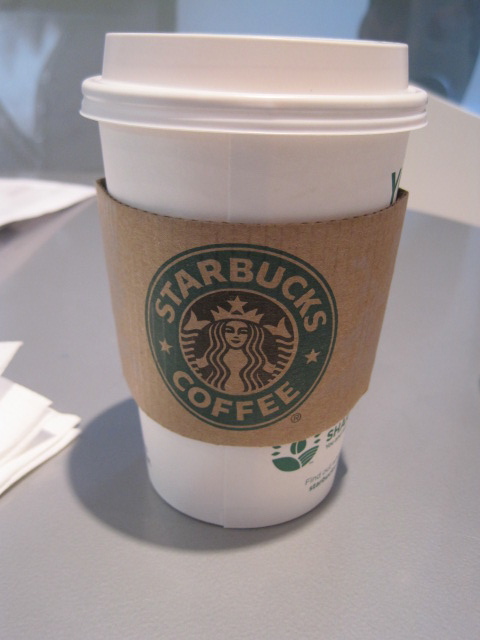 As I was icing my calf, I finished off the Clif bar and then devoured a big bowl of apple, greek yogurt, peanut butter, and cereal. Plus coconut water to rehydrate!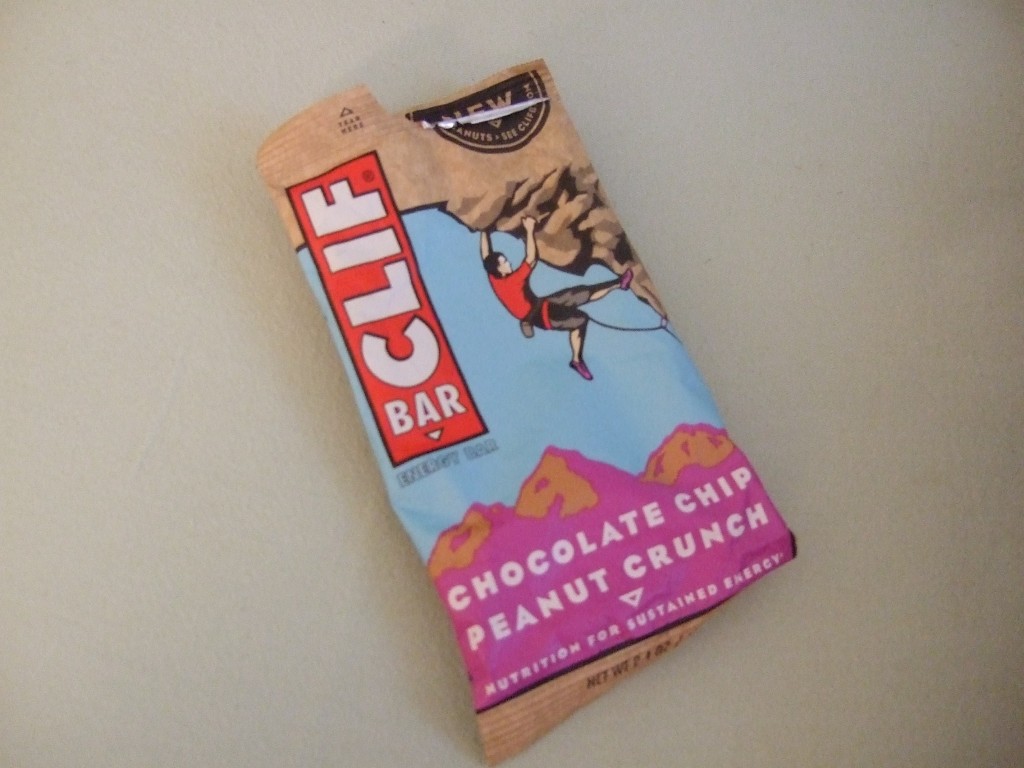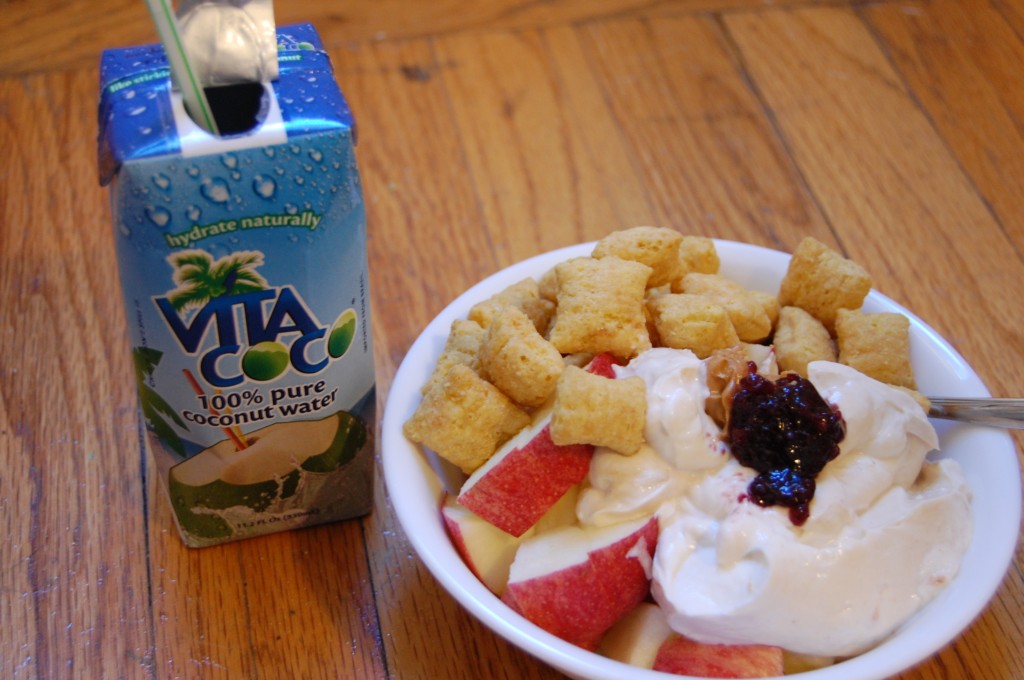 The rest of my day involved napping, more eating (obviously!), some walking, and a glass of wine. I feel pretty good today – minimal soreness – and I think that can be attributed to a few things:
I walked for about a mile after I finished my run and then walked some more later in the evening – I think this helped prevent my legs from getting too stiff.
I wore my compression socks during the run – I noticed that my legs didn't get that tired/stale feeling that usually crops up after ~2 hours or so of running.
My hydration/fueling routine isn't perfect, but I made sure to get some fluids in me ASAP (even if it came in the form of half coffee, half milk from Starbucks…)
Finally, Happy 2-year "friend-versary" to Alma!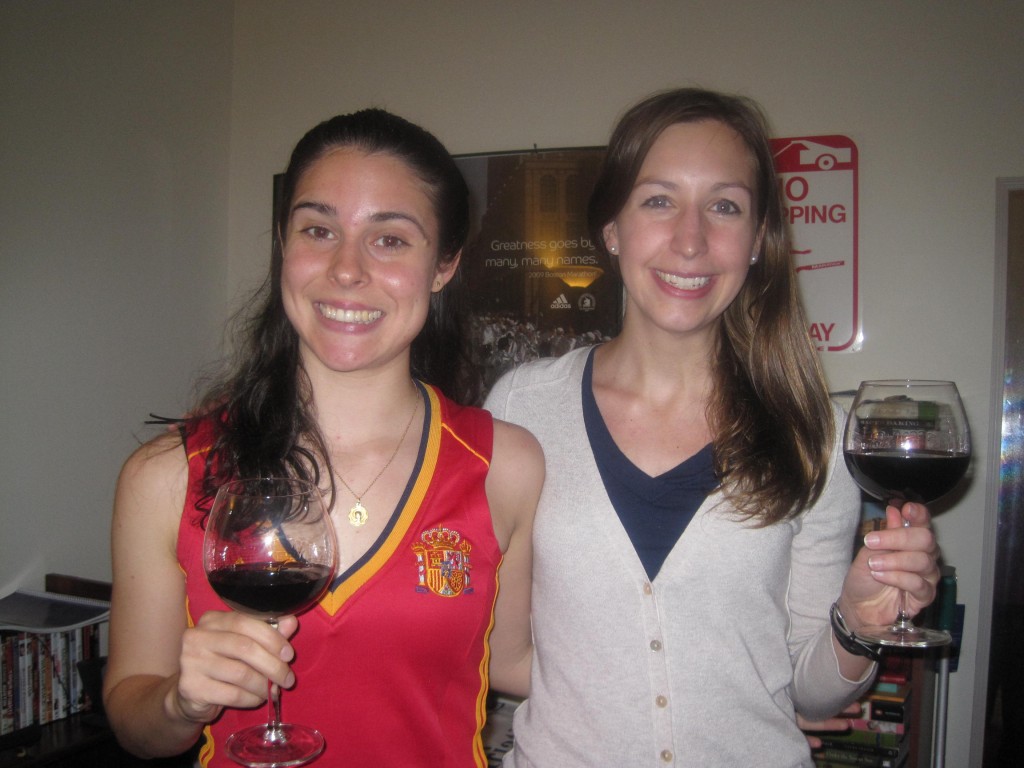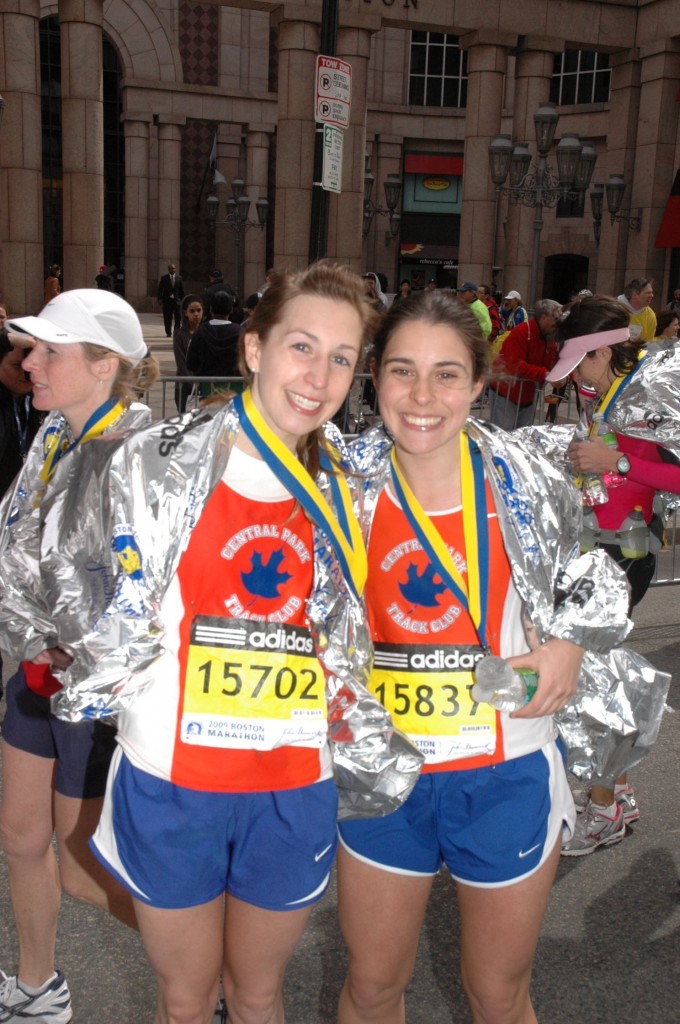 We actually met mid-race during Grete's half-marathon 2 years ago. Around the 6 mile mark, we started talking and decided to work together to finish the race strong. Our finish time was 1:41:57 and I don't think I could have gone that fast without Alma's motivation! Afterward, it was chilly and rainy and my bag got lost in the bag check. Alma stuck around for a solid 20-30 minutes until I found it. When we discovered we were both training for Fall marathons, we exchanged emails and decided to become running buddies! 6 months later we ran the Boston marathon together and then became roommates in Fall of 2009. Now we're both members of the Central Park Track Team and just signed our lease for a 2nd year! Isn't that a sweet story?
How did you find your current roommate? Is it a family member? friend? significant other? Do they support your running?
p.s. I fixed the link to my marathon training plan, it should now be accessible if you click on it! I accidentally made it private before which prevented others from viewing. Let me know if you have any issues with the link!