Week one of taper is almost complete and guys, it's been a rough one. I thought doing less mileage was supposed to make me feel better?! I guess last Saturday's 22 miler and Thursday's tempo run took more out of me than I anticipated. I've been feeling kind of tired and heavy-legged all week- here's hoping 2 more weeks of reduced mileage will work their magic!
On Saturday morning, I headed out for a long run. I "only" had 14 miles on the schedule – it's funny how marathon training skews your perspective on what a long run is! 14 miles feels kind of short these days. I was not feeling awesome and reallllly considered putting the run off until later. Luckily, I had already made plans with Jacqui, so I got my butt out the door.
As usual, I started off easily and then threw in some marathon paced effort for miles 9-13. Sometimes people are surprised by how slowly I begin long runs, but honestly running too fast for an easy run or long run will only hurt you in the end. My goal pace for the marathon is around 7:35 per mile, so I generally aim for a pace 60-90 seconds slower than that on most days. And for workout cool-downs/recovery runs? I like it even slower!! Running easily allows you to add mileage without beating up your body – don't be afraid to go slow when you need to. Just remember to pick up the pace during workouts and races!
Mile 1 09:12
Mile 2 08:56
Mile 3 08:53
Mile 4 08:44
Mile 5 08:36
Mile 6 08:43
Mile 7 08:52
Mile 8 08:44
Mile 9 08:42
Mile 10 07:29
Mile 11 07:35
Mile 12 07:24
Mile 13 07:28
Mile 14 09:18
Mile 14.5 04:37
Total: 14.5 miles in 2:03:22 (8:30 pace)
I ended with a 12 minute ice bath (water temperature was 52 degrees). Ice baths are unbearably cold for the first 2 minutes, but then your legs go numb. It takes balls to stick it out, but I always always always feel better afterward!
In other news, I've been fueling with a nutritional powerhouse this week. Check out these stats –
Nutrition Facts
Serving Size 1/4 of recipe
Amount Per Serving
Calories 304
Calories from Fat 98
Total Fat                          10.9g

Saturated Fat                   8.4g

Cholesterol                        0mg

Sodium                           384mg

Total Carbohydrates   45.4g

Dietary Fiber                 12.8g

Sugars                               12.1g
Protein                             11.3g
| | | |
| --- | --- | --- |
| Vitamin A 174% | • | Vitamin C 197% |
| Calcium 10% | • | Iron 20% |
This dish is packed with quality carbohydrates, protein, fiber, and vitamins. I usually pair it with brown rice or whole wheat cous cous and I think it makes a great carbo-loading meal! Don't be scurred of the coconut milk – studies show that the fat in coconut milk does NOT have a negative affect on your cholesterol. This tropical beauty actually boasts a ton of health benefits for your skin, digestive tract, and immune system.
Coconut Cauliflower Curry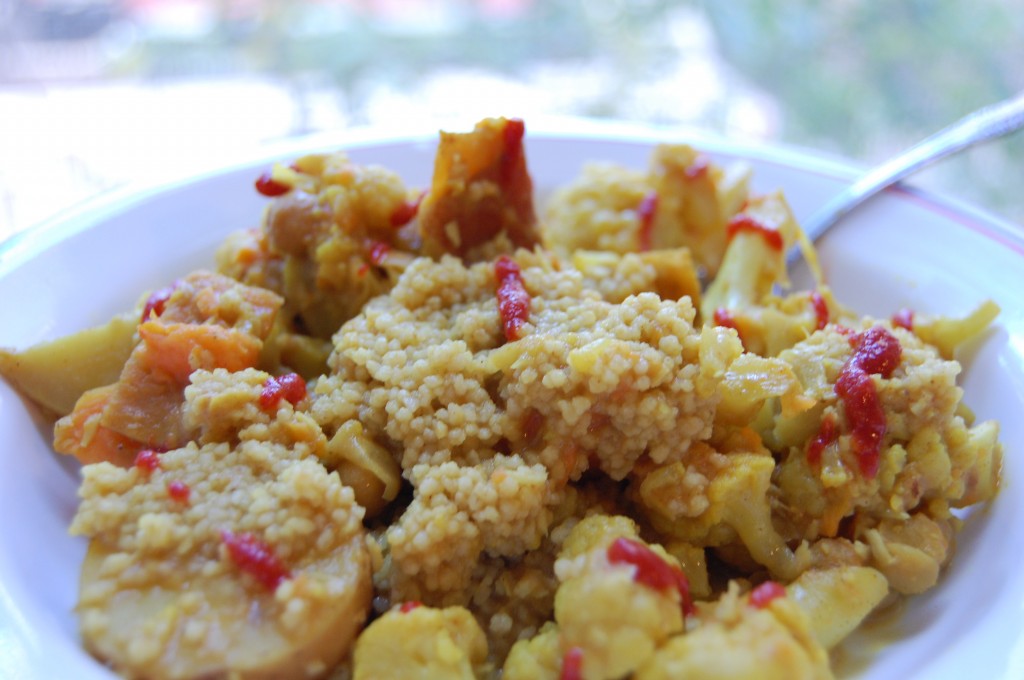 Ingredients:
1 Tbs olive oil
5 garlic cloves, minced
2 Tbs curry powder (OR make your own curry mix with 1 Tbs tumeric and generous dashes of the following – cumin, cardamom, cinnamon, cayenne, and smoked paprika).
1/2 tsp salt
1 large sweet potato, cubed
1 large russet potato, cubed
1 head of cauliflower, cut into pieces
1 can of chickpeas, drained
14 oz lite coconut milk
1/4 cup shredded unsweetened coconut
sriracha or hot sauce, to taste
Directions:
Heat oil in a large pot or dutch oven and sautee garlic until brown. Add spices and salt, potatoes, cauliflower, coconut milk, chickpeas, and water. Bring to a boil, cover with lid, and simmer for 20 minutes (or until potatoes are tender). Stir in dried coconut and hot sauce during the last few minutes of cooking. Serve over whole wheat cous cous or brown rice.
Yumm!
What's your favorite way to eat (or drink!) coconut? And yes, pina coladas and German Chocolate Cake totally count 😉
Have you ever taken an ice bath?