Because I don't have enough on my to-do list (haha, sarcasm!), I decided that homemade brioche would be my project for the week. Warning: The recipe is time intensive. I only recommend this project if you have a lot of time on your hands….or you're crazy like me. Also, this bread contains a lot of butter. That's what makes it delicious. Don't skimp.
Homemade Brioche (makes 3 mini loaves or one 8″ x 4″ loaf)
Adapted from: The Craft of Baking by Karen DeMasco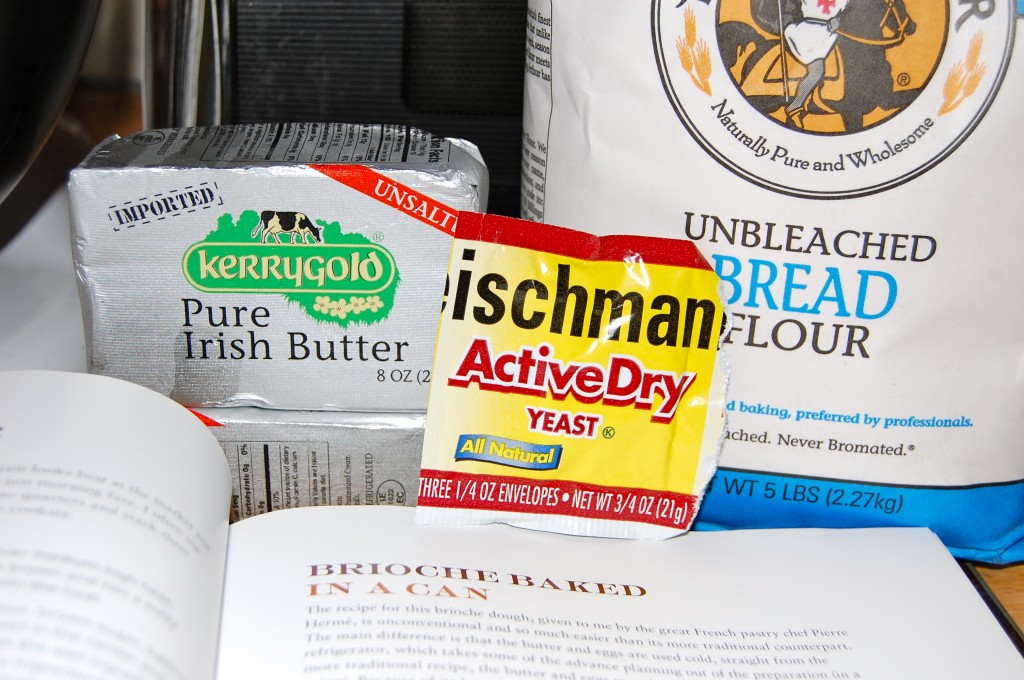 Ingredients:
1 1/4 cups bread flour (higher in gluten than all-purpose)
1/4 cup sugar
3 eggs (preferably organic)
1 heaping tsp of instant yeast (about 1/2 packet)
1/2 Tbs salt
12 Tbs (1.5 sticks) chilled unsalted European butter (higher in fat) cut into small pieces
More butter to grease the bowl and pan
3 seasoned soup cans (see note)
*I baked my brioche in 3 soup cans, but you could also bake it in an 8″ x 4″ loaf pan. Before using the soup cans, they must be seasoned. Wash and dry cans thoroughly and then bake in a 450 degree oven for one hour. This will separate the lining from the aluminum shell of the can. Once cans have cooled, rub the inside with a paper towel to remove every trace of the lining. Beware: My cans smelled really noxious as they were being "seasoned" – maybe it was the lining burning off? Uhhh, sorry about that roomie! Also – I realized this too late, but make sure your cans don't have a lip at the top. That makes removing the baked bread veryyyyy difficult.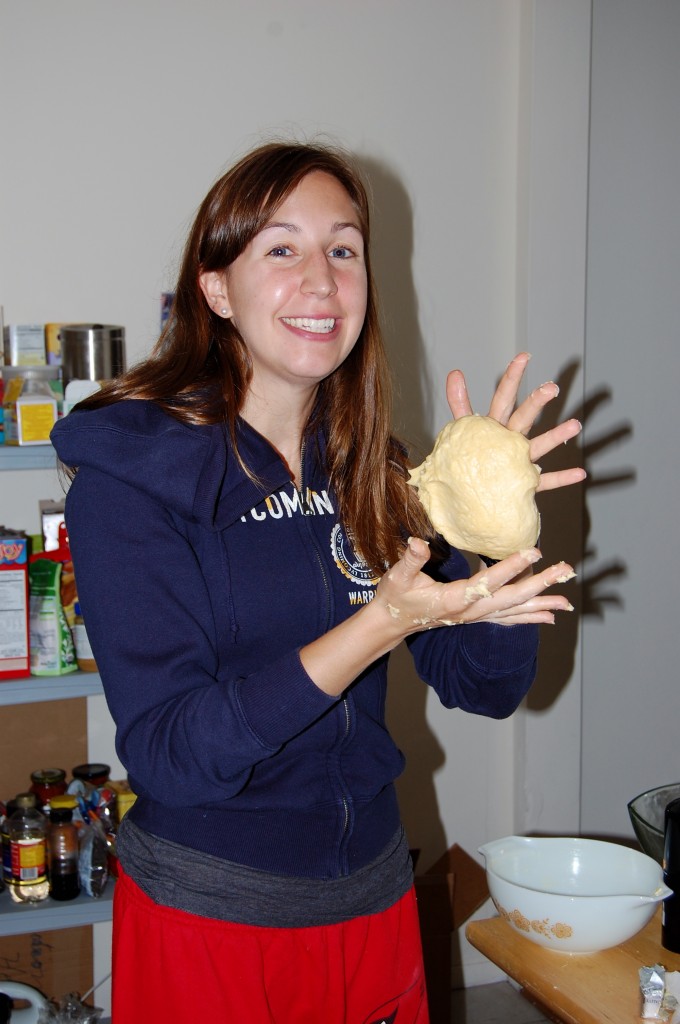 Directions:
 In a stand mixer with a paddle attachment, mix together flour and sugar.
Bring 2″ of water to a simmer in a medium saucepan. Place a heat-safe bowl on top (make sure bottom does not touch the water). Whisk together eggs and yeast in bowl for 1 minute, until eggs are warm.
Add warm egg mixture to flour mixture and turn the stand mixer on medium for 4 minutes. Slowly add in salt.
Add in butter, bit by bit. Mix with dough hook for another 6 minutes until dough comes together in a ball.
Take dough out of bowl and toss it and shape it into a ball with your hands for a few minutes.
Place in a buttered bowl, cover with a damp dishtowel or plastic wrap and allow to rise for 2 hours.
Punch down the dough and allow it to rise again overnight (at least 6 hours) in the fridge.
Butter the soup cans and divide the dough amongst them. Cover with a damp towel or plastic wrap and allow to rise for 2 more hours.
Bake at 350 F for about 25-30 minutes. Immediately after removing from the oven, tap the bottom of the soup can to extract the bread. Running a knife around the edge can also help to loosen the bread.
Enjoy the brioche warm with (more!) butter and jam or use the bread to make french toast.
**Note: I'm not sure if it was the temperature or the humidity of my kitchen, but I ended up needing to add more flour in order for my dough to come together.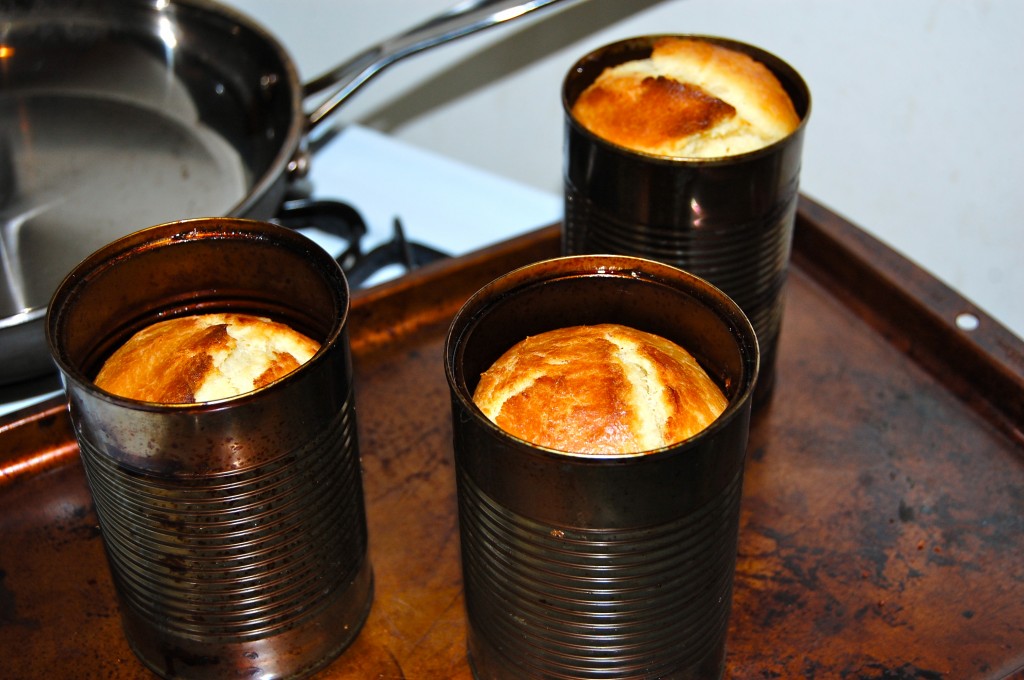 That poor little guy in the back is a tad mishapen. I blame it on the soup can.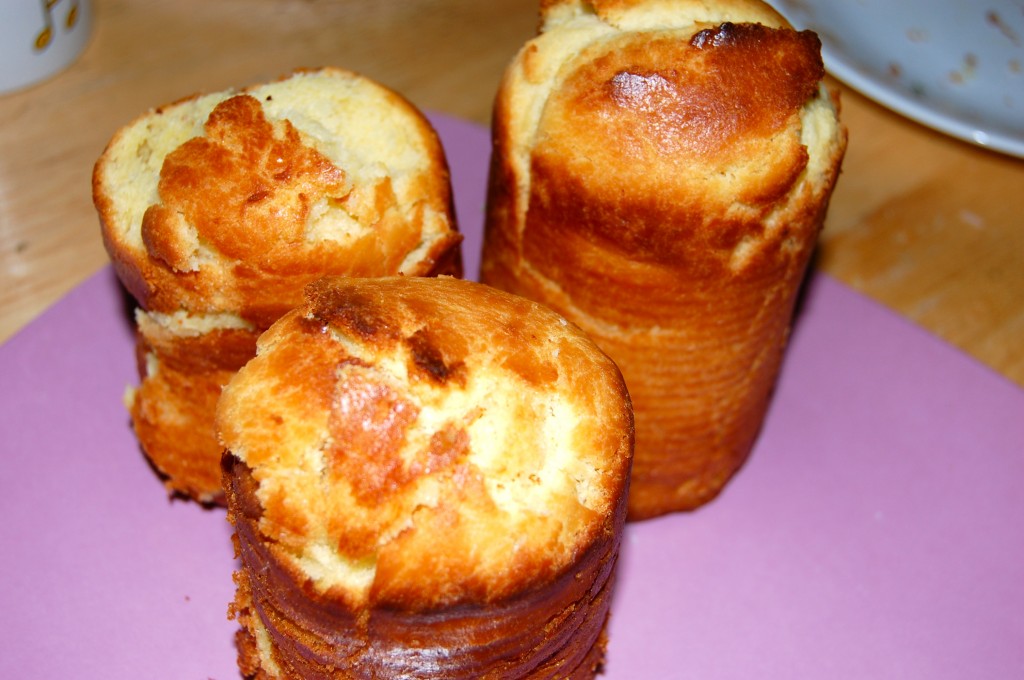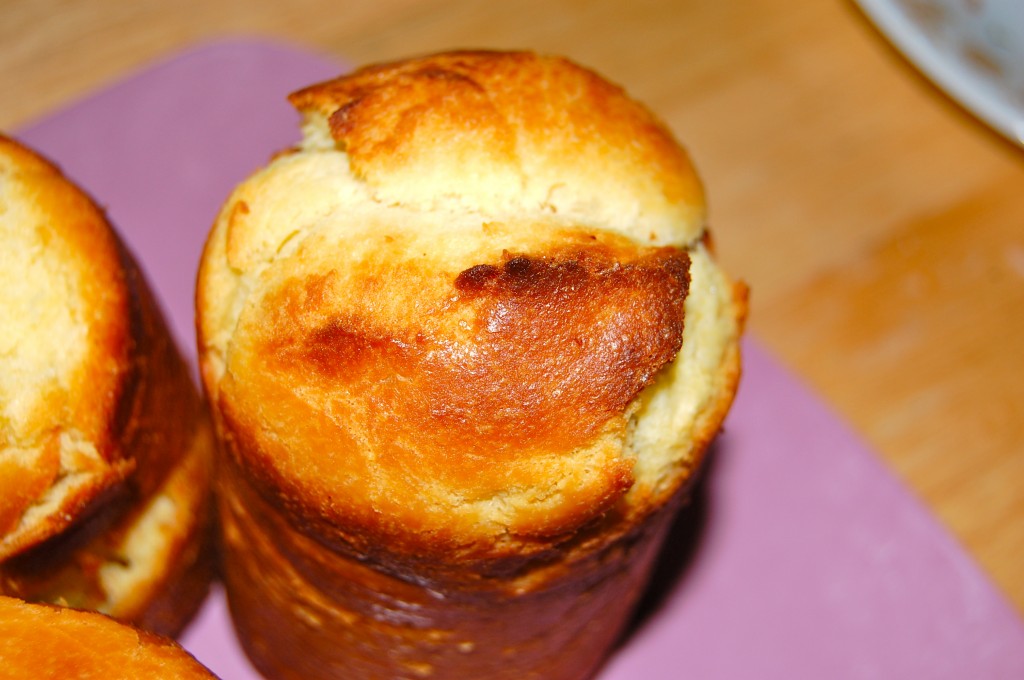 Yay! Butter.
As far as running goes, this has been a MUCH better week than last. After cross-training on Sunday and Monday, the calf felt good enough to hit the roads. 9 miles on Tuesday evening, 9 miles on Wednesday, and 10 miles this morning (Thursday). Huzzah! Dear left calf muscle – Thank you, Thank you, Thank you for healing! You done good.
What's the most time or labor intensive recipe that you've ever made?