Happy Monday! I'm in an excellent mood today for two reasons – 1) it's the beginning of my 3 week taper. Huzzah! 2) I had a really successful long run on Saturday. It was a big confidence booster and I am getting so excited for November 7th!
After 8 hours of sleep, I fueled up with my go-to breakfast: coffee, ezekiel toast, banana, and peanut butter (dark chocolate dreams variety).
Alma accompanied me for the first 3 miles and then I met up with four other girls from my running team. Thanks for the company Megan M., Sari, Marissa, and Grace! We stuck to an easy pace on the dirt bridle path until mile 13.5 and then switched to the roads to drop the hammer and run some race pace miles. In the miles leading up to the faster portion my legs felt tired (and rather crappy). I wasn't sure if I was going to be able to run any faster, but surprisingly the change of pace made my legs feel a little better. 7:30 ish pace wasn't a walk in the park, but it wasn't exceptionally hard either. I felt like I could have run another 4.2 miles if I had to. After 7 1/2 miles at race pace, I cooled down for another mile.
1    00:09:34
2    00:09:10
3    00:08:51
4    00:09:02
5    00:08:56
6    00:08:36
7    00:08:40
8    00:08:39
9    00:08:52
10    00:09:01
11    00:08:47
12    00:09:03
13    00:08:20
14    00:08:06 <—- Marathon pace begins!
15    00:07:32
16    00:07:27
17    00:07:38
18    00:07:23
19    00:07:31
20    00:07:24
21    00:07:14
22    00:08:27 <—- cool down
Total: 22 miles in 3:04:23
I fueled with a mini bottle of Gatorade during miles 8-10 and then ate an espresso GU gel around mile 16. No tummy troubles to report and I had consistent energy levels throughout.
After chugging some water, I propped my feet up on the wall. This helps prevent blood from pooling in your legs and reduces inflammation.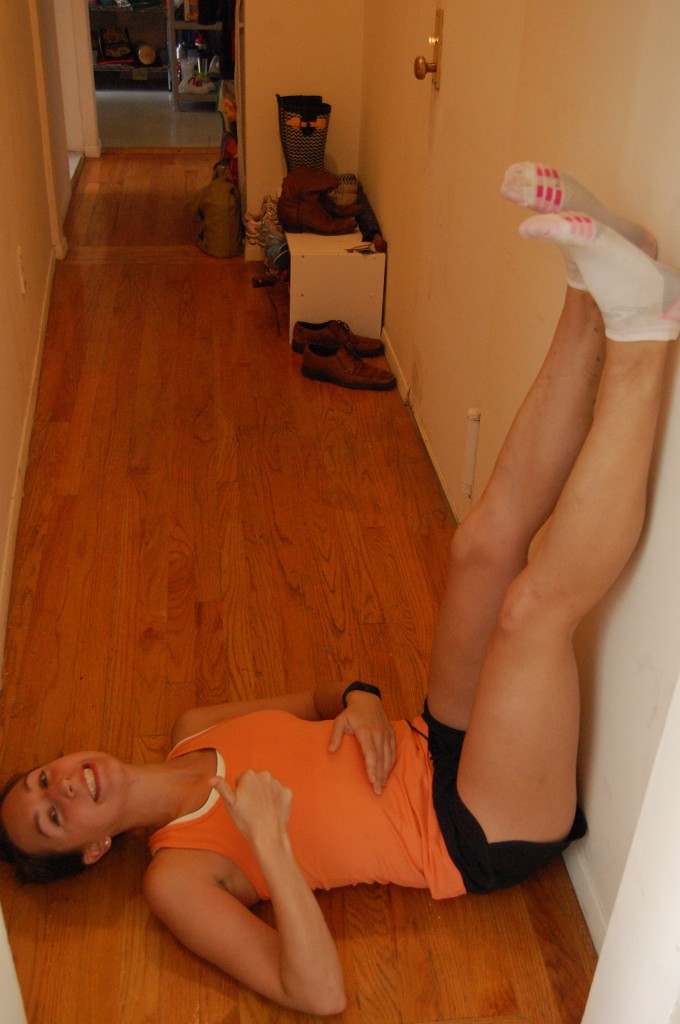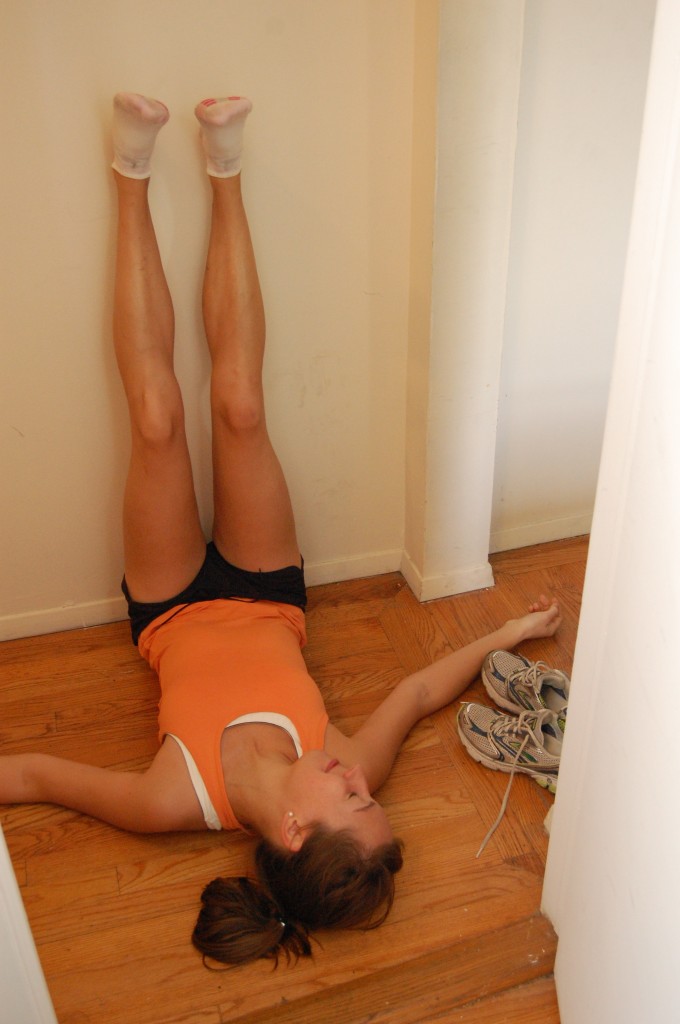 BBB was visiting this weekend and the rest of my day featured some fabulous eats. To begin – the boy whipped up some delish pumpkin spice pancakes with butter and maple syrup.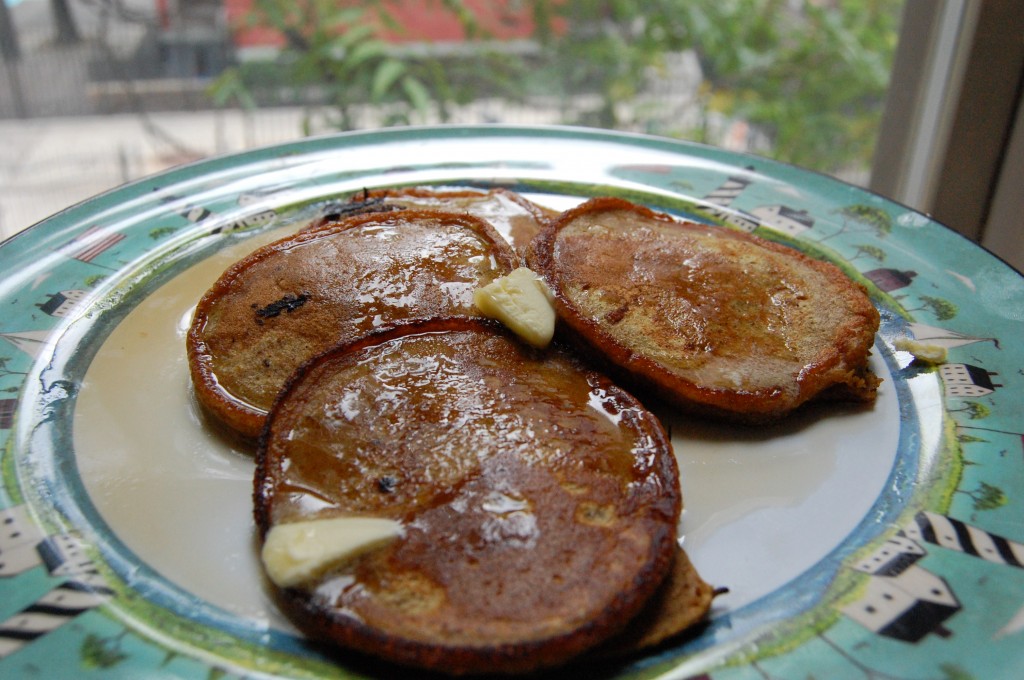 After brunch, we took a walk to Whole Foods (I think a little bit of movement post-long run prevents soreness) and I found my favorite beer ever!! I think I squealed when I saw it on the shelf. We snagged the very last 4-pack.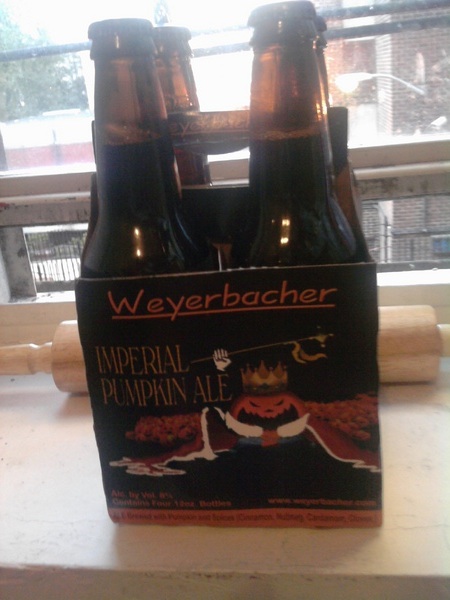 Whilst I sipped on my beer (and maybe got a little tipsy…), BBB prepped Turkey Pumpkin Chili. Holy healthy! This dish was made with white meat ground turkey, black beans, tomatoes, bell pepper, jalapeno, pumpkin, and spices. So many vitamins, fiber, and protein. My body was happy! We served the chili with some grated habanero cheddar that Cabot Coop sent me to sample and tortilla chips.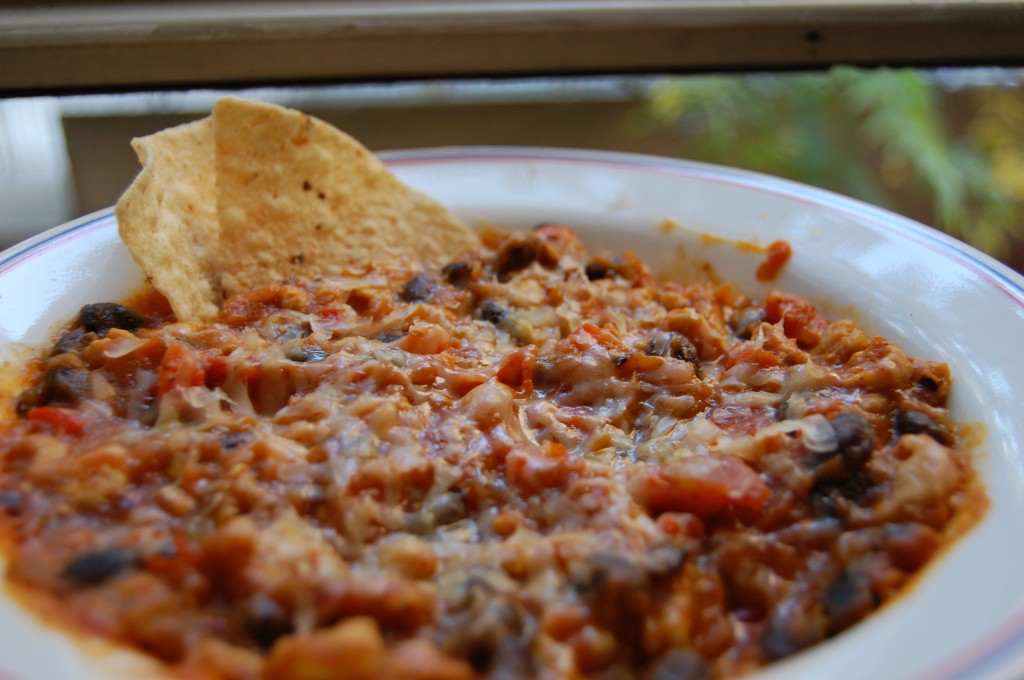 Sunday was a very chill day – I started off with a 4-mile recovery run and followed it with more yummy foods. Bagels! Leftover chili! Yum.
For dinner, I made ravioli that I had a coupon for (thanks Foodbuzz and Buitoni!) I tossed the wild mushroom agnolotti in some homemade pesto and served it alongside CSA arugula and tomatoes. I made an asian-inspired dressing. I realize asian dressing + pasta is kind of weird, but it tasted good! The dressing was super simple – in the bottom of a salad bowl mix together 1 Tbs soy sauce, 1 Tbs rice vinegar, and then whisk in 2-3 Tbs of sesame oil. Toss lettuce to coat. Voila!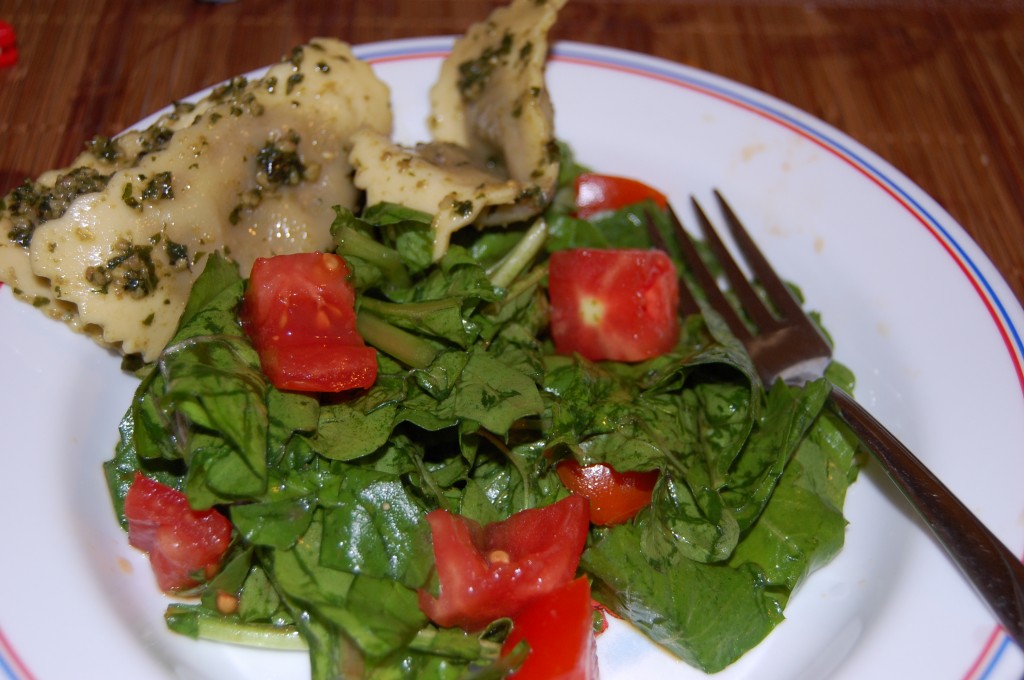 And the very best thing I ate this weekend?? Pumpkin cheesecake with gingersnap crust and browned butter pears. Hooray! Not a bit healthy, but so so delicious.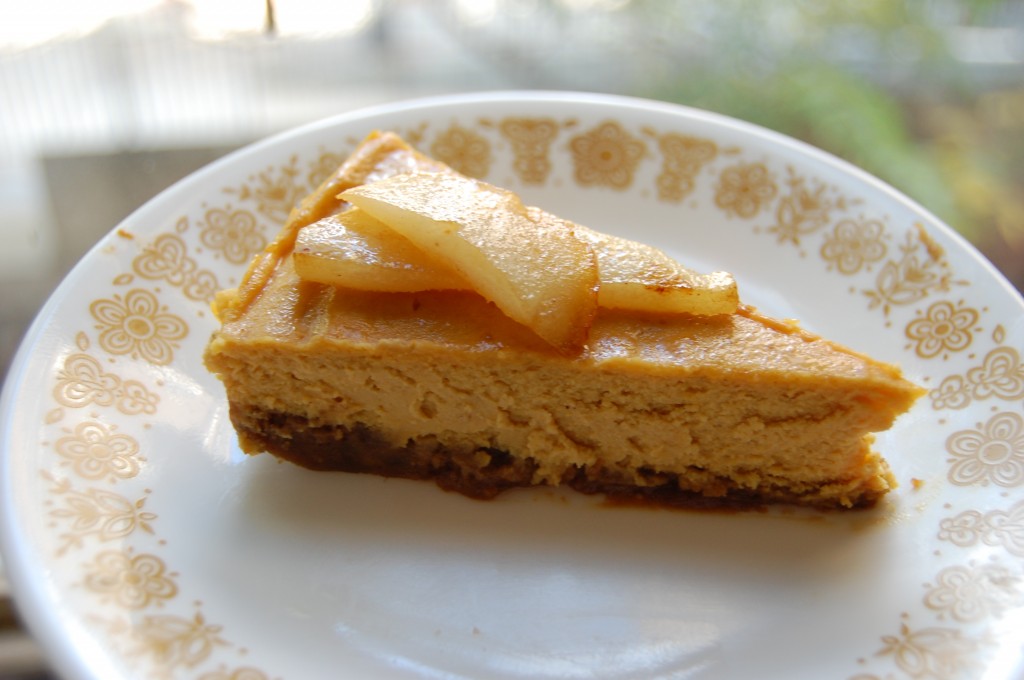 Finally, this message greeted me in my inbox on Sunday night. 72.5 miles for the week. I did it! A mileage PR. Let the taper begin!! I'm relishing my scheduled rest day.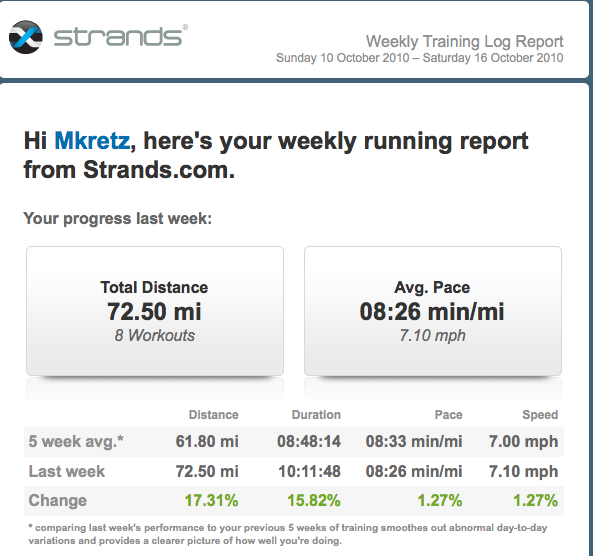 Questions –
What's your favorite way to enjoy pumpkin?
What's your approach to scheduled rest days? Love 'em? Hate 'em?