T-minus 9 days until the marathon! (I almost dry-heaved a little just typing that, fyi). For those of you not running, New York I apologize for my incessant marathon talk. I promise to spend the remainder of November and December making it up to you in the form of delicious holiday recipes 🙂
Running has gone a little better this week, although I'm definitely still feelin' stir crazy from the reduction in miles. Monday was an off day and I ran easy 7-milers on both Tuesday and Wednesday. Tonight (Thursday) I'm going to my final CPTC team workout – we're doing a 5 mile tempo at half-marathon pace. I have so much pent up energy, I feel like I'm going to crush it!
My girl Shelby touched on this the other day and I know many of my fellow marathoners are feelin'…shall we say…a little tight in the pants? I'm going to go ahead and blame it on PMS and my jeans shrinking in the dryer, but just in case it's from a little too much peanut butter (who, me?) I'm trying to "health-ify" things around here. At least until marathon day, then this homegirl's goin' buckwild. 1/2 lb cookies, pumpkin beer…bring it.
Err, anyway –  I'm not going to engage in any calorie counting or swearing off desserts (that's crazy talk, yo), but I am making some slight changes over the next 10 days.
1) Cut out the booze (just shed a tear…). With the exception of 1-2 drinks at a Halloween Party this weekend, I'm going to cool it on the alcohol until race day. It will make that post-race brew taste 10x better. Right, right?
2) Replace my usual afternoon snack (read: cookies or chocolate) with fresh beet juice. Apparently beet juice is more effective than blood doping when it comes to increasing V02 max. Take that Marion Jones.
>
Who's been waiting for my sweet photo shopping skills to make an appearance? Tell the truth.
3) Commit to getting at least 7 hours of sleep each night. Not only does this make me a much more pleasant person, but it also cuts down on my hankering for 3pm double espresso pumpkin frappuccinos.
4) Remember, food = fuel. I believe it was John L. Parker that coined the phrase – "If the furnace is hot enough, anything will burn" and while I think this is partly true, some foods burn a little more cleanly than others. When I'm at mile 22, do I want to be running on whole grains, fruits, and veggies? Or half-price Halloween candy? My point is, while I fully intend on carbo loading, I'm going to try and make those carbs count. Bring on the cous cous, cereal, pasta, legumes, fruit, salads, and yogurt! But you better believe some fun size twix will be waiting for me at the finish line.
I haven't been making "junk salads" much lately, but I think they're going to make a reappearance in my life. I usually start with a base of lettuce (arugula and romaine are my favs!) and add in whatever veggies I have on hand (usually tomatoes, cucumbers, carrots, etc.) Then I make sure to add in some protein, carbs, and healthy fats. The other night I whipped together a tasty little creation that involved arugula, red leaf lettuce, beefsteak tomato, red onion, feta cheese, spicy hummus, salted cashews, whole grain crackers, and sriracha sauce. Mixing everything together in the bowl brings out my inner 5 year old. Love it! I think the key is to include some "fun" ingredients. Think – crunchy, creamy, salty, and sweet! Plus veg, of course.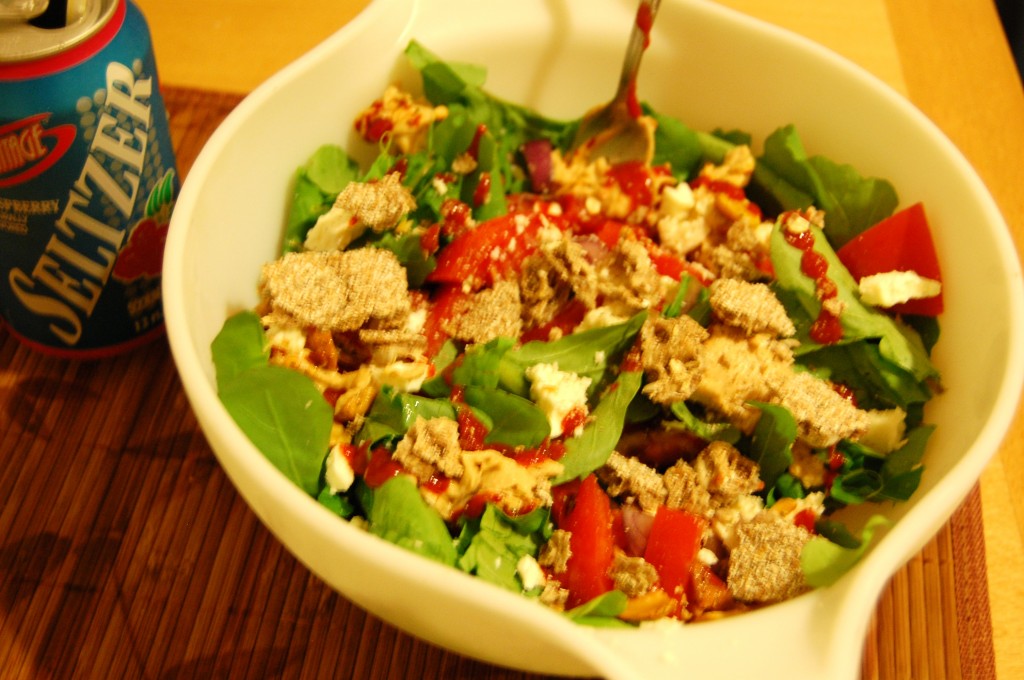 Do you make any lifestyle changes in the week(s) leading up to a big race?