It's no surprise that I enjoy good food. I love shopping for it, preparing it, and of course – eating it! Last weekend I volunteered at the 6th Annual Vendy Awards (volunteering meant I didn't have to pay the $85 admission price!) and ate my heart out.
About the Vendy Awards (from the official website):
Called "the Oscars of food for the real New York" by Chef Mario Batali, the Vendy Awards are New York City's annual competition for the title of Best Street Food Vendor, and a fundraiser to support the Street Vendor Project of the Urban Justice Center, a 501(c)(3) nonprofit organization that provides a voice for the thousands of people who sell food and merchandise on the streets of our city.
I tried SO many delicious eats!
Such as pork souvlaki from Souvlaki GR –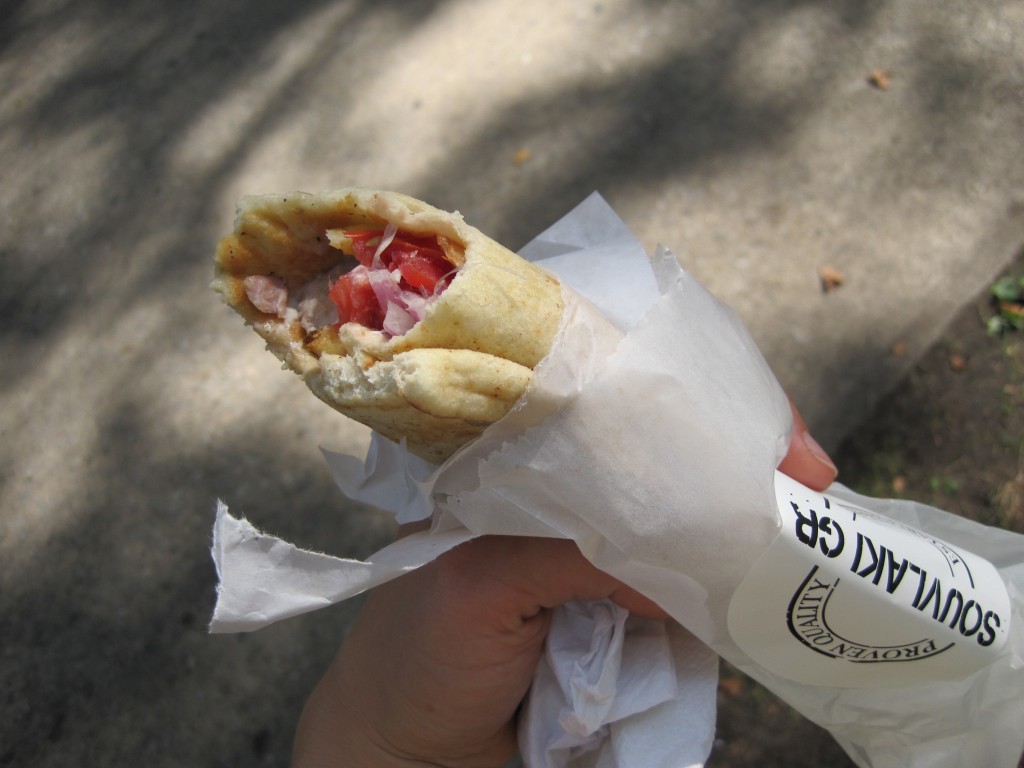 Gourmet vegan from the Cinnamon Snail –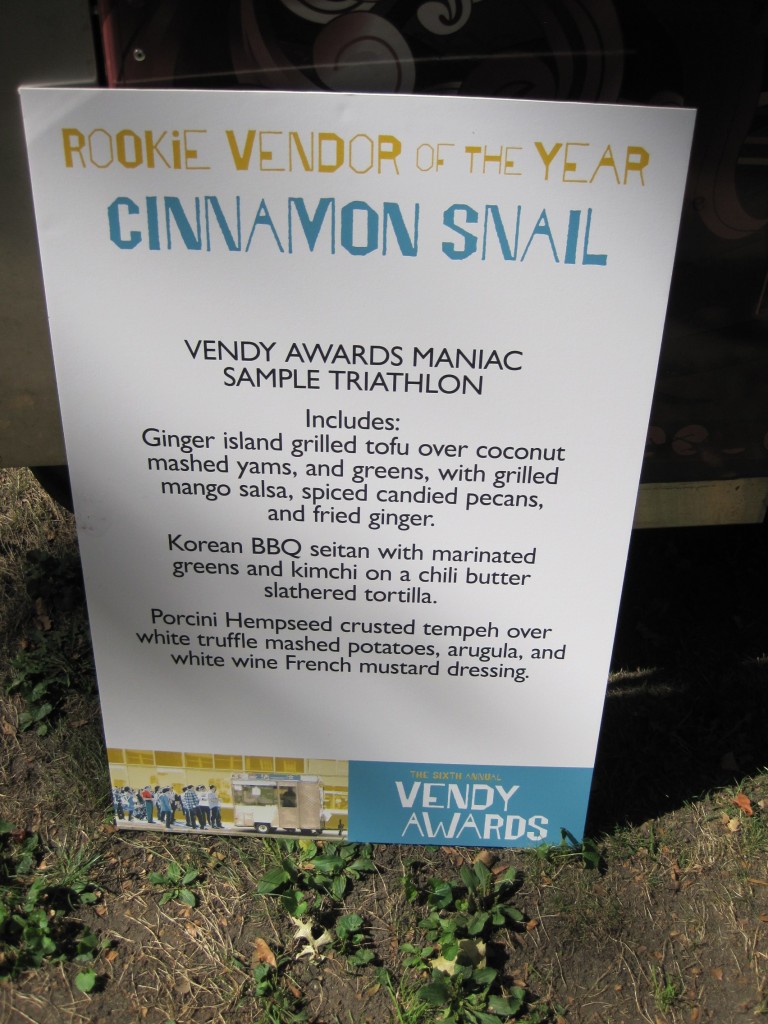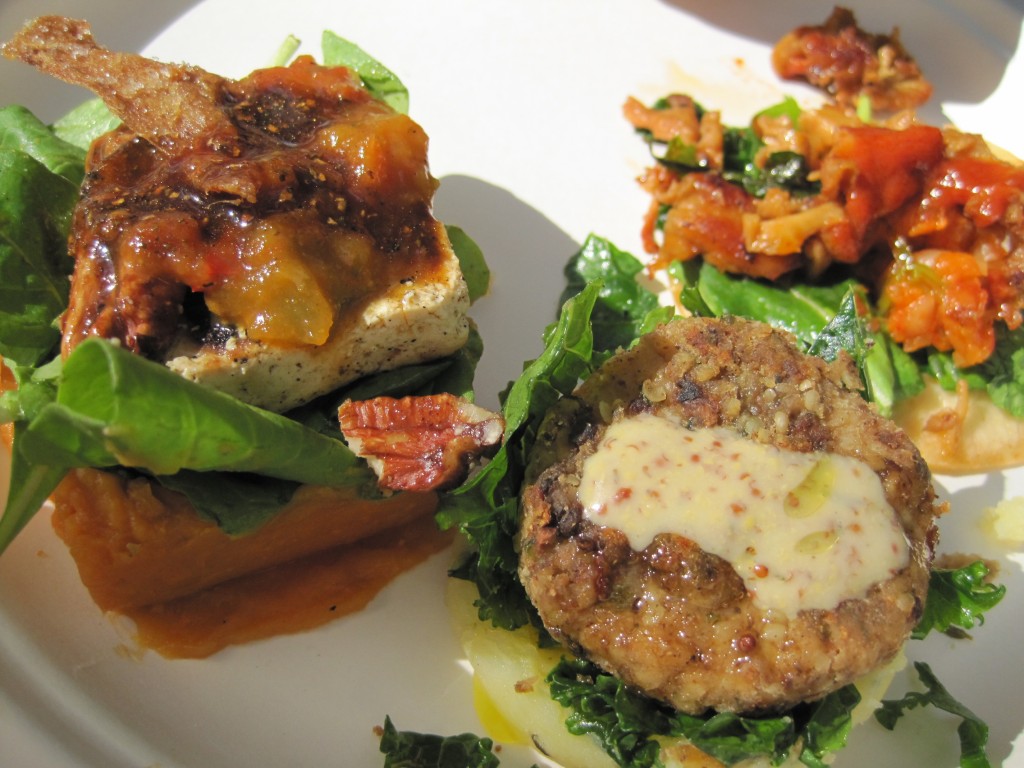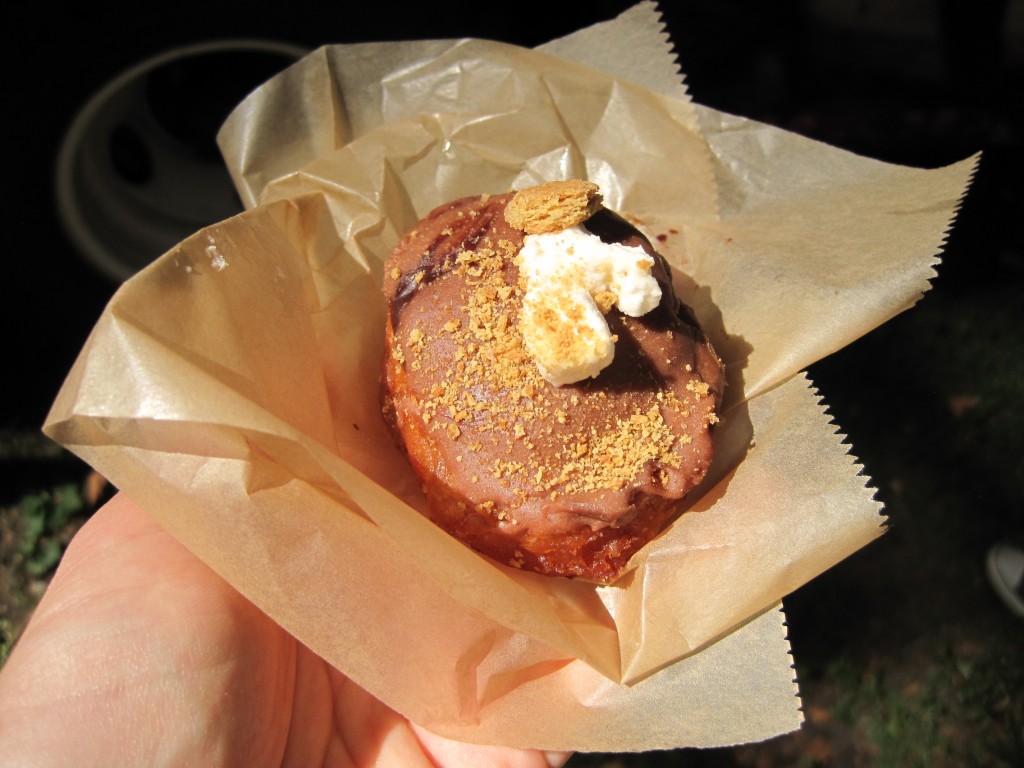 Traditional Austrian from the Schnitzel & Things truck –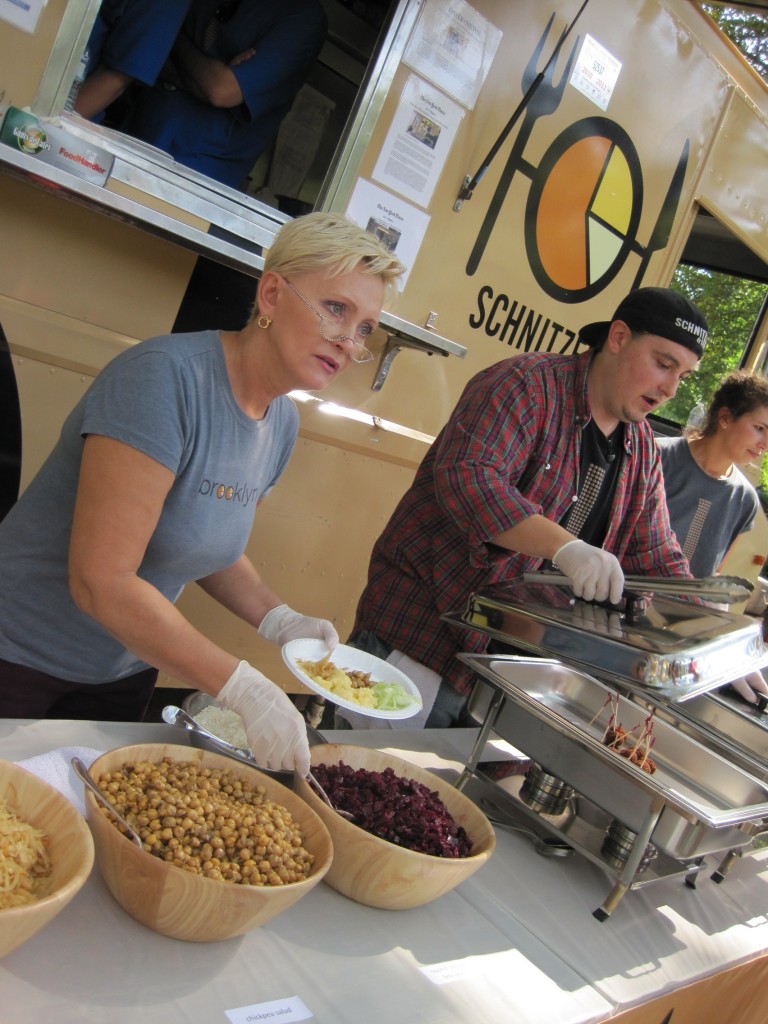 Local gorgonzola cheese, apple, and foccacia from the Philly food truck – Birchrun on a Roll.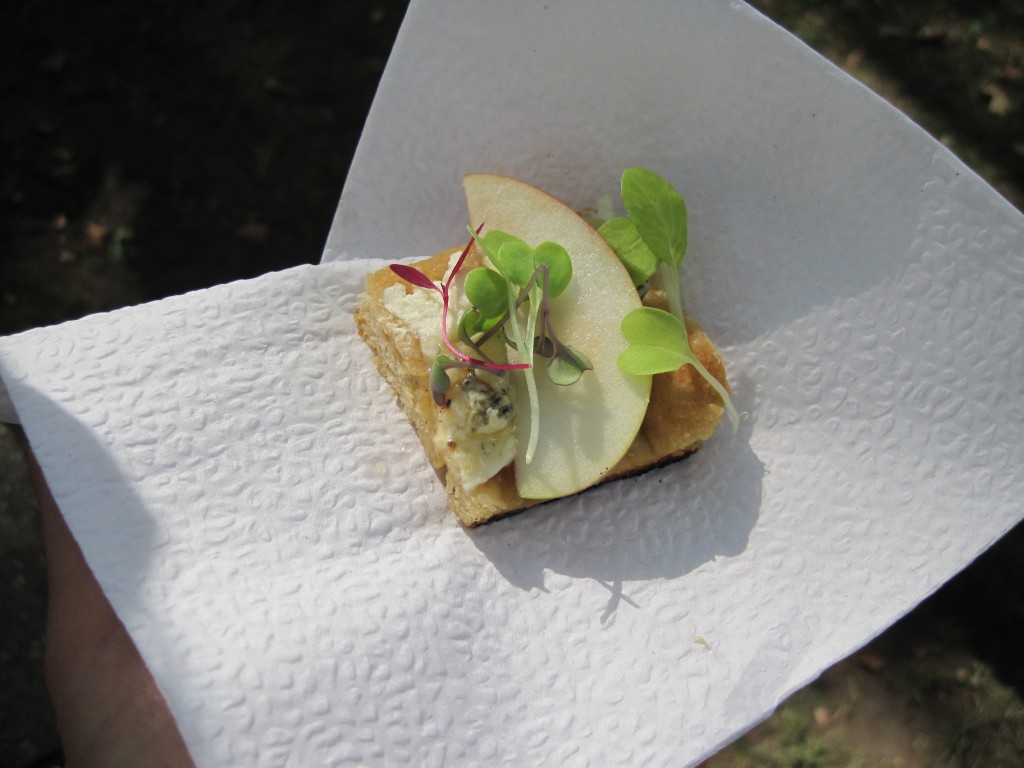 Sliders and tacos from Mexicue (Mexican and BBQ fusion!) –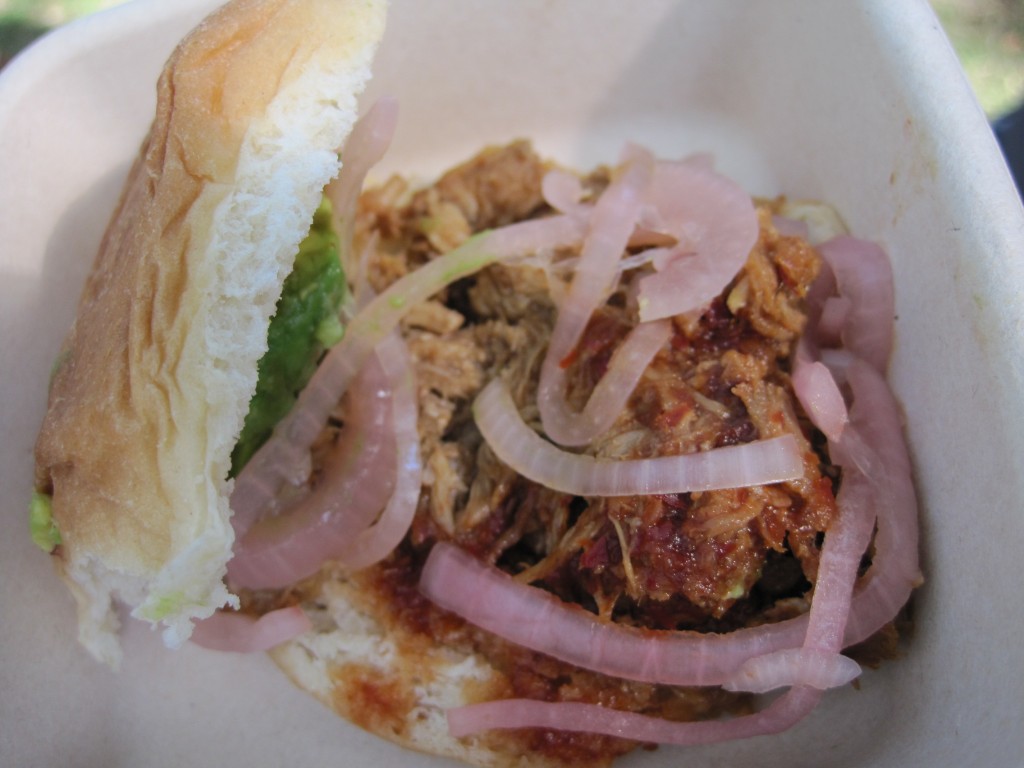 Chilled berry soup, lamb sausage, lentils, and cous cous from the Bistro Truck –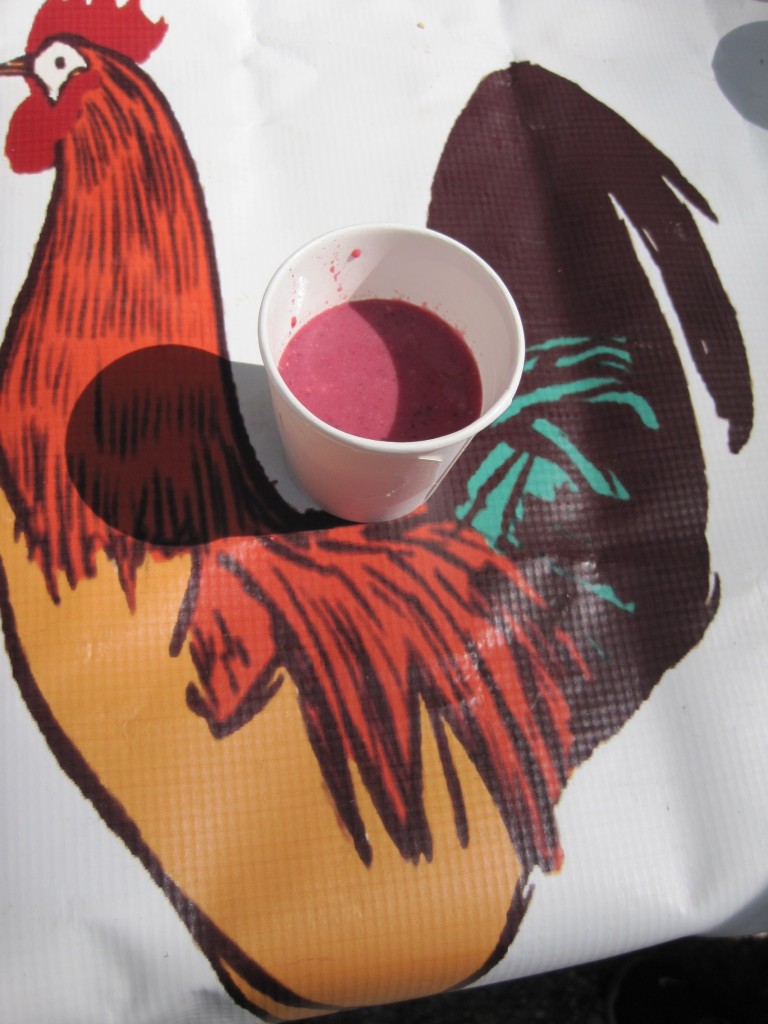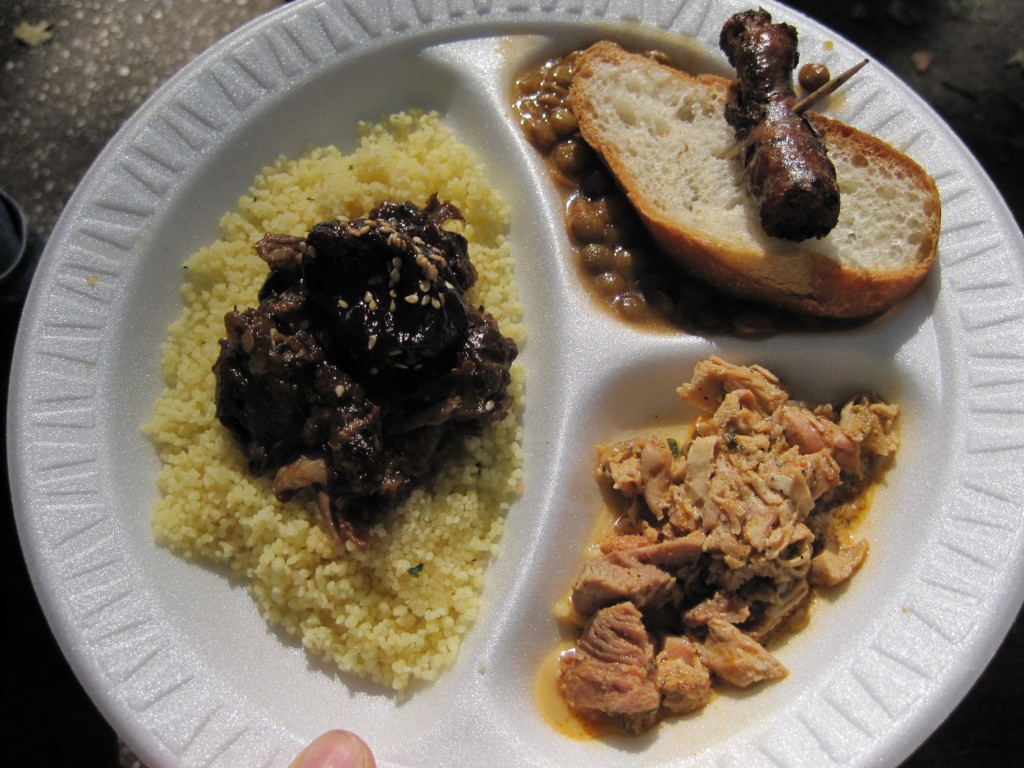 And of course, I had to sample ALL of the desserts. The most unique was Yao's Dragon Beard candy. Taffy-like candy and peanuts were rolled up in sugary floss.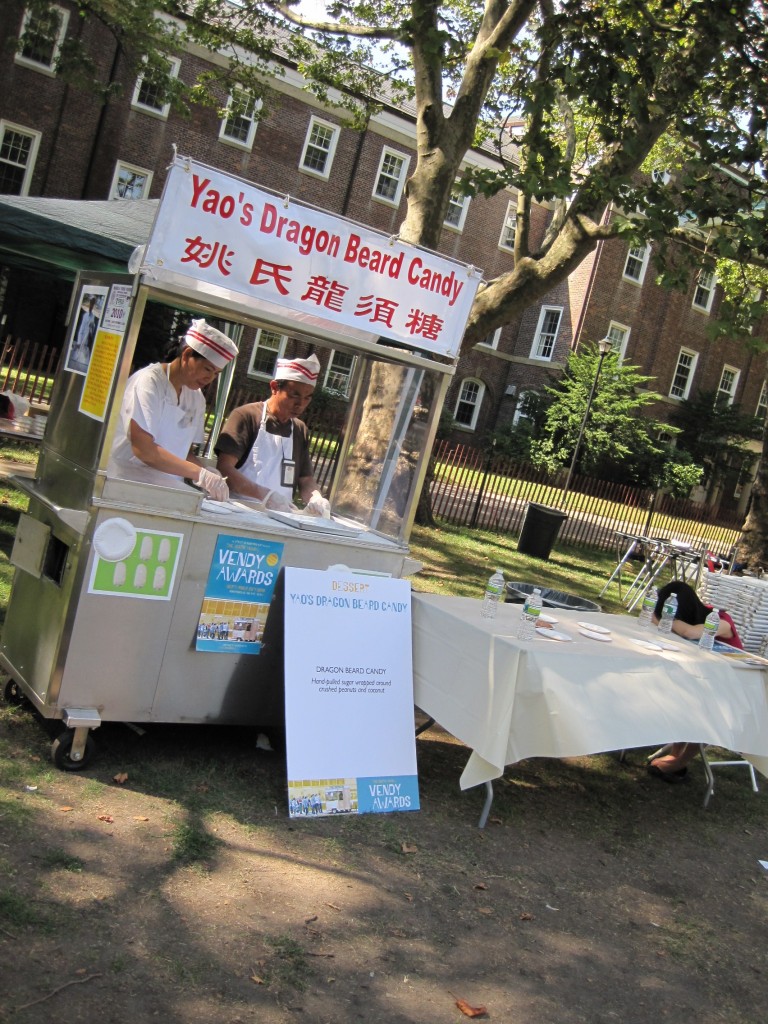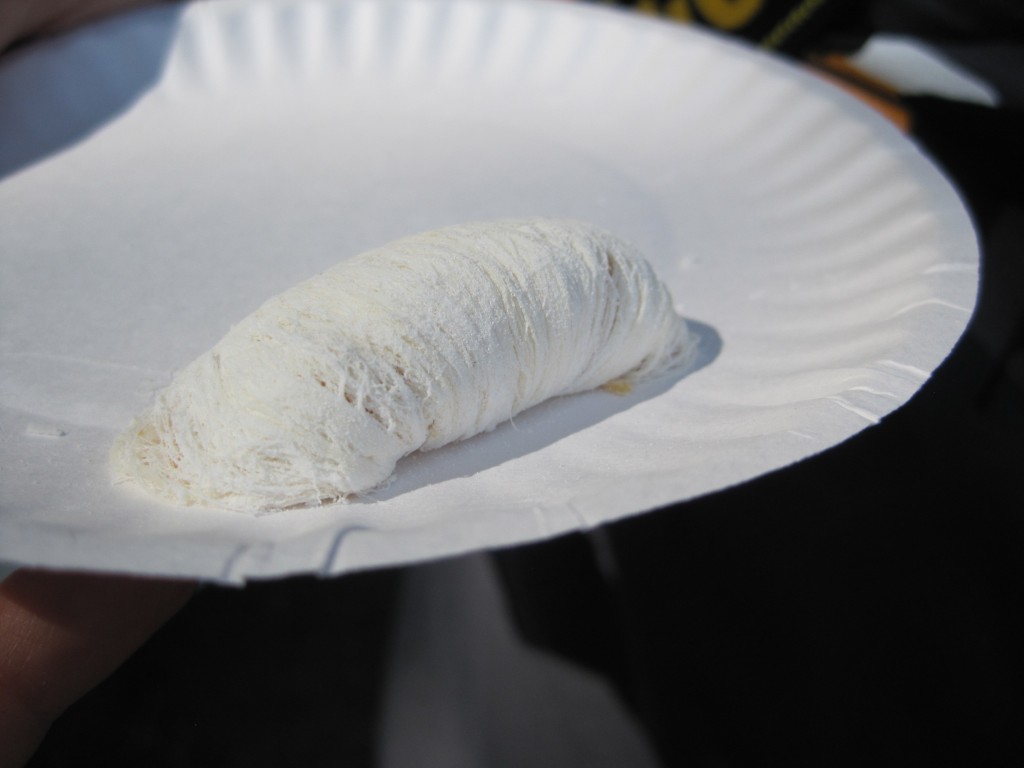 The warm chocolate bread pudding and the panna cotta with berries and candied pine nuts from the Dessert Truck did not disappoint!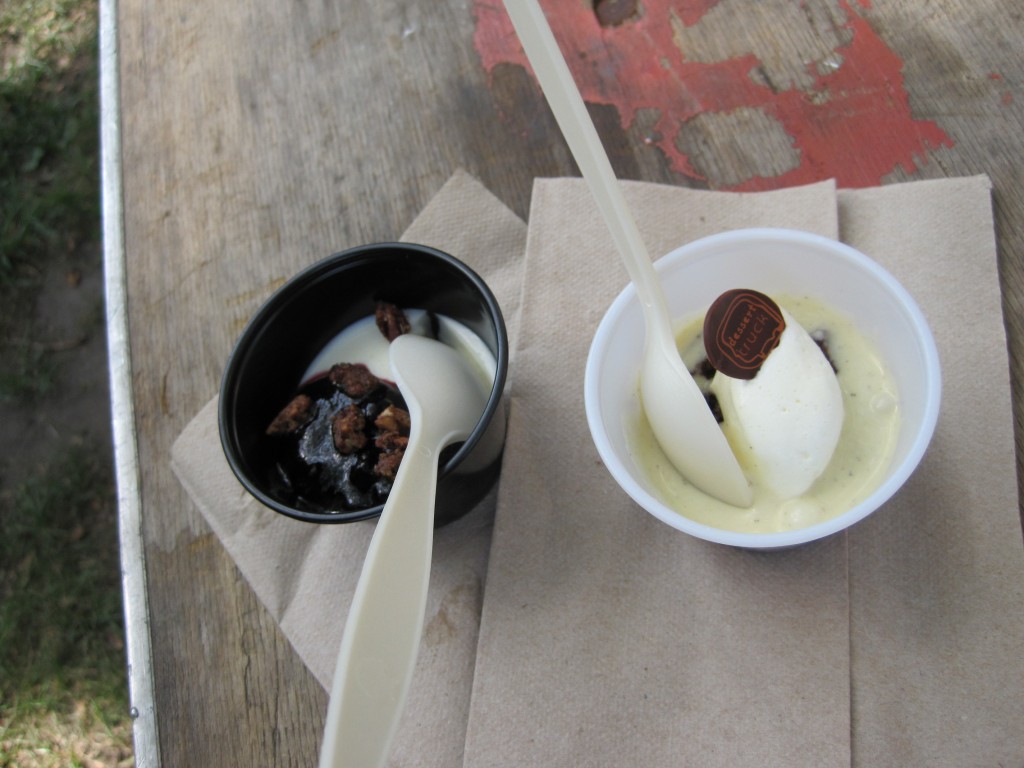 I wasn't crazy about the consistency of the Guerilla ice cream truck (a bit too icy), but the inventive flavors deserved a taste.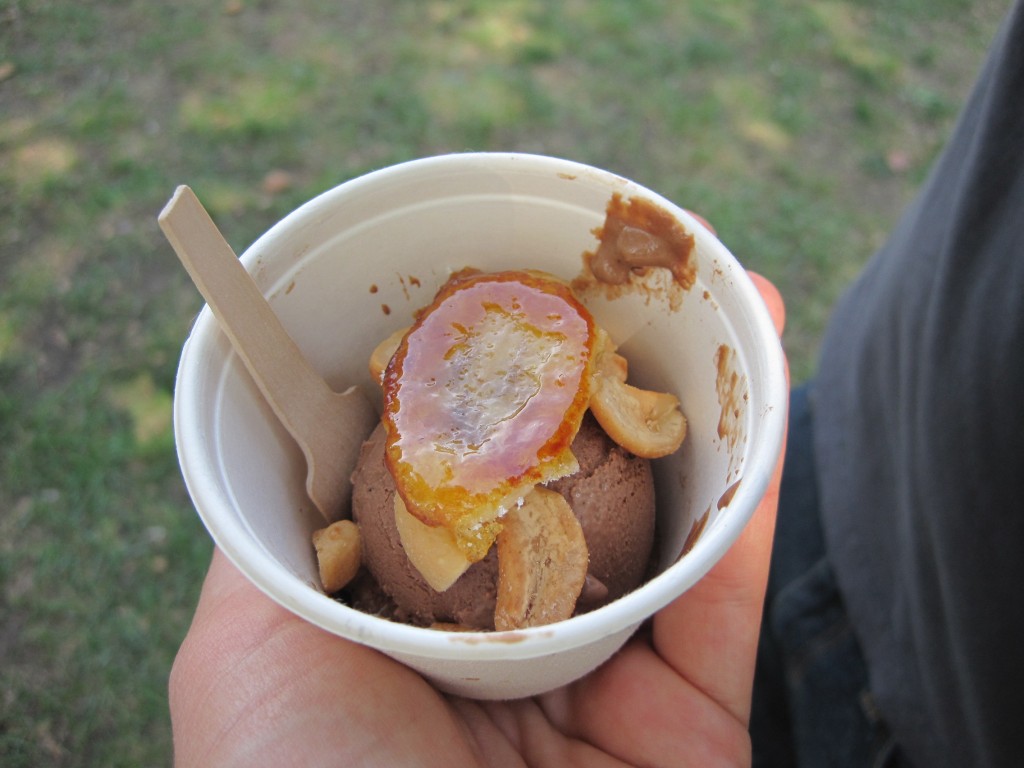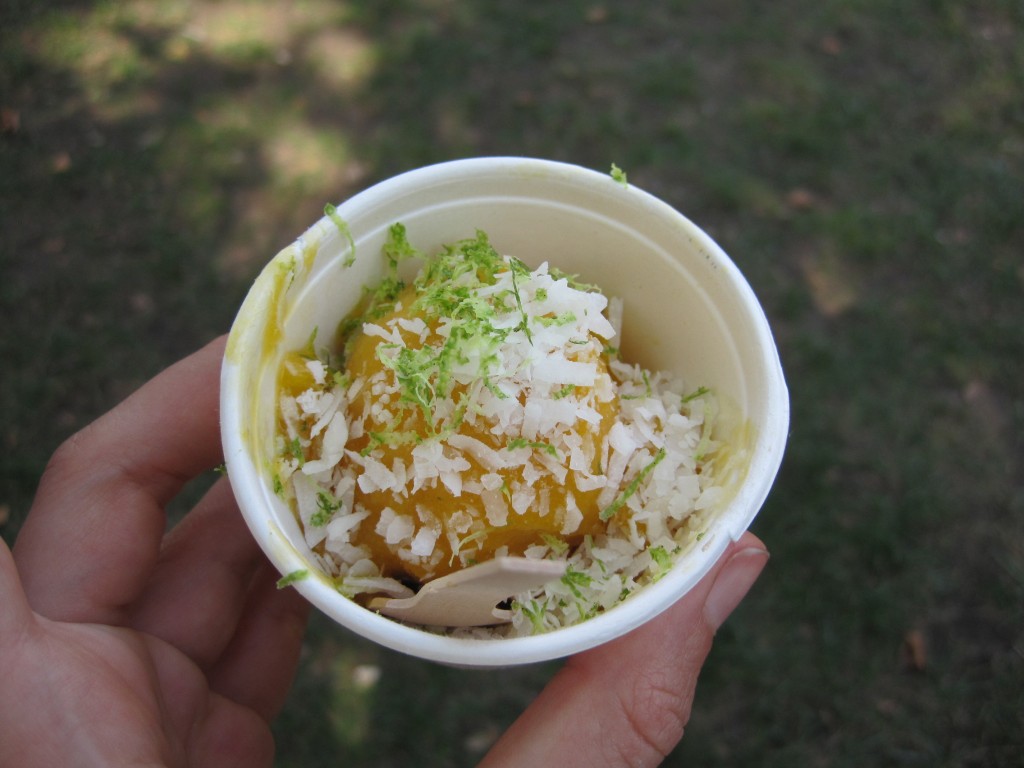 Tres Leches cake from Patacon Pisao!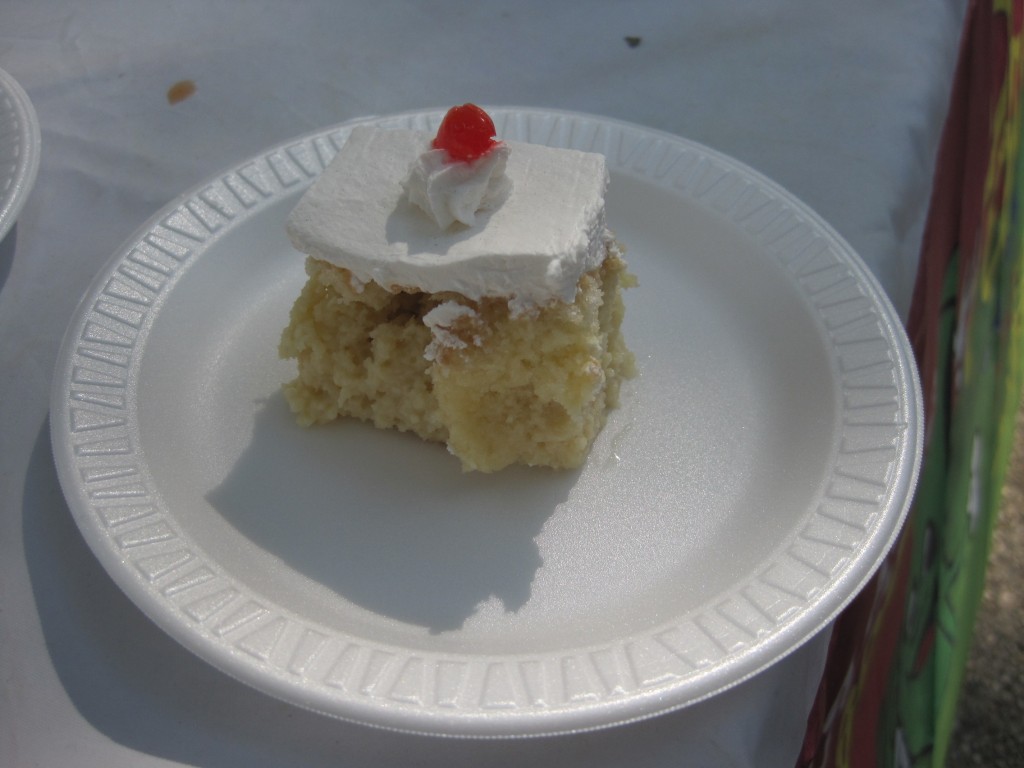 My most favorite thing from the day was the "salty pimp" cone from the Big Gay ice cream truck. My vanilla soft serve was swirled with caramel sauce, topped with a sprinkle of sea salt, and then dipped in dark chocolate. Oh. My. God. I also tried a bite of the truck's peppermint combo – vanilla softserve mixed with peppermint syrup and topped with Scharfenberger shaved chocolate.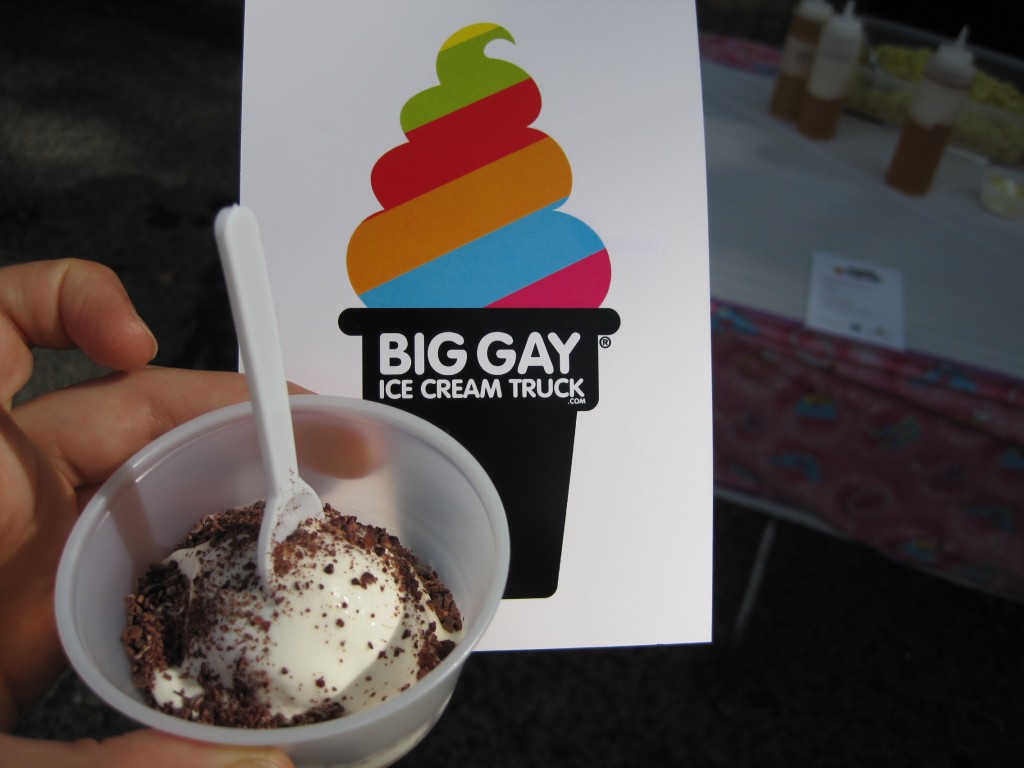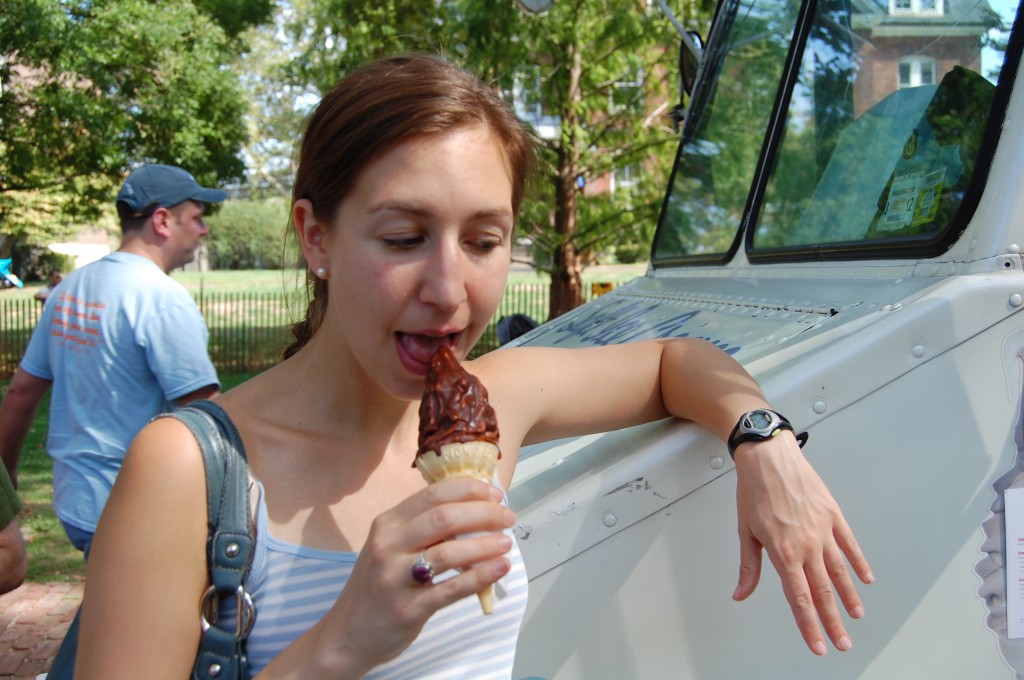 It was a really fun day and I would definitely volunteer again. Fancy foodie events are often looking for volunteers, so if you're short on cash, this is a good way to experience the fun. BBB did a very thorough job photographing everything we sampled, so take a look at his blog for more details.
Big thanks to Amy for snapping these photos 🙂
Looking at these photos, you might be wondering – "How did she possibly eat ALL that?" or "Why isn't Megan 500 lbs!?!"
I think one of the secrets is in portion control. BBB and I had bites of all the things I pictured above (plus more!), but we shared everything. Sharing allowed us to experience the food without overdoing it. And if something wasn't absolutely awesome we'd often take a bite and throw away the rest.
When I partake in indulgent food, I also take into account my gender/height/weight. It's just a fact that females need less calories than our male counterparts. If you're dining out with your boyfriend, dude friend, or brother, let them have the bigger portion. For example, if you split a small pizza, eat 2 slices and let him have the other 4.
I think that being a foodie blogger also helps me to slow down and really experience my food in ways that I wouldn't otherwise. Some of the food on Saturday looked so GOOD, that I just wanted to dive right in. But instead, I took out my camera and tried to get some good photos. Then I really focused on the smell, taste, and texture of the food. Slowing down really helps me to notice when I'm becoming (too!) full.
Some might disagree with this, but before indulgent events I scale my meals back a little bit. Healthy eating experts often advise having a snack before a party to "spoil your appetite", but I don't follow that rule. I figure – I'm going to eat indulgent foods no matter what, so I might as well save room for them! Before the vendy awards, I hit the roads for a morning 5-miler and then snacked on coffee and a banana. This breakfast was much smaller than usual, but since I was hungry, I think I enjoyed the vendy food much more.
Of course, it doesn't hurt that I had a long run planned for the next day – I just figured all that extra ice cream would be fuel for my 15-miler! 🙂
What's your strategy for eating during the holidays or special events?