Hello Runner's Kitchen readers! Thank you for all the sweet comments regarding the Philly half. I had myself so nervous about this race (should I race? run as a tempo? not run at all?) and I'm so lucky that things went as smoothly as they did.
BBB and I tested out my new video camera and filmed a few clips. This first clip was taken the night before the race (maybe around midnight?) and it's very obvious that I'm nervous, hehe. That's followed by a little monologue from race morning – I answer some Q and A's about my race prep. These are my first vlogs, so please excuse the mad awkwardness 🙂
Race morning was pretty uneventful, I didn't get much sleep (4-5 hours?), but I kind of anticipated that. It's tough to get solid shut eye when your alarm is set for 5:55am. I always think that it's the night before, the night before the race that really matters. Lucky, I got 8 hours of sleep Friday night. Phew.
After my pre-race cup of coffee (non-negotiable), I ate an apple and a mini Clif bar. It's a good thing I had some food with me – the hotel breakfast buffet didn't open till 7am. As an aside: I did not think the Comfort Inn – Historic District did a very good job accommodating the half-marathon runners. The majority of the hotel guests were racers, so you would think they would set out breakfast a little early, but no dice. They also didn't provide sugar or milk for coffee. Luckily I can drink mine black!
After a few minutes of bfast digestion, I headed to the start. I warmed up for about 27 minutes (~3 miles) and then hopped into my corral. It was great to meet a reader near the entrance to corral #2 (hi Claire!).
At this point I still wasn't sure if I was going to race or tempo…but I suppose the energy of the crowds got to me because I started off at a pretty fast clip. My first mile was in 6:47 (whooaa there, Megan) and I finished the first 5k in around 21:37 (6:58 pace). The remaining 10 miles were a little slower, averaging a few seconds above 7:00 pace per mile, but I don't really regret going out that fast. I definitely felt tired towards the end, but I still had energy to finish at a decent pace. There were a few times I struggled mentally (I specifically remember feeling blah at mile 2.5 and mile 9), but I was able to squash the negative thoughts before they got too bad.  It helped that the course was very flat – no big hills to struggle with. The only thing that slowed me down were the twists and turns of Center City during miles 1-4. This was a really fun race overall – the crowd support at the start and finish made it feel like a major event! My official time was 1:32:22 (7:03 pace) which I'm really happy with.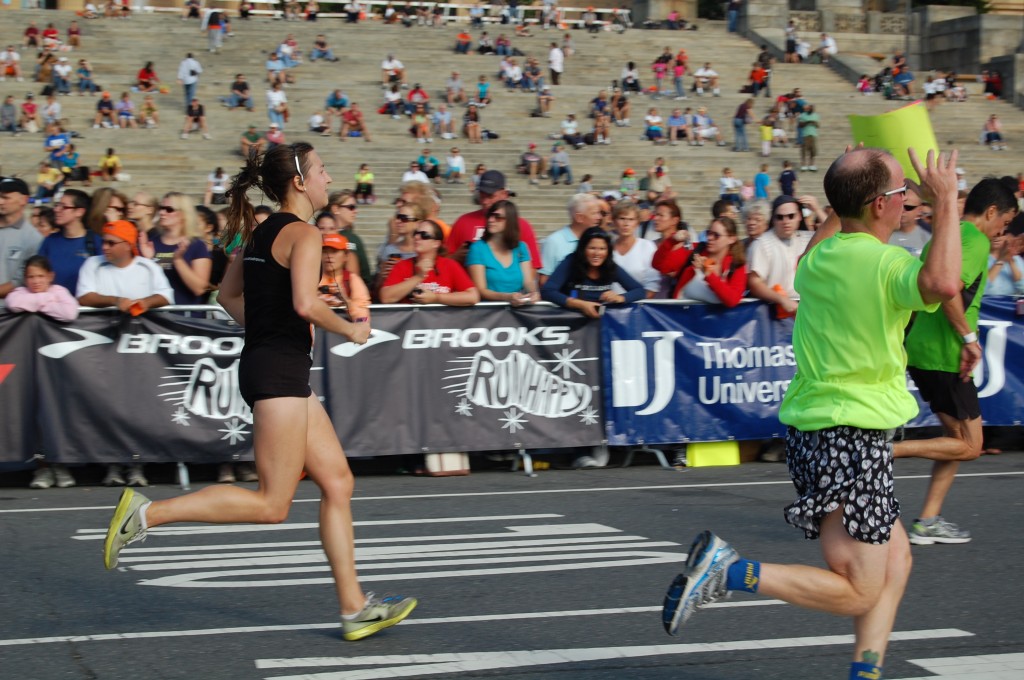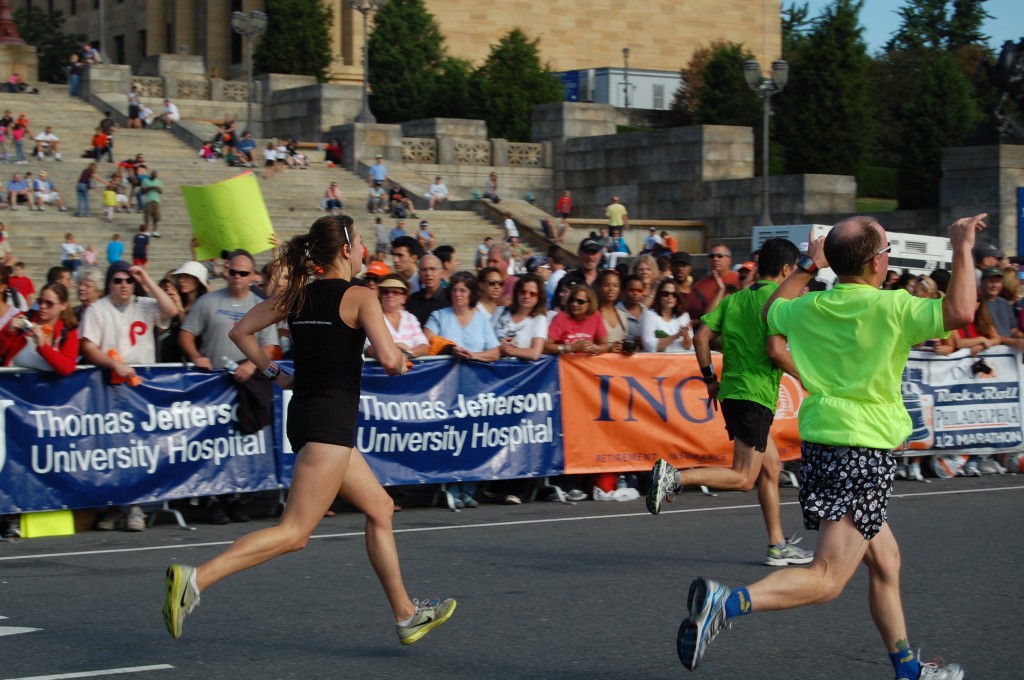 Eventually, I'd like to try and run sub-1:30 for a half-marathon, but that won't be a goal until 2011 or 2012. After this year's marathon, I might focus on 13.1 for awhile. I think that half marathons might be my favorite race distance – long enough so that you can stay under lactate threshold pace, but not so long that you run out of glycogen (a.k.a. hit the wall). Plus the recovery time needed from a half marathon is much less than a full 26.2!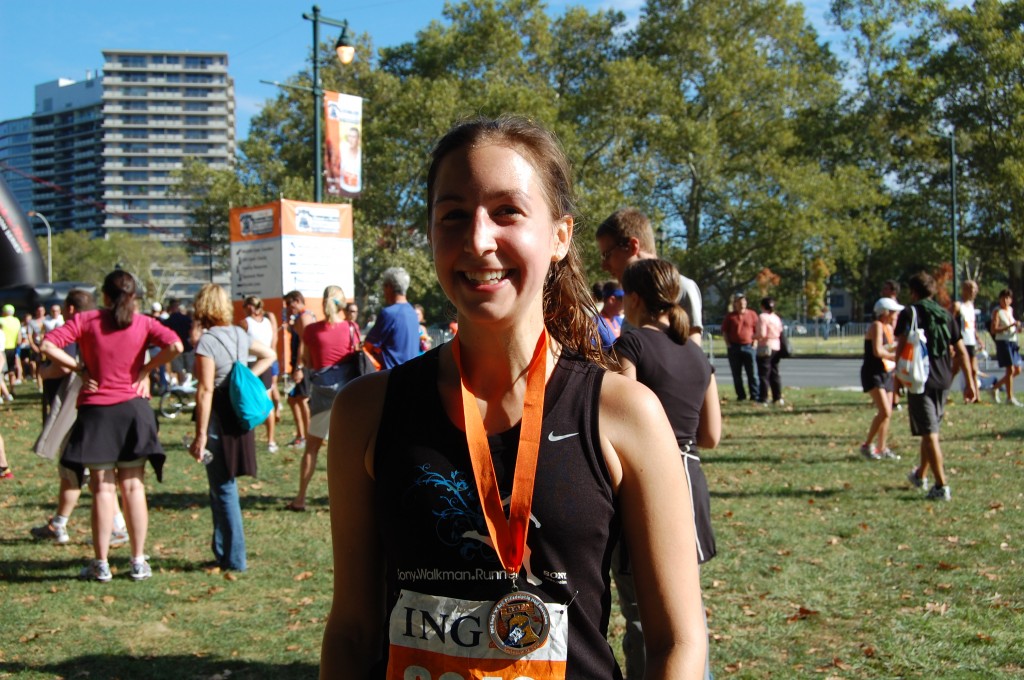 As soon as I finished, I spotted BBB who, by the way, wins "best race spectator award". He snapped all of the awesome photos in this post! After a quick mile-ish cooldown, I met up with my friend Mark and some CPTC teammates for a hugs and a photo op.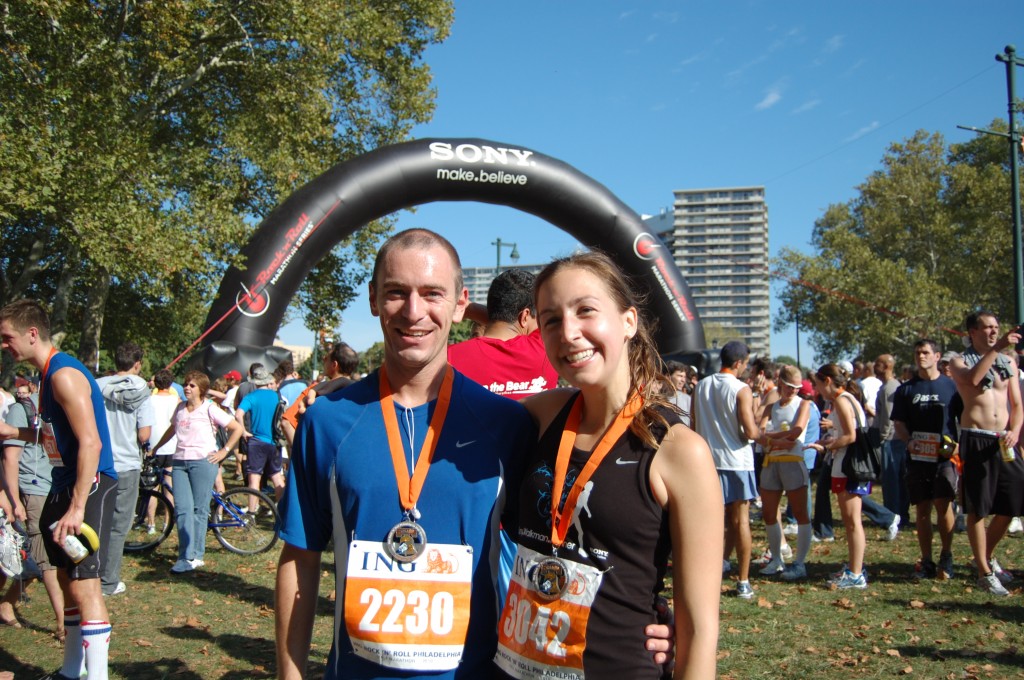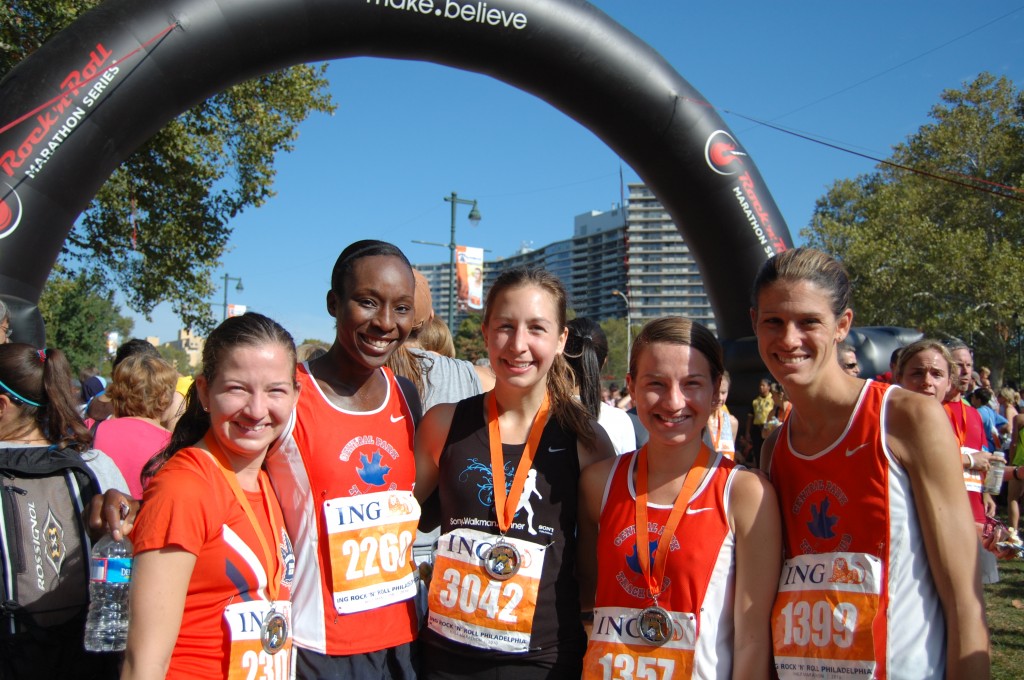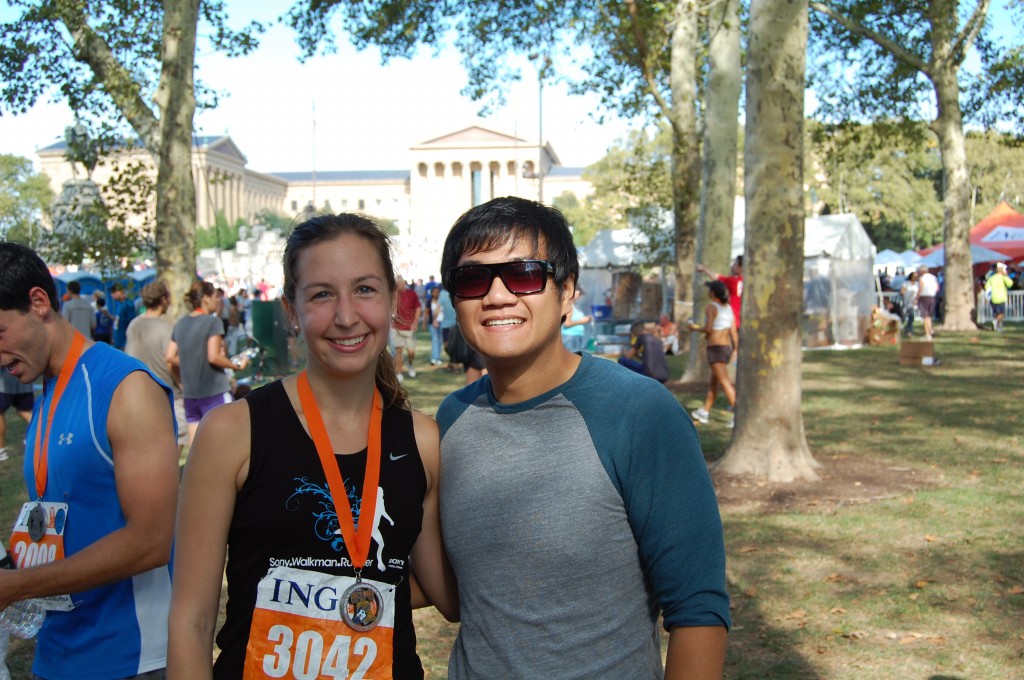 My lower back is still giving me some trouble, but running doesn't make it worse, so I'm trying to manage the achy-ness through heat compresses and massage. I treated myself to a 60 minute deep tissue massage tonight after work and made my muscles very happy.
Stay tuned for a very special food recap from my visit to Philadelphia. I had SO much delicious food (beer! pizza! gelato! Israeli hummus! cupcakes!) – it will be proof that runners don't have to subsist on plain pasta and peanut butter during marathon training.
In the meantime, I leave you with my latest creation –
Creamy roasted tomato soup (serves 2)
Ingredients:
4 large heirloom tomatoes, halved
olive oil
sea salt, to taste
black pepper, to taste
1/4 cup heavy cream
fresh basil leaves (optional)
Directions:
Place the tomatoes cut side down on a foil-lined baking sheet. Drizzle with olive oil, salt, and pepper and roast at 375 F for 30 minutes, or until slightly brown on top.
Allow tomatoes to cool slightly, remove skins, and combine tomatoes and juices into a medium saucepan. Mash with fork until chunky (you could also use an immersion blender).
Slowly whisk in cream, season with more salt, pepper, and fresh basil.
Heat to desired temperature and enjoy!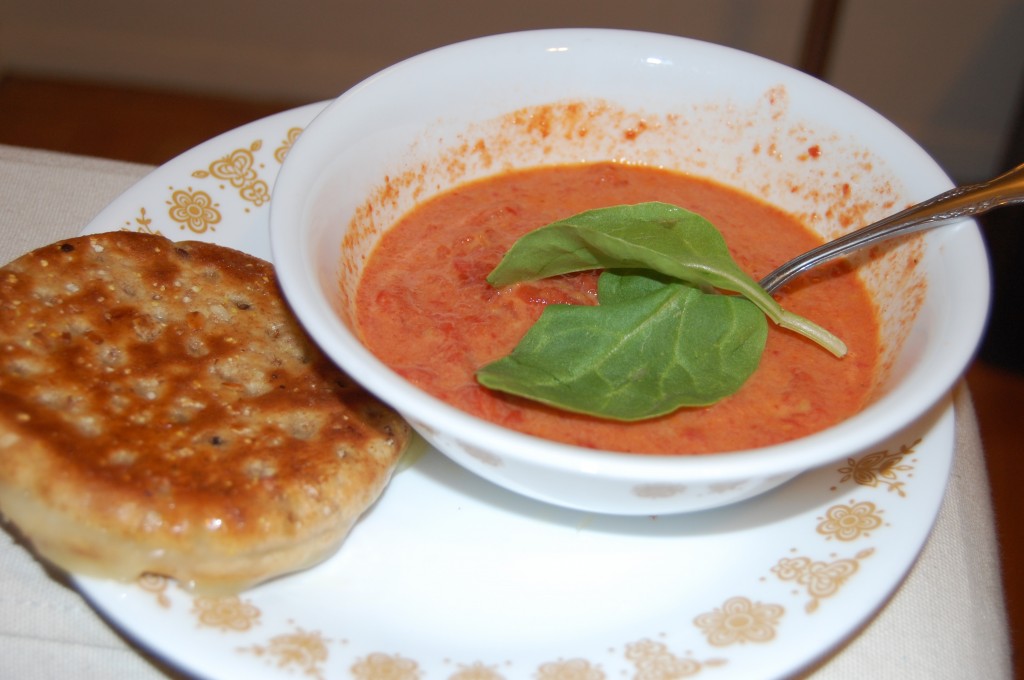 What's your favorite race distance?