TGI Friday! After a week of vacation, this week has seemed very looong. My 20-miler last weekend left me feelin' pretty tired, but I've been trying to prepare myself the best I can for Sunday's ING Rock 'n' Roll Half-Marathon in Philadelphia. That means as much sleep as I can fit into my busy sched, scaling back on the workout intensity, and pumping myself up with some fun music. Speaking of music…big shout out to Sony for sponsoring me in the 1/2 marathon this weekend. In addition to the race, they also hooked me up with some fun goodies – a bloggie video camera and a W-series MP3 player. Stay tuned for reviews!
I'm still not entirely sure how I'm going to play the Philly 1/2 marathon – I have another 1/2 marathon in 2 weeks and that's more of a focus race for me. I might end up running this weekend's race as a "workout" i.e. 5 miles easy (8:30 pace), 5 miles @ MP pace (7:30), 5k @ HM pace (7:05). I think it will be a game day decision. In any case, we're now entering the core of marathon training, t-minus 50 days. Wheee! I thought that I'd share some frequently asked questions regarding my training. Hope it's helpful!
Click on the link to take a look at my complete 18-week training plan for the NYC marathon.
FAQ
How many miles a week do you run? Since I began my marathon training plan in July, I've been averaging 50-60 miles per week. My highest mileage week will be in mid-October (3 weeks out from the marathon) and I hope to crack 70.
Why don't you cross-train? Do you take rest days? Since I'm running fairly high mileage, I don't really have time in my schedule for cross-training. Once the marathon is over I hope to return to the occasional spinning class/yoga class. Part of the reason why I don't cross-train is that when I take a rest day, I rest completely – no exercise at all. I've found that a day off every 7-10 days is most beneficial to my body.
What do you eat before running? During runs? Afterward? On weekday morning runs (6-9 miles), I rarely eat anything before heading out. Keep in mind that I eat dinner pretty late (~9pm), so I'm still pretty well fueled from the previous night. Before long runs and races, I like to drink coffee and have some sort of banana/pb/carb combination.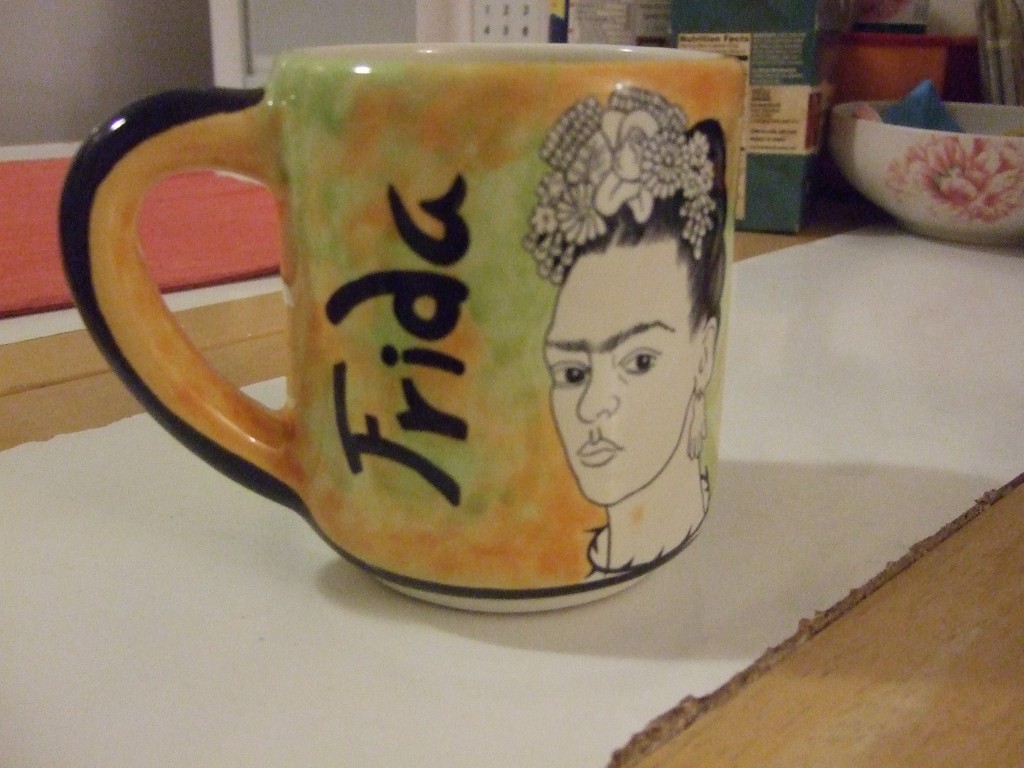 Before the Boston marathon, I drank coffee and had a cinnamon raisin bagel and a banana with peanut butter.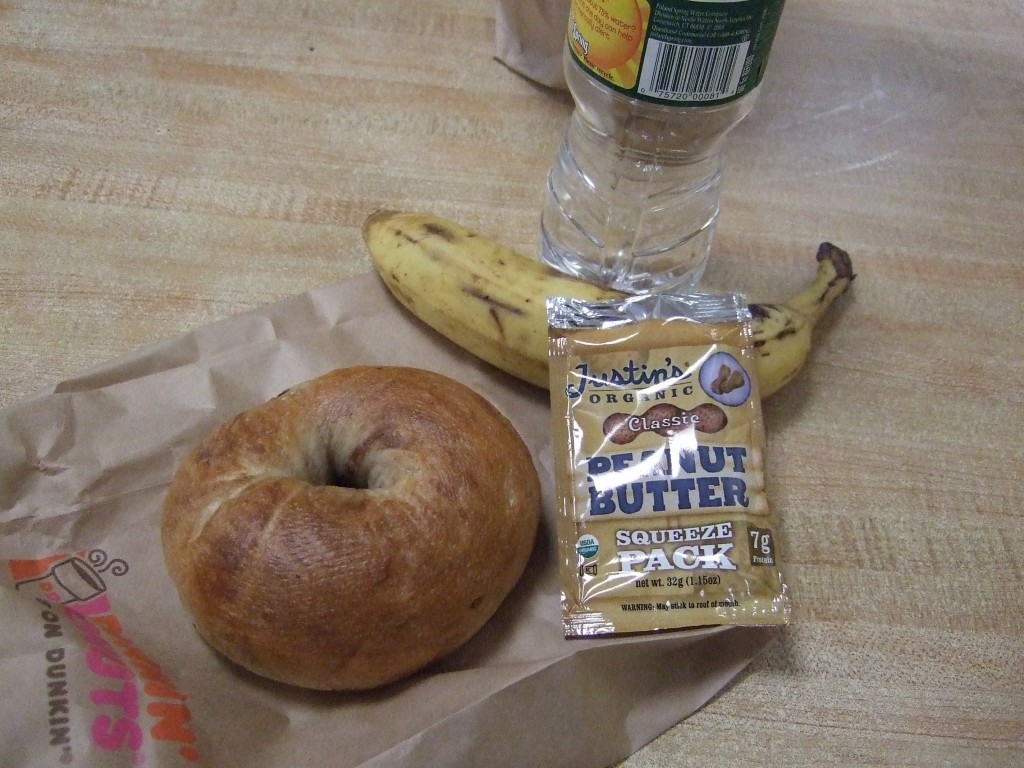 One of my go-to post-workout snacks is chocolate milk (hehe, yes sometimes I get it from McDonald's…). It has a near perfect carb to protein ratio (4-1 is optimum) and 8oz of choc milk has about 30g carbs and 8g protein. Plus it's liquid, so it hydrates you!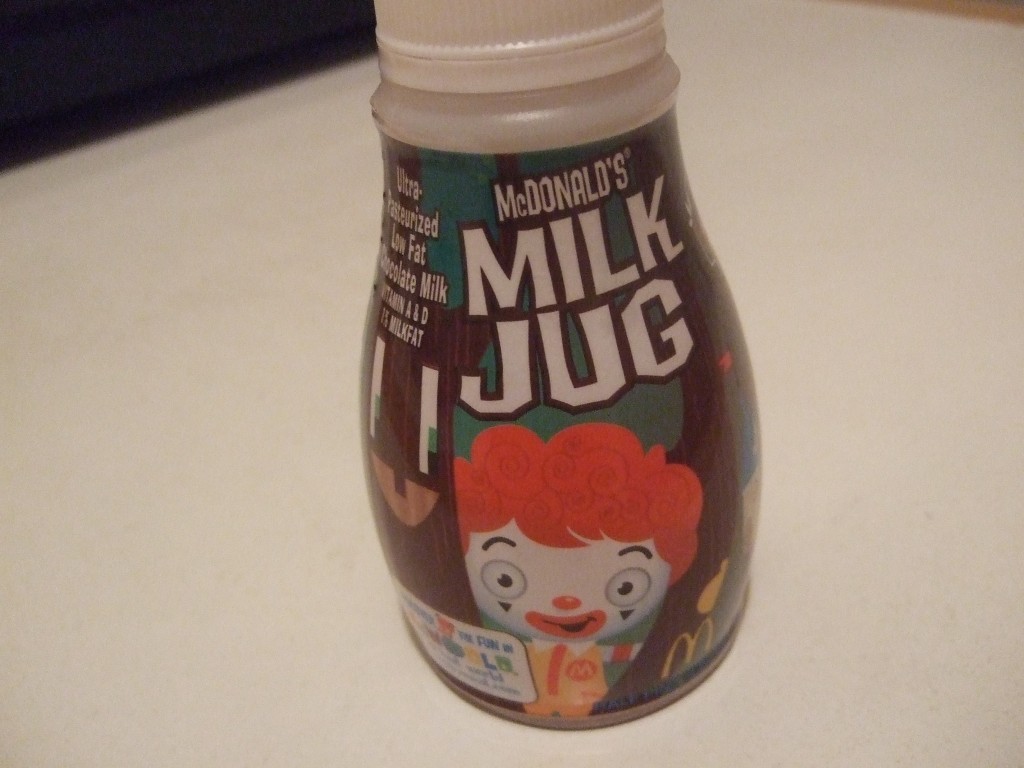 Have you ever been injured? Ugh, yes! From January – October 2009 I struggled with a combination of IT band syndrome and a strained hamstring. It was a long road to recovery (partly my own fault…I continued training for Boston when I should have rested) and I had to miss out on a couple of important races such as the 2009 NYC marathon. However, time heals all and besides the occasionally ache and pain, I'm now feelin' good! I wish I could pinpoint what exactly fixed my issues (I tried everything! ART, chiropractor, acupuncture, sports med doc, PT, yoga, rest, etc), but ultimately I think my body just needed time to heal itself.
How does marathon training affect your body weight? Honestly, I'm hungry all of the time and I'm sure that I'm eating close to 3,000 calories per day. I wouldn't be surprised if I end up gaining a few pounds during marathon training. Running 60 miles per week (including high intensity interval workouts) is demanding and now is not the time to be watching calories. Until November 7th, the important thing is fueling myself properly and giving my body the nutrients it needs – not worrying about a number on the scale. While training for my last two marathons I gained a few lbs, but once the race was over, things returned to normal. That being said, I am trying to make smart choices (high quality carbs, fruits & veggies, protein, etc). Just because I'm running 10 miles doesn't mean I should refuel with chocolate cake!
Do you have a social life? Haha, yes! I definitely have to make sacrifices in order to fit in work-running-blogging, etc but I have a strong support network of girlfriends and that helps a lot. In fact, the girls on my running club are some of my closest friends. We're able to turn workouts and races into social events and it helps that we have similar goals. Running is important to all of us, so they don't think I'm crazy when I suggest a 7am long run run!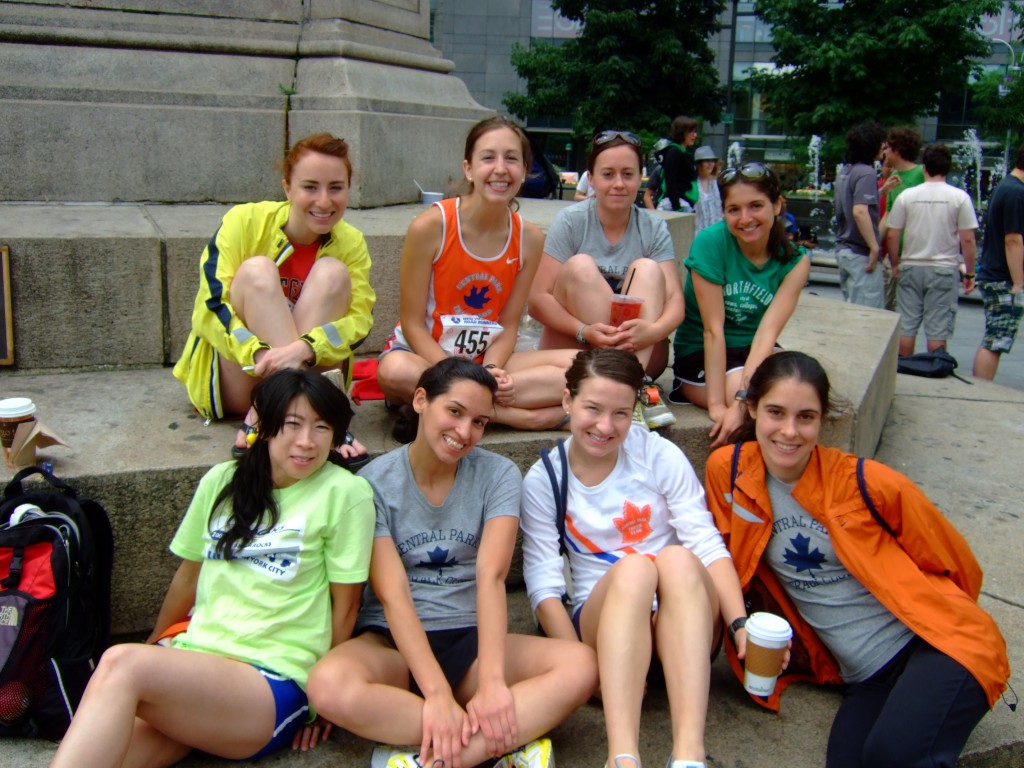 I'm also lucky that BBB understands my crazy schedule and is willing to cook me breakfast after a race or meet my sweaty self for a bagel post-long run. Dating a competitive runner isn't easy (uhh, sorry babe, can't go out for beers tonight…18-miler in the morning), so it really helps to have someone who is supportive.
That's not sweat…I'm just glowing! Hehe.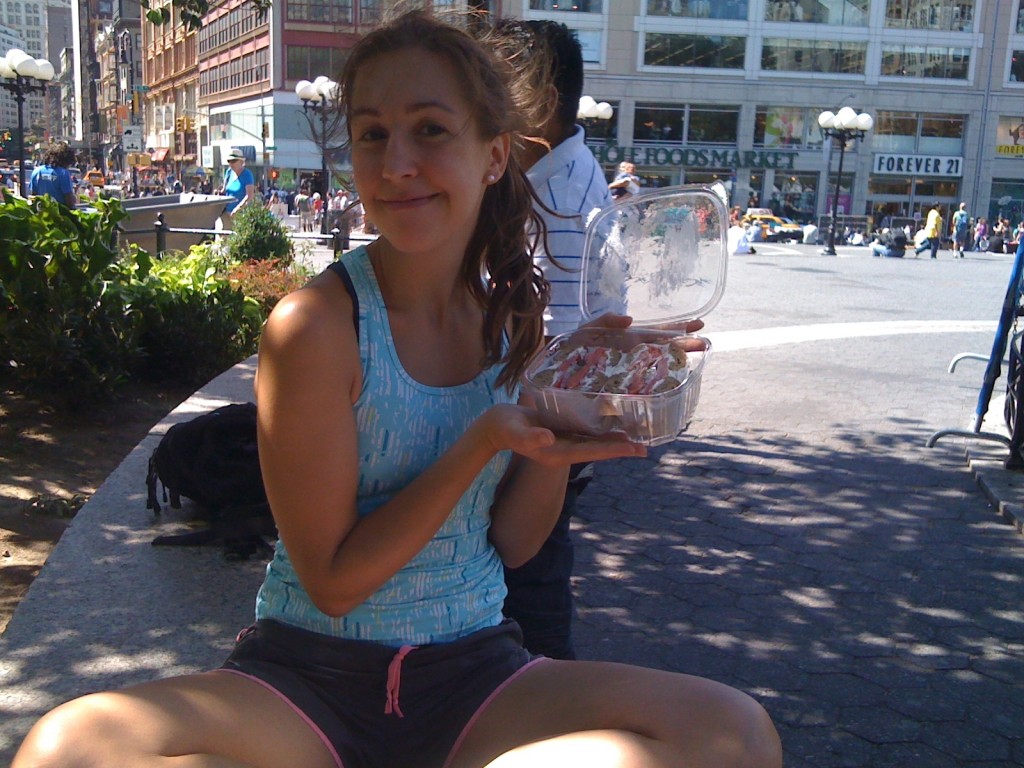 But as important as running is to me, I know that it's not everything. I'm cool with occasionally scaling back my training plan and taking an impromptu roadtrip with my best friend. And a life without beer and yummy treats just isn't worth it. I think it is possible to have a social life while training to be a competitive runner, you just have to identify what's most important and figure out a way to make it happen.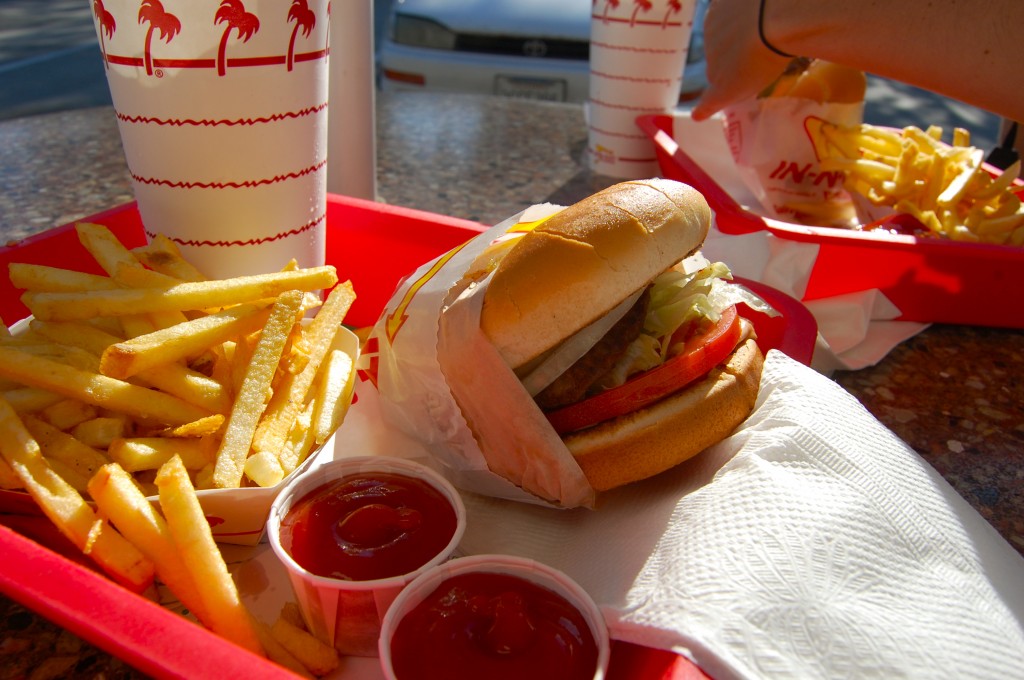 I was recently discussing running with someone and they said something very wise –
"There will always be a reason NOT to run." It might be too hot, too cold, too rainy, maybe you've had a long day and you're tired, or you're hungry, or you're knee hurts…It's possible to talk yourself out of anything, but if you want something bad enough, you need to do it anyway. Running isn't always easy, but the most worthwhile things never are.
Okay, enough ramblings from me! It's almost weekend, wheee!
Question: When you just don't feel like doing a workout, how do you get your head in the game? Fun music? Post-run ice cream?