I'm officially obsessed with the granola bars at Whole Foods – they are thick, chewy, and studded with dried fruit and seeds. Yum. Inspired by the Smitten Kitchen, I decided to try my hand at creating my own version.
Late Summer Granola Bars
Ingredients:
1 2/3 cup rolled oats
1/2 cup granulated sugar
1/3 cup ground flax
1/2 teaspoon salt
1/4 teaspoon ground cinnamon
1  cup raisins
1 cup pumpkin seeds
1/2 cup sesame seeds
1/3 cup peanut butter or almond butter
5 tablespoons melted Earth balance (or butter)
1/4 cup agave or maple syrup
2 tablespoons light corn syrup
1 tablespoon water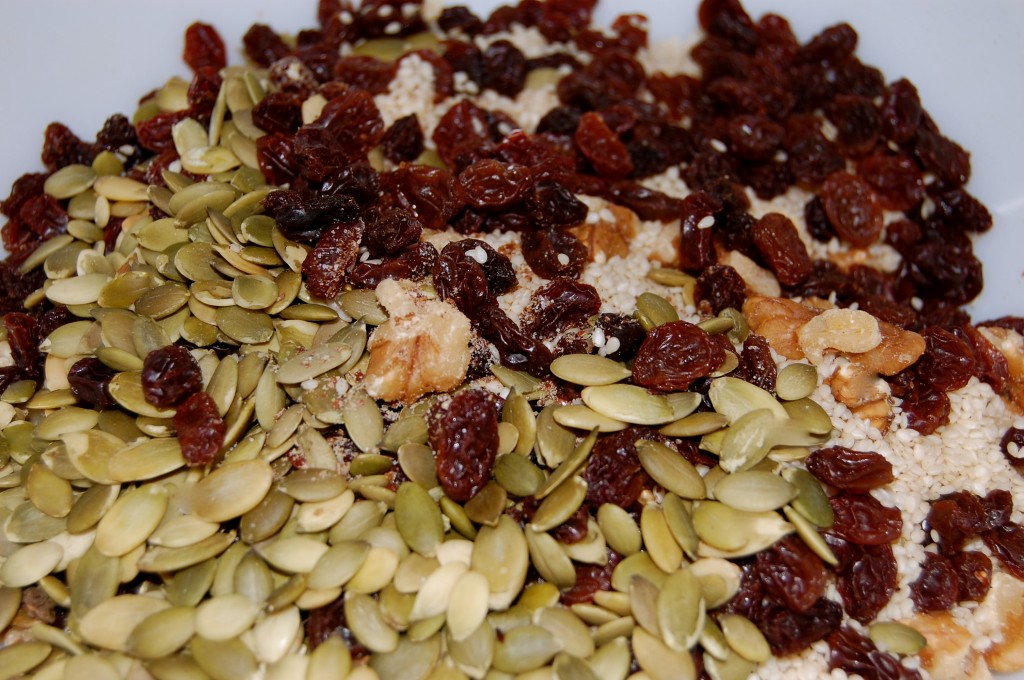 Preheat the oven to 350°F. Line an 8″ x 8″ with parchment paper, letting it hang over the sides a bit. Lightly coat pan and parchment paper with cooking spray.
Stir together all the dry ingredients. In a separate bowl, mix together the Earth balance (or butter), agave, corn syrup, and water. Combine the dry ingredients, wet ingredients, and nut butter until evenly crumbly.
Pour into prepared pan and pack down. Use a piece of parchment or saran wrap to prevent it from sticking to your hands.
Bake for about 30 minutes or until lightly browned. Allow to cool completely before cutting into bars. Note: you may want to pop them in the fridge to speed up the cooling/firming process.
My bars were a tad on the crumbly side – next time I think I will replace the 1 Tbs water with an extra Tbs of agave or maple syrup. I might also increase the nut butter to 1/2 cup. This recipe is infinitely adaptable – replace the raisins with dried cranberries, cherries, etc. or use walnuts/almonds instead of seeds.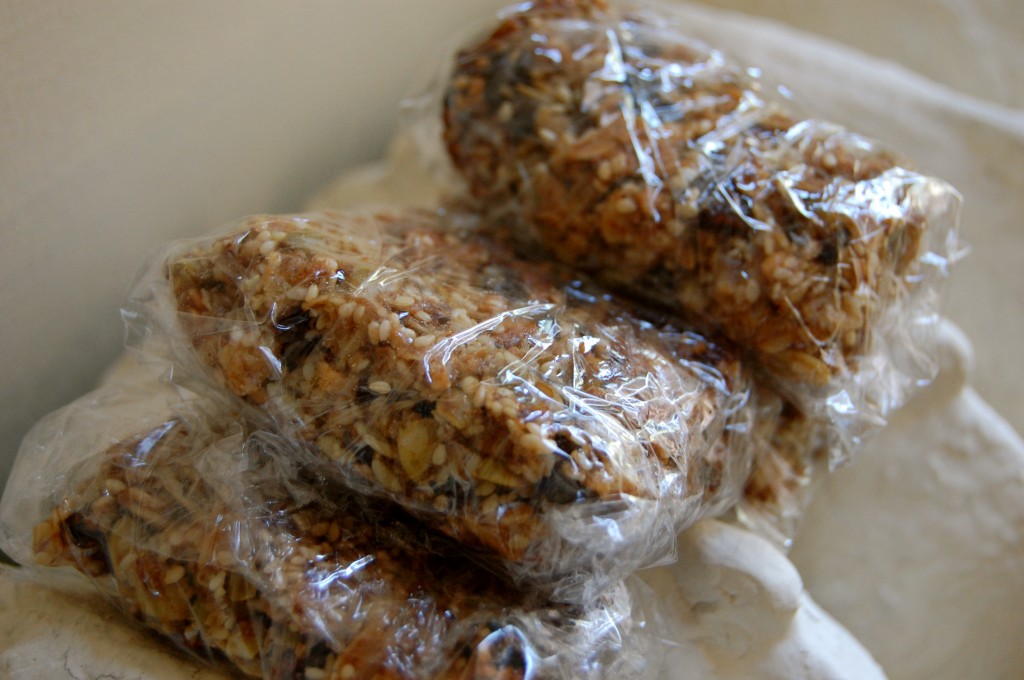 It's only Wednesday, but this week has kind of been kicking my butt. Luckily I've had some good stress-relieving runs to keep me sane. I ran an easy 9 miles on Monday in Central Park and had big plans for an early a.m. speed workout on Tuesday. Umm. Wishful thinking! My alarm went off at 6:30am and my body just said "no way Jose". I went back to sleep for another hour and moved my workout to the evening. After a long work day and some necessary errands, the last thing I wanted to do was run fast, but I got my butt out the door anyway.
2 mile warm-up
8 x 600m with 200m recovery (reps 1-4 @ 6:27 pace, reps 5-7 @ 6:07 pace, rep 8 @ 6:00 pace)
2 mile cool-down
Total: 8 miles
Sometimes it's tough to get motivated, but I always feel better once I'm done 🙂
This morning I met up with Kelly for another 9-ish morning miles in the park. I've been loving running in the morning lately – seriously the best part of my day!
And because it's my birthday (omg, 26, omg) I got a FREE drink from Starbucks. Whee! Obviously I ordered the largest size possible – a venti iced coffee with soymilk – and now I am highly caffeinated. The best way to start the day, right?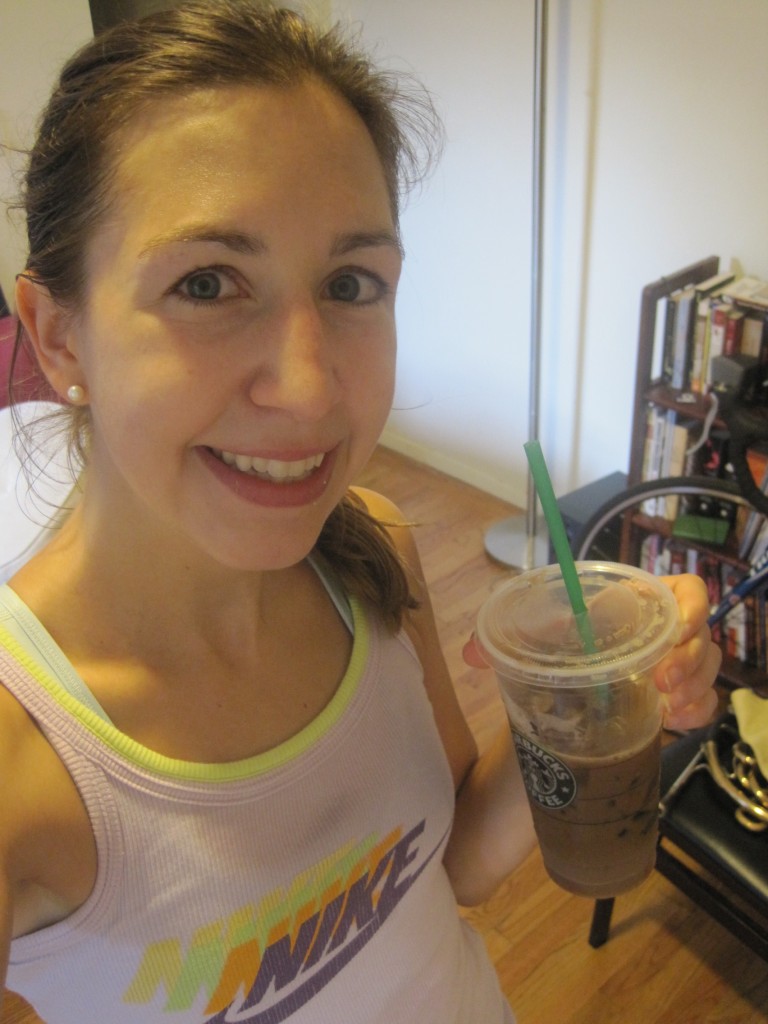 If you could order any drinks from Starbucks (disregarding price/nutrition) – what would you get?