When I looked at my google calendar yesterday morning, it sent me into a bit of a panic. The combination of not being able to say "no" and a type-A personality often causes me to overbook myself. I'm trying to get better at realizing I can't do everything, but it's an on-going process. It's a good thing that I'm happiest when I'm busiest! So what was on my crazy Tuesday to-do list?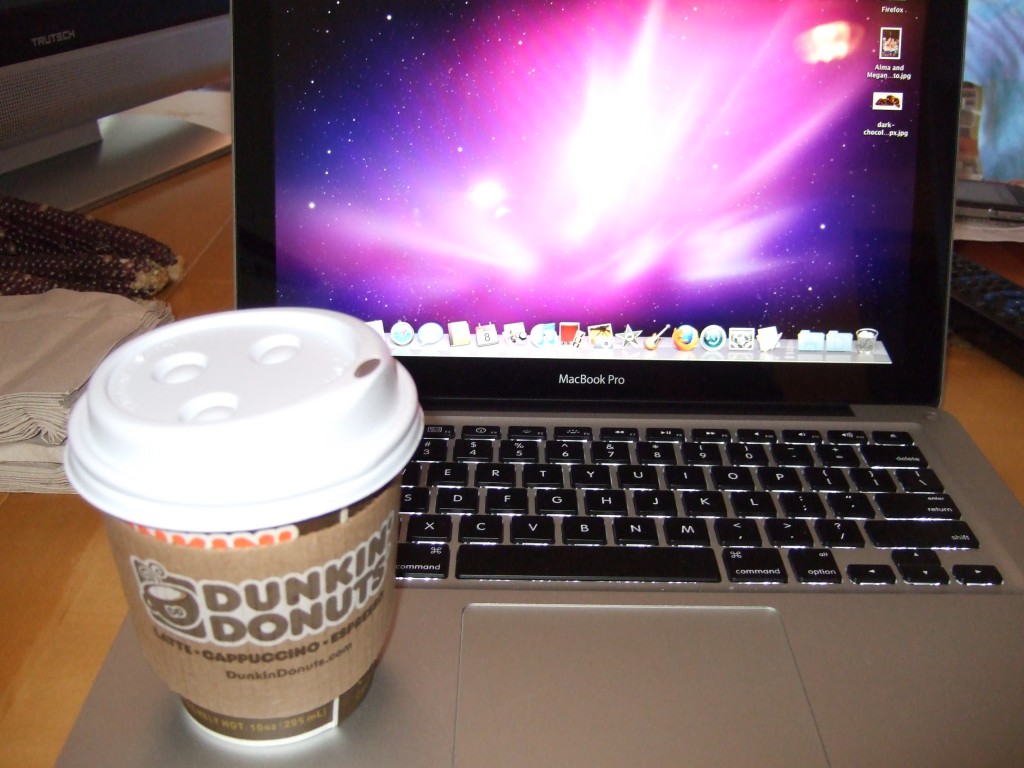 7:30am drink coffee, answer emails, blog, commute to the office (no time for a shower, oops)
9:30am – 1:00pm work, work, work (and occasionally update Twitter…)
1:00pm – 2:00pm Run 4 miles at the gym and SHOWER (huzzah!)
2:00pm – 5:30pm eat lunch at my desk and work some more
5:30pm – 6:30pm travel to Soho for a 6pm appointment
6:30pm – 7:15pm take ridiculously crowded subway uptown
7:15pm – 8:00pm volunteer at my CSA during veggie pick-up, manual labor was involved. Note to self: next time skip the ballet flats and pencil skirt.
8:00pm – 8:20pm Carry home 20lbs of organic veggies through Morningside Park. In the dark. By myself. (Mom – pretend you didn't read that)
8:20pm – 8:45pm dash into my apt, change clothes, and jog over to my polling place to vote in the NY State primaries
8:45pm – 9:30pm 5.5 mile run with a friend (running buddies make night time running safer!)
9:30 – 10:30pm chug chocolate milk (recovery drink!), wash and prep CSA veggies for storage, make simple dinner
10:30pm – 12:ooam prep lunch for tomorrow, catch up on emails, SLEEP
5:50am wake up to run and do it all over again 🙂
Yeesh. That schedule was daunting, but most of the things on my to-do list were very important to me (running, voting, CSA volunteering) so I just made the best of the busy situation.
I'm lucky that I don't have kids to take care of (God help them if I did…) or a super stressful job, but working full-time, managing the blog, running 50-60+ miles per week, and occasionally being social does take a bit of planning and work. I'm by no means a time management expert (I probably spend wayyyy too much time on g-chat and twitter), but I've come up with a few tips for getting it all done.
Figure out your priorities: Running is one of the most important things in my life and sometimes I will choose running over showering or making myself look pretty. I get a lot of questions on how I fit in long-ish runs before work/after work and my answer to that is 1) planning 2) a simple beauty routine. I seriously don't do much besides wash and air dry my hair. No blowdrying, no make-up, and my outfits are usual pretty simple. I also tend to eat dinner pretty late (usually sometime around 9pm). That makes running 10+ miles after work possible on some nights. That routine won't fly with some people, but it works for me! So basically what I'm saying is: figure out what's important to you. If it's training for a race, then you might have to give up some other things.
Think of alternative options: I planned on running 9 miles on Tuesday morning, but the body said "hey, I need some extra sleep!" What to do, what to do? Instead of skipping my run I looked at my schedule and figured out another way to fit in my miles. I managed to run 4 miles during my lunch break and then another 5.5 later in the evening. If you sleep in, don't automatically write off your workout. Can you exercise during lunch? Before dinner? After dinner? Make it happen any way you can.
Prepare simple meals: I love to cook, but on nights when I get home at 9pm or later I am NOT in the mood to wait for dinner. On nights like this I make simple things like yogurt + fruit + granola or pb & j or a big "junk salad". As soon as I get produce from the grocery store or my CSA, I wash and prep my goodies so they're more easily accessible. Making a salad is a lot easier if the lettuce is clean and the cucumber is already chopped!
Sliced tomato, cheddar cheese, salt, and pepper on broiled bread.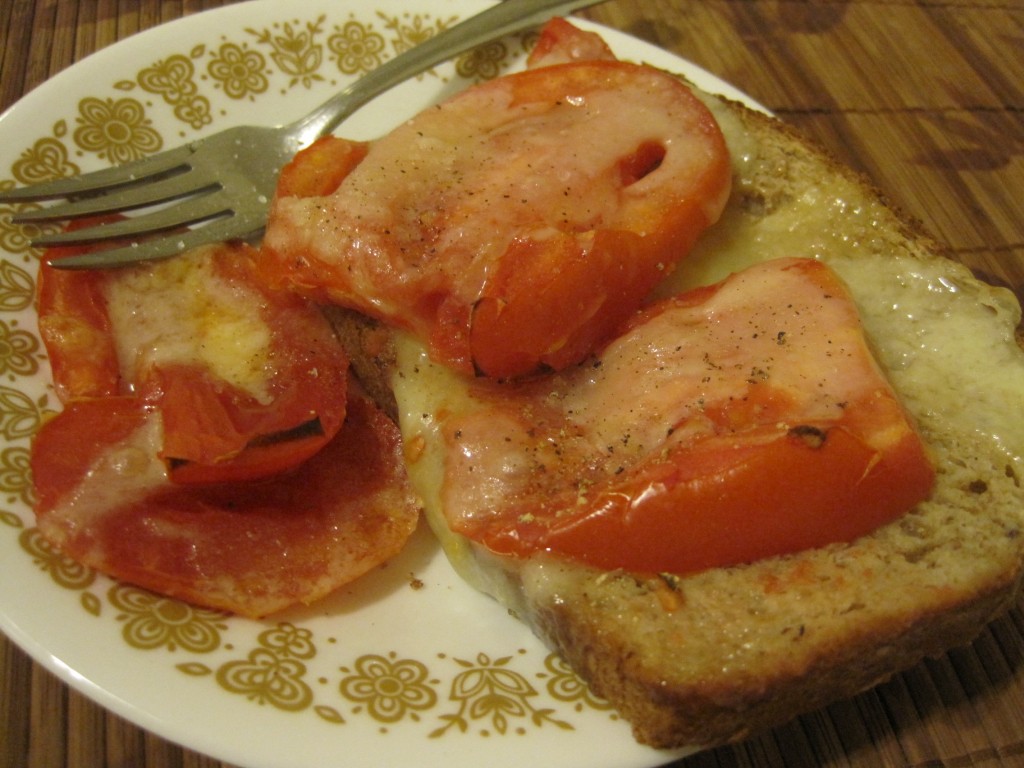 When I have an early a.m. run scheduled, I scarf a carby snack before bed. Nutella on whole grain toast is a favorite of mine!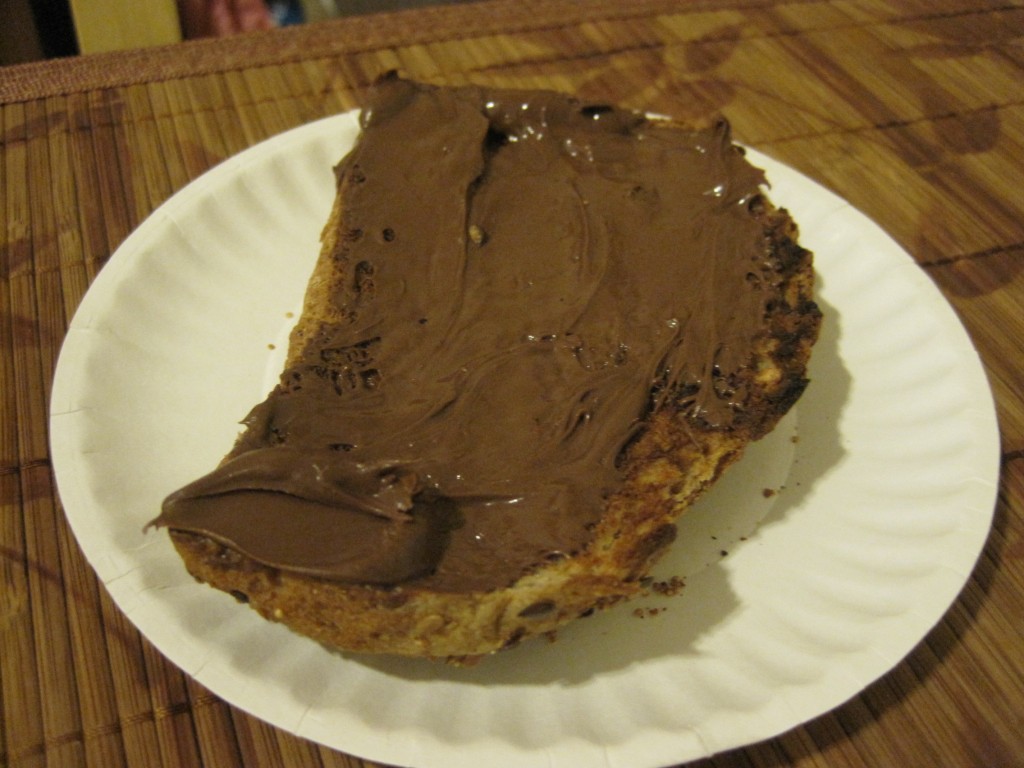 Make running/exercise dates: I've been loving my Wednesday morning runs with Kelly and Nicole. To be honest, knowing that they'll be waiting for me rain or shine really gets my butt out of bed at 5:50am. If I didn't have a running date, I can guarantee that I'd be more likely to sleep in.
Use a reward system: I've made a deal with myself – on days that I wake up before 6am, I can treat myself to Starbucks. It makes getting out of bed (in the dark…) just a little bit easier. I also try to plan something fun mid-week (tonight is a wine tasting with Leslie, Sofia, and BT). All work and no play isn't any fun!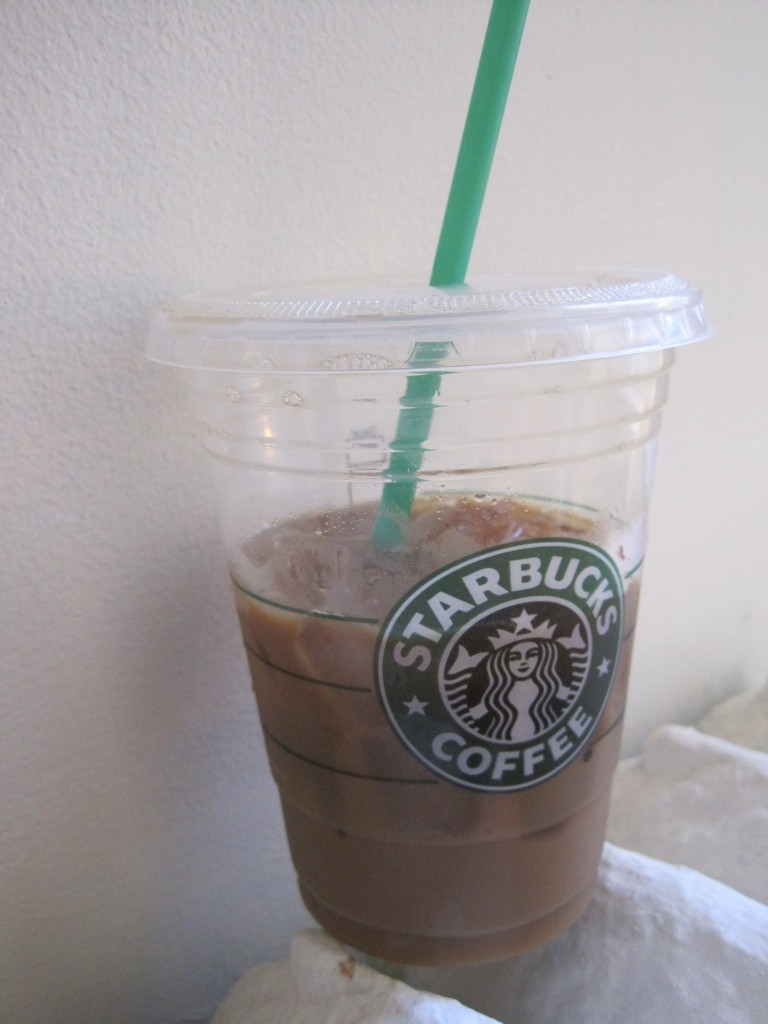 And since I'm a sucker for good advertising campaigns, I'm going to leave you with one of my favorite Nike ads. Without fail, this gets me pumped to run.
"You pretended the snooze button didn't exist. You dragged your butt out of bed while others slept. While others ate their pancakes you had a feast of protein, glucose and electrolytes. You double-knotted. You left the porch light on and locked the door behind you.
You ran 5Ks, 10Ks, 26.2 miles. Some days more, some days less. You rewarded a long run with a short run. And a short run with a long run. Rain tried to slow you. Sun tried to microwave you. Snow made you feel like a warrior.
You cramped. You bonked. You paid no mind to comfort. On weekends. On holidays. You made excuses to keep going. Questioned yourself. Played mind games. Put your heart before your knees. Listened to your breathing. Sweat sunscreen into your eyes. Worked on your farmer's tan.
You hit the wall. You went through it. You decided to be man about it. You decided to be woman about it. Finished what you started. Proved what you were made of. Just kept putting mile after mile on your interval odometer. For 25 years, you ran. And we ran with you. How much farther will we go? As far as you will."
Happy Running! xoxo Megan