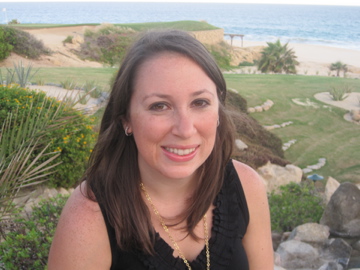 Hi Megan's blog readers! I'm Marci from www.marcigilbert.com in Houston, TX. Megan is an incredible athlete, and I am really in awe of her speed, enthusiasm, and love of running…and her baked goods.
However, not all of us have her speed or log dozens of miles per week, so I am writing a few personal tips to stay healthy when you aren't training for a marathon.
A little background about me–I am 26 years old and have always lived in Texas (Dallas, Austin, Houston). In the last year, I have increased my running mileage and run two 10K races, have a third coming up on Halloween, and my first half marathon in December. I love the sport, respect people who can run faster and longer than me, and do the best I can for myself. I also cross-train with swimming, CrossFit classes, yoga, general gym activities, etc. totaling six days per week of activities at about one hour each.
So anyway, when reading blogs, sometimes we forget that the authors are burning a whole lot more calories than we are, and we have to remember to modify their intake against ours.
1. Everything in Moderation: So this is obvious and not a new concept, but do you really implement it? For me, instead of snacking on a whole Clif Bar or Larabar post workout, I'll eat half. I try to remember that someone running 13 miles might be eating one Clif Bar, and I only ran 6, so do I really need the same fuel? Maybe yes, but decide for yourself. And I love peanut butter and discovered Peanut Butter & Co's Dark Chocolate Dreams on this website, but I actually make myself have days where PB is off limits or I'll overdo it.
2. Do you really need to fuel up or refuel? My workouts are usually right around 60 minutes, except for one longer day per week usually. I also live in a town where we drive everywhere. I don't exert as much energy as people training for a marathon, or people with a really high activity level. I position my workouts before breakfast usually, so the food I eat after is not in addition to a meal, it's just a meal. I will of course refuel or pre-fuel if needed. Bottom line: you know your body better than another blogger, so do what works for you.
3. Watch out for extra calories throughout the day. Take morning cereal–my go-to breakfast is yogurt with cereal and berries or a banana. I try not to stir in peanut butter too often, or top with extra nuts, jam, or granola because it's just extra calories. For me, keeping it basic also keeps down the calorie count. Again for lunch, if my meal is a big salad, I focus on protein and vegetables and one fat like cheese OR avocado OR dried fruit OR nut.
4. Healthy living isn't just about the food. Be proud of your own routine and mileage and don't get stuck in the comparison trap. If your 6 mile run or 300 meter swim is a personal record for you, be proud! It's your body, your record. Create your own goals and use outsiders as inspiration or for tips.
What are your tips and tricks for staying shape when you don't have time or the inclination to run?